UK and Europe weather forecast latest, September 6: Balmy 24C hit UK after a scorching summer
Britain is forecasted to win a balmy 24C after a sweltering summer. Meanwhile, extreme heatwave will batter Europe this weekend.
UK's weather forecast
According to Express, the UK has developed a discouraging picture for the country as autumn begins, with low temperatures dominating after a sweltering summer this year. But next week could see a balmy 24C hit the country in summer's last hurrah.
Weather forecasters have hailed an end to summery temperatures this year, as the latest forecasts suggest the mercury will plummet as we go through Septemeber into October. Meteorological autumn officially began on September 1, following a week of blustery conditions with two named storms battering Britain. But the UK looks set for a short reprieve as conditions will warm towards 75F (24C) in parts in the coming week.
According to
Met Office
weather forecasters, showers will dominate this weekend before summer makes a brief return.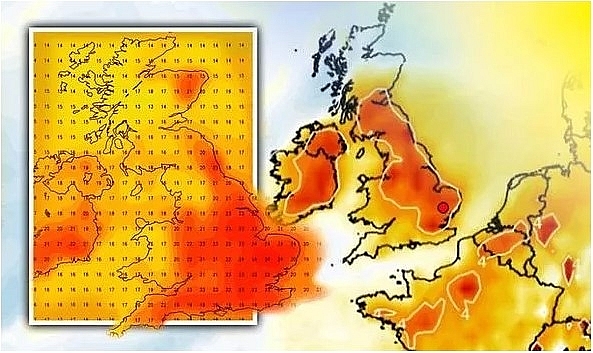 UK weather map: Summer to make last hurrah with 24C hot weather to blast Britain in days (Image: WXCHARTS)

Sunshine will briefly emerge in some places, cornered by heavy rain on Saturday and Sunday. Cloud will make its way over the south, with intermittent showers on a "cool feeling" afternoon.
Western and northern regions of the country will see the worst of it, with heavier spells for south-west Scotland and Northern Ireland.
Met Office meteorologist Steven Keates added they would piggyback on "brisk" winds over the border. But the showers will give way to more sun after the weekend, letting the mercury to shoot back up towards the mid-20C range.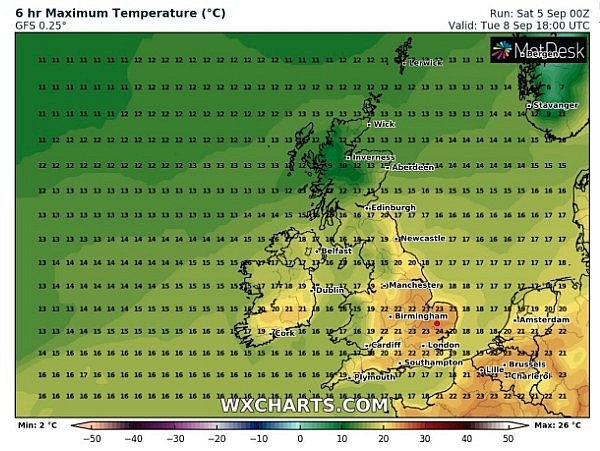 UK weather map: Summer will only make a brief comeback before cooler temperatures set in (Image: WXCHARTS)
Temperatures of 18C to 20C will give way to 23C by Tuesday in the south, clinging around this range until the coming Friday.
Maps from forecaster Weather Outlook even suggest the mercury could rise to 24C in parts of the south-west over the next five days.
Net Weather TV also shows a return of hotter weather, with charts showing the balmy temperatures will reach a swathe of the UK on Tuesday - with the peak hitting at 6pm.
A Met Office spokesman said the spike won't quite constitute a heatwave, however.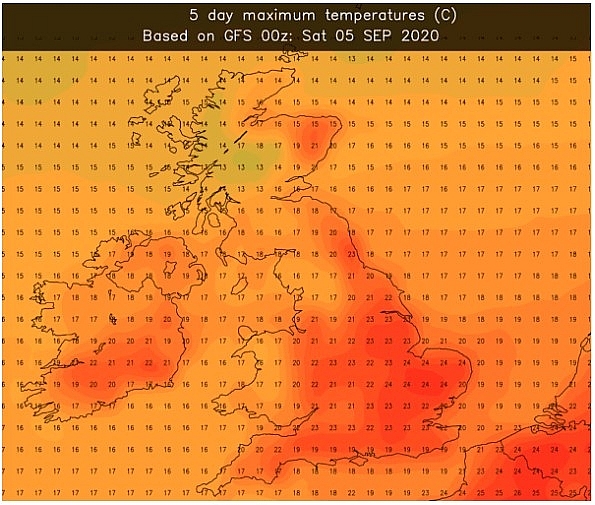 UK weather map: Temperatures will brush the mid-20s next week (Image: WXCHARTS)
They said: "It is likely to turn warm in the south-east of England where temperatures will rise into the low 20Cs, perhaps mid-20Cs in one or two spots."
"At present, this is not expected to fit the criteria for a heatwave, however, as this requires temperatures of 27C or higher in the south-east for at least three consecutive days."
Long-range forecasts revealed clear weather in the south would prompt overnight fog before an unseasonable chill sets in.
The Met Office forecast for September 9 to 18 predict the mercury will dip "a little cooler". The forecast reads: "A mainly settled start is expected for this period in the south of the UK with fine and dry weather."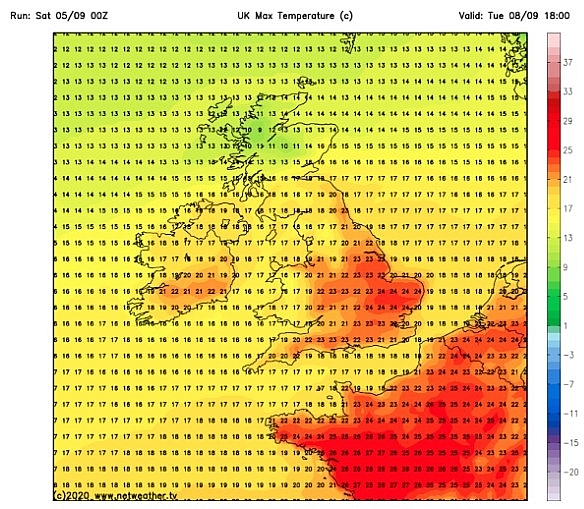 UK weather map: Temperatures will break in the southeast, but the north will remain chilly at first (Image: WXCHARTS)
"Although, with clearer skies and lighter winds, mist or fog may form on some nights."
"More unsettled spells of weather are expected in the north of the UK with rain and strong winds for many, with a risk of this pushing further south at times."
"Temperatures should be around average for the time of year, however it may be a little cooler than such for some."
"Although confidence is low for the latter part of this period, it is more likely that we will see a spell of more settled weather for a time, especially across southern counties."
Heavy rain may hit western areas on Sunday morning (Image: WX Charts)
The more distant forecast for September 19 to the beginning of October is less clear, but meteorologists believe the weather will remain "a touch cooler" than average despite settled weather.
The latest forecast comes after a wild end to summer, which saw storms Ellen and Francis touch down in the UK.
Both systems commanded gale-force winds and hammered the country with torrential rain, breaking up long-lasting humidity.
Europe's weather forecast
BBC Weather has forecast "extreme heat" across the southeast of Europe and the Mediterranean this weekend.
BBC Weather meteorologist Louise Lear stated there will temperatures as high 40C in Cyprus and mainland Greece. She added due to a weather front outbreaks of rain will flow through Germany into Poland and Scandinavia.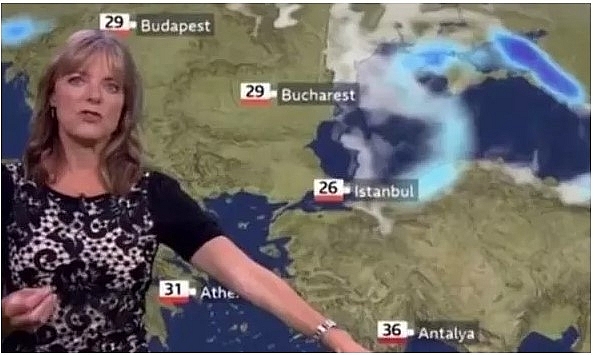 Louise Lear is a BBC Weather meteorologist (Image: BBC)
Ms Lear said: "There is still a good deal of dry weather to be found in Europe at the moment. There is some extreme heat across the south east and Mediterranean."
"That said we have got weather fronts bringing strong winds and showery outbreaks out of Germany and into Poland as well as Scandinavia."
"The Mediterranean itself is settled and sunny, with extreme heat in the south east."
She continued: "Temperatures in Cyprus over the next couple of days likely to peak into the mid 40s, that really is quite extreme."
"Some of that heat will affect Turkey and mainland Greece. That warmth actually floods its way into parts of Russia as well. There will be wet weather in Poland and Scandinavia."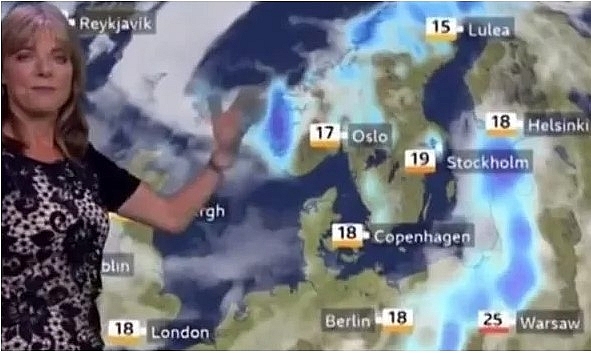 BBC Weather Europe highlighted extreme heat in eastern Europe (Image: BBC)
The weather in Britain at the start of next week will be dry before becoming increasingly wet and windy towards the weekend.
Although temperatures will remain mixed, forecasters are predicting warmer conditions in the south.
Commenting on the forecast between September 7-13, the BBC said: "After a potentially dry and settled start to the week, low pressure will become the dominating feature of our weather from midweek onwards."
"The second half of the week will often be wet and windy, and with temperatures likely to close to or below where they should be for this time of year."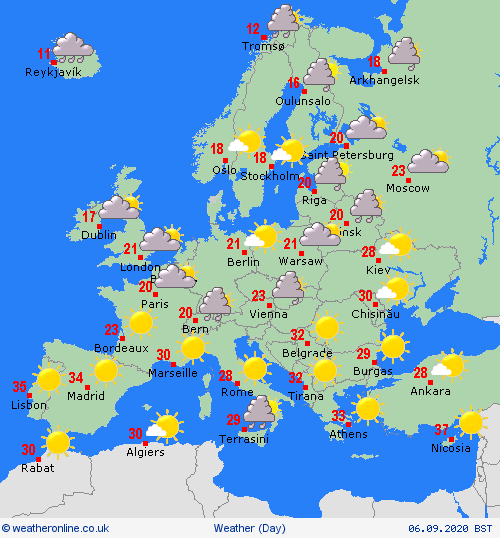 Photo: Weather Online
"In fact, there is the potential for a deep area of low pressure to move right across the UK, bringing strong winds and heavy rain."
"If this were to pan out, further damage and disruption could be expected, following on from recent storms, Storm Ellen and Storm Francis."
"That being said, there is a slight chance that low pressure remains away to the west of the British Isles and over the Atlantic."
"In this scenario, it would be a much drier and calmer week, and also much warmer, with a plume of warm air pushing up from the south."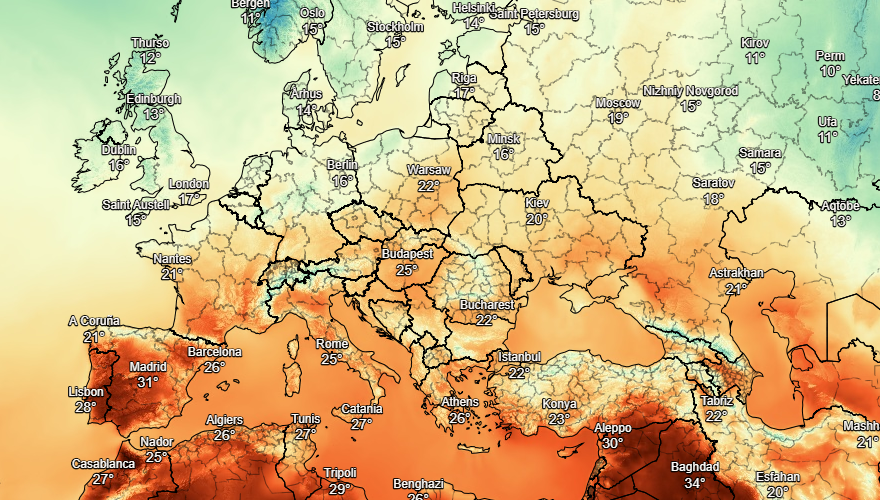 Photo: Stirimeteo
On September 6
Dry across much of the Mediterranean but with some heavy showers affecting the far northeast of Spain. Heavy and thundery showers across Siciliy and the southern tip of Italy and pushing into Sardinia.
Dry to start across France but showers moving into northern areas through the afternoon. Showers or longer spells of rain also affecting the Low Countries as well as northern Germany and the far north of Poland. South Germany and the rest of Poland will be mainly dry and fine.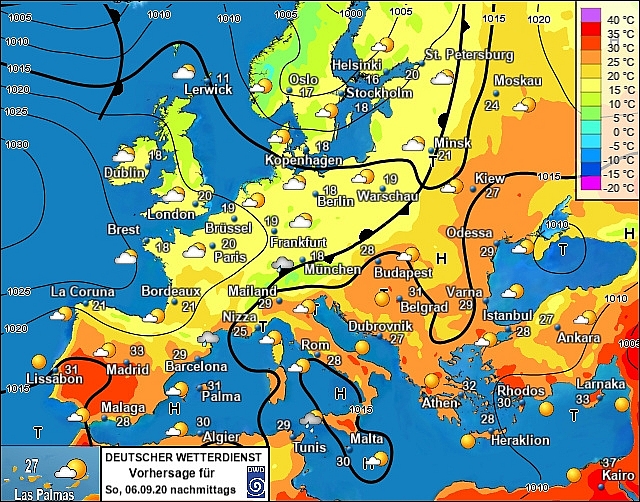 Photo: Stirimeteo
Showers becoming widespread and heavier over Austria, Switzerland and Slovenia. Croatia should remain dry. Much of central Italy will be dry but the far north will also see showers develop.
Unsettled with showers or longer spells of rain across Scandinavia but also some sunny spells developing. Showers and brisk winds across Denmark as well as through the Baltic States.