UK Foreign Secretary to visit Vietnam next week
UK Foreign Secretary Dominic Raab will pay an official visit to Vietnam from September 29-30 at the invitation of Deputy Prime Minister, Foreign Minister Pham Binh Minh.
British Foreign Secretary Dominic Raab (Photo: SCMP)
British Foreign Secretary Dominic Raab is to visit Vietnam to discuss the strategic partnership between the two countries and a potential trade deal, according to a Vietnamese government statement on Friday. The visit is to take place from September 29 to 30, according to the statement.
The statement also outlines a phone conversation between Raab and Vietnamese Foreign Minister Pham Binh Minh from July, in which both sides expressed interest in a trade deal, Morning Star reported.
Foreign Secretary Dominic Raab expressed thanks to Vietnamese competent authorities and health workers for their devotion to cure British nationals who were confirmed having COVID-19 in the Southeast Asian country during his phone conversation with Deputy PM, FM Minh last July.
Raab congratulated on Vietnam's successful response to the pandemic, saying that the UK lists Vietnam as one of the countries whose citizens do not need to isolate for 14 days when entering his country.
He affirmed the UK regards Vietnam as one of its major partners in Asia-Pacific and Southeast Asia, expressing his wish to further deepen the strategic partnership with Vietnam in all fields, VGP cited.
Raab also highly valued Vietnam's efforts as the current ASEAN Chair and a non-permanent member of the United Nations Security Council, reiterating that the UK stands ready to continue close collaboration with Vietnam at multilateral frameworks, the United Nations Security Council, as well as other international organizations.
Deputy PM and Foreign Minister Pham Binh Minh during a phone talk with the British counterpart. (Photo: People Army Newspaper)
The Foreign Secretary voiced the UK's continued support for preserving peace, security, and stability and for respect for international law, including the 1982 United Nations Convention on the Law of the Sea in the East Sea, People Army's Newspaper cited.
Meanwhile, Deputy PM, FM Minh spoke highly of mutual coordination and support between the two countries at multilateral for a, pledging that Vietnam, as the current ASEAN Chair, advocates foreign partners, including the UK, to strengthen cooperation with ASEAN.
Minh welcomed foreign partners, including the UK, to make constructive contributions to peace, cooperation, development and observation of international law in the region and the world.
Both sides expressed their pleasure at the strong advancement of the Vietnam-UK strategic partnership over the past decade. In this regard, Minh suggested the two countries beef up exchange of delegations while maintaining the existing cooperation mechanisms and working towards the signing of a free trade deal between the sides.
He also asked the UK side to continue mutual support for citizen protection work, emphasizing that Vietnam would create favorable conditions for foreign investors, experts, business managers and skilled workers, including those from the UK, to enter Vietnam.
Vietnam and the UK set up diplomatic relations in September 1973 and upgraded their ties to Strategic Partnership in 2010.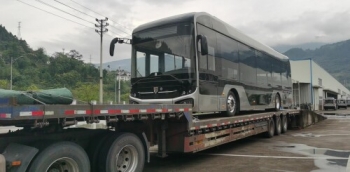 Economy
Ev Dynamics (Holdings) Limited is a pioneer and a prominent player in China's new energy commercial vehicles market, as well as a whole-vehicle manufacturer of specialty passenger vehicles and new energy passenger vehicles.