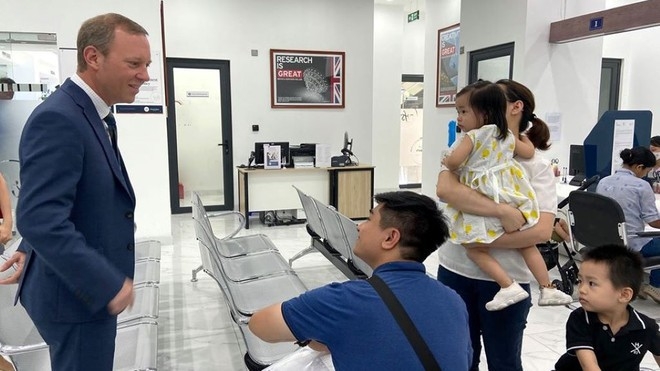 British Ambassador to Vietnam Gareth Ward visited VAC Hanoi Monday morning. Photo: UK in Vietnam
British Embassy in Vietnam announced on June 22 that Visa Application Centres (VACs) in Vietnam welcomed the first appointments for UK visas after a temporary suspension due to COVID-19.
British Ambassador Gareth Ward visited VAC Hanoi Monday morning and had a chat with customers applying for family reunion, student and work visas. The resuming of UK visa operations in Vietnam has marked an important step in restoring travel and business activities of the Vietnamese community in the UK.
The U.K. currently opens its borders. Since June 8, people arriving in the U.K from overseas will need to self-quarantine for 14 days.
The new measures will apply to all residents and foreign nationals, with exemptions in place for truckers and freight workers, medical professionals working on the coronavirus response, and seasonal agricultural workers, who will be permitted to self-isolate on the property where they are working.
Those moving within the U.K.'s Common Travel Area with Ireland will also be exempt.
Those who breach their quarantine in England will face £1,000 fines or potential prosecution. While the new rules apply to the whole of the U.K., Scotland, Wales and Northern Ireland will be responsible for their own enforcement.
All arriving passengers will have to fill in a form, before they arrive in the U.K., providing contact details and onward travel plans, so that they can be contacted if they, or someone they may have been in contact with, gets the virus.
Anyone who cannot self-isolate at home, in a hotel, or with friends or family, will be required to stay in facilities organized by the government. Travelers are recommended to travel to their place of quarantine in personal transport, such as a car, where possible.
The government says these measures will be reviewed every three weeks.
Jennifer Tran