UN acknowledges Vietnam peacekeepers' COVID-19 combat efforts
Vietnam and the United Nations have shared experience in peacekeeping activities, especially in combating the novel coronavirus (COVID-19) during online talks on July 10 between Deputy Defence Minister Nguyen Chi Vinh and UN Under-Secretary-General for Operational Support Atul Khare.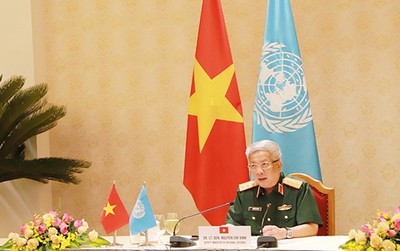 Deputy Defence Minister Senior Lieutenant General Nguyen Chi Vinh holds online talks with UN Under-Secretary-General for Operational Support Atul Khare
Senior Lieutenant General Nguyen Chi Vinh briefed Atul Khare on Vietnam's initial success in the COVID-19 fight, which he attributed to the engagement of the entire political system and people from all social strata, including soldiers, in the fight, alongside drastic measures put in place by the government.
Gen. Vinh also shared information about the results of Vietnam's participation in the UN peacekeeping operation in recent times, particularly in efforts to prevent the COVID-19 pandemic in Africa.
In addition to their professional qualifications, Vinh said Vietnamese officers have left a good impression on UN missions by teaching local children, assisting local people with farming, epidemic prevention, and presenting free face masks to foreign colleagues and people.
Currently, Vietnam is actively preparing for the Level 2 Field Hospital No. 3, and ready to take over the Level 2 Field Hospital No2. However, Vinh noted the term of the Level 2 Field Hospital No. 2 is likely to be extended due to the COVID-19 impact, and therefore the UN should have a support policy for soldiers, including Vietnamese, participating in the peacekeeping force during their extended mission.
For his part, Under-Secretary-General Atul Khare said the UN will acknowledge the effort that international peacekeepers, including Vietnamese officers, have made in combating the COVID-19 pandemic.
He thanked the Level 2 Field Hospital No2 for having introduced measures to respond to the COVID-19 pandemic, and suggested that Vietnam should further strengthen this activity to support the UN Mission in South Sudan.
The UN official congratulated the Military Medical Academy of Vietnam on its success in producing the SARS-CoV-2 virus test kit, as well as Vietnam on its initial success in combating the virus. He made recommendations to expand bilateral cooperation in the near future.
The UN Under-Secretary-General expressed his support for Vietnam's initiatives in its dual role as the ASEAN Chair 2020 and non-permanent member of the UN Security Council. He also voiced his support for Vietnam's initiative to host a conference highlighting women's role in UN peacekeeping missions, as soon as the COVID-19 pandemic is brought under control globally./.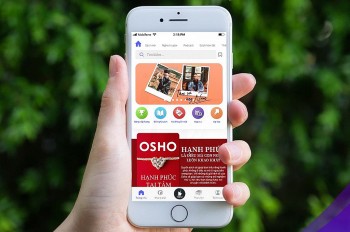 Make in Vietnam
Although the market is still new, audio book makers have a high growth rate. Currently, both Voiz FM and Fonos have a monthly revenue increase of six times compared to the first month of the year.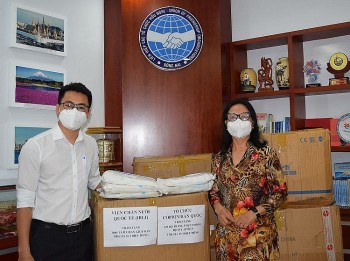 Friendship
Foreign organizations joined hands to prevent and control the Covid-19 in the southern province of Dong Nai.
Women in Business
In the complicated pandemic, corporate culture was an important factor to lead the enterprise through difficulties, said Ngoc Bich Tran, Tan Hiep Phat Deputy CEO.