1,500 residents in Nha Trang evacuate over flooding fear
Persistent torrential rains leave many roads and residential areas in Nha Trang city inundated, disrupting people's daily life. Over 1,500 residents have to relocate to schools, community houses, etc,. for safety concerns.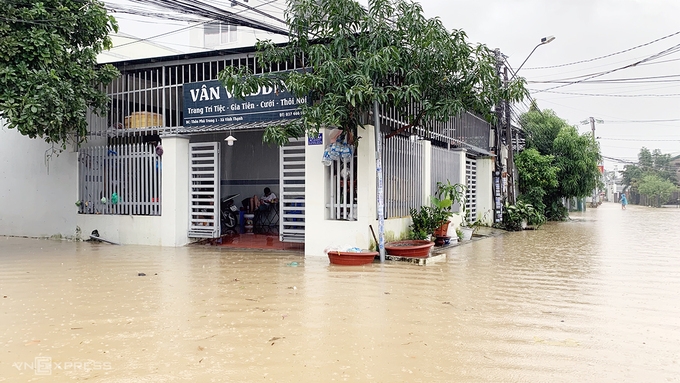 (Photo: VNE)
The city of Nha Trang is still battered by heavy rains as of December 1 morning. A number of suburban areas including Vinh Ngoc commune, Vinh Hiep, Vinh Thai commune are partly submerged, with floodwater rising to almost half a meter. In Vinh Thanh commune, rainwater floods into Ga market, small merchants have to load up their goods and close the stalls. Meanwhile, locals have no choice but wade through knee-high floodwater to buy daily necessities, foods, and candles in case the electric power is cut off.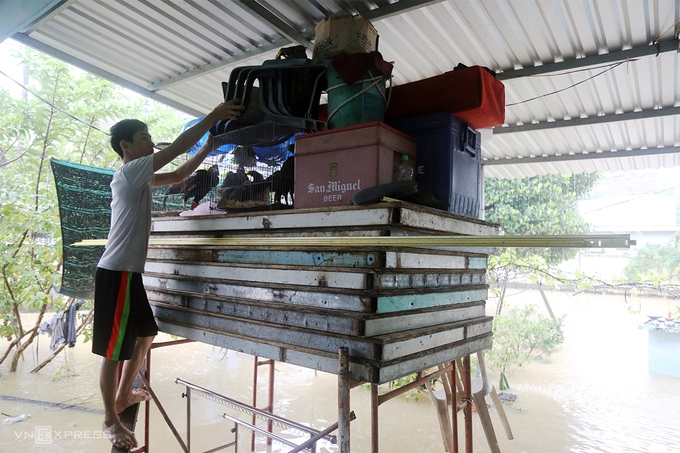 A local loading up his property as floodwater raises high (Photo: VNE)
As of November 30 afternoon, at least 1,500 people from low-lying areas, or areas with high risks of landslides have left their home upon the request from Nha Trang's officials. Schools, communal houses, People's Committees house, etc., are among the make-shift living space for the evacuees. Security forces were dispatched to flooded areas to stop people from entering or passing by.
According to the Khanh Hoa Steering Committee for Flood and Storm Control, besides Nha Trang, many communes in Dien Khanh province, Ninh Hoa town and rice fields in Van Ninh district are also flooded.
Notably, 27 visitors from Ho Chi Minh city are being isolated in Khanh Son district's Tra Giang mountain during their travel. Highway 27C connecting Nha Trang and Da Lat were earlier paralyzed for over 6 hours due to landslides. Now that the road is unblocked, rescuers are trying to approach and get those visitors out of the areas.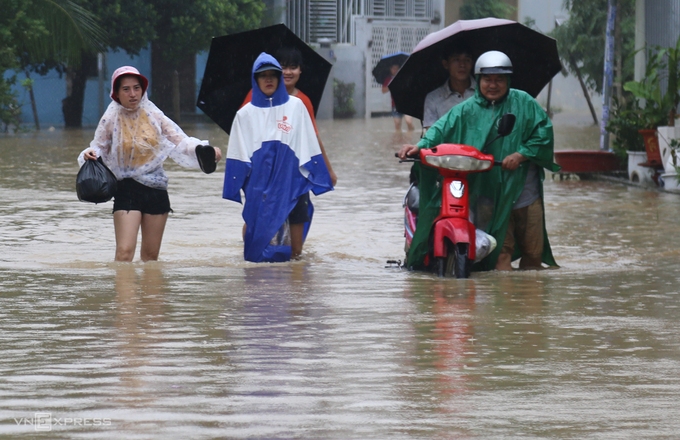 (Photo: VNE)
At the complicated development of flooding, the Department of Education and Training of Khanh Hoa continued to give over 286,000 students a break from school. The returning date is still uninformed.
The National Centre for Hydro-Meteorological Forecasting (NCHMF) forecasts that Khanh Hoa province will continue to face heavy rains on December 1, in certain places, rainfall might reach over 100 mm. Home to 31 reservoirs, the province is running an even more imminent risk in the coming days.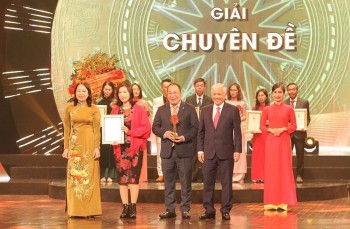 Overseas Vietnamese
VietnamTimes (Viet Nam Union of Friendship Organizations) is a reliable address for overseas Vietnamese to quickly and objectively update political, economic, cultural, and social news. The agency has created a helpful forum and connection between expatriates and the motherland.