Disaster-hit Vietnam's central provinces receive more financial aid
Prime Minister Nguyen Xuan Phuc has decided to grant an additional aid worth 670 billion VND (US$ 29 million) from the central budget reserves for nine Central and Central Highlands provinces to tackle the aftermaths of natural disasters.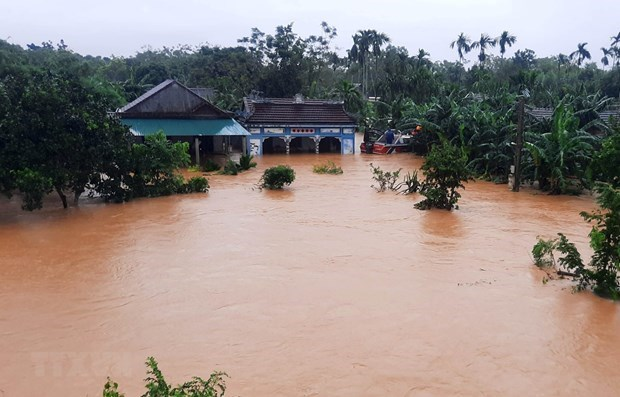 Vietnam's central provinces were severely hit by storms and floods. Photo: VNA
Accordingly, Quang Ngai province will receive 150 billion VND, Quang Nam 130 billion VND, Binh Dinh and Quang Tri 70 billion VND each, and Nghe An, Ha Tinh, Quang Binh, Thua Thien-Hue and Kon Tum 50 billion VND each, Vietnamplus reported.
The money will be used to assist search and rescue missions; families that report their members dead or missing or their houses damaged; evacuate locals; support agricultural production, and repair infrastructure.
The Vietnam Red Cross Society Central Committee announced on November 25 that it had received 100,000 USD from Lee's Sandwiches, a US-based chain of fast-food restaurants selling Vietnamese food, to support disaster-affected people in the central region.
On the day, the Vietnam Fatherland Front (VFF) – Hanoi chapter also received over 13 billion USD from 21 units, offices, businesses, and individuals. Since October 13, it has received a total of 109.3 billion VND in support of localities hit by storms and floods.
Meanwhile, as of November 25, the VFF – Tien Giang raised a total of 14.3 billion VND.
Previously, the central relief committee on November 20 issued its plan to allocate 45 billion VND (1.94 million USD) to help central and Central Highlands localities repair damage caused by natural disasters.
Some 12 billion VND will be allocated for Quang Ngai province, 12 billion VND for Quang Nam, 5 billion VND each for Quang Binh and Quang Tri, 2 billion VND each for Ha Tinh, Thua Thien - Hue, Binh Dinh, and Nghe An, and 1 billion VND each for Phu Yen, Kon Tum and Gia Lai.
The money will be used to help build new or repair houses for locals, with priority given to poor and near-poor families, families of those who rendered services to the national revolution, and policy beneficiary families.
Since last month, central Vietnam has been wrecked by heavy rains, floods, and landslides due to numerous storms and tropical depressions. At least 235 people either died or went missing amid flooding and landslides in October, with economic damage estimated at around VND17 trillion ($734.67 million), according to the government.

Several countries and international organizations have pledged relief aid to assist central Vietnam's disaster victims.

On November 24, authorized by the Government, Minister of Agriculture and Rural Development Nguyen Xuan Cuong and Country Director of the Asian Development Bank (ADB) Andrew Jeffries signed the international emergency aid agreement worth US$2.5 million for disaster recovery in Vietnamese central provinces.

The grant is funded by the Asia-Pacific Disaster Response Fund which is designed to provide emergency assistance to ADB's developing member countries affected by natural disasters.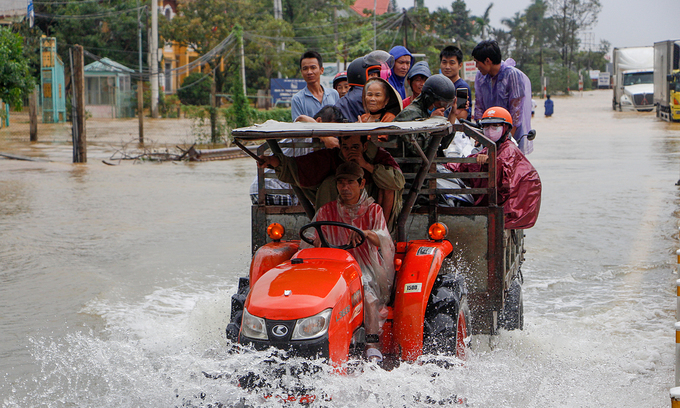 People are evacuated from their flooded homes in Thua Thien-Hue Province, October 10, 2020. Photo by VnExpress/Vo Thanh.
World Vision Vietnam also committed response and early recovery program for 10,000 households affected by recent typhoons in central Vietnam.
World Vision Vietnam pledges its USD-1.2 million-Response and Early Recovery Program in response to the widespread flooding and landslides caused by the recurrent rains and typhoons in Central Vietnam. This program aims to address the most urgent needs with life-saving assistance and speed up life building process for the 10,000 most vulnerable households in the affected areas of Quang Tri, Quang Nam, and Quang Ngai provinces.