UNDP plants 1,000 Trees in Hoa Binh
The tree planting aimed to prevent soil erosion and restore primitive forests, protect the environment, and respond to climate change.
Getting dirt under their fingernails may not be the usual order of business on a Friday afternoon, but that's exactly what the UN Development Programme (UNDP) staff and locals did for World Environment Day, when they came together to plant 1,000 trees in Da Bac district, the northern mountainous province of Hoa Binh.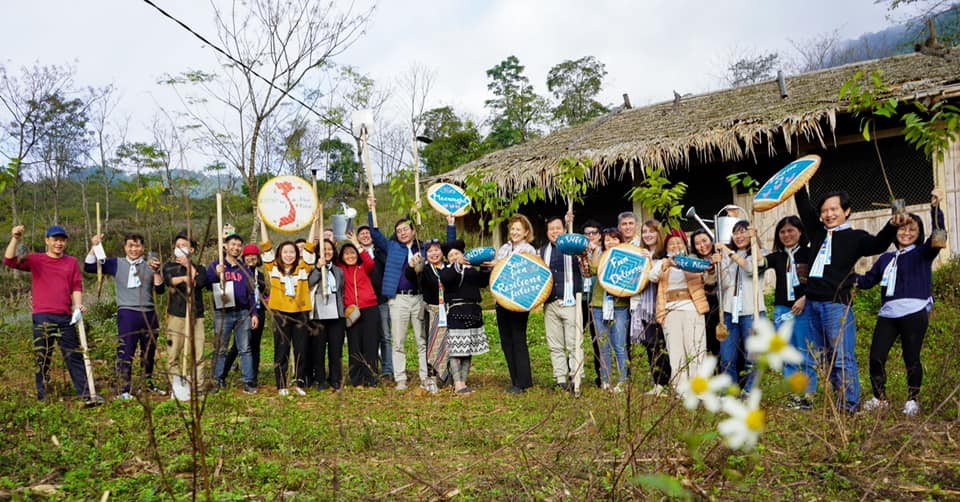 The trees is intended to help local residents raise their livelihood and contribute to a greener environment in Vietnam. Source: UNDP Vietnam
Response to the Vietnamese Prime Minister's call for 'A billion more trees' and UN Development Programme (UNDP)'s Moonshot Initiative, UNDP in Vietnam's colleagues and Dao ethnic community came together to plant around 1,000 Tram and Cho trees on Jan. 14. These kinds of trees are high economic and environmental values.
This is the first in a series of tree-planting events UNDP plans to carry out this year, contributing to the one-billion-tree growing project launched by the Vietnamese PM.
The event is also part of UNDP's Greening Moonshot Initiative, launched by the UNDP Administrator Achim Steiner, in 2019, which aims to reduce UNDP Greenhouse Gas (GHG) emissions from global operations by 25% by 2025, and 50% by 2030.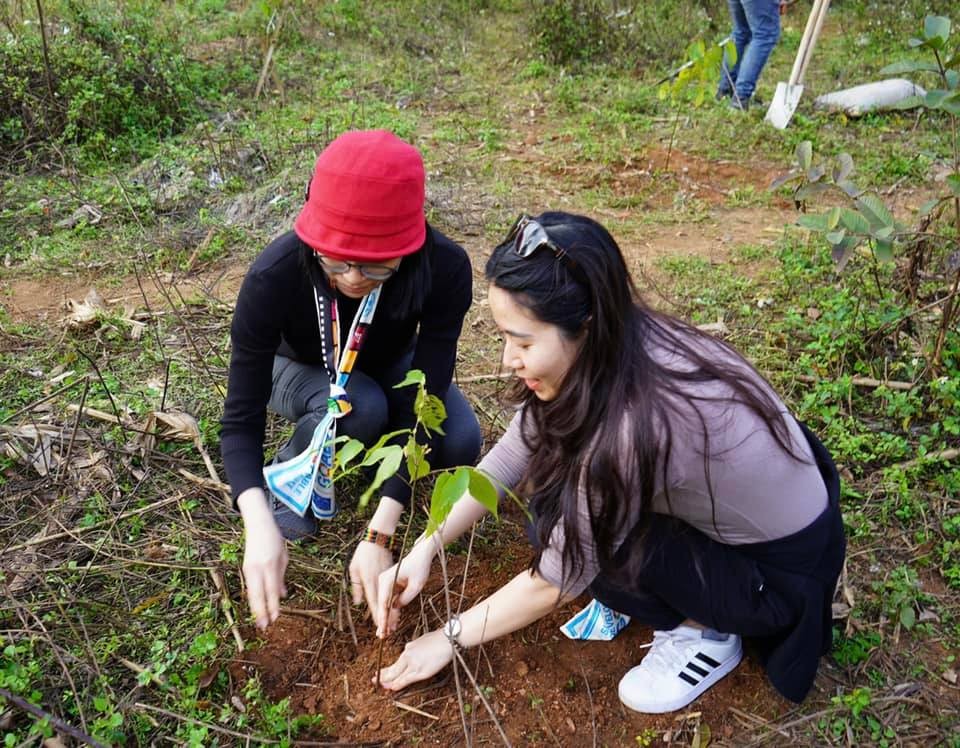 Becoming carbon neutral is not enough, the UNDP Greening Moonshot Initiative was launched, catalysing fundamental changes in UNDP's organizational culture and business model to confidently walk the climate talk. Source: UNDP Vietnam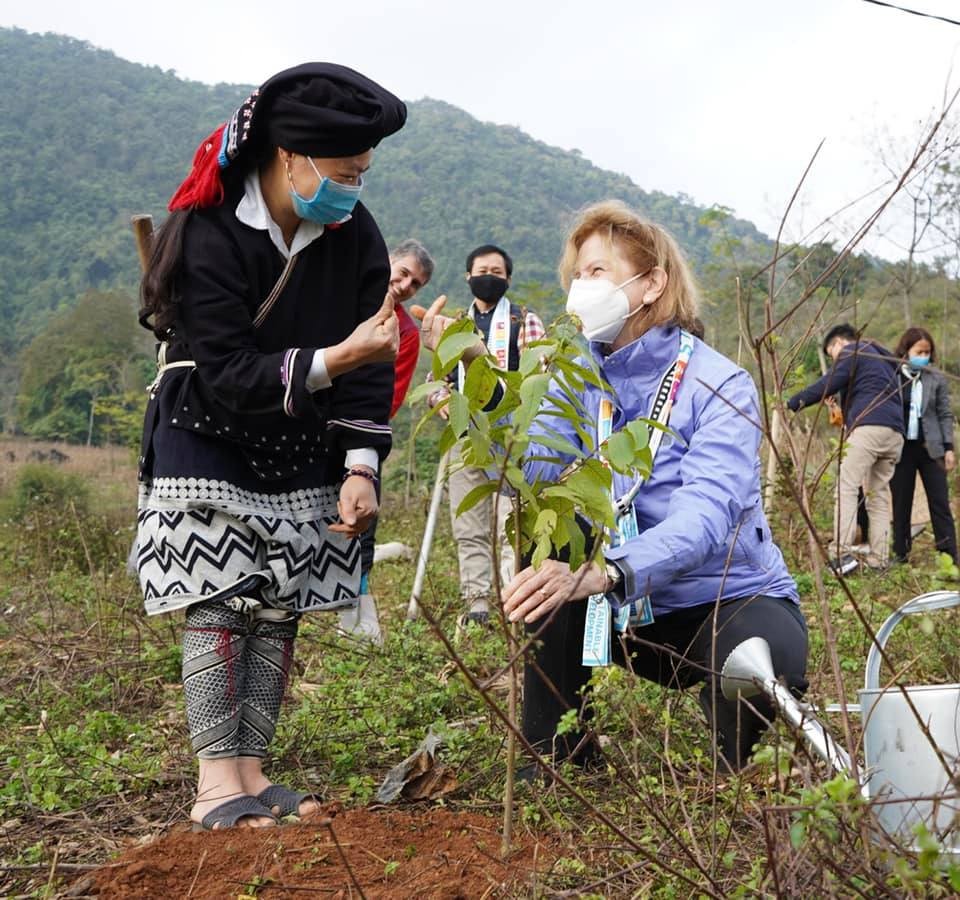 UNDP Resident Representative Caitlin Wiesen plants a tree with a local. Source: UNDP Vietnam
Last week, over 1,000 sao den trees (Hopea odorata), a rare species, have been planted on two hectares in Ta Cu Nature Reserve in central coastal Binh Thuan province's Ham Thuan Nam district.
The provincial committee of the Ho Chi Minh Communist Youth Union (HCM CYU) organised the tree planting event in coordination with Viet Vision and Menard companies.
4,000 more sao den trees will be planted in May this year, according to the provincial HCM CYU committee.
The programme targets the planting and taking care of one million trees in watershed forests in areas often affected by natural disasters, storms, floods, landslides in the 2021 – 2025 period.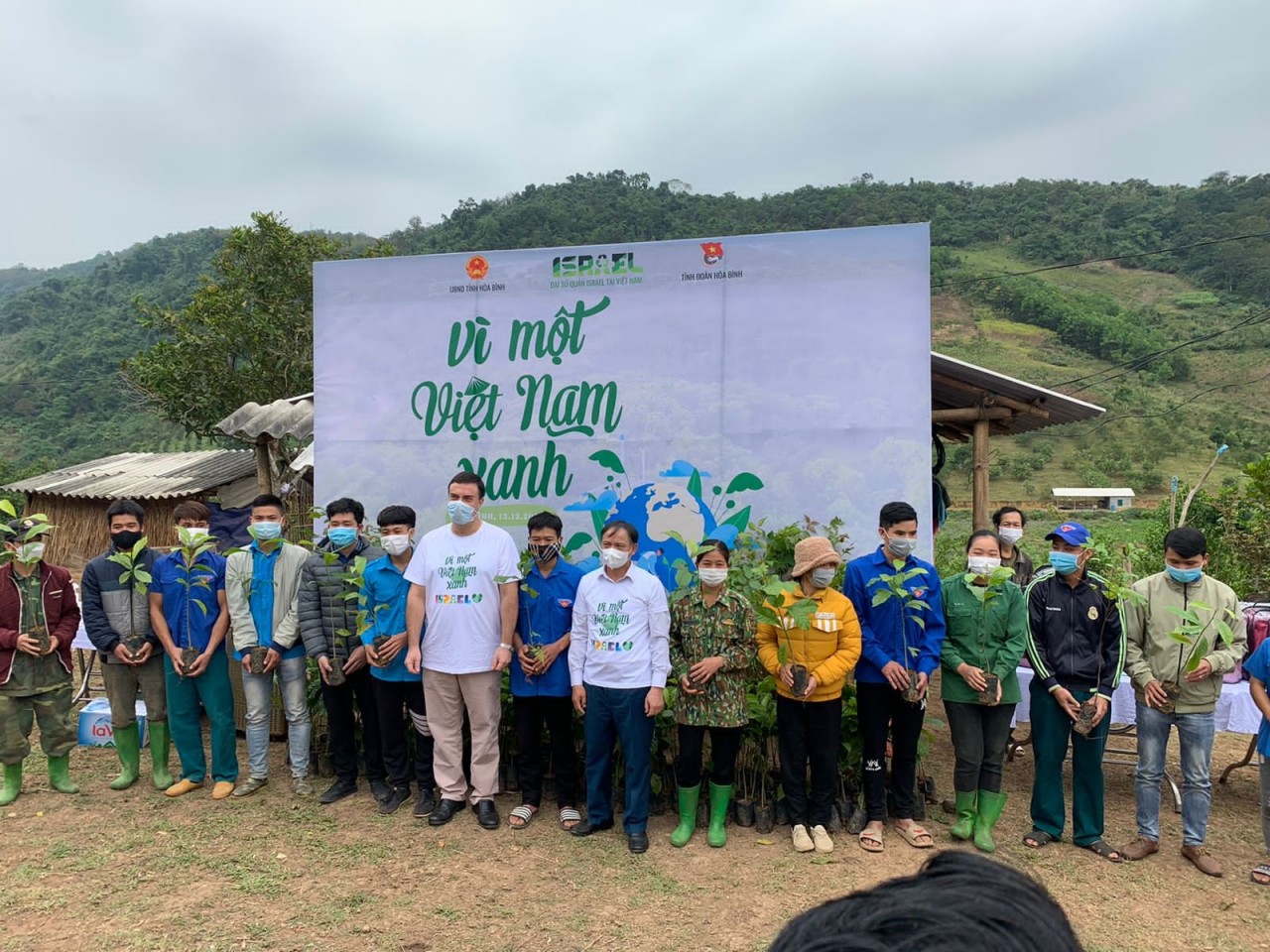 Israeli Embassy presents over 22,000 plants to farmers in Hoa Binh.
The Embassy of Israel in last December had presented more than 22,000 plants to farmers in Bac Phong commune, Cao Phong district, Hoa Binh.
Under the one-billion-tree growing project for the 2021 – 2025 period, 690 million trees will be grown in urban and rural areas, and 310 million planted in protected, special, and production forests.
The Ministry of Agriculture and Rural Development has asked localities to launch a tree planting festival on the occasion of the upcoming Lunar New Year (Tet) and encourage people from all walks of life to plant trees.
Along with strengthening forest management, protection and development as well as handling violations in the field, localities were requested to prepare equipment and resources for the prevention and control of wildlife.
In 2021, localities across the nation planted 260,00 hectares of concentrated forest and 100 million scattered trees.
Vietnm has a whole festival dedicated to this activity reserved for fresh spring days at the beginning of the Lunar New Year, with officials of high rankings usually present to kick off the events and exhorting the public to join.
Accoriding to the updated climate change scenarios and the national climate assessment report were released on Jan. 14 by the Vietnam Institute of Meteorology, Hydrology and Climate Change under the Ministry of Natural Resources and Environment, showed that the country is one of the countries most vulnerable to climate change.