Unheard-of special school closing ceremony amidst Covid-19
After 3 years of being together, this year, the senior students could not have a school closing ceremony together. The online closing ceremony became the last moment to help students "freeze" their memories.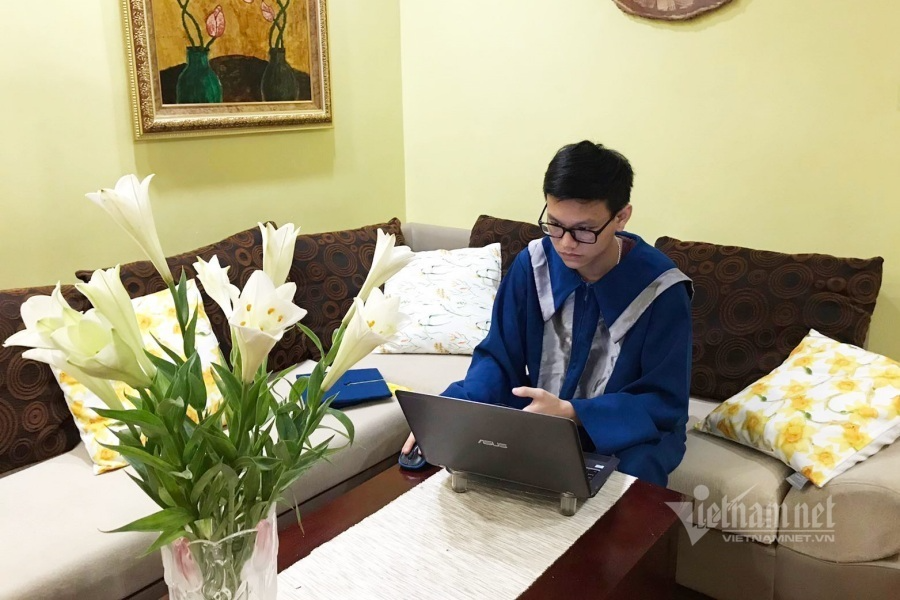 Students wearing bachelor's gowns, sitting in front of laptop screens, phones to watch the graduation ceremony. Photo: Vietnamnet
"If you say youth is like a shower, even if you once caught a cold from bathing in the rain, you still want to bask in that rain again. For me, 3 years of high school is the most beautiful and most memorable time of youth", Hoai Huong, a 12th grade student of Thai Binh High School for the Gifted, wrote an online autograph book to say goodbye to her classmates.
This year, because of the pandemic, grade 12 students like Huong could not properly end their schooling with a closing ceremony as planned.
"Sadness, disappointment and regret are emotions in the last days of my student life. I thought there was still time for the whole class to put their arms around each other, cry and laugh when recalling the memories of the first day we met."
Understanding the students' regret, Nguyen Van Dung, principal of Thai Binh High School for the Gifted also wrote a handwritten letter to encourage the senior students.
"This year's closing ceremony of the golden goats is very special. Instead of a solemn ceremony or a jubilant mess with friends, we said goodbye with just one look, wrapping all the nostalgia behind a tight mask. The 3-year course that went by in the fluctuating mood of the pandemic breaks suddenly became so short and so disappointing. The teachers are very understanding and share with the feelings and moods of the students."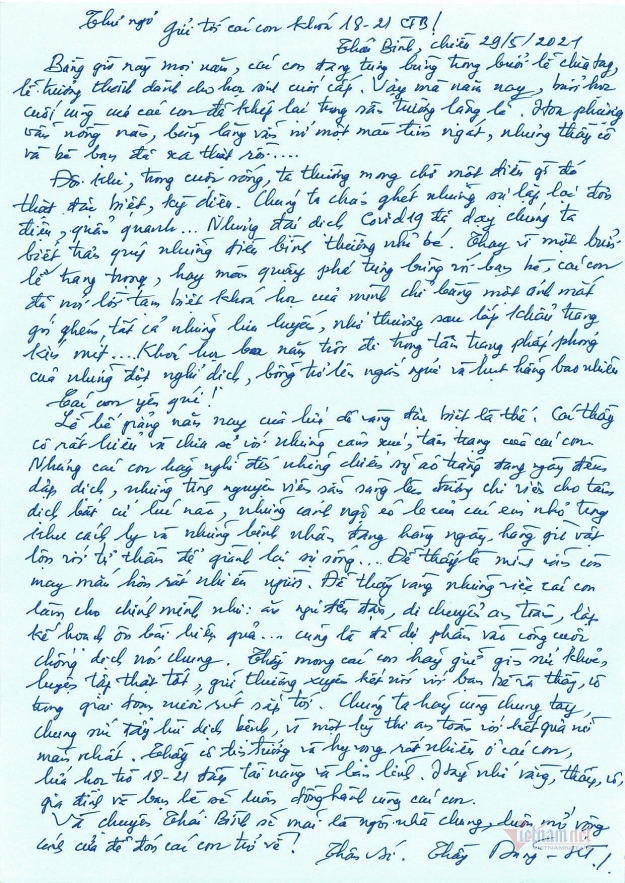 A handwritten letter of encouragement to senior students by Nguyen Van Dung, principal of Thai Binh High School for the Gifted. Photo: Vietnamnet
Although it was announced in advance that the graduation ceremony would be conducted online, both the teachers and the 12th grade student of Wellspring Bilingual School were still looking forward to a miracle.
"However, due to the pandemic, the graduation ceremony still cannot take place in a face-to-face manner. That is the biggest regret of both the teachers and students," said Ngo Mai Huong, a grade 12 teacher.
In different places, students across the school wore bachelor's gowns, sat in front of laptops and phones to watch the ceremony.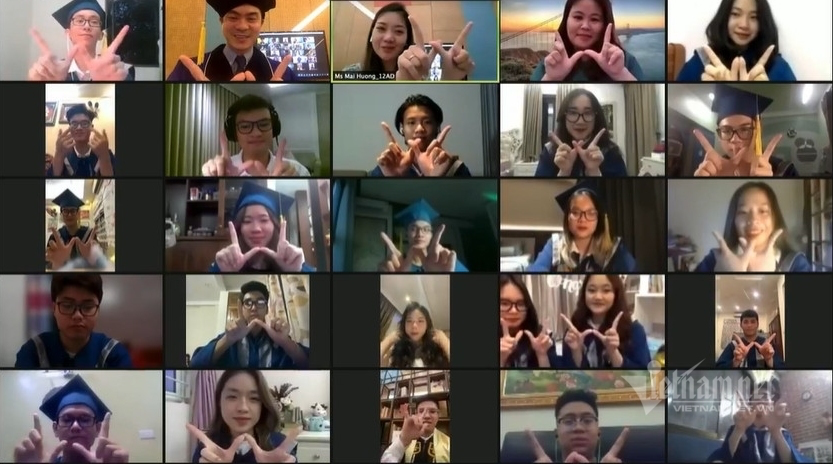 Students join one last class to talk face-to-face with their teachers, in the online classroom space they've grown accustomed to over the years. Photo: Vietnamnet
However, technology has allowed for some virtual celebration.
Through the form of writing an online yearbook, students can send supportive messages to teachers and friends.
Although they could not meet face-to-face, the online autograph book became a place for students to express their feelings.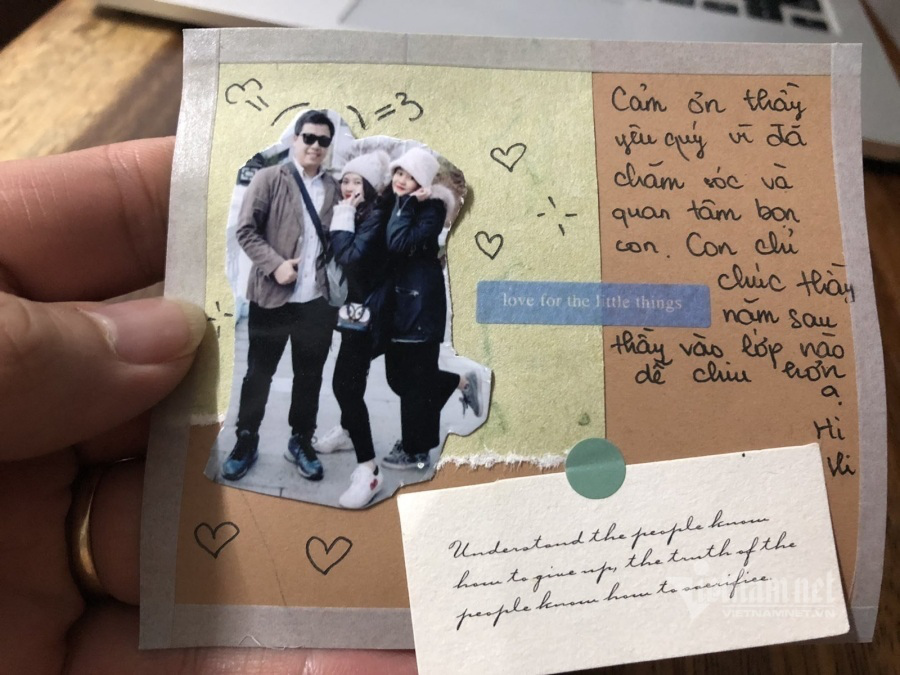 Photo: Vietnamnet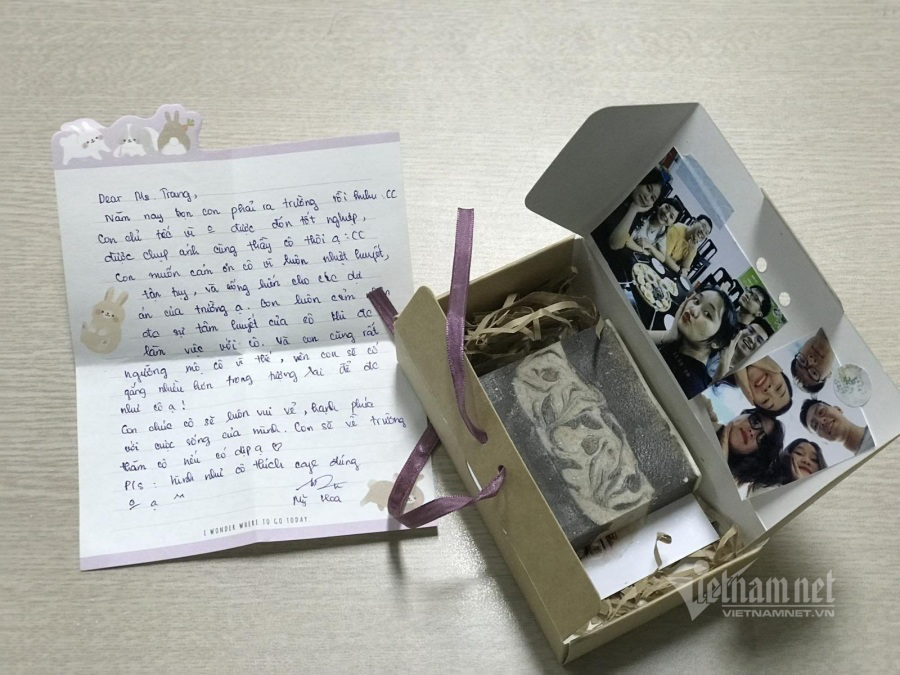 Students knew that they could not attend the graduation ceremony and meet their teachers in person, so they sent letters and small gratitude gifts with lovely wishes. Photo: Vietnamnet
During her online graduation ceremony, student My Hoa became emotional: "Today, I feel very regretful that I can't celebrate with my teachers and friends in person. There will be regrets and disappointments, but for us, this year's graduation ceremony has been somewhat complete in its own way. We - the students are grateful that until the last moment, we still have teachers and friends by our side, to save the last pieces together - a beautiful part of our youth that we can feel warm and peaceful when I look back on," Hoa said.