Unique Job in Vietnam: Hugging pigs to bring the bacon
At Ba Ren Market, a handful of people are working as 'pig huggers' to make a living, earning VND100,000 (US$4) per day.
Ba Ren market, located in Que Son District, central Quang Nam Province, was made up in the 1970s. It covers an area of thousands of square meters with a house of about 500 square meters for trading piglets. The market is widely known as the largest swine market in the Central of Vietnam and also the oldest in the nation.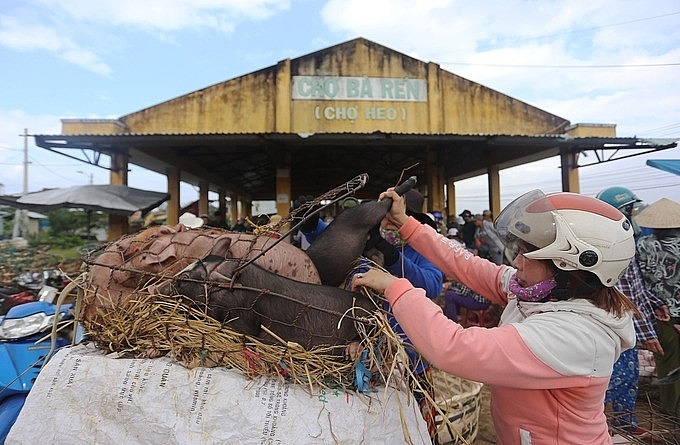 Ba Ren Market as the largest pig market in the Central. Photo: VnExpress
The outbreak of African swine fever (ASF) has recently impeded the trading activities there, causing loss to traders. Fortunately, the fever has been under control and the market has gradually got back its liveliness.
Tran Thi Thao (58), a local resident, has been so used to the market for over 32 years. She does not go to the market to trade something but to carry out a unique job: Hugging pigs to move them from one to other cages and making it easy to weigh the swine.
Having arrived at the market, Tran Thi Thao quickly put on her self-made 'protective clothes' and jump into working as she had been doing for more than 20 years. "At the market, there are about six people who specialize in 'hugging' pigs for weighing purposes," said Tran Thi Thao.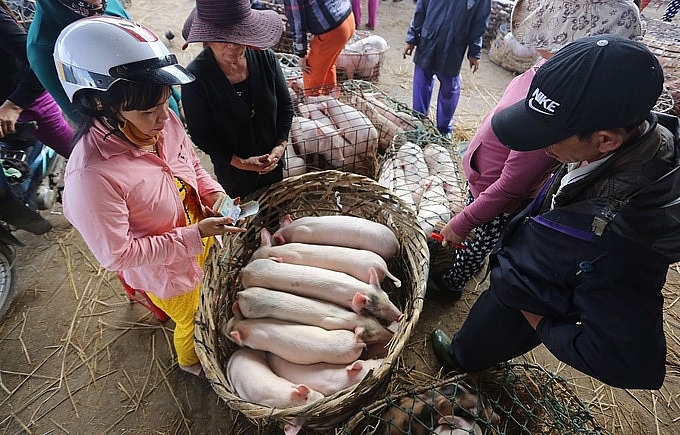 Pigs are confined in iron or bamboo cages or baskets. Each basket costs about 7-8 piglets. Photo: VietnamOpenTour
The noisy sounds from the pigs, the salvo arguments, and negotiations made the most lively part of the day in the market. Amid the crowds, Tran Thi Thao rushed to different stalls, removed the wire of the cage, grabbed a pig, held it tight in her arms, and put it into the buyer's cage. Only about 10 minutes, the herd of 10 pigs, each weighing 5 kg, was neatly transferred by Tran Thi Thao.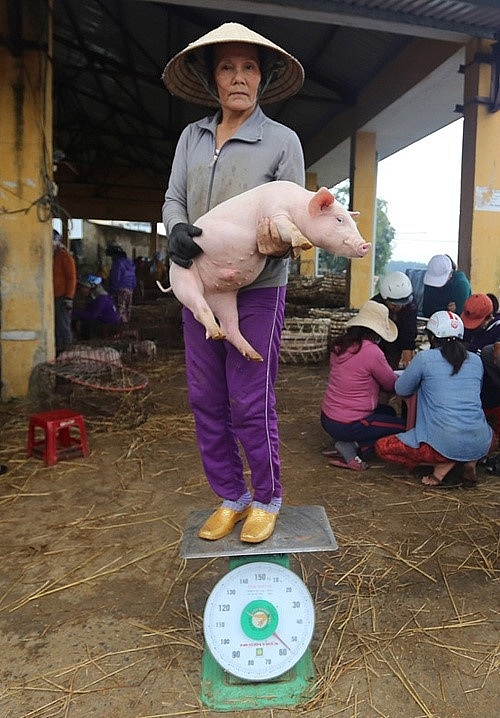 Tran Thi Thao hugging a piglet on the scale. Photo: VnExpress
Sometimes, her job is not only to hugging the pigs to transfer them. If the deal has not been finalized, she still has to pick up the pig so that buyers can examine the animal. When the two sides end up the bargain, her next task was to hold a pig and stand on the scale. The seller and the buyer look at the scale and do the calculations. After subtracting his weight, they get the weight of the pig. At this point, the sale proceeds into the stage of negotiating and charging.
Pig huggers take an essential role in the pig market. Had it not been for the work of pig huggers, the pig trading activities would not have been so smooth. "To scale a whole pig, we have to confine it in a cage or use a rope to fix its legs. That's really time-consuming" said Tran Van Tien, who is experienced in pig trading, explaining how pig huggers help traders save time.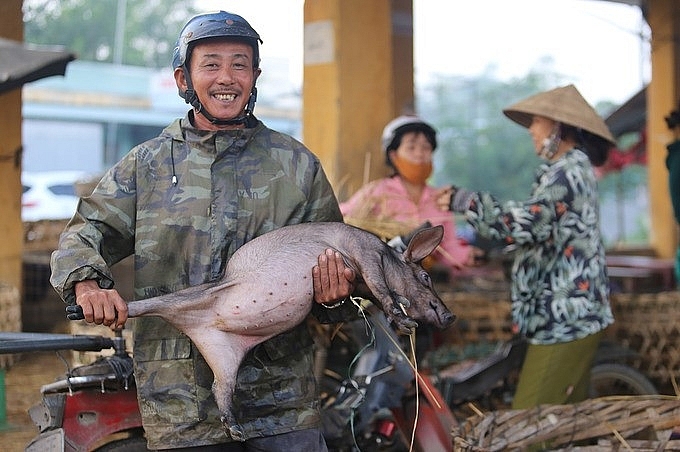 Nguyen Van Tien, an experienced pig trader at Ba Ren Market. Photo: VnExpress
Ba Ren pig market usually lasts only 4 hours in the morning and ends at 10 a.m. Tran Thi Thao got paid by the traders. She earned VND500 for each piglet and VND1,000 (less than a cent) for each adult pig, Working hard till midday, she got nearly VND100,000.
Those who work as pig huggers like Tran Thi Thao cannot deny the bitter fact that the smell of pigs keeps clinging to them; the smell does not go away even they have bathed with all kinds of soap. "Holding a pig requires some tricks. If you are not used to it and let the pig escape and run away, you will have to pay a large amount of money," she said, recalling when she had some incidents during her job. Sometimes she had chased the pigs and caught them successfully, but sometimes she failed and had to pay for the missing pigs
Nguyen Thi Lam hugging a 10-kilogram piglet. Photo: VnExpress
Nguyen Thi Lam (60), Tran Thi Thao's colleague, said: "This job is really hard and risky. Many people want to quit the job but they cannot find any suitable work due to their old age and underprivileged status."
On the other hand, pig huggers' income is not very appealing compared to the hard work they have to do. As Nguyen Thi Lam said, it is just enough for her make ends meet without much savings for her retirement.
Pham Cu, the market manager, said every day about 100 people come to buy and sell nearly 1,000 pigs at the Ba Ren market. The market remains closed on the first and 15th day of every lunar month, which are auspicious days in the Buddhist calendar.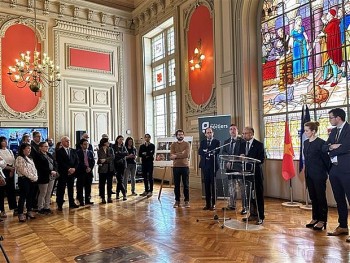 National
Vietnam News Today (Mar. 26): Vietnam and Thailand promote labour cooperation; Vietnamese, French localities look to step up cooperation; Attractive incentives on offer at Hanoi Tourism Festival 2023; E-commerce accounts for 60% of Vietnamese digital economy.