Online trading floor, a booster for Vietnam's lychee consumption post COVID-19 
The newly-launched online trading floor dedicated to lychee trading in Bac Giang province is expected to open a pathway to the international market for other Vietnamese agricultural products, trade officials reveal.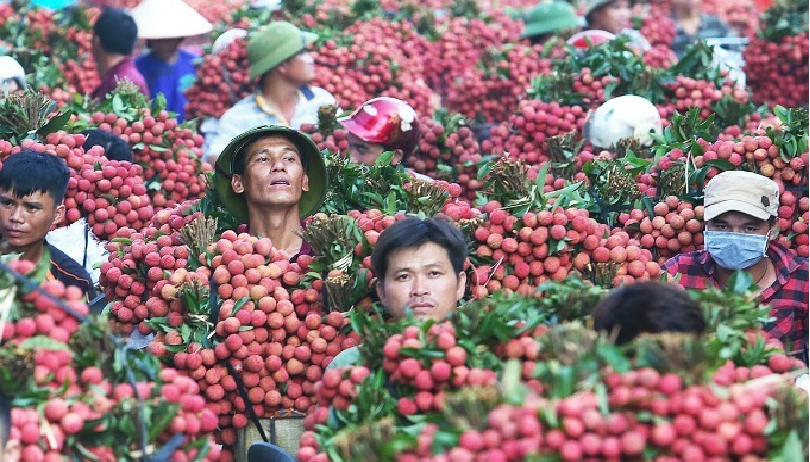 Lychee traders in Bac Giang Province rush to deliver the seasonal fruit to wet markets (Photo: VNE)
To promote lychee consumption in the remainder of the year with the COVID-19 pandemic, the northern province of Bac Giang has recently collaborated with the Ministry of Industry and Trade and the Ministry of Agriculture and Rural Development in organizing a teleconference, which links Bac Giang with 61 sites in cities and provinces nationwide, along with four locations in China, attracting the participation of over 2,300 delegates.
Many local and foreign firms have later registered to purchase and export Bac Giang lychees, with trade procedures are reported to have been conducted smoothly.
To take advantage of information technology in the era of Industry 4.0, Bac Giang province has also launched its own electronic trading floor for local lychee products.
The online trading floor is expected to provide a model for other agricultural products like mangoes, watermelons, and longans to follow in order to penetrate foreign markets in the future, according to Vu Ba Phu, Director General of the Vietnam Trade Promotion Agency under the Ministry of Industry and Trade.
At present, Bac Giang lychees have successfully been able to penetrate a number of demanding markets globally, with the brand name being protected in eight countries.
While mid-May usually marks the harvest season for Bac Giang lychees, lasting until the end of July, the province is home to a total growing area of 28,000 hectares and is able to produce an output of between 150,000 and 200,000 tonnes each year.
Most notably, the province has applied locally and internationally recognized farm management practices, with 15,000ha of the lychee growing area meeting VietGAP standards and 218ha meeting GlobalGAP standards. The US, Japan and China have granted their own codes to many lychee growing areas in the province.
Over the past years, Chinese businessmen and local growers have maintained a long-lasting relationships, even during the challenging time of the COVID-19 pandemic at present.
According to a business representative in Pingxiang, Guangxi, the Bac Giang lychee brand has become very popular in China, with its products selling well in Beijing, Shanghai, Guangzhou, and Shenzhen among others.
As reported by Vietnam Times, since the beginning of the season, nearly 6,500 tonnes of fresh lychees, worth more than US$3.6 million in total, have been exported to China through Kim Thanh Border Gate in Lao Cai Province, up 37% in volume and 39% in value compared to the same period last year.
On May 25, the first batches of lychees were shipped from the northern province of Hai Duong, the country's leading lychee grower, to Singapore, the United States and Australia.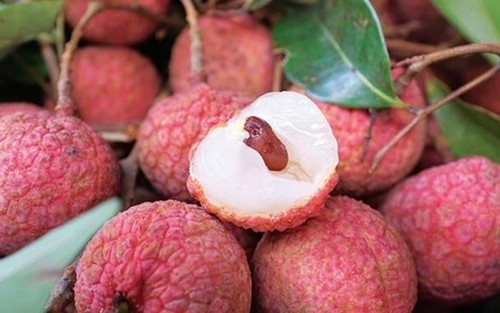 Lychee is the fourth fresh fruit of Vietnam, after dragon fruit, mango and banana (Photo: VNT)
In an effort to facilitate the consumption of lychee products, competent authorities believe that businesses and traders should gradually shift their export of lychees from unofficial channels at border gates to official channels that fully complies with standards regarding the quality of items, origin traceability, food hygiene and safety standards, along with labels and packaging.
Lao Cai and Lang Son, the two provinces bordering China, have worked with Chinese authorities and they vowed to create favorable conditions to facilitate administrative and customs clearance procedures for shipments at the border gates,
Aside from the Chinese market, Bac Giang province continues to co-ordinate with the Central Retail Group to export Luc Ngan lychees to Thailand. It plans to display the products on the shelves of Tops supermarkets and the Central Food Hall in an attempt to market the products among consumers in Bangkok.
Lychees are small rounded fruit with white translucent flesh, pleasant smell and rough thin skin. Lychees are believed to be packed with nutrients from vitamin C, B to coppers, niacin, etc. which contribute to boost the immune system, lower cholesterol, improve digestion and so on.
In 2018, the fruit was certified by the Southeast Asian Records Organisation as one of the Top 10 specialties of Southeast Asia.
Bac Giang earns VND 5.4 trillion from lychees

The remaining 1,000 tonnes, worth USD 1.8 million, were exported to several EU countries, Russia, Singapore, Thailand, Australia, the US, Canada, Japan and the Republic ...