Unique Southeast Asian Cuisine Made From Rice
Not too picky in ingredients, Southeast Asian cuisine has affirmed its position with delicious dishes made from rice.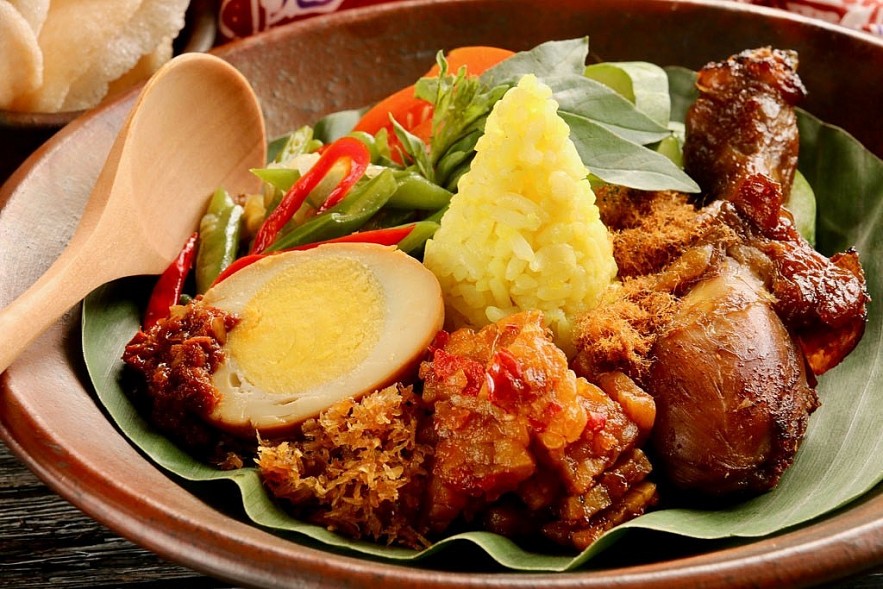 Photo: dulich.petrotimes.vn
1. Nasi Kuning, Indonesia
Kuning is a dish made from a special type of golden rice, often used by Balinese during festivals. After being cooked with coconut milk, chicken broth, spices, and rice, it will be shaped like a tower.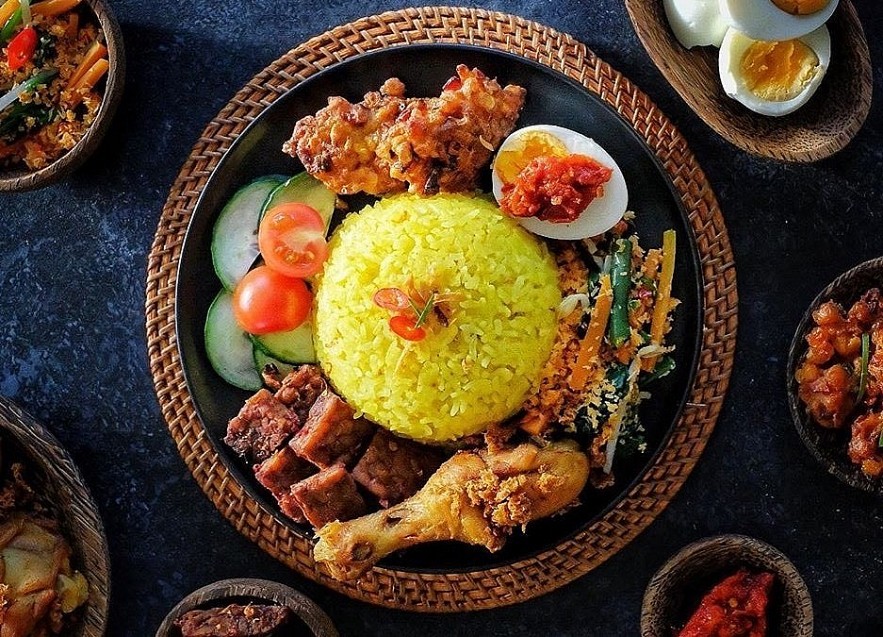 Photo: dulich.petrotimes.vn
Nasi Kuning is usually served on a large plate with meat, eggs, fish, and green vegetables. At first glance, the dish looks like a vivid picture.
2. Five-color sticky rice, Vietnam
Photo: dulich.petrotimes.vn
Five-color sticky rice is a dish made from glutinous rice, popular in the mountainous areas of Vietnam. Sticky rice is colorful like a flower. The color of this dish is from vegetables, and fruits such as sweet gourd, pandan leaves, beetroots.
Photo: dulich.petrotimes.vn
The diverse colors of sticky rice are also a metaphor for prosperity and favorable business. Red sticky rice symbolizes aspiration, yellow sticky rice is fullness. Purple sticky rice symbolizes rich land. The green sticky rice represents the green of the mountains and the white sticky rice symbolizes pure and faithful love. With its eye-catching form, five-color sticky rice has become a famous dish in Vietnam.
3. Nasi Lemak, Malaysia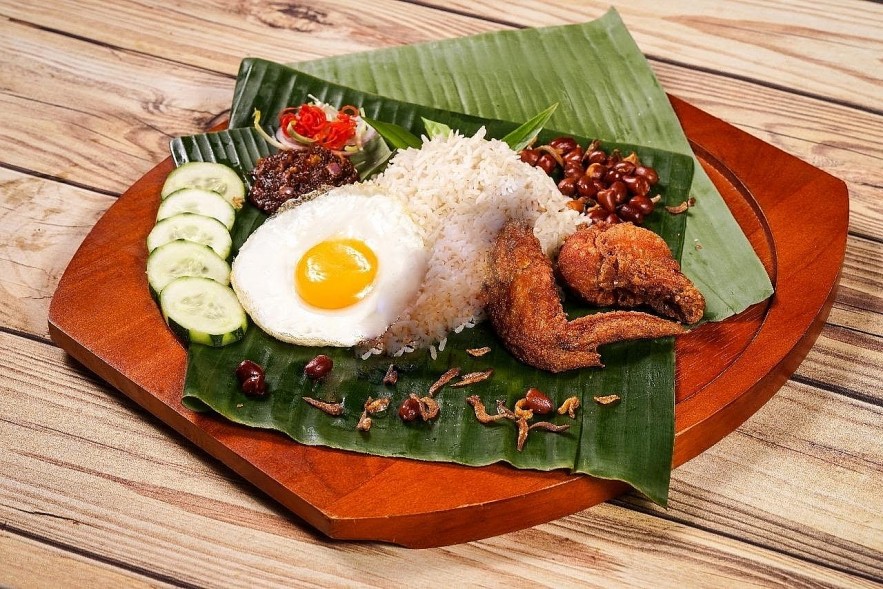 Photo: dulich.petrotimes.vn
When it comes to Malaysian cuisine, the name Nasi lemak is definitely not to be missed. This is the "national" rice dish of this country, available at most streets, restaurants, supermarkets, and hotels.
Nasi lemak has a simple recipe. The rice is cooked just right, with a layer of coconut milk mixed with pandan flavor for a characteristic fatty and delicious taste. Nasi lemak rice is usually served with crispy salted roasted peanuts, dried fish or dried venison.
Traditionally, Nasi lemak is wrapped in banana leaves or newspaper, creating its own simple beauty. Today, Nasi Lemak is available in many other countries, both in Asia and in Europe. This dish has gradually won the hearts of many diners.
4. Hainanese chicken rice, Singapore
Photo: dulich.petrotimes.vn
Hainanese chicken rice is a favorite dish of Singaporeans and international tourists when visiting Singapore. Its sauce is made from chicken broth, soy sauce and seasoning. The rice is also cooked with chicken broth, pandan leaves, ginger and garlic.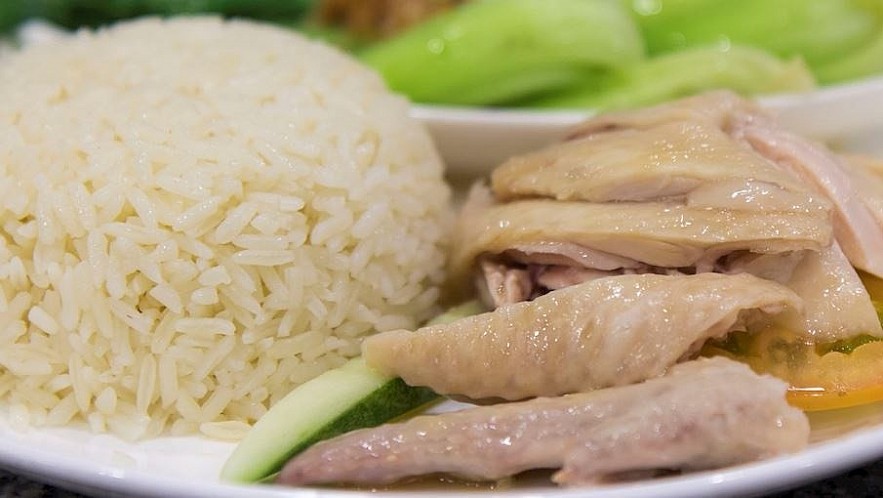 Photo: dulich.petrotimes.vn
When eating chicken with rice, it's not as dry as normal chicken rice. The rice is cooked, with the aroma of pineapple, ginger and soft boiled chicken.
5. Khao Phad, Thailand
Photo: dulich.petrotimes.vn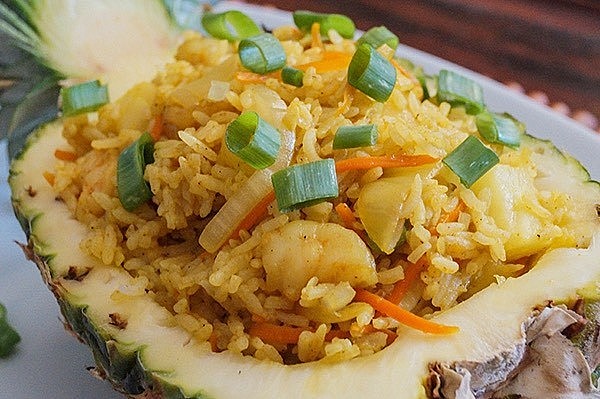 Photo: dulich.petrotimes.vn
Khao Pad or fried rice is a popular dish in Thailand. The dish includes white rice, meat (commonly chicken, shrimp, crab), egg, onion, garlic. The seasonings include soy sauce, sugar, salt, chili and a little fish sauce.