Hanoi Voted Among Top 25's Best Destinations For Food Lovers
Hanoi is voted among the 25 best tourist destinations for food enthusiasts as voted by Tripadvisor readers, and the city offers some of the best and most iconic dishes of Vietnam.
Hanoi placed 22nd on a list of 25 best tourist destinations for food enthusiasts as voted by Tripadvisor readers.
The capital city was one of four Asian representatives to break into the list along with Bangkok (9th), Singapore (10th), and Hong Kong (10th) in Tripadvisor's 2022 Travelers' Choice Awards. The list is based on the quality and volume of reviews received from Nov. 1, 2020 to Oct. 31, 2021.
The aim was "to select destinations that consistently deliver the best overall experience for travelers," Tripadvisor stated.
The city offers some of the most popular Vietnamese dishes like the iconic, fragrant rice noodle soup, pho, the banh mi, a baguette usually filled with grilled pork, meatballs or cold cuts, cucumber, cilantro, pickled carrots, liver pate, and a swipe of mayonnaise, or com tam, broken rice with grilled pork, pigskin, egg and fish sauce.
Its signature dishes that have contributed to Hanoi's cuisine reputation included bun cha, char-grilled pork with rice noodles, cha ca (fried catfish), and egg coffee.
The street food culture of Hanoi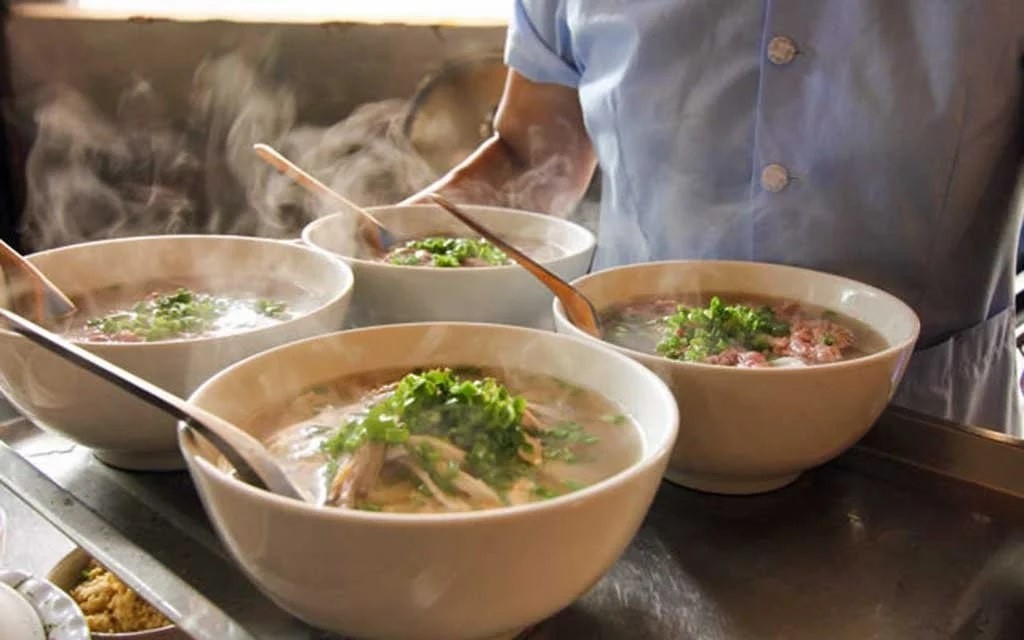 Photo: The Culinary Travel Guide
The capital city of Vietnam, Hanoi, is famous for its incredible street food culture. Among other aspects such as crooked narrow streets and French colonial buildings, street food in Hanoi attracts millions of visitors every year. Tiny plastic stools, accompanied by tiny street vendors and restaurants, line streets across the city.
Taking your first steps into the chaotic streets of Hanoi can only be described as one thing. A true sensory overload.
Motorbikes whizz by inches from your body. Lush green trees line the somewhat deteriorating streets. Locals huddle around tiny tables sipping beer or coffee. Overflowing electricity cables hang above your head. Small ladies in traditional hats carry their market stalls over their shoulders.
And in the distance is the faint smell of something damn good cooking. As a result, it's hard to know what it is about Hanoi culture you want to take in first. As you've just arrived from traveling, it's likely to be food.
When arriving in a new country or city for the first time, it's a challenge knowing what to eat. The easy option is to go to the nearest burger restaurant. And although the Vietnamese do western burgers very well, that's not why you've traveled all this way!
The best Hanoi dishes are inexpensive yet tasty treats that can be found within Hanoi Old Quarter's narrow alleyways and bustling street markets. Compared to other cities in Vietnam, Hanoi food tends to be on the sweeter side and utilizes freshwater ingredients such as prawns, squids, shrimps, crabs, clams, and mussels. You can also find familiar Vietnamese street food such as pho noodles, spring rolls, rolled cakes, and skewered meat.
The best Hanoi food to satisfy food lovers
1. Cha Ca (Turmeric Fish with Dill)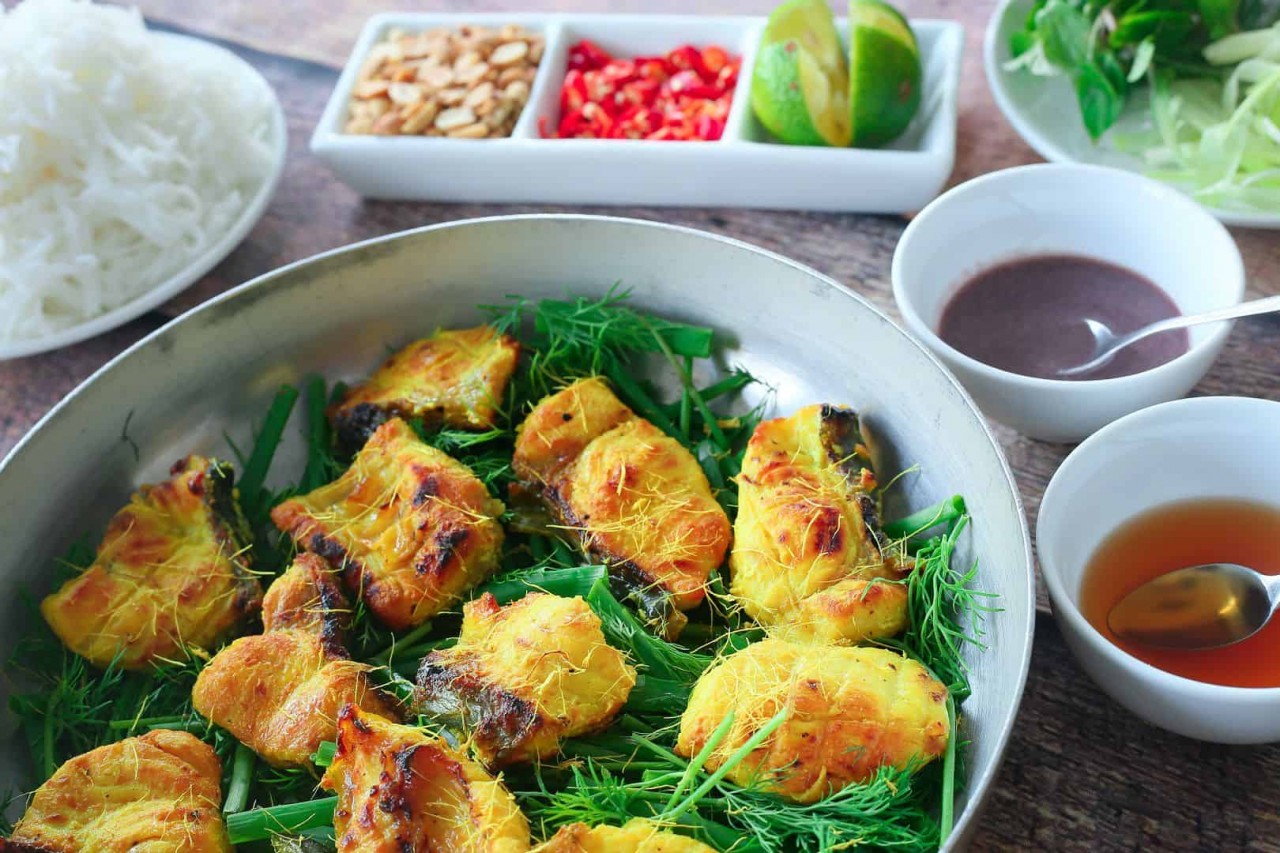 Photo: Chacahathanh
Cha ca has always been on the list of must-try foods in Vietnam. This famous dish is also known as "Cha ca La Vong" or "Cha ca Hanoi". Grilled white fish, crispy-edged and fragrant with turmeric, fish sauce, ginger and garlic, dill, spring onion, roasted peanuts and served with rice vermicelli noodles. Every ingredient in this dish will bring you the real tastes of Vietnam.
There was a restaurant in the Old Quarter that brought the grilled fish with dill and turmeric, a national phenomenon. This restaurant began serving Cha ca in the 19th century. Cha ca was invented by the Doan family. They made incredibly delicious Cha ca serve their guests in the year of the French domination period. The dish's popularity soon spread and the family, with the help of guests, opened a restaurant in no 14 Hang Son Street of Hanoi Old Quarter. The fame of this dish was the reason why Hang Son Street changed into Cha Ca street. The restaurant at that time had a statue of La Vong – Khuong Tu Nha – the God of Fishman. This was the reason why many people prefer calling it Cha Ca La Vong.
The dish is often made with snakehead fish. It is a freshwater fish that can be found across Vietnam. These days, there are many variant cha ca dish, in which people use different types of fish to make. However, the one made with snakehead fish is still the best.
The grilled fish with dill and turmeric is complex to prepare, right from the first step of making the marinade. The marinade is made of turmeric, garlic, shallots, galangal, salt, sugar, and fish sauce. The fish is marinated at least one hour before being grilled in advance. Right before serving the dish to guests, they fry it in oil.
2. Bun Thang (Rice Vermicelli with Chicken, Egg, Pork)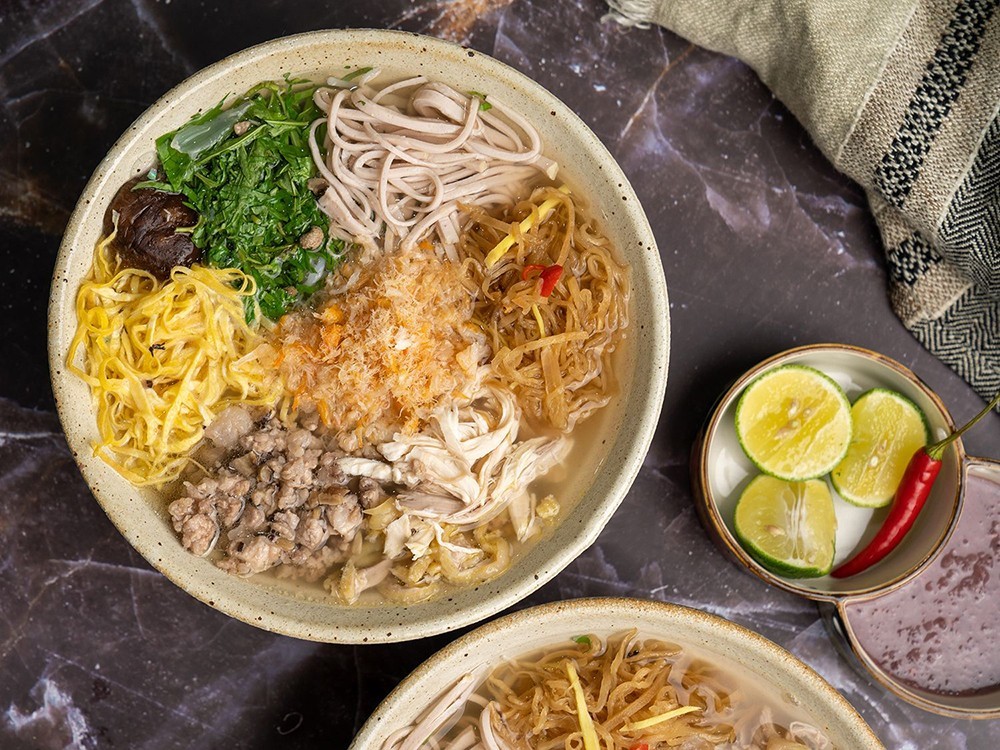 Photo: NgonAZ
In Vietnam, there are many types of rice vermicelli and noodle, but Bun Thang Hanoi is a very well-known and special dish. When it comes to Bun Thang Hanoi, perhaps no gourmets do not know this dish.
Bun Thang is a culinary specialty of ancient Hanoi, which is not only a unique dish but also the culinary essence of Hanoi. It has been handed down from generation to generation until now.
After the Lunar New Year, many families in Hanoi still have a lot of leftovers. Thus, in order not to waste food, the old Hanoians used all of that material and made it into a very delicious vermicelli dish. That is Bun Thang.
In Chinese, 'Thang' means 'broth'. So 'Bun Thang' simply means a rice vermicelli dish served with juicy broth.
The clear and flavorful broth is the heart of Bun Thang. It is made by simmering chicken, dried shrimp, and Shiitake mushrooms.
Three ingredients create a broth with so many flavors: savory, sweet, and smooth. The broth is stewed for about 3 to 4 hours. It is very delicate and sophisticated.
Laksa leaves, cilantro, shrimps, shredded chicken breast, shredded "gio lua" are spread over white rice vermicelli., thin fried egg
Bun Thang is the best when it is served hot with some spices like vinegar, chili, garlic, pepper, or a little shrimp paste. Although shrimp paste has a strong smell, it will add flavor to Bun Thang. Traditional Bun Thang should be eaten with pickled radish to harmonize its flavor.
3. Banh cuon (Rolled Cake)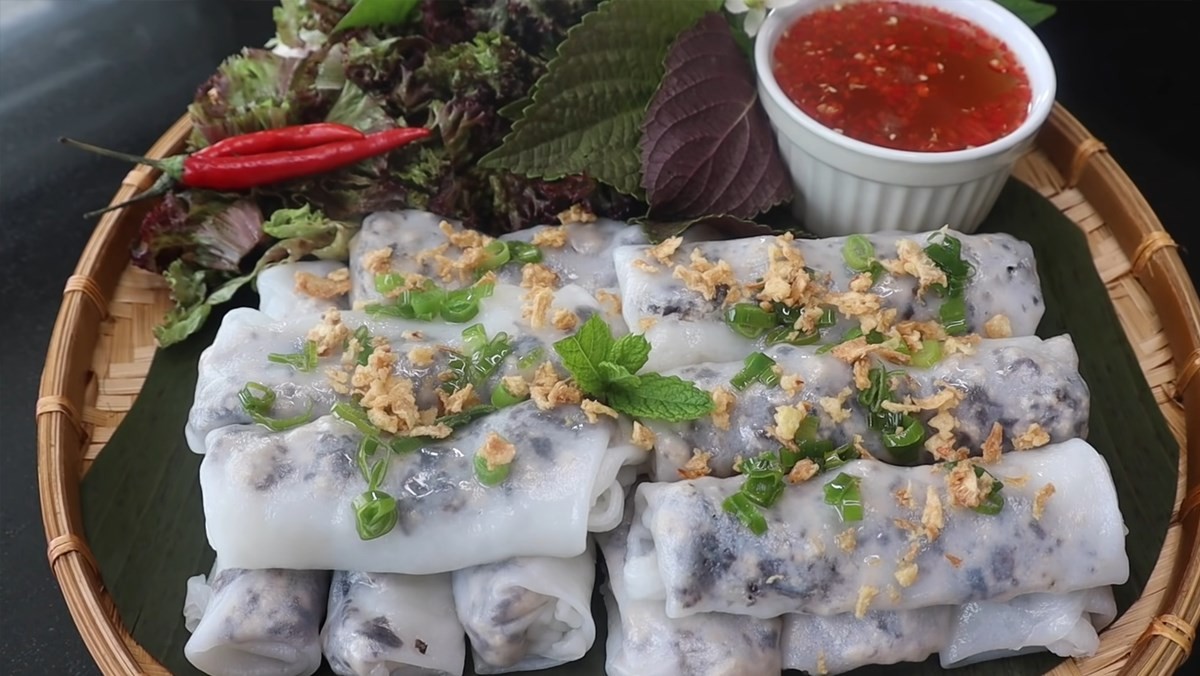 Photo: Dien may XANH
Great as a light breakfast or midday snack, banh cuon is a combination of ground meat (chicken, shrimp, or pork), minced wood ear mushroom, onions, Vietnamese ham (cha lua), steamed beansprouts, and cucumbers that's wrapped in a steamed rice flour sheet., Its overall taste is very mild despite the savoury ingredients, and you can also dip the banh cuon into nuoc cham sauce for added flavour. You can easily spot roadside vendors selling banh cuon all over Hanoi, but Banh Cuon Gia Truyen in Old Quarter is a good alternative as the restaurant provides menus with English translations.
4. Egg coffee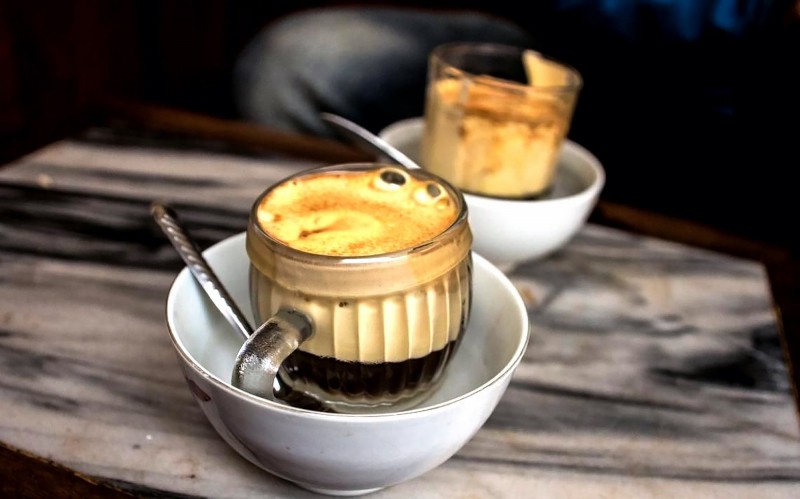 Photo: Toplist
An egg coffee (Vietnamese: Cà phê trứng)[1] is a Vietnamese drink traditionally prepared with egg yolks, sugar, condensed milk and robusta coffee. The drink is made by beating egg yolks with sugar and coffee, then extracting the coffee into the half of the cup, followed by a similar amount of "egg cream"— egg yolks which are heated and beaten, or whisked.
The legend goes that fresh milk was in short supply during the war so whisked egg yolk was used as a replacement.
The drink is served in cafes throughout Vietnam, though it originates in Hanoi. The Giang Café in Hanoi is known for serving the drink, which it makes with chicken egg yolk, coffee powder, condensed milk, and, optionally, cheese. The cup is sometimes served inside a bowl of hot water or set upon a small candle to retain its temperature. The son of the café's founder Nguyen Giang claims that his father developed the recipe for the drink when milk was scarce in Vietnam in the late 1940s, replacing the dairy product with egg yolk.
Ingredients for making coffee include fresh chicken eggs, sugar, milk, and coffee. The egg yolks are hand-whipped with milk and sugar, and then boiled. Hot or iced coffee is poured into the beaten eggs, which will form a beautiful and aromatic foam. A teaspoon is provided in order to eat the foam before drinking the coffee at the bottom.
Egg coffee is contained in a small cup. To keep the drink warm, the waiter puts a cup of coffee in a bowl of warm water. After being poured over the cream made from eggs, the coffee at the bottom of the cup acquires a richer taste. In the past, eggs were just hand-beaten, so it took time and the foam of the eggs could not be achieved. Now, after the eggs have been smoothed with the machine, hot or iced coffee is added, together with cocoa eggs, egg white beans and matcha (tea powder) eggs. It can be served either hot or iced.
5. Xoi Xeo (Sweet Sticky Rice)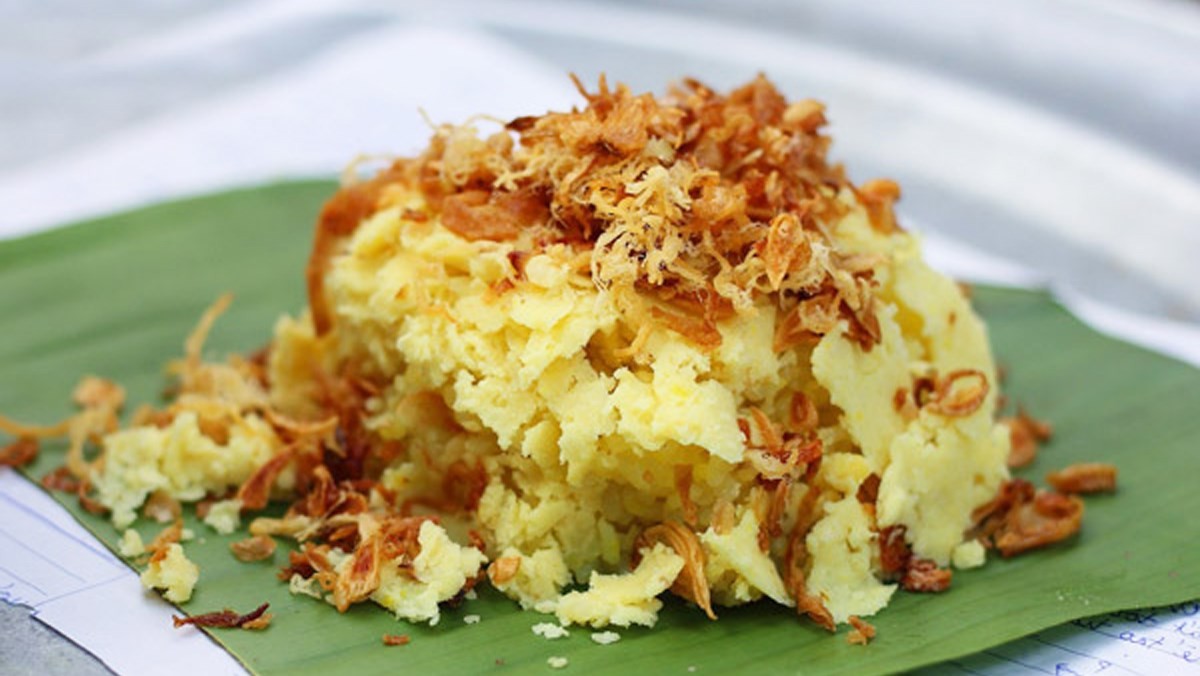 Photo: Dien may XANH
An ideal breakfast is the one including all the following nutrition: protein, fiber, vitamins, and minerals. However, today, due to a busy life, inclement weather, the habit of getting up early to cook at home is no longer maintained. With the limit of time spent on breakfast, sticky rice is one of the most common dishes chosen by many people. Xoi Xeo (Sticky Rice with Mung Bean) is one of the Vietnamese unique dishes.
In fact, Xoi Xeo is a classic Vietnamese breakfast dish. Xoi Xeo also is a great anytime snack for children. It is made from glutinous or sweet rice. Xoi Xeo typically steamed and combined with a variety of beans. After that, for a sweet and savory taste, it was topped with shredded coconut, chopped peanuts, and fried onions.
There is no denying that Xoi Xeo is good and easy to eat. However, the time to make this dish is quite time-consuming. You will have to work right from the stage of choosing glutinous rice and green beans. The cook must choose a good kind of sticky yellow flower. Then pick up, soak in warm water for about 5 hours and then add a little salt, put in the pot, and cooked it. Onions are sliced, sun-dried, put in a pan of fat, and fry it up. Chicken fat is heated, then put into a bowl. On the other hand, the Sticky Rice and Mung Bean just need to be warmed in the microwave for about a minute.
Top 25 Best Destinations For Food Lovers In The World
1. Rome, Italy
2. London, United Kingdom
3. Paris, France
4. Dubai, United Arab Emirates
5. Barcelona, Spain
6. Madrid, Spain
7. Sao Paulo, Brazil
8. New York City, New York
9. Bangkok, Thailand
10. Singapore, Singapore
11. Florence, Italy
12. Istanbul, Turkey
13. Lisbon, Portugal
14. Valencia, Spain
15. Naples, Italy
16. Cairo, Egypt
17. Bordeaux, France
18. Cartagena, Colombia
19. Lyon, France
20. New Orleans, Louisiana
21. Mexico City, Mexico
22. Hanoi, Vietnam
23. Charleston, South Carolina
24. Marrakech, Morocco
25. Hong Kong, China
| | |
| --- | --- |
| | The cold winter weather in the capital is the best time to enjoy hot snacks, from crispy pancakes to savory porridge. |