United Nations Awards Vietnamese Peacekeepers
Commanders and competent agencies at the UN Mission in South Sudan have highly valued Vietnamese peacekeeping force for their dedication and professionalism.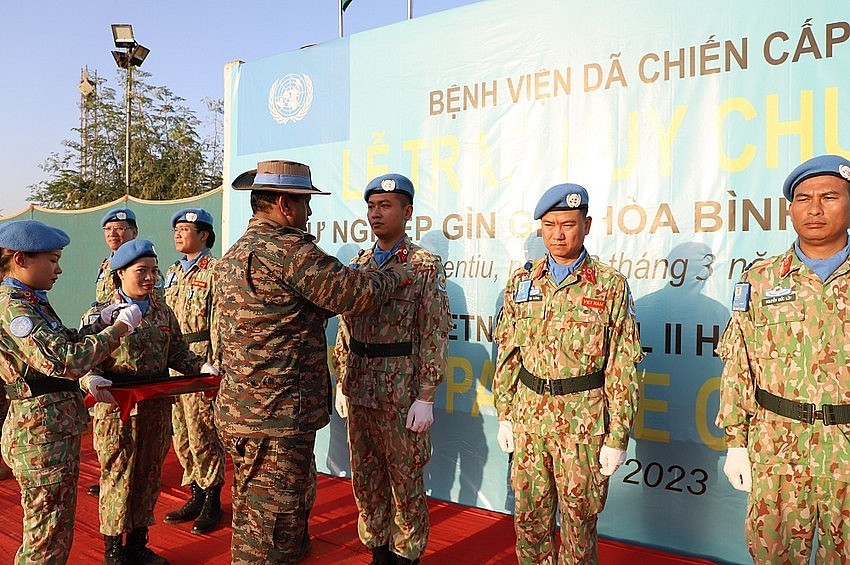 Vietnamese peacekeepers honoured with UN medals. Photo: Vietnam Department of Peacekeeping Operations
The Vietnam Department of Peacekeeping Operations said on March 23 that it has organised a ceremony to receive the UN peacekeeping medals, nearly one year after the deployment of forces at the UN Mission in South Sudan (UNMISS).
Jane Lanyero Kony, Acting Head of the UN Peacekeeping mission's Field Office in Bentiu, and Lieutenant General Mohan Subramanian, Force Commander of the UNMISS, lauded contributions by members of Vietnam's field hospital.
On behalf of the staff of the Level-2 Field Hospital Rotation 4, Lt. Col. Vu Minh Duong, its Director, pledged to make greater efforts to perform their tasks in the mission.
Earlier, UN Under-Secretary-General Jean-Pierre Lacroix lauded Vietnam's active engagement and strong performance in UN peacekeeping activities as well as the country's commitments to implementing UN targets, especially the ratio of female Vietnamese peacekeepers.
He pledged that the UN is willing to support Vietnam during the process of preparing forces, training and carrying out pre-feasibility assessment as well as building necessary capacity that Vietnam needs.
Since Vietnam officially joined the UN peacekeeping operation in June 2014, the country has sent more than 500 officers and soldiers to "hotbeds" in Africa.
Over the past eight years, Vietnam has increased the number of its peacekeepers in UN operations, maintaining the presence of a level-2 field hospital at the UN Mission in South Sudan since 2018.
According to Nguyen Phuong Nga, President of the Vietnam Union of Friendship Organizations and former head of the Permanent Delegation of Vietnam to the UN, Vietnam has been actively engaged in international cooperation in this field and organised many international conferences and seminars on peacekeeping. Vietnamese officers have completed their tasks well, and are much appreciated by the UN and the host country for their capacity and professionalism.
Vietnam has brought about a very new approach, that is, the peacekeeping force not only fulfills its tasks but also stays close with and helpful to local people. Information and images about the dedicated Vietnamese military medical soldiers, who wholeheartedly took care of the sick, planted vegetables, sewed and distributed face masks during the Covid-19 epidemic, have contributed to boosting Vietnam's image and affirms the blue berets' role as messengers of peace and friendship./.