Updates on Vietnamese medical staff's health 24 hours after injected with COVID-19 vaccine
On March 11, Doctor Nguyen Thi Lan Huong - Deputy Director of Thanh Nhan Hospital provided updates on the results of COVID-19 vaccination for the first 36 medical staff at the hospital - the first injection site in Hanoi.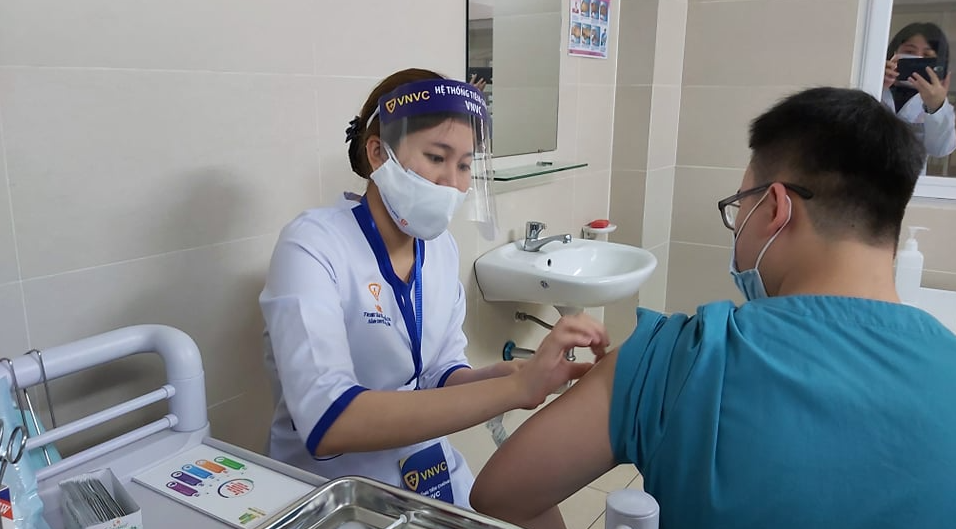 Photo: Suc Khoe & Doi Song
Through 24-hour follow-up after injection, there were 10 cases that showed post-injection reactions, of which, 6 cases showed mild fever (from over 37 Celcius degrees C to 38.5 Celcius degrees), 2 cases showed muscle pain, fatigue, and 2 cases showed pain and swelling at the injection site. As of March 11's morning, there was no serious progression, all the above symptoms have disappeared. 100% of health workers receiving Covid-19 vaccination have returned to normal work. Experts believe that the signs of fever, swelling, and muscle pain after vaccination are not worrisome. This is completely normal body's responses to the vaccination.
In the first phase, the Ministry of Health allocated 8,000 doses of the AstraZeneca vaccine to Hanoi city. Hanoi will deploy the campaign of simultaneous injection in the city from March 9 to March 18, 2021, in 30 districts, towns in the city.
The vaccine will be prioritized for those working in medical facilities, including persons who have direct contact with infected patients or patients suspected of being infected.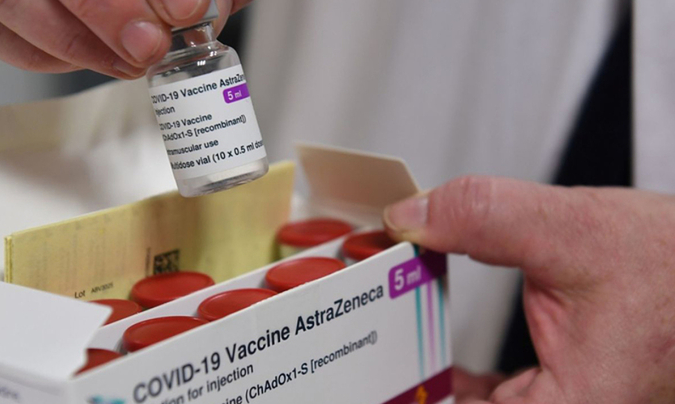 Photo: VN Express
According to the Hanoi Department of Health, as this vaccine is completely new, the injection implementation this time is considered to be particularly important. Therefore, it is suggested that the units need to prepare carefully before vaccination, to ensure absolute safety in the inoculation process and closely monitor after vaccination.
To well implement the above issues, units need to comply with Resolution 21 / NQ-CP dated February 26, 2021, considering the local pandemic situation, closely follow the instructions of the Department of Health, and prepare additional similar subjects. Each injection session should not include more than 50 people. Training on vaccination techniques and safety for officials participating in vaccination is required. Units also need to review the cold chain system, especially the restoring temperature, to ensure that vaccines are stored in accordance with regulations.
Along with that, in the injection process, it is necessary to organize a screening examination and closely monitor the post-vaccination health of the injecting person. In particular, all injection sites must set up a permanent emergency team to respond to all possible post-injection reactions.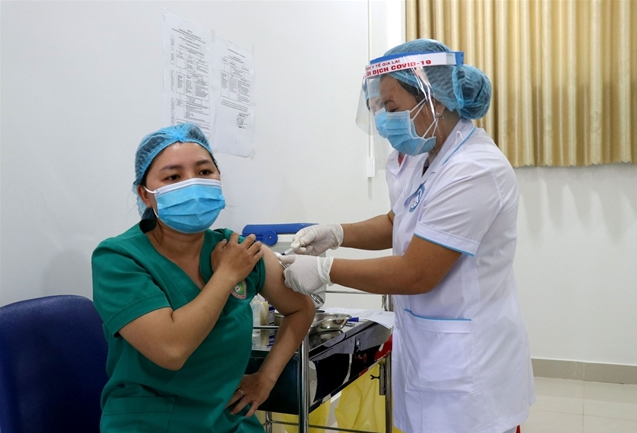 Photo: Vietnamnet
At hospitals affiliated with the Hanoi Department of Health, recipients of COVID-19 vaccination are health workers who regularly directly examine, screen, treat, and take care of patients at risk of Covid-19 infection at the Department of Infectious Diseases, Department of Emergency Medicine, Department of Screening for Suspected Covid-19, and people who relate to sampling and testing suspicious belongings of Covid-19 patients.
In preventive medicine units, vaccine recipients are the staff of mobile anti-pandemic prevention teams, staff engaged in the epidemiological investigation, tracing, monitoring, treatment, sampling, and testing of suspected COVID-19 patients' belongings. Covid-19; and staff of the Steering Committee for Covid-19 Prevention and Control.
In emergency units, priority to access to COVID-19 vaccine is given to staff who transport suspected and infected COVID-19 patients, the staff of the 115 emergency unit who take part in the emergency treating, transporting suspected and infected COVID-19 patients.
People participating in the prevention and control of pandemic are also included in the priority list, including members of the Steering Committee for Covid-19 Prevention and Control at all levels, people working in isolated areas of the city since the beginning of 2021.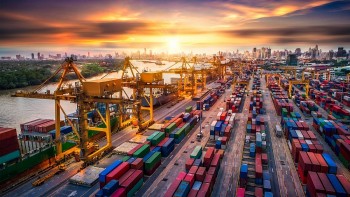 National
Vietnam, a rising star in the global supply chain, has the potential to become a new tiger in Asia, economist Brian Lee Shun Rong at Maybank - Malaysia's largest financial services group and the leading banking group in South East Asia – has reportedly said.