US Deputy Secretary Witnesses USAID, MARD Enhance Cooperation
USAID and Vietnam's ministry launched a new project to combat wildlife trafficking, agree to partner on addressing climate change in the Mekong Delta
With US Deputy Secretary of State Wendy Sherman joining, the US Agency for International Development (USAID) and Ministry of Agriculture and Rural Development (MARD) on June 13 launched a new project to help Vietnam control the increasingly serious wildlife trafficking situation.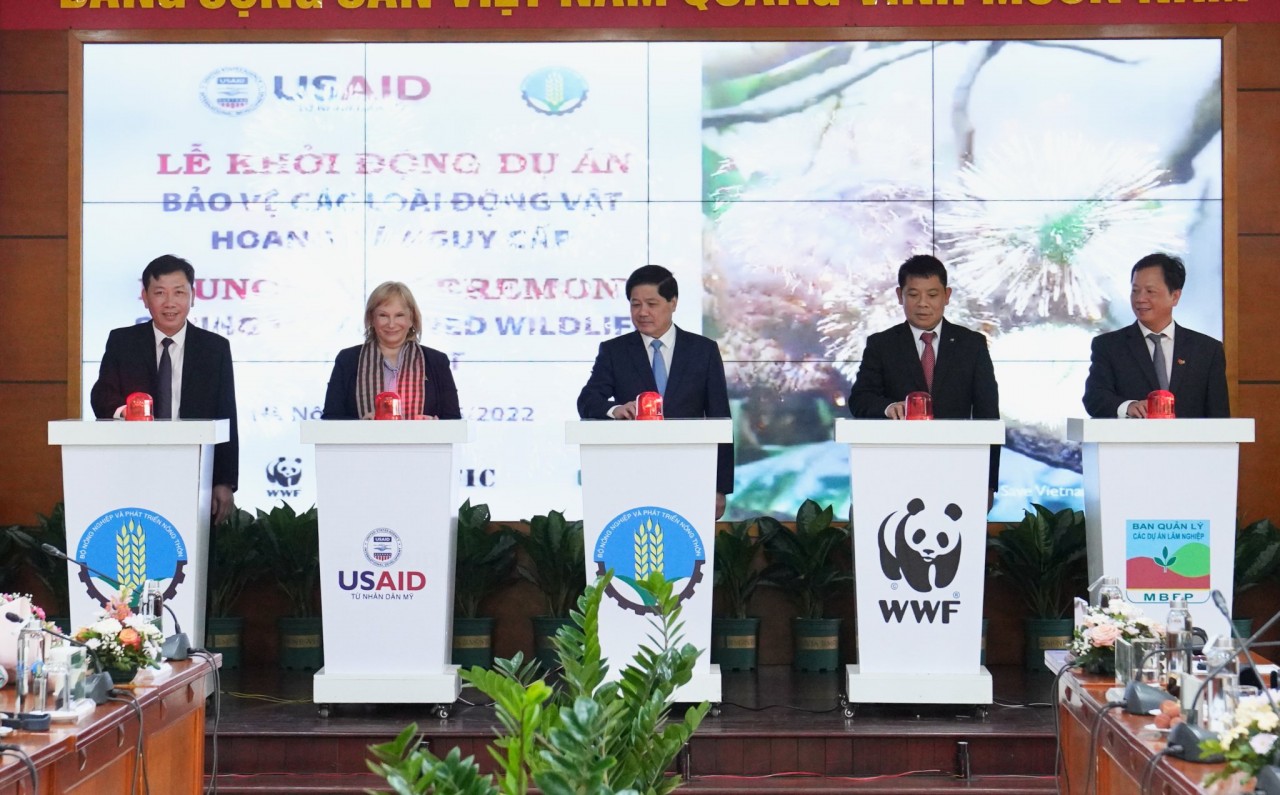 USAID and the Ministry of Agriculture and Rural Development launch the Saving Threatened Wildlife project to help Vietnam control the increasingly serious wildlife trafficking situation. Photo: USAID Vietnam
The US$15 million, five-year project, called Saving Threatened Wildlife, will work toward increasing Vietnam's leadership in addressing wildlife crime by enhancing the commitment of Government of Vietnam leaders at the national and provincial levels, improving law enforcement effectiveness, and reducing demand and consumption of illegal wildlife products.
"At current rates, experts predict that the world's most iconic endangered species, including rhinos, elephants, pangolins and tigers, will perish from the planet within the next decades. Through this new project, USAID will work with MARD to reduce demand for and consumption of illegal wildlife products, and save our threatened species," said Ann Marie Yastishock, USAID/Vietnam mission director.
The effective implementation of the Saving Threatened Wildlife project, MARD Vice Minister Le Quoc Doanh said, will help address the issue of illegal wildlife trafficking, and therefore reflect the highest commitments of the Government of Vietnam in this effort, contributing to biodiversity conservation and environment protection in Vietnam.
Vietnam remains a global hub of the illegal wildlife trade and is a major destination, origin, and transit country in the illegal trade supply chain. The new project focuses on protecting species that are at risk from international trafficking into Vietnam such as African rhinos, African and Asian elephants, and pangolins, as well as animals that are regularly poached and traded domestically or internationally, such as primates, muntjacs, and big cats.
The project is implemented by World Wide Fund for Nature, in cooperation with TRAFFIC and Education for Nature Vietnam.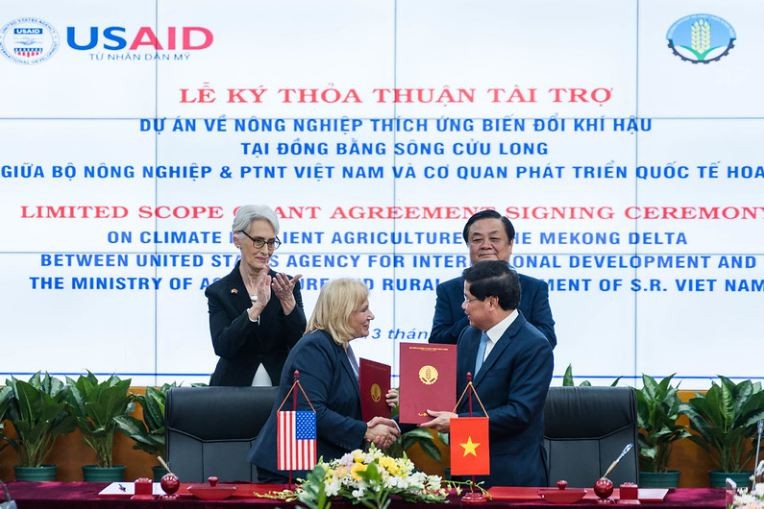 The signing was observed by MARD Minister Le Minh Hoan and US Deputy Secretary Sherman. Photo: US Embassy in Hanoi
Also at the project launch, USAID and MARD opened a new chapter of cooperation on environmental issues. Mission Director Yastishock and Vice Minister Le Quoc Doanh signed the first bilateral partnership agreement—called a Limited Scope Grant Agreement—between USAID and MARD, on climate change cooperation in the Mekong Delta for the period 2022 to 2027.
With an estimated budget of up to US$50 million, through this agreement, USAID will help MARD in reducing methane emissions from the agriculture sector, building resilience for the Mekong Delta's vulnerable populations, promoting nature-based solutions, and developing climate-resilient and low-emissions policies.
Deputy Secretary Sherman commended USAID and MARD for working together to help the people of the Mekong Delta region adapt to the changing climate and reduce agricultural emissions. Addressing the climate crisis must be a collective effort, and it must incorporate everything from building environmental resilience, to reducing emissions, to conserving biodiversity.
She took the occasion to commend USAID and MARD for working together to combat illegal wildlife trafficking. The United States is proud to be Vietnam's partner in this effort, she said.
The Saving Threatened Wildlife project builds and expands on the progress achieved by USAID's previous five-year (2016-2021) project, Saving Species.
The Saving Species project supported the Government of Vietnam to improve and harmonize the legal system related to wildlife protection, strengthen law enforcement and prosecution of wildlife crimes, and reduce demand and illegal consumption of wildlife.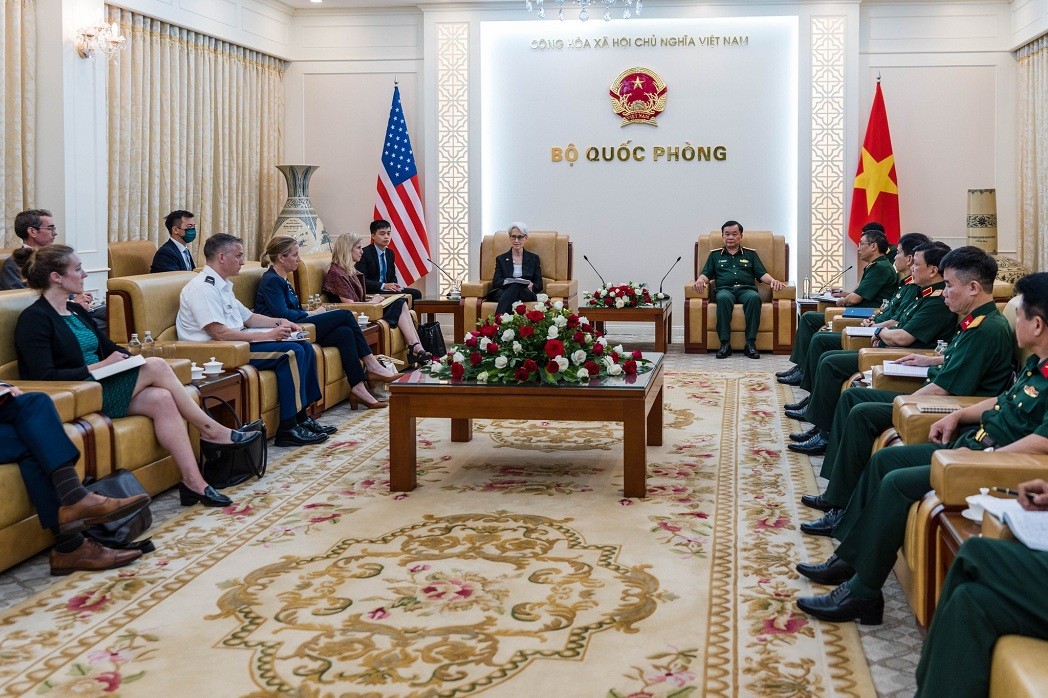 Deputy Minister of National Defence Sen. Lt. Gen. Hoang Xuan Chien and US Deputy Secretary of State Wendy Sherman. Photo: US Embassy in Hanoi
On the same day, Deputy Minister of National Defence Sen. Lt. Gen. Hoang Xuan Chien has a meeting with the US Deputy Secretary of State in Hanoi, according to VNA.
Vietnam always prioritises and promotes the collaboration with the US in this sphere, Chien said, highlighting outstanding cooperation projects like those on dioxin decontamination at Da Nang and Bien Hoa airports, and another on improving living standards of Vietnamese disabled people in dioxin contaminated areas, among others.
Apart from cooperation in dealing with war consequence, good results have been seen in dialogues, consultations, high-level delegation exchanges, rescue operations, UN peacekeeping operations, and military medicine, he added.
Chien expressed his hope that the US Department of State will urge the US Congress and government to back the existing defence cooperation areas between the two countries, prioritising war consequence settlement projects, the search for remains of Vietnamese soldiers, and improving Vietnam's UN peacekeeping capacity.
The Deputy Minister affirmed that Vietnam always considers the US a leading important partner in its foreign policy, adding that despite the Covid-19 pandemic, the bilateral ties have been maintained through visits by high-ranking leaders.
He used this occasion to thank the US for its donations of vaccines and medical equipment to Vietnam.
For her part, Sherman emphasised that the partnership in war consequence settlement is a foundation of the Vietnam-US relations, and highly valued their cooperation outcomes in dioxin decontamination, bomb and mine clearance and support to Vietnamese disabled people.
In the bilateral defence ties, the US will continue to help Vietnam improve its capacity in UN peacekeeping operations, she pledged.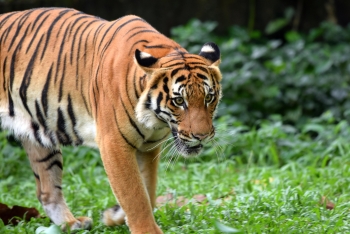 Economy
#ShopeeGivesBack, Shopee's long-term community initiative, has raised over RM48,000 from 1 May 2020 to 31 July 2022 for two Non-Governmental Organisations (NGOs) championing environmentally-conscious efforts in Malaysia.