US federal judge overturns California's ban on assault weapons
A US federal judge overturned California's 32-year-old ban on assault weapons on Friday, describing it as a "failed experiment" and prompting scathing criticism from the state's governor and attorney general.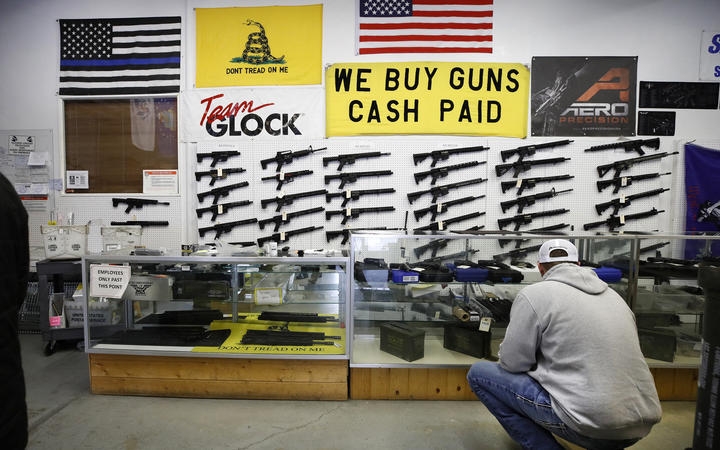 A customer looks at handguns in a case as AR-15 style rifles hang on a wall at a Utah gun store. US gun merchants sold more than 2 million firearms in January 2021, a 75 percent increase on January 2020, according to the National Shooting Sports Federation. Photo AFP
California has prohibited the sale of assault weapons since 1989. The ban was challenged in a 2019 lawsuit against California's attorney general by plaintiffs including James Miller, a state resident, and the San Diego County Gun Owners, a political action committee.
"This case is about what should be a muscular constitutional right and whether a state can force a gun policy choice that impinges on that right with a 30-year-old failed experiment," judge Roger Benitez of the US District Court for the Southern District of California wrote in the court order filed late on Friday.
"Government is not free to impose its own new policy choices on American citizens where Constitutional rights are concerned," the order added.
"It is declared that these statutes unconstitutionally infringe the Second Amendment rights of California citizens," the court filing concluded. The Second Amendment of the United States Constitution guarantees citizens the right to bear arms.
The federal judge said that he had granted a 30-day stay of the ruling at the request of California Attorney General Rob Bonta, a move that would allow Bonta to appeal it.
Eric Segall, law professor at Georgia State University College of Law, called the language used in the ruling "dogmatic" and said it had little nuance. He said he was shocked "from the very first sentence" at the comparison made between an AR-15 and Swiss Army knife, cited USA Today.
"It reads like a very smart student was trying to impress the Federalist Society," he said. "It's just not very judicial."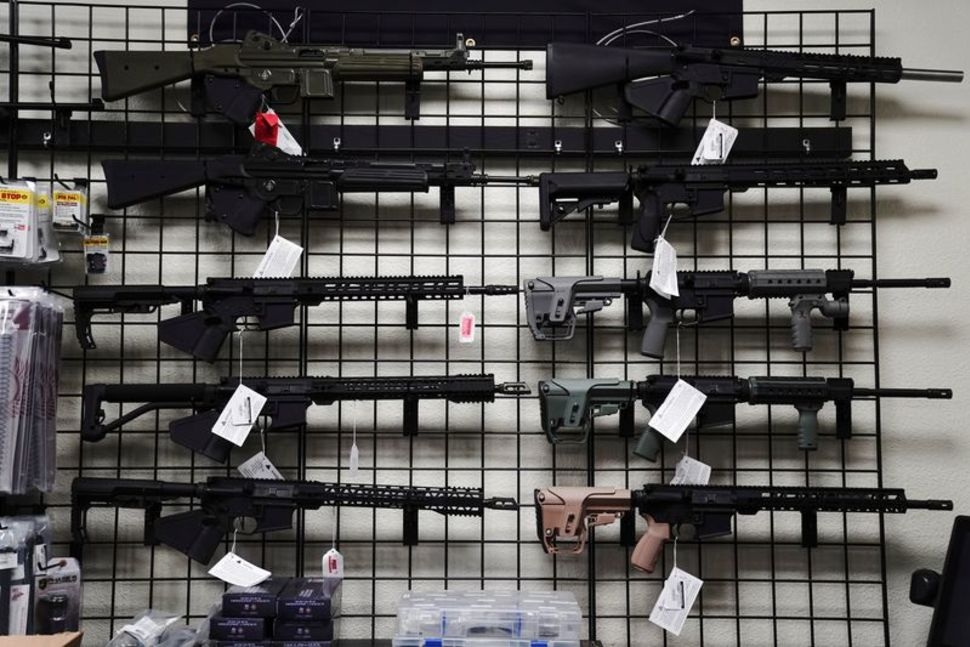 AR-15 style rifles are displayed for sale at Firearms Unknown, a gun store in Oceanside, California in April this year. Photo Reuters
Fred Guttenberg, a gun safety activist whose daughter was killed in the Stoneman Douglas High School shooting in 2018, denounced the judge's comparison.
"My daughter is in a cemetery because a Swiss Army Knife was not used, because it was an AR-15," he said. "If a Swiss Army Knife were used, my daughter and most of those other kids and adults would be alive today."
Guttenberg also called Benitez a "liar" and an "activist judge."
"You are a liar, and your opinion is written utilizing the exact language of the gun lobby. These are not new words. These are not new phrases. They are not new expressions," he said. "You took the language from the gun lobby to write this opinion."
Asked for his reaction on Guttenberg's remarks, Benitez told CNN in an email he is "prohibited from publicly commenting on pending cases".
On Saturday, Richard Martinez, whose son was killed in a 2014 California mass shooting, spoke to CNN and rejected the judge's conclusion that assault weapons like the AR-15 are "fairly ordinary, popular, modern rifles."
"It's outrageous," Martinez told CNN. "It is wrong. Assault weapons were designed by the military to kill people, to kill a lot of people, to kill a lot of people quickly. These type of AR-15-style weapons are modeled after the military versions, and they function pretty much the same way as the weapons used by the military."
"It is a devastating blow to survivors and all the families," said Judy Weldon, a teacher who survived a 1989 shooting at an elementary school in Stockton, California. "His whole ruling is terribly flawed."
According to 2019 FBI data, the handgun was the most commonly used weapon in murders and accounted for 6,368 victims in 2019. Knives or cutting instruments accounted for 1,476 murders, rifles accounted for 364 murder victims, and "firearms, type not stated" accounted for 3,281 victims, the data shows.