US Helps Improve Vietnam's Private Sector Competitiveness
USAID just launched a project to improve private sector competitiveness in Vietnam
The U.S. Agency for International Development (USAID) and Vietnam's Ministry of Planning and Investment (MPI) on Jan.18 launched a new project focused on building the competitiveness of Vietnam's small and growing businesses.
Vietnam has overtaken China as the largest exporter of wood furniture to the US, according to the US-based Furniture Today website. Photo: VNA
Vietnam has taken significant strides towards sustainable economic growth, but small and growing businesses (SGBs) face numerous challenges in accessing knowledge, capital, and markets.
The Improving Private Sector Competitiveness project seeks to remove policy, market, and firm-level constraints inhibiting the growth of SGBs, including those owned or led by women and vulnerable populations.
The goal is to foster an innovative and dynamic Vietnamese private sector that expands economic opportunities at home and is able to compete regionally and globally.
The five-year, up to US$36 million project was first announced during U.S. Vice President Kamala Harris' visit to Vietnam in August 2021. The project will be implemented in cooperation with MPI's Agency for Enterprise Development.
Small and growing businesses are key contributors to Vietnam's economic growth, accounting for 40% of GDP and 60% of total employment in 2018. However, these businesses face barriers and constraints impeding their continued and sustained growth, including new technologies, networking, market linkages, and lack of access to management training and skills building opportunities.
In the context of increasing international integration, Vietnamese goods must ensure conditions of environmental protection, safety, high quality, low cost, great competitiveness, domestic market dominance and deep penetration of international markets, according to insiders.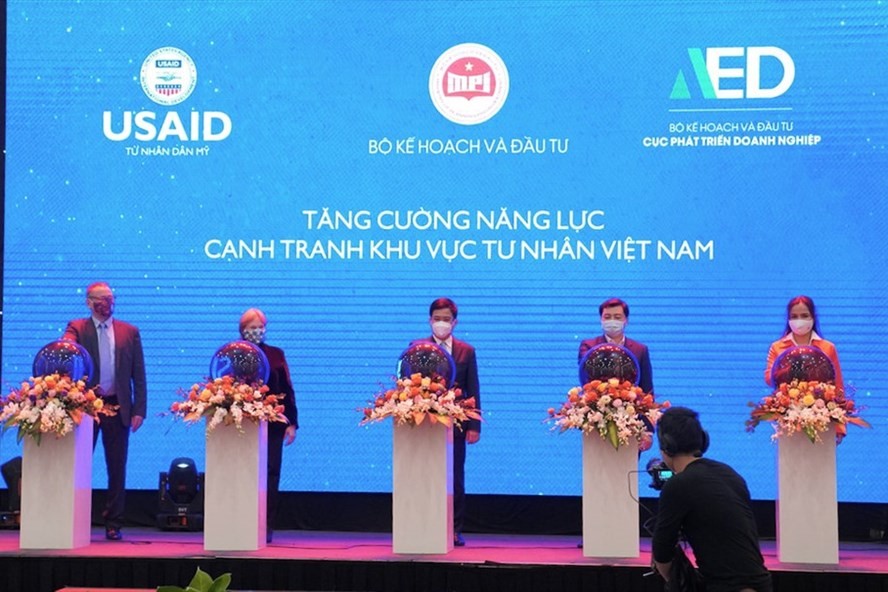 At the evemt. Photo: USAID
USAID's new Improving Private Sector Competitiveness project will encourage broad-based, inclusive economic growth through improved business practices, innovation and technology adoption, policy reform, and increased market access.
This project will foster locally-led, locally-owned solutions that leverage the strength of the Vietnamese talent pool, including the promotion of "Made by Vietnam" products, services, and technologies, as well as solutions that contribute to improving the business enabling environment.
"This new project is USAID's flagship effort to help Vietnam harness its entrepreneurial spirit in facilitating a dynamic, Vietnam-led transformation of the private sector into one that can compete globally, and provide more equal opportunity for all," said USAID Mission Director Ann Marie Yastishock at the launch event.
Yastishock lauded MPI for its long-running partnership with USAID. She called on key stakeholders, from policymakers to the private sector, to "work hand-in-hand" with USAID and MPI to achieve the project's ambitious targets.
Over the life of the project, the Improving Private Sector Competitiveness project aims to support 5,000 small and growing businesses, with 240 businesses successfully participating in domestic, regional and international markets, and 60 pioneering these businesses successfully creating value-added products and positioning their "Made by Vietnam" brands in regional and global markets.
Need to makes effective use of FTAs
Statistics show that trade turnover hit US$668.5 billion in 2021, rising 22.6% from the previous year. Notably, exports increased 19%, helping maintain a trade surplus for the sixth consecutive year, the Cong Thuong (Industry & Trade) newspaper reported.
Shipments to the markets having free trade agreements (FTAs) with Vietnam posted growth last year, including China (15%), the US (24.2%), the EU (14%), ASEAN (25.8%), the Republic of Korea (15.8%), India (21%), New Zealand (42.5%), and Australia (3.1%).
Nguyen Canh Cuong, Minister-Counsellor at Vietnam's trade office in the UK and Ireland, said the UK - Vietnam FTA (UKVFTA) has given enterprises of Vietnam more competitive edges. If they can sustain partners' trust, fulfil delivery commitments, and ensure product quality, Vietnamese goods will have an expanding market share in the UK in the time ahead.
An official from the MoIT's Foreign Trade Agency held that to enhance farm produce's competitiveness in the EU, businesses should pay more attention to product quality, food safety, technical barriers, rules of origin, and brand development.
In 2022, bilateral and multilateral FTAs, including the Regional Comprehensive Economic Partnership (RCEP) that took effect on Jan. 1, will continue to give an impetus to Vietnam's economic growth.
Experts said to go faster and farther, the prerequisites are businesses' efforts and proactiveness to improve their competitiveness, make innovation, and seize opportunities in the new context, Cong Thuong reported.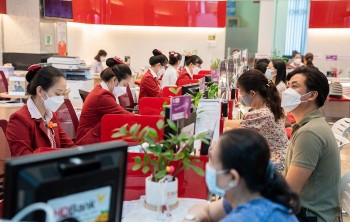 Economy
Vietnam Business & Weather Briefing (August 12): Air passengers reach a record number in July, seafood exports expected to reach 3 billion USD in Q3