US helps Vietnam improve social health insurance
Mission Director of the United States Agency for International Development (USAID) Vietnam Ann Marie Yastishock and Vietnam Social Security (VSS) Deputy General Director Dr. Pham Luong Son signed a Memorandum of Understanding, formalizing that the USAID Local Health System Sustainability project will provide technical assistance to VSS to improve its Social Health Insurance implementation for the next four years.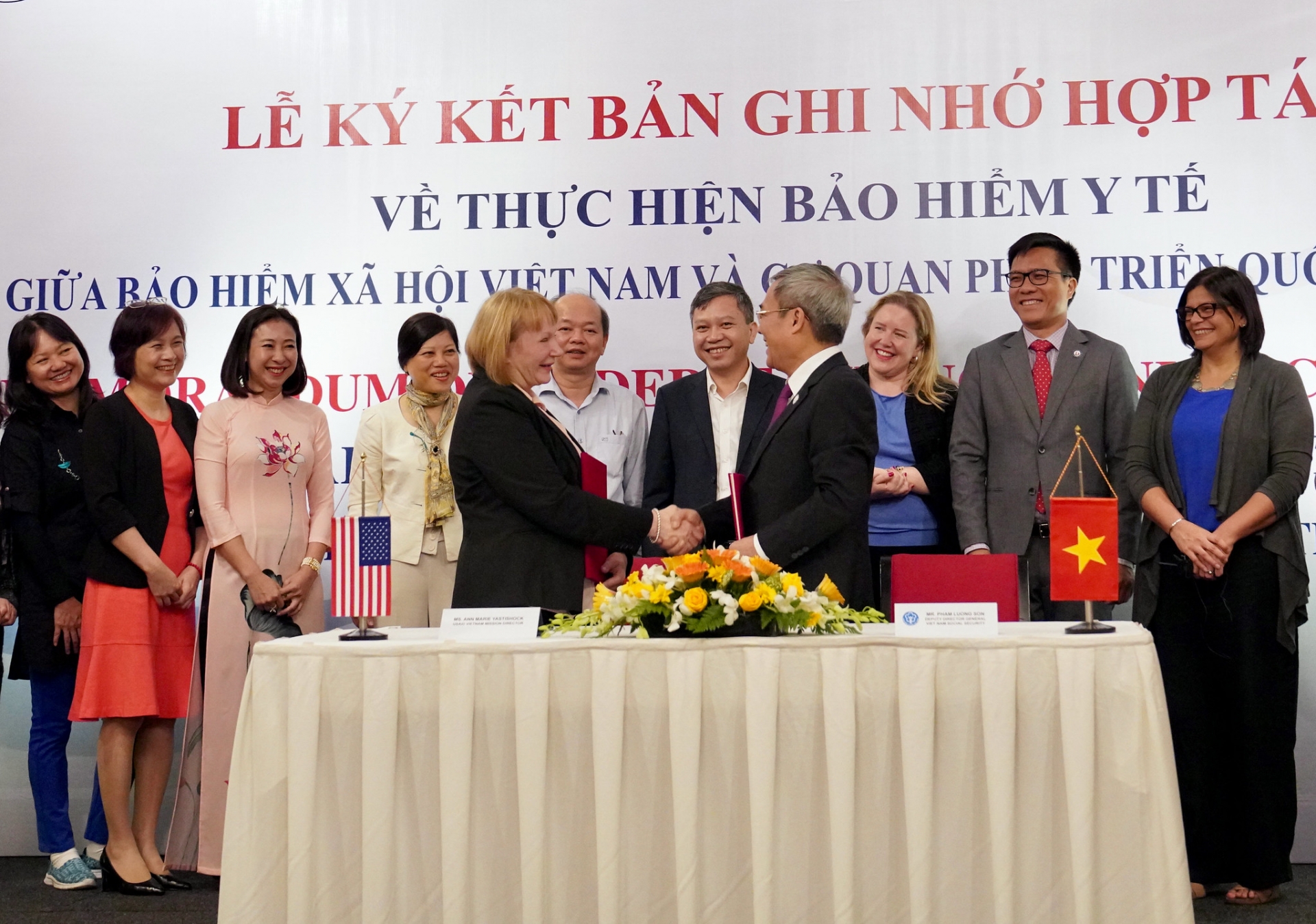 USAID Vietnam Mission Director Ann Marie Yastishock and Vietnam Social Insurance Security Deputy General Director Pham Luong Son signed a memorandum of understanding on supporting health insurance. Photo courtesy of US Embassy
According to VOV, the agreement will witness USAID provide technical assistance to the Vietnam Social Security in order to help them carry out their sustainable health system development project, with the ultimate aim to accelerate the implementation of the health insurance policy over the coming four years.
The project will also support Vietnam's transition to full financial ownership of its HIV and tuberculosis responses.
USAID will provide support for VSS across three main areas, including implementing health insurance policies, planning in terms of financial management, along with controlling and ensuring the rationality of costs for health services through statistical analysis of insurance and funding sources. This assistance will take place along with building tools to track and monitor health insurance claims whilst renovating payment methods.
The agency will also exchange information, share their experience, and support Vietnam Social Security in applying information technology to health insurance policy implementation.
During the signing ceremony, Yastishock expressed her appreciation for the close partnership with Vietnam Social Insurance, affirming that her organisation will continue working on improving the financial management and governance capacity of Vietnam Social Insurance. The two sides will work together in order to achieve an effective, fair, and responsible management of the health insurance fund.
The signing of this MoU therefore reinforces USAID's commitment to supporting Vietnamese efforts on its journey towards enjoying autonomy with regard to health financing, along with building a sustainable health system. This will ultimately contribute to the nation's goal of reaching universal health coverage, according to Yastishock.
In response, Son emphasised that the MoU signed between Vietnam Social Security and USAID represents the first document officially signed between the two sides, while highlighting the signing as a significant event that coincides with the 25th anniversary of joint ties and 25 years of the Vietnam Social Security.
The event can be viewed as an important premise that serves to mark the start of a new phase of co-operation between Vietnam Social Security and USAID, therefore deepening their partnership through a wide range of technical assistance activities in this regard.
Son also expressed his belief that with the continuous efforts of the VSS and the valuable and effective assistance from international organisations such as USAID, the VSS will soon build a modern, sustainable and effective health insurance system, meeting people's satisfaction.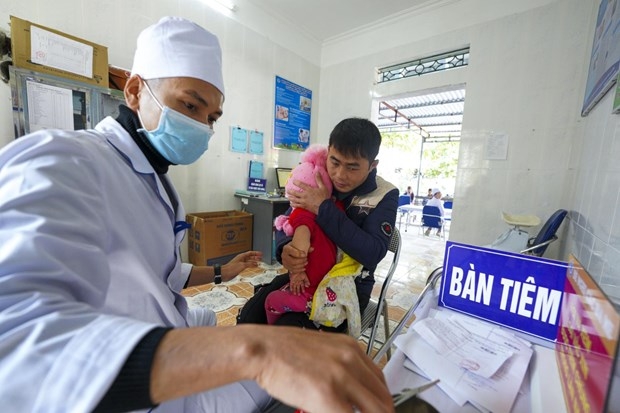 Statistics reveal that 95 percent of the population will have health insurance coverage by 2025, with over 80 percent of the population being satisfied, according to the target assigned by the Government. Photo: VNA
The VSS strives to realise the target of having 95 percent of the population covered by health insurance by 2025 and satisfaction rate of people will be up to 80 percent as required by the Government, he said.
The past five years has seen USAID work closely alongside various Vietnamese Government agencies, including the VSS, in order to increase health insurance coverage for HIV treatment and antiretroviral (ARV) drugs. This close collaboration includes updating more than 20 policies that allow for the expansion of health insurance coverage for HIV treatment and ARV drugs.
In addition, it also covers 440 independent HIV treatment facilities moving into the public health care system, meaning that these facilities become eligible to pay for HIV services through the health insurance fund.
As a result of these changes, more than 90 percent of HIV patients nationwide become involved in health insurance and can access HIV treatment services as covered by the health insurance fund. Moving forward, the health insurance fund will set aside a budget in order to purchase ARV drugs for more than two-thirds of all HIV patients across the country./.