US News today, June 29: Mississippi passes bill to remove Confederate symbol from state flag
Mississippi passes bill to remove Confederate symbol from state flag, one dead in Louisville shooting, Trump denies he was briefed on reported bounties on U.S troops and experts warn that 'window is closing' to stop coronavirus as US cases pass 2.5m are remarkable news today.  
Mississippi passes bill to remove Confederate symbol from state flag and creates a new one
According to USA Today, the Mississippi flag and its Confederate battle emblem is expected to come down in the coming days as lawmakers voted overwhelmingly Sunday evening to choose a new state banner.
House Bill 1796 removes the current flag - the only remaining state flag to include the Confederate emblem in its design - and sets in motion the process of picking a new flag. The bill now goes to Gov. Tate Reeves for his signature. Reeves has pledged he will sign it.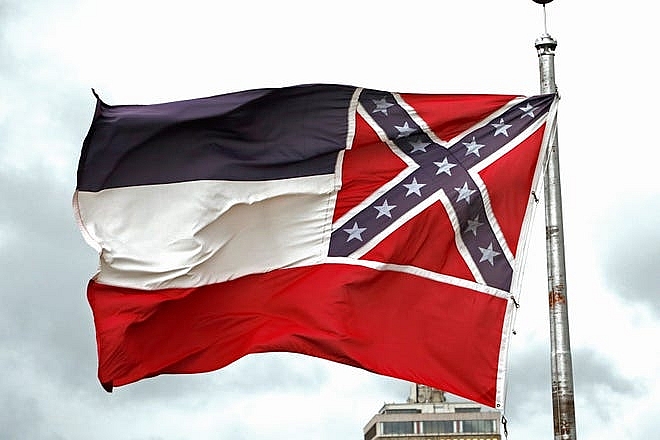 A Mississippi state flag flies outside the Capitol in Jackson, Miss., Thursday, June 25, 2020. Phto: AP
The House voted 91-23 and the Senate 37-14 to approve the flag-change legislation. The historic vote followed days of heated debate and pressure from business and religious leaders, government officials, colleges and athletes to remove it.
"Today we and the rest of the nation can look on our state with new eyes, with pride and hope," House Speaker Philip Gunn, a Republican, said following his chamber's vote.
"Whether you're Black or white, rich or poor, Democrat or Republican, I ask you today to stand in the name of history," said Democratic Sen. Derrick Simmons ahead of the Senate's vote. "Let's vote today for the Mississippi of tomorrow."
The Mississippi House of Representatives passes House Resolution 79 to replace the Mississippi state flag by a vote of 84-35 Saturday, June 27, 2020. Photo: Barbara Gauntt/Clarion Ledger
After Reeves signs the bill, the flag must come down within 15 days at government buildings around the state. Shortly after, a nine-member commission will be appointed by Gunn, Lt. Gov. Delbert Hosemann and Reeves to choose a new design, which must include the words "In God We Trust," and cannot include the Confederate battle emblem.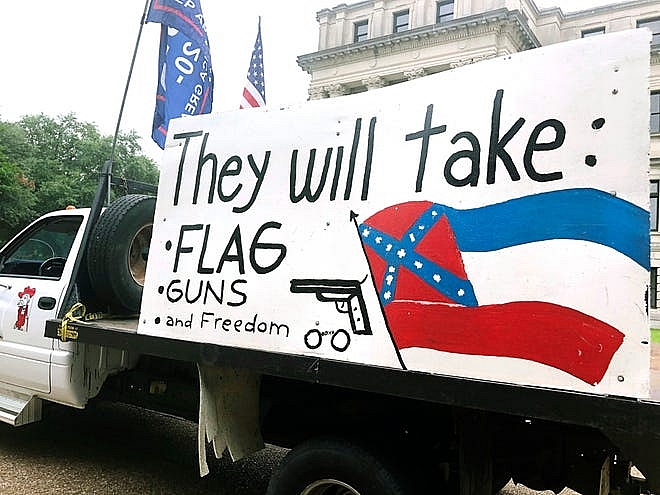 AP Photo/Emily Wagster Pettus
Voters will then approve or reject that design in November. If they reject it, the commission would begin the process again. If they approve, the Legislature will ratify that design in the 2021 session, and a new official flag would fly next year.
Legislators adopted Mississippi's state flag and its the Confederate image in 1894, nearly three decades after the end of the Civil War. Mississippians voted nearly two-to-one in 2001 to keep the current design.
One dead in shooting at Jefferson Square Park in Louisville
According to Reuters, one person died and another was injured in a shooting late yesterday in Louisville, Kentucky's Jefferson Square Park, which has become a centre for protests against the police killing of a black woman in her home in March.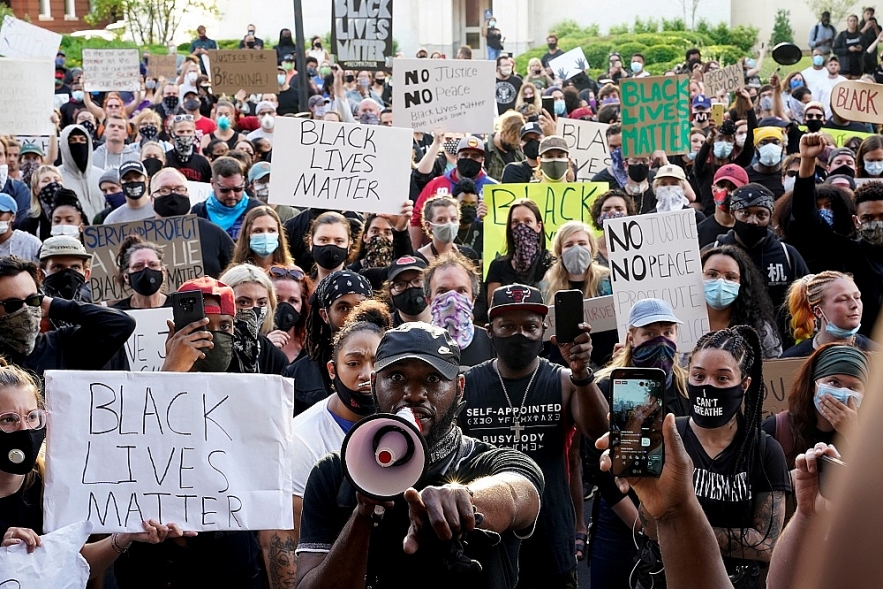 People gather in front of Louisville City Hall during a protest against the deaths of Breonna Taylor by Louisville police and George Floyd by Minneapolis police, in Louisville, Kentucky May 29, 2020. Photo: Reuters
Reports of the shooting at the park came at 9pm (0100 GMT on Sunday), according to the Louisville Metro Police Department.
"Calls then came in that Sheriff's department personnel were in the park performing life-saving measures on a male who eventually died at the scene", the police said in a statement.
The statement said the police had cleared the park and homicide detectives were conducting an investigation. No further details were provided.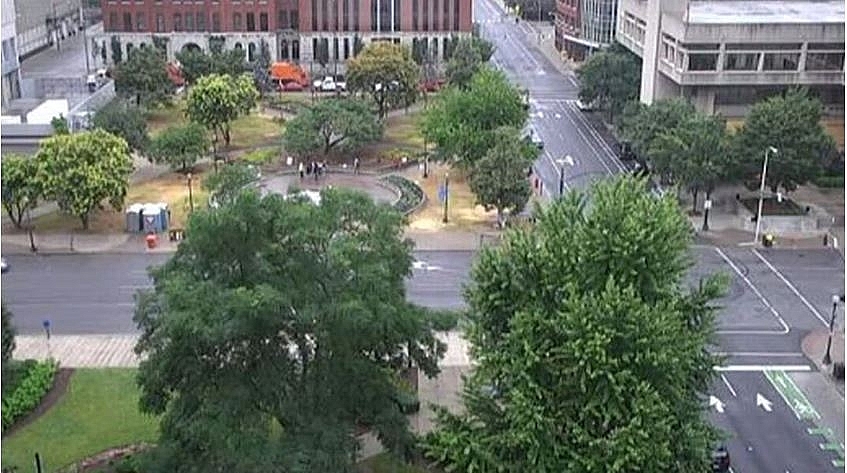 The park was cleared by police officers following the shooting that happened around 9 p.m. Saturday, according to Louisville Metro Police Department spokesman Lamont Washington. Photo: WAVE 3 News
Louisville Mayor Greg Fischer said he was saddened by the violence that erupted at the site where people had gathered to voice concerns.
"It is a tragedy that this area of peaceful protest is now a crime scene", Fischer said in a tweet.
The park has been a center for protests against the fatal shooting of Breonna Taylor, a black woman killed in a hail of gunfire when drug investigators burst into her home in Louisville about three months ago.
Trump denies he was briefed on reported bounties
on U.S. troops
President Donald Trump on Sunday denied that he was made aware of U.S. intelligence officials' conclusions that Russia secretly offered bounties to Taliban-linked militants for killing American troops in Afghanistan. The Trump administration was set to brief select members of Congress on the matter on Monday, CNBC reported.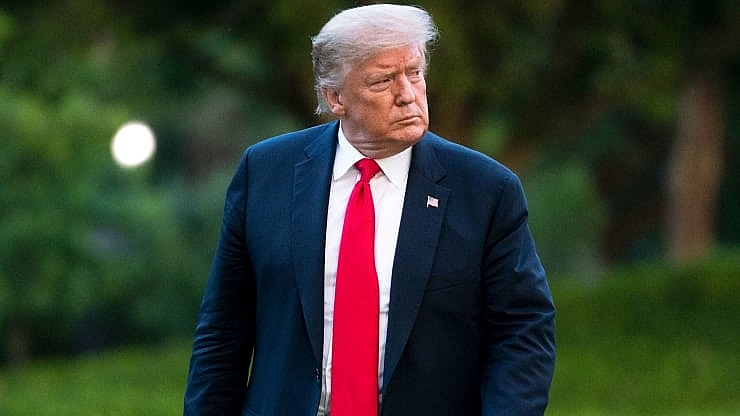 President Donald Trump walks to the White House residence after exiting Marine One on the South Lawn on June 25, 2020 in Washington, DC. Drew Angerer | Getty Images
The intelligence assessments came amid Trump's push to withdraw the U.S. from Afghanistan, and suggested that Russia was making overtures to militants as the U.S. and the Taliban were holding talks to end the long-running war. The assessment was first reported by The New York Times and then confirmed to The Associated Press by American intelligence officials and two others with knowledge of the matter.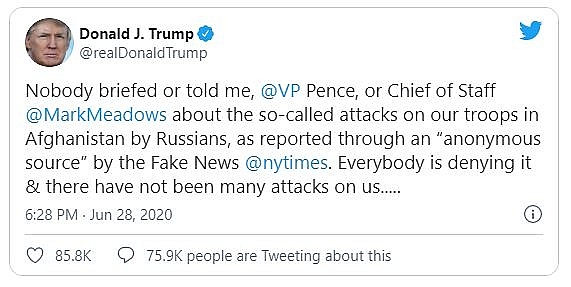 Photo: Screenshot
There were conflicting reports about whether Trump was aware of Russia's actions. The intelligence officials told the AP that the president was briefed on the matter earlier this year; Trump denied that, tweeting on Sunday that neither he nor Vice President Mike Pence had been briefed. The president tweeted Sunday night that he was just told that intelligence officials didn't report the information to him because they didn't find it credible.
Health secretary: 'Window is closing' to stop coronavirus as US cases pass 2.5m
US health secretary Alex Azar has warned that "the window is closing" on the country's chance to take action to effectively curb the coronavirus, as the number of confirmed cases surpassed 2.5m, The Guardian reported.
The Health and Human Services secretary pointed to a recent surge in infections, particularly in the south and said people have "to act responsibly" by social distancing and wearing face masks especially "in these hot zones".
A health officer is taking samples for Covid-19 test in New York. Photo: Reuters
For a third consecutive day on Saturday, the number of confirmed US cases rose by more than 40,000. In Arizona, cases have risen by 267% so far in June and jumped by a record 3,857 cases on Sunday, the eighth record-breaking increase this month.
Overall, US deaths from Covid-19 have passed 125,000 with more than 2.5m confirmed cases, according to compiled by Johns Hopkins University, far more than any other country in the world.
The fresh surge in Covid-19 cases has been most pronounced in a handful of southern and western states that reopened earlier and more aggressively, with the support of the Trump administration, despite warnings by health officials to wait to see a steady decline in cases. Texas and Florida were among the states that reversed course on parts of their reopening plans last week as cases continue to increase.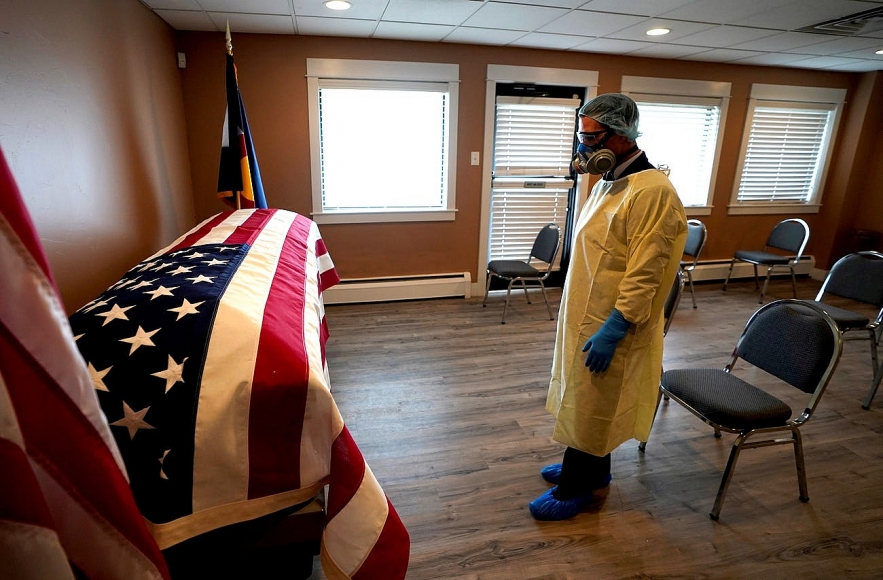 Michael Neel, funeral director of of All Veterans Funeral and Cremation, wearing full PPE, looks at the U.S. flag on the casket of George Trefren, a 90 year old Korean War veteran who died of the coronavirus disease (COVID-19) in a nursing home, in Denver, Colorado, April 23, 2020. Rick Wilking/Reuters
Appearing on NBC's Meet the Press program on Sunday morning, Azar was asked by presenter Chuck Todd why the US was failing to tackle the Covid-19 crisis, especially when so many other countries seem to be succeeding.
Azar acknowledged the US was "seeing surging in cases" and that the majority of those are among people under the age of 35, which means a "large number of those" will be asymptomatic, presenting a different challenge for authorities trying to get a grip on outbreaks.
"This is a very serious situation," Azar said, adding that "the window is closing" to stop the virus's spread. "We have to act, and people as individuals have to act responsibly. We need to social distance, we need to wear our face coverings."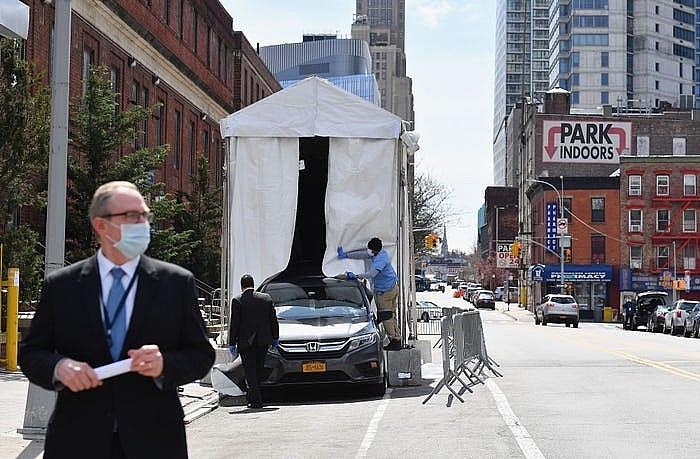 A hearse car backs into a refrigerated truck to pick up deceased bodies outside of the Brooklyn Hospital on April 1, 2020 in New York City. ANGELA WEISS/AFP via Getty Images
Azar argued that the US is in a better position than two months ago in fighting the virus because it is conducting more testing and has therapeutics available to treat Covid-19. But he acknowledged that hospitalizations and deaths could increase in the next few weeks, because it is a lagging indicator.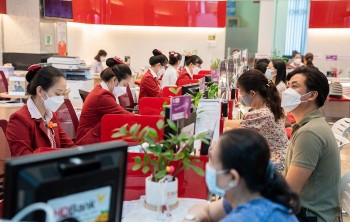 Economy
Vietnam Business & Weather Briefing (August 12): Air passengers reach a record number in July, seafood exports expected to reach 3 billion USD in Q3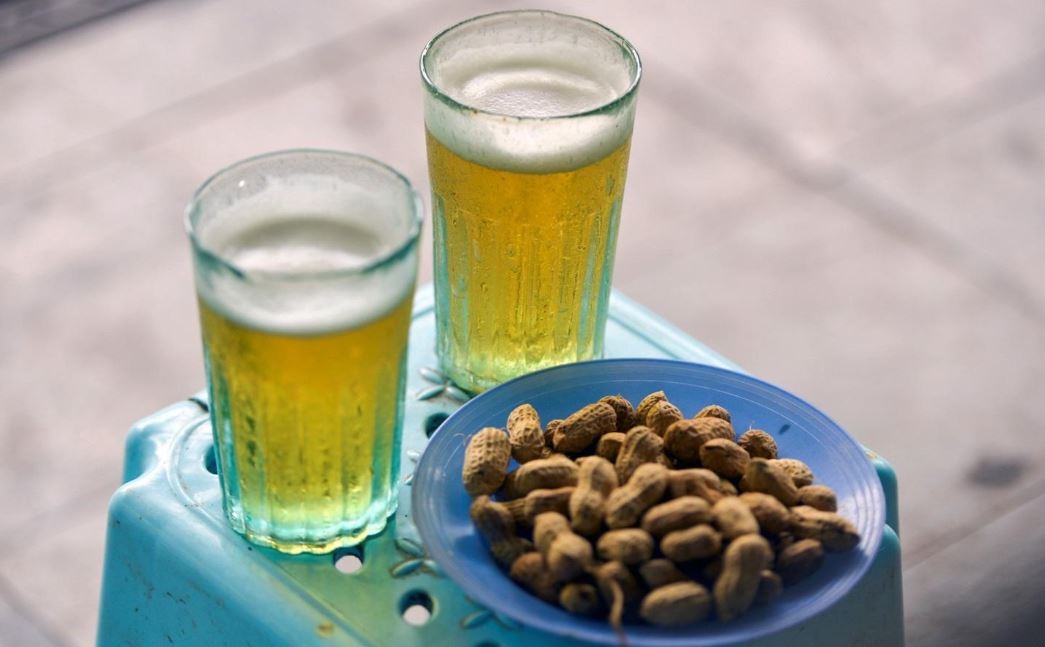 World
Among Vietnamese best beer destinations voted by foreign travelers, Hanoi is followed by Ho Chi Minh City, Hoi An, Nha Trang, and Da Nang.
August 06, 2022 | 14:54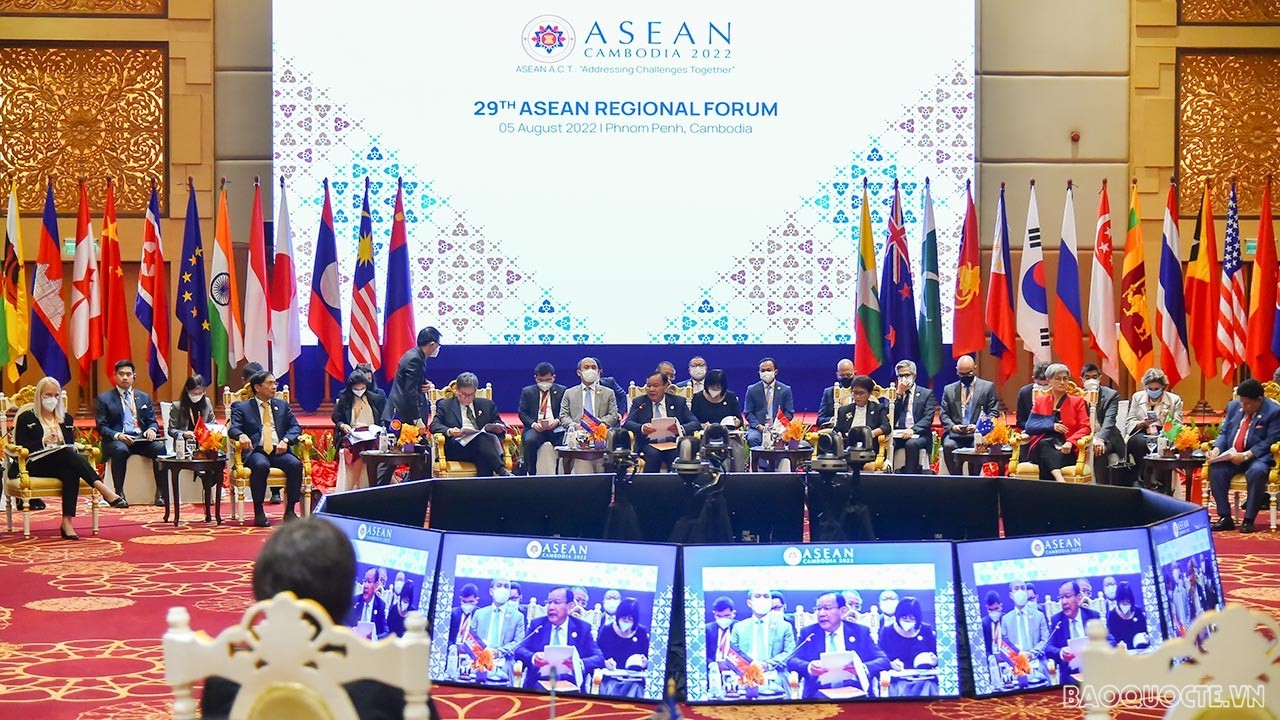 World
Foreign Minister Bui Thanh Son attended the 29th ASEAN Regional Forum (ARF) that took place in Phnom Penh, Cambodia on August 5 within the framework of the 55th ASEAN Foreign Ministers' Meeting (AMM-55), and held several bilateral meetings on the sidelines of the event.
August 06, 2022 | 09:12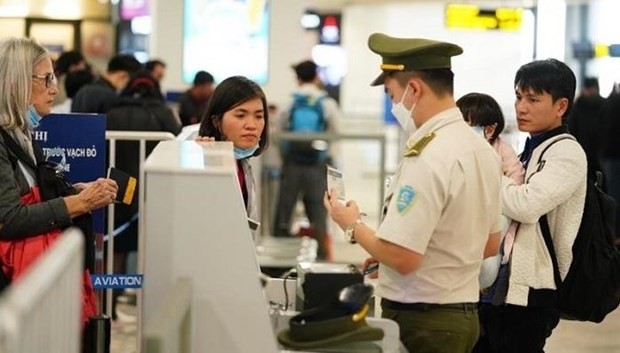 World
The Ministry of Health has asked localities nationwide to monitor foreign arrivals from countries with monkeypox as an early response after infections were spotted in the region.
August 05, 2022 | 16:11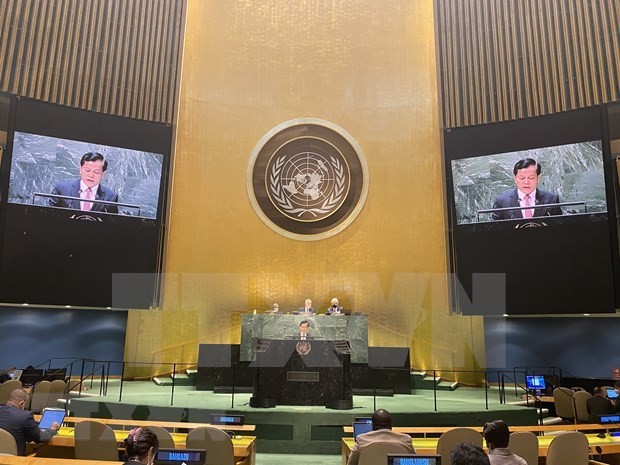 World
Deputy Foreign Minister Ha Kim Ngoc had a meeting on August 3 with United Nations (UN) Secretary-General Antonio Guterres who highly valued Vietnam's active and responsible contributions to the common work of the organisation, especially the country's strong commitments in the fight against climate change, and promised to continue supporting Vietnam in this work.
August 04, 2022 | 16:57