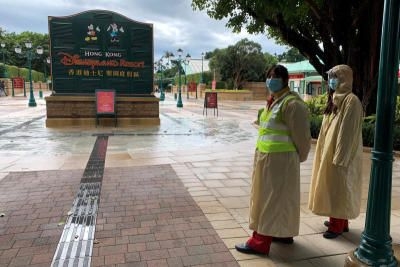 Employees wearing protective masks stand outside the Hong Kong Disneyland theme park that was closed, following the height of the coronavirus outbreak, in Hong Kong on Jan 26, 2020. The theme park will be closed again on July 15 as Hong Kong sees a resurgence in Covid-19 cases. Photo: Reuters
Hong Kong Disneyland is closing again after it reopened last month following a late January closing. Visitors and staff were required to wear face masks, submit to temperature checks, and maintain social distancing. The safety measures taken were similar to those in place at the recently reopened Central Florida parks.
"As required by the government and health authorities in line with prevention efforts taking place across Hong Kong, Hong Kong Disneyland park will temporarily close from July 15. The Hong Kong Disneyland Resort hotels will remain open with an adjusted level of services. They have put in place enhanced health and safety measures that reflect the guidance of health and government authorities, such as social distancing measures and increased cleaning and sanitization," a Disney spokesperson said.
Hong Kong Disneyland reopened on June 18 and was the second Disney property to reopen after Shanghai Disneyland.
On Saturday, the Magic Kingdom and Animal Kingdom reopened at Walt Disney World in Central Florida, concerning health experts who urge people not to gather in groups. Guests at the park said that people were wearing masks and social distancing, and videos showed near-empty parks.
Disney said that other than in Hong Kong, there have not been any changes to other business operations. "Across the globe, we will continue to monitor all new information, follow the direction of government and health authorities, and will make adjustments, as needed," a Disney spokesperson said.
The iconic cartoon characters Minnie and Mickey Mouse walk with the visitors at the Hong Kong Disneyland. Photo: AP
As reported by CNN, Walt Disney World, located in Orlando, Florida, opened on Saturday despite a surging number of more than 15,000 cases in the state.
Disney World began a phased reopening for its Magic Kingdom and Animal Kingdom parks over the weekend. Its other two parks, EPCOT and Hollywood Studios, will reopen on July 15. Disney is implementing several health measures to reopen safely.
Josh D'Amaro — the new chairman of Disney Parks, Experiences and Products — says the resort is safe for guests.
"We are in a new normal," D'Amaro told CNN Business on Saturday. "The world is a different place, but we feel really prepared to operate in this new environment."
Hong Kong Disneyland closing again after another COVID-19 outbreak nearby. Video: Wesh
Countries in Europe have opened their borders for summer travel
Across Europe, governments have started to open their borders after weeks of closure during the coronavirus pandemic.
According to Euro News on July 13, the EU has recommended the bloc opens its external borders from July 1 to 15 countries. These are Algeria, Australia, Canada, Georgia, Japan, Montenegro, Morocco, New Zealand, Rwanda, Serbia, South Korea, Thailand, Tunisia, Uruguay, and China (although China is subject to confirmation of reciprocity).
The EU authorities said that the list is to be updated every two weeks.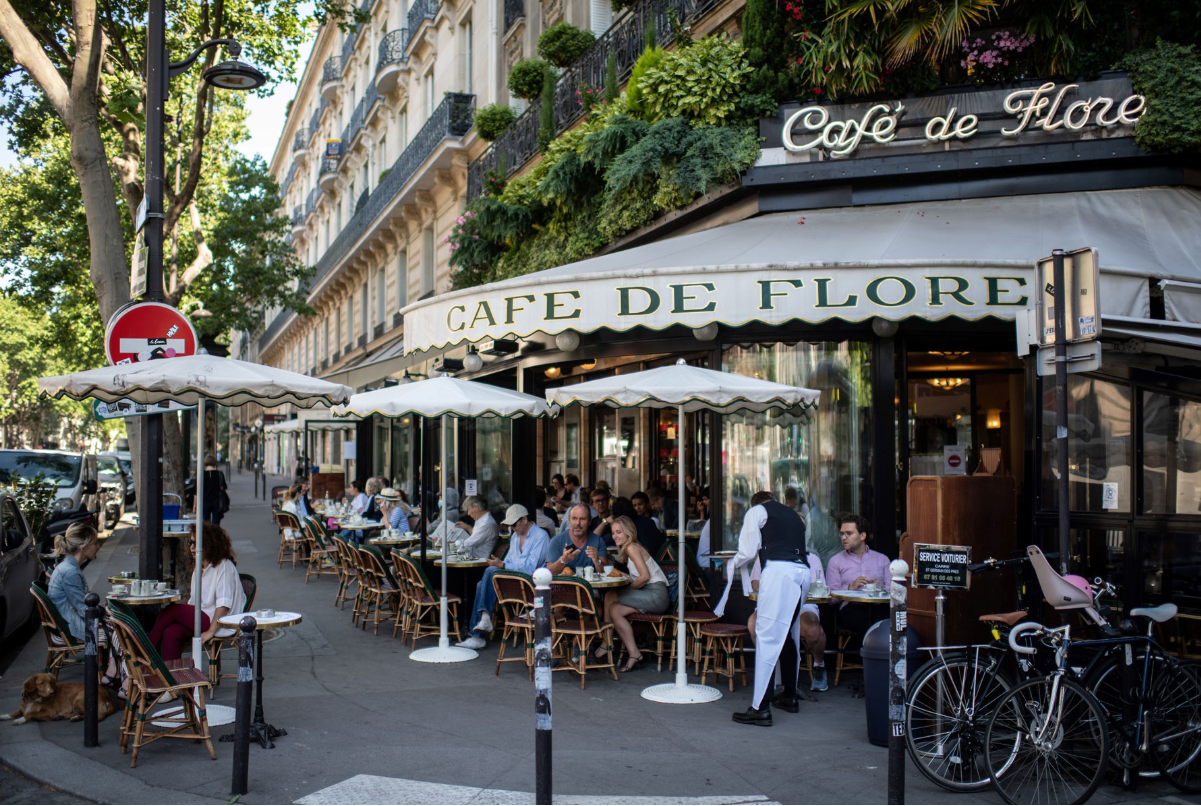 Customers have a drink on the terrasse of the Cafe de Flore in Paris in June 2020, as cafes and restaurants reopen in France, while the country eases lockdown measures taken to curb the spread of the COVID-19. Photo: MARTIN BUREAU/GETTY
Tony Nguyen
CNN, Reuters, Wesh