US President approves major disaster state in Texas due to terrible snow storm hitting
US President Joe Biden has declared that Texas is facing a major disaster, after the aftermath of the deadly winter storm hit the central and southern U.S. earlier this week, the Federal Emergency Management Agency (Fema) said.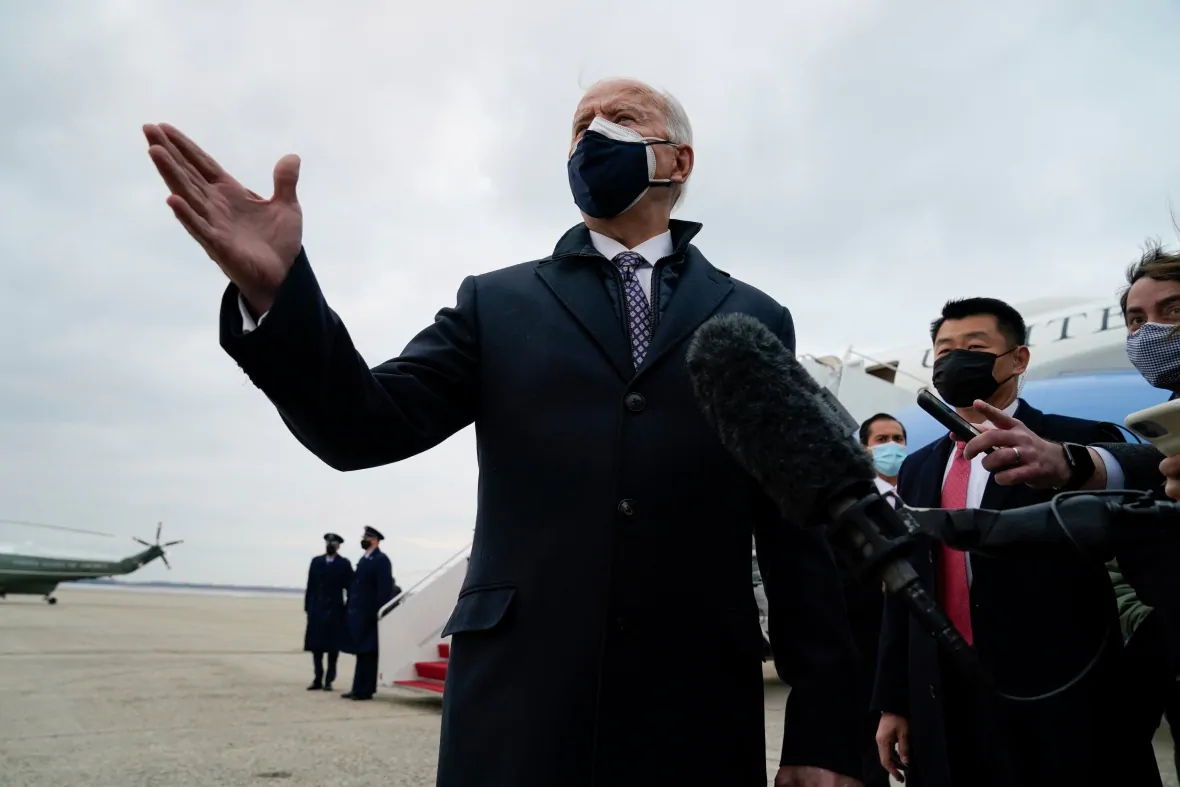 The fallout from the winter weather that has recently struck the United States is just one more challenge that U.S. President Joe Biden and his administration are contending with. (Evan Vucci/The Associated Press)
Joe Biden on Saturday approved a major disaster declaration for Texas, which has suffered widespread power blackouts and water shortages during a deep freeze, the Federal Emergency Management Agency (Fema) said.
According to The Guardian, the declaration made federal funding available to individuals across the state, including assistance for temporary housing and home repairs and low-cost loans for uninsured property losses.
Though many in Texas have had power restored and temperatures are no longer below-freezing, the state is still reeling from the winter storm that pummeled its power grid and left millions without heat, food or safe drinking water. On Saturday morning, about 80,000 customers were still without power.
At least 30 people have died since Sunday, according to the Washington Post. Authorities have not released an official death toll and say it could be weeks until one is known. Some counts put the toll at at least 69.
Many say the power crisis has turned into a water disaster, with Mississippi and Tennessee among other states affected. On Friday, more than 14 million were affected by disrupted public water systems.
Half of Texas was under a boil-water advisory after water treatment centers saw blackouts. Even those with access to safe water had been told to turn off their water, for fear thawing pipes would burst, causing flooding. Residents short on water were advised to take measures including using melted snow to fill toilet tanks and contacting neighbors with running water.
Food scarcity was also an issue, with panicked shoppers clearing shelves, school meal programs suspended and food banks struggling to keep up with demand.
"People are out of options," Terri Willis, executive director of a community resource center in Texas, told the Guardian. "They've gone into survival mode to get what they can. We are all in disaster mode."
A month into the job and focused on the coronavirus, Biden is seeing his disaster-management skills tested after winter storms plunged Texas, Oklahoma and neighbouring states into an unusual deep freeze that left millions shivering in homes that lost heat, power and, in many cases, water.
The White House announced on Saturday that the president had declared a major disaster in Texas, and he has asked federal agencies to identify additional resources to address the suffering.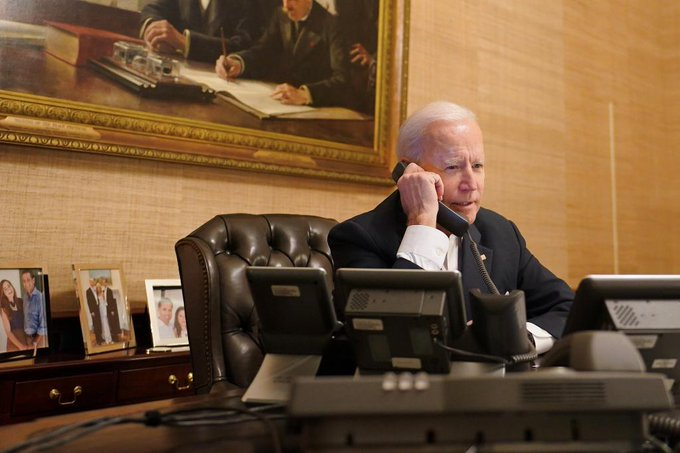 Biden has spoken to the governors of the seven states most affected by the winter weather. He tweeted a photo of himself on the phone with Abbott, the Texas governor, earlier in the week. (Photo: Twitter)
In a statement on Saturday, Texas Gov. Greg Abbott welcomed the president's action, calling it "an important first step," as the second most-populous U.S. state recovers from the havoc wreaked by the recent winter weather.
But the governor said individual assistance had been approved for only 77 counties, not all of the state's 254 counties, as he had requested.
Reuters reported that some 78,000 Texas households were still without power as of Saturday morning, but that was down from the more daunting total of millions of state residents who had been dealing with outages earlier in the week.
Biden came into office on Jan. 20 promising to tackle a series of brewing crises, starting with the COVID-19 pandemic and its ripple effects on the economy. He tacked on systemic racism and climate change as top priorities. And now he's contending with storms that have not only imperilled Americans but also delayed the shipment and administration of millions of doses of coronavirus vaccines.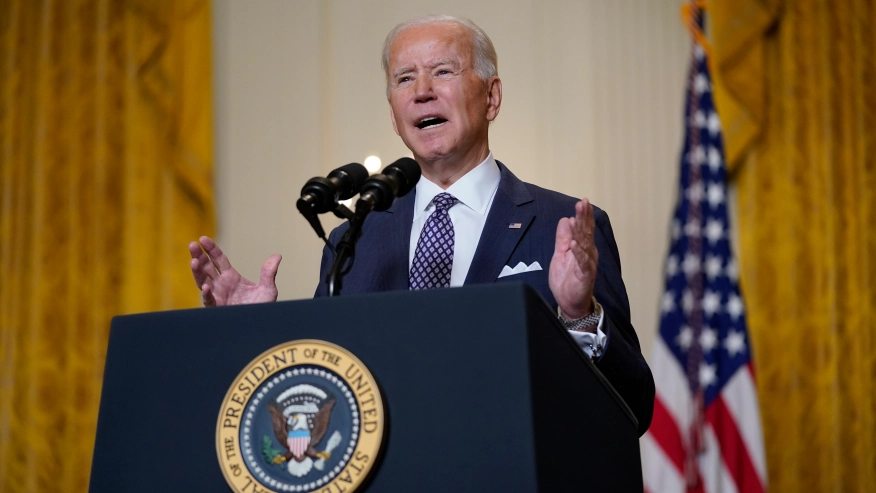 President Joe Biden speaks during a virtual event with the Munich Security Conference in the East Room of the White House, Friday, Feb. 19, 2021, in Washington. (AP Photo/Patrick Semansky)
Biden said Friday that he hopes to travel to Texas next week but doesn't want his presence and the accompanying presidential entourage to distract from the recovery.
"They're working like the devil to take care of their folks," he said of Texas officials. He said he'd make a decision early next week about travel.
Biden, who offered himself during the campaign as the experienced and empathetic candidate the country needed at this moment in time, is working on several fronts to address the situation — and to avoid repeating the mistakes of predecessors who got tripped up by inadequate or insensitive responses in times of disaster.
The U.S. Federal Emergency Management Agency has shipped dozens of generators and supplies, including fuel, water, blankets and ready-to-eat meals, to the affected areas.
Biden has spoken to the governors of the seven states most affected by the winter weather. He tweeted a photo of himself on the phone with Abbott, the Texas governor, earlier in the week.
Oklahoma's Republican Gov. Kevin Stitt, a staunch supporter of Trump, was quick to praise Biden for swift action on a disaster declaration.
After speaking with Biden by telephone earlier this week, Stitt specifically thanked the president for "taking the time to reach out this afternoon and offer the federal government's help for Oklahomans. We had a very productive call and I look forward to working together to find solutions as we recover from this historic storm."
Barbara Perry, director of presidential studies at the University of Virginia's Miller Center, said Biden is "well suited" to deal with the disaster because of his decades of service in the U.S. Senate and as a former vice-president, as well as "his genuine concern for people."
"He's got to show empathy right off the bat," Perry said in an interview. "It's important for a president to go to a place that's been battered, but be careful about the footprint. He doesn't want to make things worse."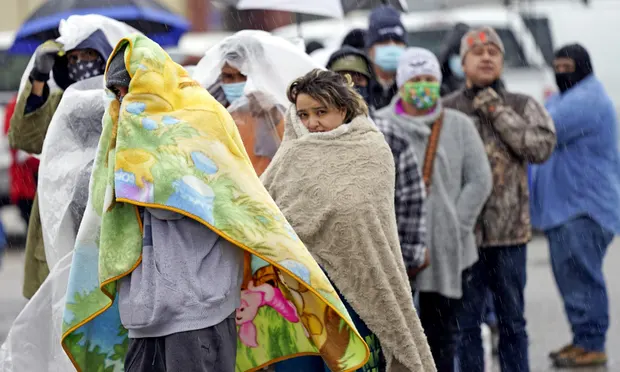 People wait in line to fill propane tanks in Houston this week. Photograph: David J Phillip/AP
Though early reports indicate malfunctions in the state's natural gas supply played the biggest role in the outages, Republicans have insisted renewable energy sources like wind turbines were to blame. Natural gas remains the state's top energy source.
"Our wind and solar got shut down, and they were collectively more than 10% of our grid," Governor Greg Abbott told Fox News' Sean Hannity on Tuesday. "This shows how the Green New Deal would be a deadly deal for the United States."
The Green New Deal is an ambitious package of proposed legislation championed by progressive Democrats. It is not law.
Officials at the Electric Reliability Council of Texas (Ercot), which runs the Texas power grid, have said that while all energy sources had problems, renewable energy malfunctions accounted for just 13% of energy loss under the cold conditions.
While the Texas state government has oversight over Ercot, over the last two decades Republican governors have largely left the power company to decide on costly weatherization upgrades.
Calls to better regulate the state's power grid have become louder this week. Abbott called for an investigation into Ercot and urged state lawmakers to make a law requiring the weatherization of power plants and utilities.
"Really what Texans want, you know, aren't things that are outrageous," said Abhi Rahman, communications director for the Texas Democratic party, on Saturday.
"We want clean drinking water. We want to have power, we want to have electricity. And it's our Republican leadership that has time and time again failed us on every single crisis situation."