President Joe Biden announces America return to global audience
Joe Biden first appeared as US President at an international summit and a major transatlantic security policy conference, declaring "America is back, the transatlantic alliance is back", after four years of "America First" policies under former-President Donald Trump.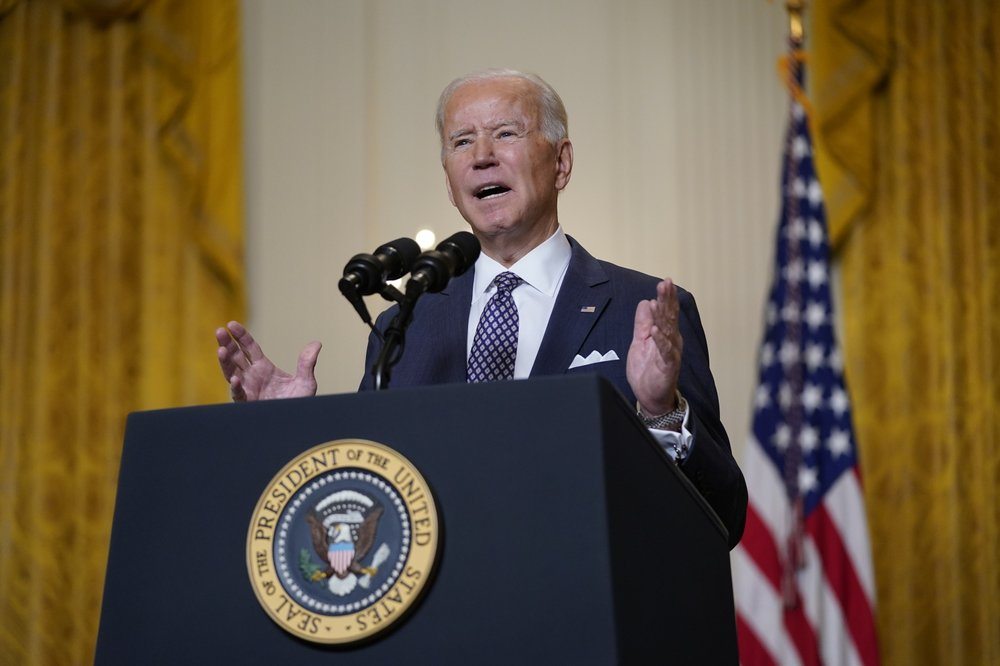 President Joe Biden speaks during a virtual event with the Munich Security Conference in the East Room of the White House, Friday, Feb. 19, 2021, in Washington. (AP Photo/Patrick Semansky)
Speaking to the annual Munich Security Conference virtually, Biden ticked through a daunting to-do list — salvaging the Iran nuclear deal, meeting economic and security challenges posed by China and Russia and repairing the damage caused by the coronavirus pandemic — that he said would require close cooperation between the U.S. and its Western allies, according to Associated Press.
Without mentioning Donald Trump's name once in his speech, Biden mixed talk of a reinvigorated democratic alliance with a rebuke of his predecessor's approach, a message warmly received by Western allies.
'I know the past few years have strained and tested the transatlantic relationship," Biden said. "The United States is determined to reengage with Europe, to consult with you, to earn back our position of trusted leadership."
The president also participated Friday in a virtual meeting of the Group of Seven industrialized nations, where leaders managed to work Biden's campaign theme into their closing joint statement, vowing to "work together to beat COVID-19 and build back better."
"Welcome back, America," said European Council President Charles Michel, effectively summing up the mood of the Munich conference.
But while such happy talk conveyed the palpable sense of relief among allies at Biden's full-throated commitment to mending frayed U.S.-Europe relations, plenty has changed over the past four years in ways creating new challenges.
G7 meeting focuses on coronavirus recovery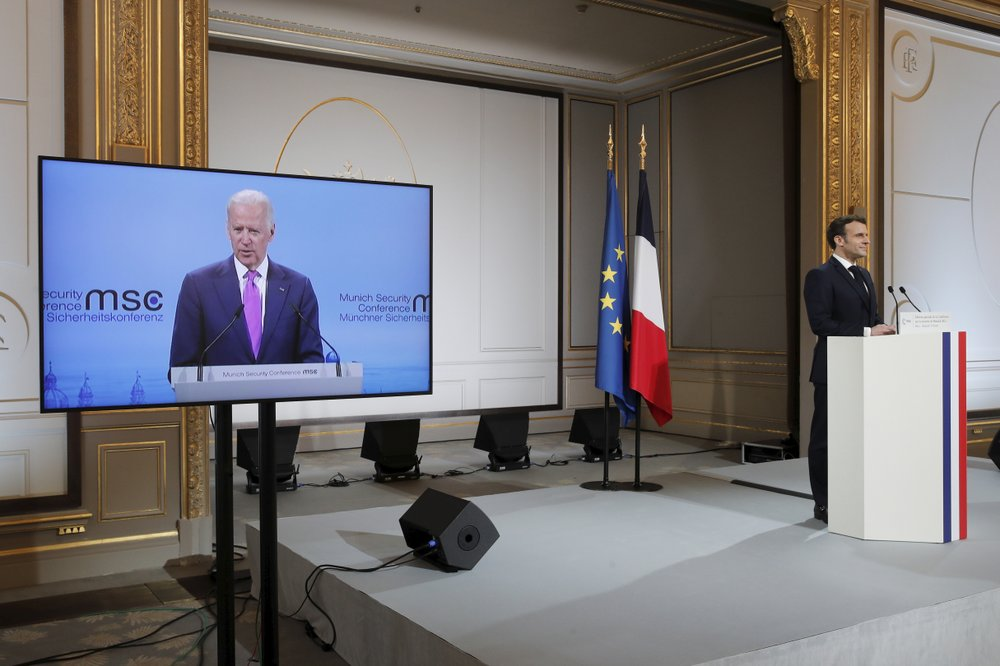 French President Emmanuel Macron, right, attends a video-conference meeting as U.S. President Joe Biden appear on a screen ahead of a 2021 Munich Security Conference at the Elysee palace in Paris, Friday Feb. 19, 2021. (Benoit Tessier/Pool via AP)
G7 leaders have pledged to intensify co-operation on Covid-19 and increase their contribution to the Covax vaccine-sharing initiative.
In a joint statement released after a virtual summit on Friday, G7 leaders raised their overall commitment to $7.5bn (£5.3bn), according to BBC.
Wealthy countries are facing growing pressure to make sure lower-income nations get fair access to vaccines.
President Joe Biden has pledged $4bn in US aid to the fund.
An initial $2bn will be donated in 2021, with an additional $2bn coming over the next two years.
Germany pledged an additional $1.2bn with Chancellor Angela Merkel telling journalists: "I stressed in my intervention that the pandemic is not over until all people in the world have been vaccinated."
The Covax scheme is aiming to get at least 1.3bn vaccine doses to vulnerable populations worldwide in the coming months.
Covax is co-led by Gavi, known as the Vaccine Alliance, the World Health Organization (WHO) and the Coalition for Epidemic Preparedness Innovations (CEPI).
WHO chief Tedros Adhanom Ghebreyesus said on Friday he was grateful for the new commitments but emphasised that more was needed to address the world's vaccination imbalance.
"Vaccine equity is not just the right thing to do, it's also the smart thing to do," he said at the annual Munich Security Conference, also held virtually on Friday.
French President Emmanuel Macron is among world leaders calling for further action to address the world's vaccine imbalance - saying Europe and the US should urgently send up to 5% of their supplies to developing nations.
The new commitments come days after UN Secretary General António Guterres criticised the distribution of vaccines so far as "wildly uneven and unfair".
He said just 10 countries had administered 75% of all vaccinations worldwide, while 130 countries had not yet received a single dose.
Munich Security Conference: China, Russia challenges
Appearing at the Munich conference as a private citizen two years ago, Biden received a standing ovation after promising that the US "will be back."
On Friday, President Biden said Western democracies must lead in tackling security challenges, specifically from China and Russia.
Hot button issues with China include the crackdown on the Hong Kong pro-democracy movement, imprisonment of Uighur Muslims, and a military build-up in the South China Sea.
On Russia, the US president will address actions from Moscow that Washington says seek to undermine Western democracies, including allegations of cyberattacks and social media influence campaigns. The Kremlin continually denies participating in any such action.
German Chancellor Angela Merkel noted that some differences between the U.S. and Europe remain "complicated." Europe sees China's economic ambitions as less of an existential threat than the U.S. does and has its own strategic and economic concerns that are not always in sync with Biden on Russia as well, according to Associated Press.
Still, Merkel, who had a strained relationship with Trump, didn't hide her preference for an American foreign policy informed by Biden's world view.
"Things are looking a great deal better for multilateralism this year than two years ago, and that has a lot to with Joe Biden having become the president of the United States of America," Merkel said. "His speech just now, but also his administration's first announcements, have convinced us that this is not just talk but action."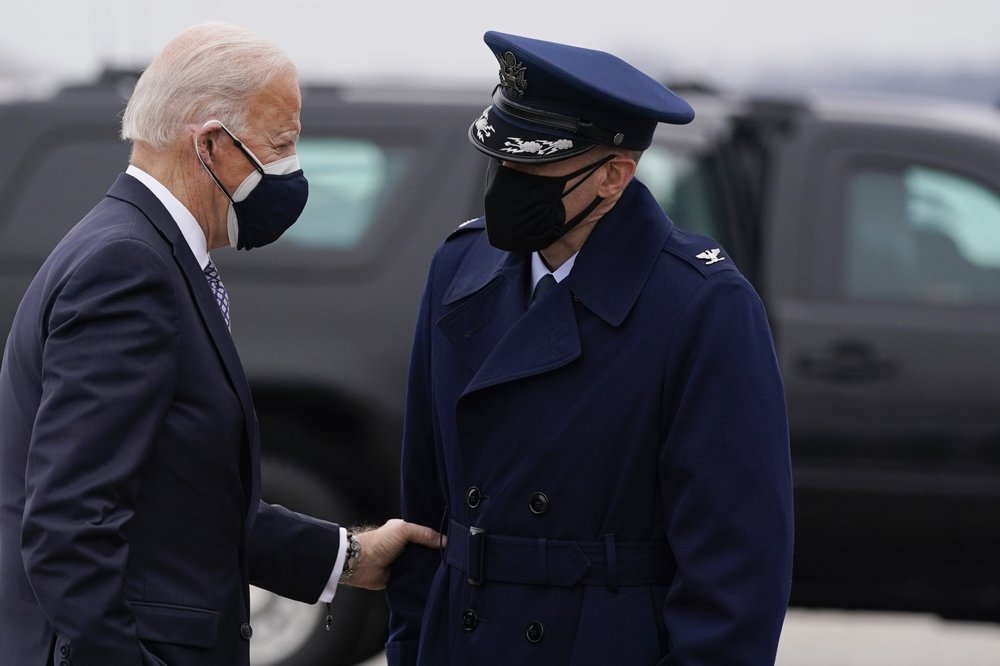 President Joe Biden speaks to someone as he arrives to board Air Force One for a trip to Kalamazoo, Mich., to visit a Pfizer plant, Friday, Feb. 19, 2021, in Andrews Air Force Base, Md. (AP Photo/Evan Vucci)
Restarting the Iran nuclear deal
Ahead of the two conferences, the White House announced late Thursday that it would be willing to sit down with Iran to discuss reviving the 2015 nuclear agreement between Tehran and world powers.
The deal exchanged sanctions relief for Iran drawing down its nuclear weapons enrichment. Trump took the US out of the agreement in 2018 and reimposed sanctions on Iran in a "maximum pressure campaign."
The European Union heavily supported a diplomatic solution to curbing Iran's nuclear program. The US State Department said the US is open to again participate in meetings with the deal's signatories, known as the "P5+1." The US has not participated since 2018.
On Friday, Iran's Foreign Ministry said it would "reverse" increasing its nuclear program if sanctions were lifted. Biden has previously said the US would not lift sanctions and wanted to see Iran adhere to the limitations set by the accord first.
The Biden administration has previously signaled it would consult with Israel prior to rejoining the Iran deal. Israeli Prime Minister Benjamin Netanyahu is staunchly against the agreement.
Rejoining Paris agreement
Biden's appearance at the two conferences comes on the day the US officially rejoined the Paris climate agreement, a landmark international accord to reduce climate change by reducing emissions. Trump pulled the US out of the Paris agreement shortly after taking office in 2017.
"Climate change and science diplomacy can never again be 'add-ons' in our foreign policy discussions," Secretary of State Antony Blinken said on Friday.
Blinken said "addressing the real threats from climate change" would be at the center of Washngton's domestic and foreign policy priorities.
Now, global climate action groups hope the US will honor billions of dollars in pledges to the Global Climate Fund.
In January, US climate envoy John Kerry promised that Washington would "make good" on its climate finance promise.
Biden also signed an executive order on climate change, instructing the government to create a climate finance plan to aid developing countries in emissions reduction, protect ecosystems and help mitigate the impacts of climate change.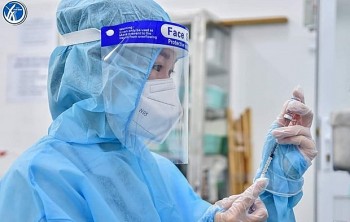 National
Vietnam News Today (December 9): Vietnam confirms 14,595 new Covid-19 cases; Vietnam, New Zealand sign action program to promote strategic partnership; HCM City to inject third Covid-19 vaccine jab from December 10; Hanoi may ban motorbikes in inner areas from 2025.