US Presidents: "Obamagate" hashtag by Trump and "an absolute chaotic disaster" criticized by Obama
Donald Trump accuses predecessor of unspecified crimes that make Watergate 'look small time' while Obama also said the response to the coronavirus pandemic had been "an absolute chaotic disaster"
In an extraordinary statement against a former president, the Republican Senate majority leader Mitch McConnell has told Barack Obama to "keep his mouth shut" over criticism of Donald Trump, calling him "classless".
Speaking to alumni of his administration, Obama said he was worried about the "rule of law", in light of the justice department's decision to drop its case against the former national security adviser Michael Flynn. That's the issue at the heart of Trump's attempts to gin up an "Obamagate" scandal, which on Tuesday morning he again claimed "makes Watergate look small time!", informed the guardian.
What are Trump and Obama saying?
The BBC reported that Obama has largely held his tongue about the actions of his successor but on Friday in a call to 3,000 former aides and officials that was leaked to the media, he let loose.
"There is no precedent that anybody can find for someone who has been charged with perjury just getting off scot-free," he said. "That's the kind of stuff where you begin to get worried that basic - not just institutional norms - but our basic understanding of rule of law is at risk."
Trump, who has never been shy about criticising - or blaming - his predecessor, responded with a flurry of social media posts and retweets on Sunday, accusing Obama and his aides of engaging in a criminal effort to undermine his presidency.
He amplified the assertions of right-wing commentators and lashed out at Obama, former Deputy FBI Director Andrew McCabe, former Deputy Attorney General Rod Rosenstein, late-night television host Jimmy Kimmel and numerous reporters and media outlets.
"The biggest political crime in American history, by far!" the president wrote, retweeting a conservative talk-radio host who accused Obama officials of sabotaging Trump in the days before he took office.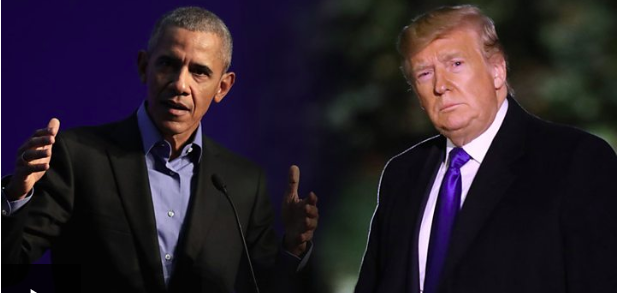 Barack Obama and Donald Trump, photo on BBC
Why did it take off?
Relations between Barack Obama and Donald Trump have reached a new low after the current US president accused his predecessor of unspecified crimes in a so-called "Obamagate" scandal.
In a furious barrage of 126 tweets, the third-highest daily total of his presidency, Trump unleashed a relatively unfamiliar hashtag on the world - "#OBAMAGATE". The president frequently used the term "Obamagate" - a reference to the Nixon-era Watergate scandal - the "gate" suffix inspired by the Watergate scandal that brought down former US president Richard Nixon - in connection with his allegations, and prominent conservative activists and Trump-affiliated support groups quickly picked up the hashtag.
Although the term predates Trump's usage, on Sunday it received more than two million tweets - further evidence of the power of the president's social media platform.
Photo on the Twitter
The new spike in its traffic began early Sunday in the US, and about 86% of that was in the form of retweets, suggesting there was some degree of coordination. But there was no evidence of botnets being involved.The hashtag had been in use in obscure and fringe right-wing circles for a while, particularly amongst a minority of MAGA and QAnon users, but it never went beyond those small circles.
Do Trump's accusations against Obama have any merit?
The president has long viewed the entirety of the investigation into Russian efforts to meddle in the 2016 US election as an attempt to undermine the legitimacy of his presidency.
As evidence emerged that some of the FBI Russia-probe team privately expressed criticism of Trump as a presidential candidate, he has felt validated.
These views have been further compounded as former FBI Director James Comey, former Director of National Intelligence James Clapper and now Obama himself have all roundly criticised Trump, his policies and his presidency.
In the latter months of 2016, the US government was receiving increasingly dire warnings from its intelligence agencies of Russian efforts to disrupt the 2016 presidential election - efforts that the Robert Mueller special counsel investigation further detailed.
He also unearthed evidence of contact between members of the Trump campaign and Russian nationals. The FBI counter-intelligence investigation was initiated to probe these contacts and activities.
Obama-era officials in the intelligence community, the FBI and the White House continue to view the actions they took based on this evidence as fully justified.
Trump and his supporters only see their assertions and indignity as further evidence of wrongdoing and cover-up.
"I wouldn't be surprised if you see a lot of things happen over the next number of weeks," Trump said in the Oval Office on Thursday after learning of the Flynn news.
The acrimony in the fight over Flynn could be just getting started.
Flynn was fired from his role as as national security adviser in early 2017 for lying to the FBI about his conversations with the Russian ambassador before Trump's inauguration.
Obama's alleged comments on the matter appear to have riled the president, who tweeted that his Democrat nemesis had committed "the biggest political crime in American history, by far!"
Obama also said the response to the coronavirus pandemic had been "an absolute chaotic disaster".
McConnell was speaking to Trump's daughter-in-law Lara Trump in an online fundraiser on Monday night.
Asked about Obama "slamming" the administration for its response to the coronavirus outbreak, he said: "I think President Obama should have kept his mouth shut.
"You know, we know he doesn't like much this administration is doing. That's understandable. But I think it's a little bit classless frankly to critique an administration that comes after you."
He added: "You had your shot. You were there for eight years. I think the tradition that the Bushes set up of not critiquing the president who comes after you is a good tradition."
There is a tradition of former presidents not commenting on or attacking their successors in the Oval Office, but Trump is not part of the informal club which currently includes Obama, George W Bush, Bill Clinton and Jimmy Carter, and he has regularly attacked those who went before him.
Plus, Obama's views of Trump are pretty well known, if usually by indirect routes and leaks to the press. For example, in a Hulu documentary about Hillary Clinton's 2016 campaign against Trump, the Virginia senator Tim Kaine is seen to say the then president thinks Trump is a fascist.
Some analysts have suggested Trump's tweets may also have been a bid to distract from his handling of the coronavirus outbreak in the country, which has claimed more than 80,000 lives and triggered a rise in unemployment to levels last seen during the Great Depression.
Attacks on Obama always go down well with Trump's supporters, according to Republican strategist Ford O'Connell, who says: "Nothing energises Trump's base more than this, because they feel that they were wronged."
The president's tweets are also "indicative of a long-standing obsession", says The Guardian. "Trump effectively began his political career by pushing the 'birther' conspiracy theory that Obama was not born in the US and therefore should not be eligible for the presidency."
And he has dedicated much of his time at the White House to trying to reverse Obama's legacy, "attempting to kill the Affordable Care Act, pulling out of the Iran nuclear deal and Paris climate accords, and slashing environmental and other regulations", the newspaper adds.
But some Democrats are fighting back against Trump's latest attack with an online assault of their own.
Supporters of Joe Biden, the presumptive nominee to take on Trump in this year's scheduled presidential election, are using the hashtag "Trumpgate" in links to online campaign ads attacking the president for his response to the Covid-19 crisis, said theweek.co.uk .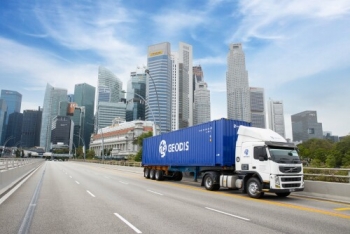 Economy
GEODIS, a global leading transport and logistics services provider, has expanded its road network in Southeast Asia to Vietnam; another step towards its ambition to develop a scheduled road service connecting Singapore to China.