Michael Flynn: Criminal case out, queries in
New York Times reported on Thursday that the Justice Department (DOJ) is dropping the criminal case against the US' former national security adviser Michael Flynn as he was allegedly a key figure in the Russia investigation ending a years-long saga over his sentencing leading to a series of queries on the decision. 
The justice has abandoned a prosecution that became a rallying cry for the US President Donald Trump and his supporters in attacking the FBI's Trump-Russia investigation, according to The Guardian.
What is the US' Justice Department is saying?
In a court filing Thursday, the Department of Justice said that "based on an extensive review and careful consideration of the circumstances ... continued prosecution of this case would not serve the interests of justice." The filing was signed by Timothy Shea, who's currently serving as the US Attorney for the District of Columbia, Vox reported.
The announcement came in a court filing "after a considered review of all the facts and circumstances of this case, including newly discovered and disclosed information," as the department put it. DOJ officials said they concluded that Flynn's interview by the FBI was "untethered to, and unjustified by, the FBI's counterintelligence investigation into Mr. Flynn" and that the interview was "conducted without any legitimate investigative basis."
Michael Flynn pleaded guilty in December 2017 to lying to FBI investigators about his contacts with the Russian ambassador to the US during Donald Trump's presidential transition, when Flynn, a retired US Army lieutenant general, was serving as a senior member of the president-elect's transition team.
At the time, the Justice Department lawyers prosecuting the case accepted Flynn's guilty plea because it was part of a deal in which Flynn agreed to cooperate with investigators in the Mueller probe, presumably in exchange for a more lenient sentence when the time came.
But then Flynn's case took turn fighting his conviction, with his attorneys including Attorney General Bill Bars to review the case against Flynn.
In the Thursday court filing, the DOJ concedes that Flynn lied to investigators but claims Flynn's statements could not have "conceivably 'influenced' an investigation that had neither legitimate or counterintelligence or criminal purpose."
The DOJ move to dismiss the case would appear to put an end to that process.
Muller's prosecutor retreats from Flynn case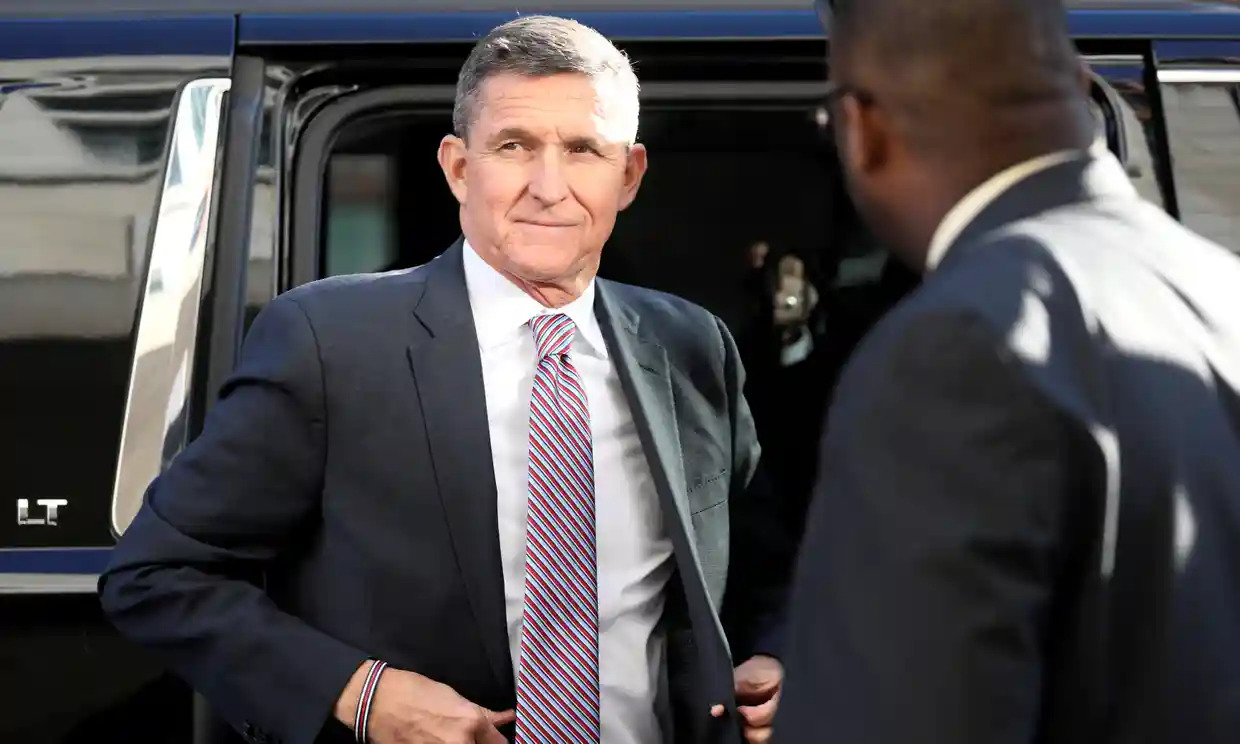 Michael Flynn, the former national security adviser, arrives for his sentencing hearing in December 2018. Photograph: Jonathan Ernst/Reuters.
Earlier Thursday, the top prosecutor on the case, Brandon Van Grack, abruptly withdrew from the case, without explanation, in a brief filing with the court, according to Fox News.
Breadcrumbs were being dropped in the days preceding the decision that his case could be reconsidered. Documents unsealed a week ago by the Justice Department revealed agents discussed their motivations for interviewing him in the Russia probe – questioning whether they wanted to "get him to lie" so he'd be fired or prosecuted, or get him to admit wrongdoing. Flynn allies howled over the revelations, arguing that he essentially had been set up in a perjury trap. In that interview, Flynn did not admit wrongdoing and instead was accused of lying about his contacts with the then-Russian ambassador – to which he pleaded guilty.
The latest DOJ filing noted Flynn's false statement plea pertained to a crime that required a statement "to be not simply false, but 'materially' false with respect to a matter under investigation." The filing showed that the government "is not persuaded that the January 24, 2017 interview was conducted with a legitimate investigative basis and therefore does not believe Mr. Flynn's statements were material even if untrue."
The U.S. attorney reviewing the Flynn case, Jeff Jensen, recommended dropping the case to Attorney General William Barr last week and formalized the recommendation in a document this week.
"Through the course of my review of General Flynn's case, I concluded the proper and just course was to dismiss the case," Jensen said in a statement. "I briefed Attorney General Barr on my findings, advised him on these conclusions, and he agreed."
President Donald Trump reacted from the Oval Office just minutes after the DOJ filing surfaced. "He was an innocent man... Now, in my book, he's an even greater warrior," Trump said, while criticizing Obama administration officials. "They're human scum. ... It's treason."
Trump critics decried the decision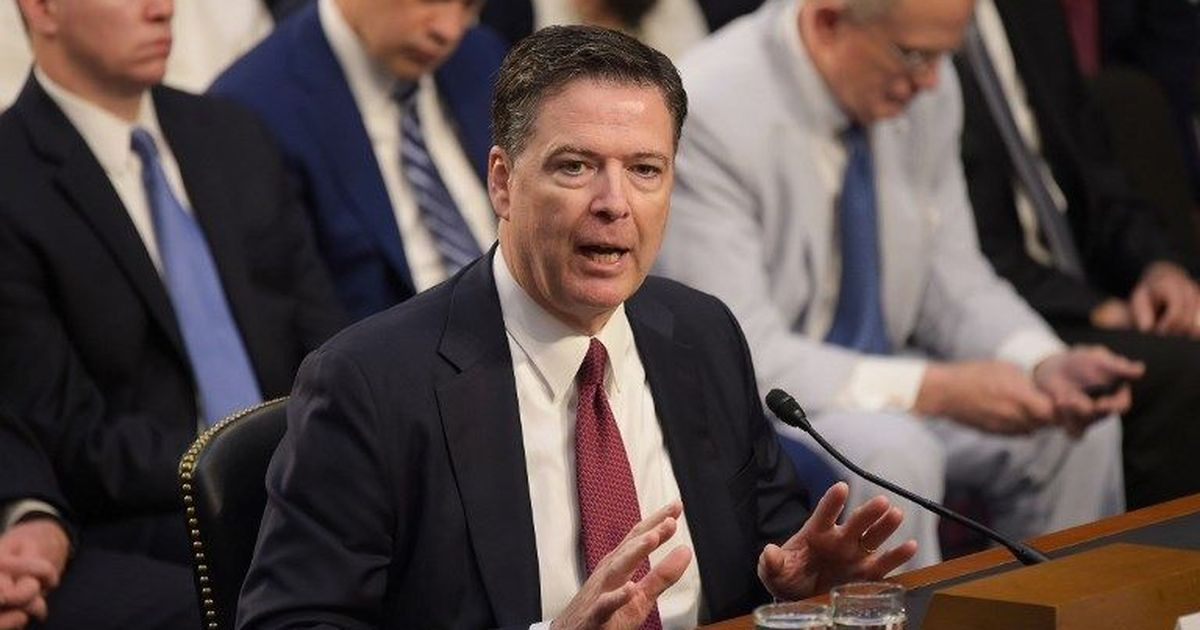 Illustrative photo. Former FBI Director James Comey.
Fox News cited, Former FBI Director James Comey tweeted: "The DOJ has lost its way."
And House Judiciary Committee Chairman Jerrold Nadler, who was a key figure during Trump's impeachment proceedings, called the decision "outrageous."
"The evidence against General Flynn is overwhelming," Nadler, D-N.Y., said in a statement, while urging an inspector general investigation.
Meanwhile, the DOJ on Wednesday released a mostly unredacted version of former Deputy Attorney General Rod Rosenstein's August 2017 "scope memo," outlining the authority then-Special Counsel Robert Mueller had for his investigation. That document revealed for the first time that Mueller's authority went significantly beyond what was known previously.
Rosenstein's memo was known to have authorized Mueller to investigate "any links and/or coordination between the Russian government and individuals associated with the campaign of President Donald Trump," and "any matters that arose or may arise directly from the investigation," and "any other matters within the scope of [obstruction of justice laws]."
But, the new document made clear that Rosenstein authorized a deep-dive criminal probe into the Trump campaign that extended well beyond Russian interference efforts.
NPR has cited some theses over the dropping criminal case against Flynn, saying he "plays good cards".
Through all this, Flynn and his attorneys sought the best deal they could get at each juncture. First, they turned state's evidence.
Initially, prosecutors called him a model cooperator and told a judge they would be fine if he received a sentence of only probation, even though federal guidelines contemplated at least a few months in prison.
The longer Flynn cooperated, however, the more fraught became his relationship with the feds. After giving prosecutors everything they wanted in the Russia matter, Flynn became less forthcoming when the government brought a case against his former business partner, prosecutors said.
The U.S. Attorney's Office for Washington D.C., which took the prosecutorial baton from special counsel Robert Mueller's office, told a judge that it thought Flynn should be sentenced to as many as six months.
That could include probation, it said — but didn't rule out the prospect of prison time, given how much less helpful prosecutors said Flynn had become.
By this point, in mid-2019, Flynn had changed out his legal team, and it howled at the prospect of prison after all the work he had done for the Justice Department.
That "stunning and vindictive reversal," as Flynn's lawyers called it, was one basis for their request to withdraw the guilty plea earlier this year, notwithstanding Flynn's admission of guilt.