Vaccinated Travelers Exempt from Covid-19 Testing
Passengers who have been fully vaccinated, got the first shot of Covid-19 vaccine within three weeks or recovered from the pandemic within six months will be exempt from Covid-19 testing while traveling by air, train and waterway.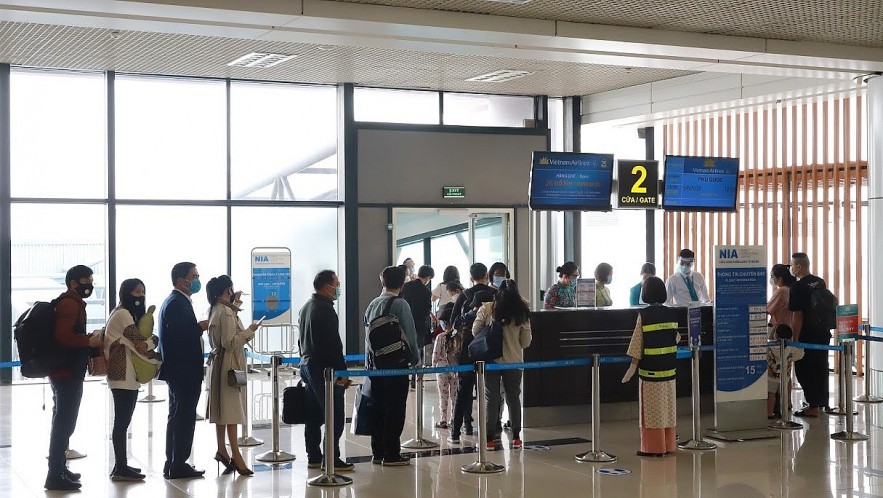 Air, train and waterway passengers who have been fully vaccinated, got the first shot of Covid-19 vaccine within three weeks or recovered from the pandemic within six months will be exempt from Covid-19 testing. Photo: Thanh nien (Young People) newspaper
The Ministry of Health gave the suggestion in a document sent to the Ministry of Transport, commenting on a draft plan to resume passenger transport activities in localities where pandemic prevention measures have been eased, Nhan dan (People) newspaper reported.
Under the document, businesses offering the services are asked to put forth plans for Covid-19 prevention and control as well as handling of infection cases in line with regulations.
They should set up a medical unit to coordinate with local health authorities to deal with infections at workplace.
The health ministry proposed resuming public transport by road, train, sea and inland waterway in low- and medium-risk localities and regions. However, in high-risk areas, means of transport are allowed to operate 50 % of their capacity and below. They must stop operations in extremely high-risk areas (except for taxi and those using tech apps, having less than nine seats and using vehicle partition and e-payment).
Public transport vehicles must be equipped with hand sanitisers and face masks and be disinfected frequently, with their drivers and staff following the 5K principle and taking Covid-19 tests right after developing suspected symptoms.
Those serving in medium- and high-risk areas must take tests every seven days. Meanwhile, drivers in extremely high-risk locations must be fully vaccinated or recover from Covid-19 within six months and have a negative test result within 72 hours.
Four-phase plan
Aircraft at Hanoi's Noi Bai Airport, September 9, 2021. Photo: VnExpress
The transport ministry plans to gradually resume domestic flights to localities where Covid-19 prevention and control measures have been eased from October 1.
It will be done in four phases, VnExpress reported.
The first, planned for no more than 10 days, will see airlines resume flights but with the frequency not exceeding 50 percent of that in the first 10 days of April before the fourth wave of coronavirus began.
Passengers must be socially distanced on planes.
In the second phase, also for no more than 10 days, the frequency can be increased to 70 percent.
The third would see the frequency return to but not exceed the level in the first week of April, and no distancing will be required.
In the final phase, airlines' operations will return to normal.
Meanwhile, flights only carry cargo or officials doing public work. A similar plan has been proposed for train services.
Hanoi says it is not ready yet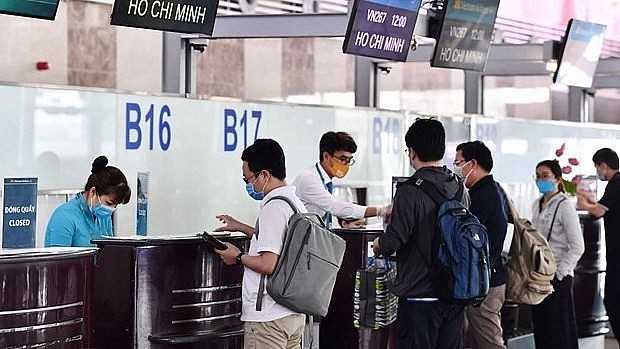 Hanoi said it's not ready to receive passengers from outside the city yet. Photo: VNA
However, Hanoi authorities want the transport ministry to continue suspension of commercial flights and trains coming to the city to ensure pandemic prevention.
The capital city said it's not ready to receive passengers from outside the city yet.
For now, the city will continue receiving only flights/trains serving public services and those agreed by the city's Steering Committee on Covid-19 Prevention and Control, Hanoi People's Committee said in a statement sent recently to the ministry.
Hanoi began relaxing its stringent social distancing requirements on September 21 after around two months.
Many businesses and services have been allowed to resume and people are allowed to go out of their house to exercise.
But with the pandemic situation still remaining bad in some places, especially the south, the risk of infection through travelers if flights and trains resume is high, a wary city administration has said.
Transport workers most impacted pandemic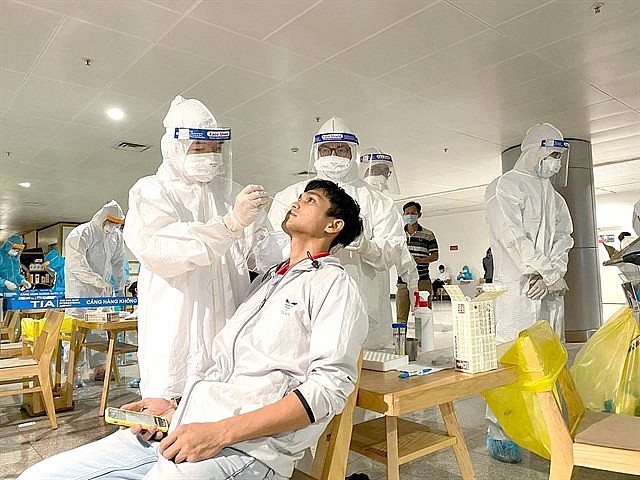 Medical workers take samples for Covid-19 tests for workers of Tan Son Nhat International Airport. Photo: VNA
According to a survey by the Vietnam General Confederation of Labour (VGCL), among industrial sectors affected by the Covid-19 pandemic, the transportation sector has been most affected.
The survey was conducted at 124 agencies and organisations with more than 115,000 employees nationwide, Viet Nam News said.
The results show that during the peak of the pandemic, from April to May last year, nearly 70% of Vietnamese workers had their employment status directly affected.
Specifically, 38.9% were laid off or took turns with their colleagues to leave work and 26.4% had temporary work stoppages.
In terms of income, 80.4% of workers in the transportation sector faced a reduction in wages while the general figure for all sectors was about 50%.
For the private transport group, the reduction was up to 90-100% due to the inability to work as people minimised travel and public contact.
The airline industry was most affected. During peak times, all domestic and international commercial flights were stopped and almost all crew members, including pilots and flight attendants, were out of work.
The transport sector saw 21.3% of workers cutting their social insurance contributions, the highest figure behind only workers in the service and tourism sector at 31.7%./.
First international flights carry passengers with vaccine passports
On September 4, the Van Don International Airport in the northern province of Quang Ninh received the very first flight operated under a trial vaccine passport programme that requires foreign arrivals to be quarantined for just seven days.
All passengers had received two doses of Covid-19 vaccines, with the second dose administered at least 14 days but no more than 12 months prior to entry date, as well as proof of negative Covid-19 tests (RT-PCR method) validated by authorities in the host country 72 hours before departure.
The airport received two more flights under the programme, bringing 345 Vietnamese back from the US on September 12, and another bringing 301 Vietnamese passengers from France on September 23.
Van Don is the first airport in Vietnam to welcome international flights with the seven-day medical quarantine scheme.