Vietnam Considers Mutual Recognition of Vaccine Passports with Certain Countries
Vietnam is considering mutual recognition of vaccine passports with countries in Southeast Asia, China, Japan, South Korea, the EU and the US.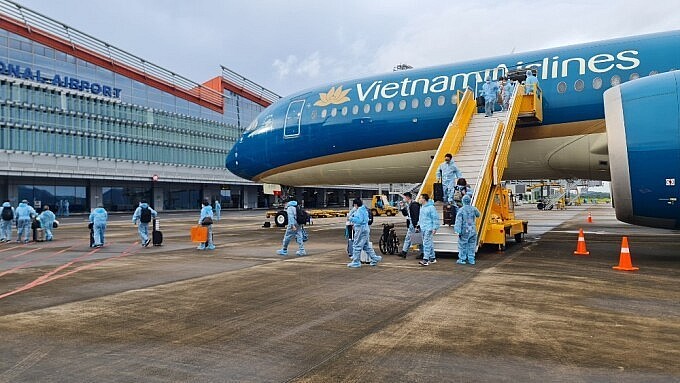 Passengers get off a flight from France at Van Don Airport in Quang Ninh Province, September 23, 2021. Photo: VnExpress
The Government Office announced on September 27 that such mutual recognition is "very important and especially necessary in the current context."
Prime Minister Pham Minh Chinh has assigned the Ministry of Foreign Affairs to coordinate with the Ministry of Health and work with authorities in other countries on this issue, VnExpress reported.
Many countries in the world have applied the vaccine passport to reopen and recover socioeconomic activities.
First flights carry passengers with vaccine passports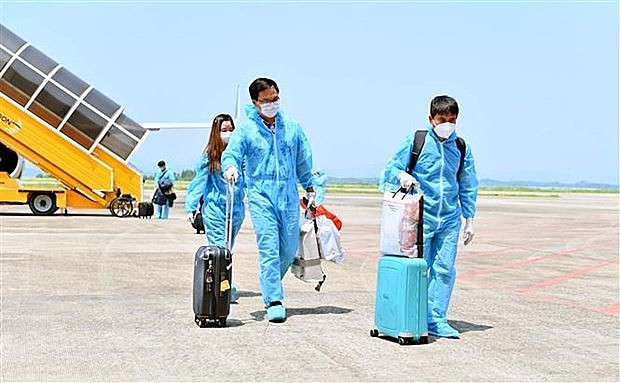 Passengers return from the US with "vaccine passport". Photo: VNA
On September 4, the Van Don International Airport in the northern province of Quang Ninh received the very first flight operated under a trial vaccine passport programme that requires foreign arrivals to be quarantined for just seven days.
All passengers had received two doses of Covid-19 vaccines, with the second dose administered at least 14 days but no more than 12 months prior to entry date, as well as proof of negative Covid-19 tests (RT-PCR method) validated by authorities in the host country 72 hours before departure.
After arriving at the airport, passengers were transported to Novotel Ha Long in Quang Ninh province for concentrated quarantine for seven days, down by 14 days compared to the mandatory 21 days that Vietnam imposed on all foreign arrivals since May due to the Delta variant, Vietnam Plus said.
The airport received two more flights under the programme, bringing 345 Vietnamese back from the US on September 12, and another bringing 301 Vietnamese passengers from France on September 23.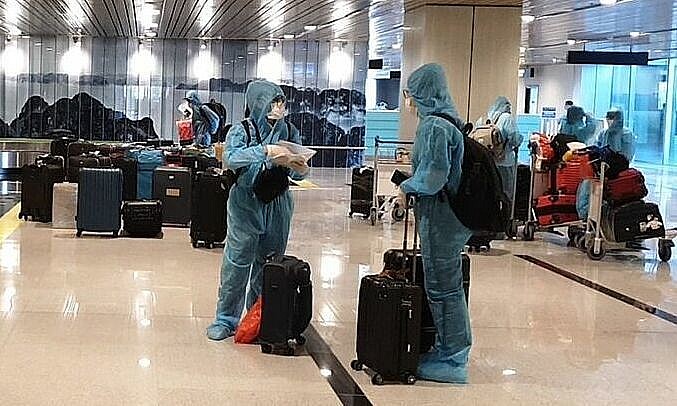 Passengers wait to get their luggage after arriving at Van Don Airport in Quang Ninh Province on a flight from Japan, September 4, 2021. Photo: VnExpress
Flight VN18 was the fourth and last one that the airport had received in its pilot period of welcoming flights carrying passengers with "vaccine passports" to Vietnam.
Director of Van Don International Airport Pham Ngoc Sau affirmed that the flights that the airport received during the pilot period in September were conducted smoothly in a safe manner, contributing to building confidence among the community on the possibility of resuming activities inside and outside the country.
The data can also help authorised agencies to evaluate the efficiency and draw lessons before expanding the "vaccine passport" or "green travel card" models, thus harmonising pandemic combat and economic development, he held.
Van Don is the first airport in Vietnam to welcome international flights with seven-day medical quarantine scheme. So far, 943 Vietnamese citizens have been brought home under the programme.
Vietnam is making plans to switch from the target of achieving "zero Covid-19" to responding safely to the pandemic so that it can resume socio-economic activities after months of lockdowns.
Localities resume tourism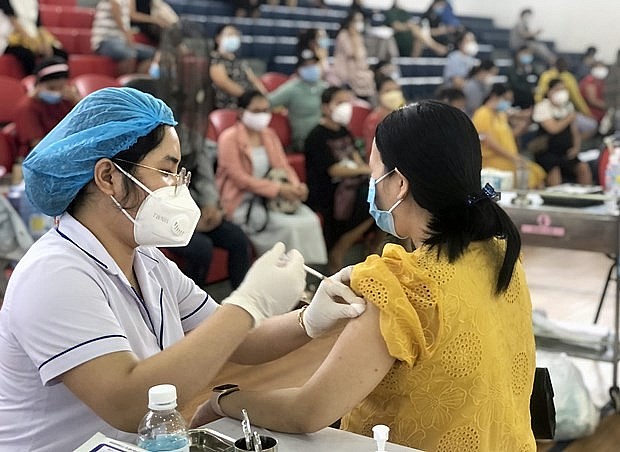 A pregnant woman gets vaccinated against COVID-19 in Quy Nhon city of Binh Dinh province. Photo: VNA
A number of Vietnamese localities have resumed tourism activities, including Phu Quoc city off southern Kien Giang province, which is set to receive first charter flights from November 20 carrying foreign travelers with vaccine passports.
VOV said the pilot scheme will be implemented over a six-month period, with the island city to welcome from one to three initial flights between November 20 and December 20.
The city is anticipated to receive approximately 3,000 to 5,000 foreign tourists per month in the first phase, from December 20, 2021 to March 20, 2022, and 5,000 to 10,000 visitors in the second phase, from March 20 to June 20, 2022.
Phu Quoc targets tourists from Covid-19 controlled countries, including those from Europe, the Middle East, China, Taiwan (China), Russia, and Australia.
Meanwhile, Ho Chi Minh City, the largest coronavirus hotspot, has launched a "closed bubble" tourism model in both Can Gio and Cu Chi districts in order to welcome medical workers who have actively assisted the southern city in the Covid-19 fight. Indeed, these tour packages will be extended beyond September 30, Vietnamnet said.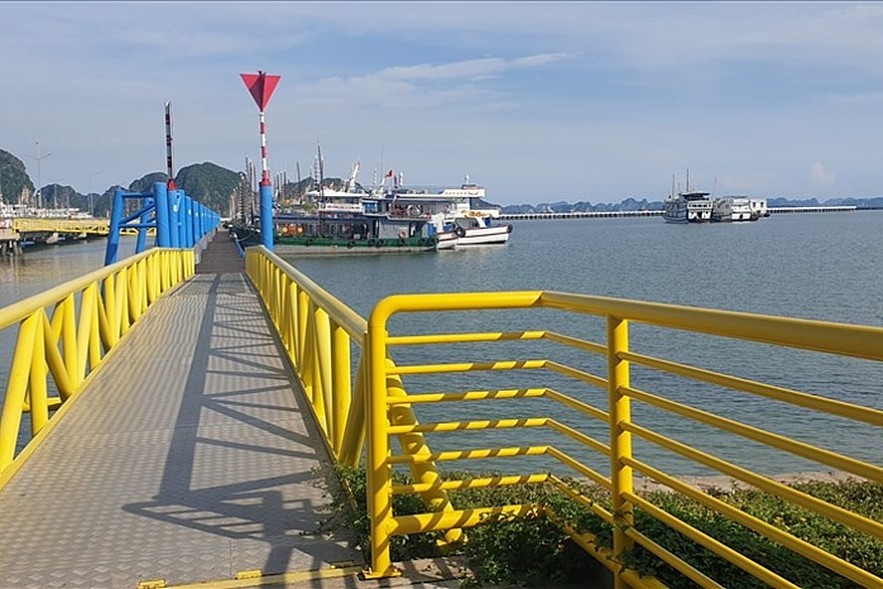 Ha Long city in the northern province of Quang Ninh reopened beaches to the public from 12 p.m. on September 19. Photo: Lao dong (Labour) newspaper
Ba Ria - Vung Tau province in the south has also permitted four Ho Tram Strips complex, Meliá Ho Tram hotel, Binh Chau hot spring resort, and Six Senses Con Dao resort, to pilot the return of domestic tourists with "closed" services.
Ha Long city in the northern province of Quang Ninh reopened beaches to the public from 12 p.m. on September 19. It also launched a number of interesting activities ahead of the Mid-Autumn Festival that falls on September 21.
Previously, the northern province of Vinh Phuc reopened resorts, tourist attractions, and golf courses on September 13, all of which are now allowed to operate at more than 50% of their capacity.
The central city of Da Nang also plans to relax social distancing measures from October 1 to allow tourist destinations, resorts and accommodation facilities to resume operation.
This is part of the central city's efforts to resume socio-economic activities after several months of suspension as the pandemic situation in Da Nang has been brought under control.
Vietnam to ease social distancing by September 30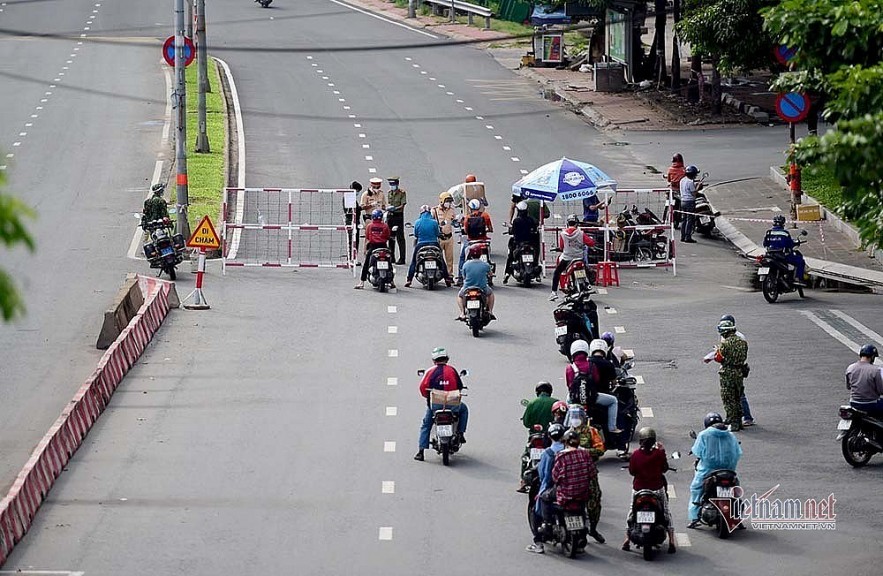 Vietnam plans to ease coronavirus curbs and allow businesses to restart production by September 30. Photo: Vietnamnet
Vietnam plans to ease coronavirus curbs and allow businesses to restart production from this week to revive the pandemic-hit economy.
Prime Minister Pham Minh Chinh said on September 25 that: "Around September 30, safe localities can ease Covid restrictions and revive business and social activities."
"Fighting the pandemic is not just setting up physical barriers and restrictions," he told a government meeting, adding that the pandemic was more or less under control.
The decision comes as Vietnam has seen a drop in the daily death rate from the virus. It reported 72,236 new infections last week, a fall of 9.7% compared to the previous week.
Meanwhile, the Covid-19 death toll for the week dropped by 12.1%. Particularly, the mortality rate declined by 10.5% in Ho Chi Minh City, 12.6% in Binh Duong, 15.4% in Dong Nai and 15.8% in Long An.
On September 25, up to 787,838 doses of Covid-19 vaccines were injected, bringing the total so far to 38.367.246./.
They go by various names – health pass, Green Pass, Coronapass – and are used by at least a dozen EU countries. Vaccine passports allow access to everyday activities such as dining, organised sports and public events, although the exact categories vary from country to country.
More than 420 million EU Digital Certificates for travel have been issued since the first EU countries started issuing the document in June, the EU Commissioner for Justice, Didier Reynders, has announced.
While on August 27, SchengenVisaInfo.com reported that 350 million Covid Digital certificates had been issued to the residents of the EU countries by that date, the Commissioner has implied that 70 million more certificates have been issued in the last less than 20 days.
The Commissioner revealed the number of certificates for travel issued by the Member States to those vaccinated, those who have recovered from the Coronavirus in the past 180 days, as well as to those who test negative for Covid-19 while commenting on the agreements reached with several third countries on reciprocal recognition of the documents.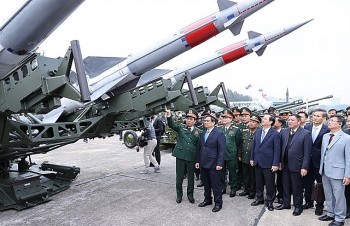 National
The inauguration ceremony of the Vietnam International Defence Expo 2022 (Vietnam Defence 2022) was held in Hanoi on December 8.