Video: So hot dance from doctors and nurses in the biggest cancer treatment hospital for Covid-19 push back
Doctors, nursers and staffs in K Hospital in Hanoi ( the biggest cancer treatment hospital) perform an impressive Covid-19 safety dance - a globally hot song and dance for coronavirus preventation
With a desire to spread a nice and important message to patients and community, together we can prevent and push back and fight against Covid-19, many doctors, nurses and staffs in K Hospital in Hanoi ( the biggest cancer treatment hospital) have performed a dance of hand-washing based on a popular pop song called "Jealousy -Covy".
The song provides guidance on how to prevent an infection, such as washing hands by "rub, rub, rubbing evenly" and limiting "visits to crowded places".
The dance is one of the efforts from K hospital's doctors in particular and Vietnam to "push back coronavirus". The video caught the attention of a lot of netizens with many shares and likes.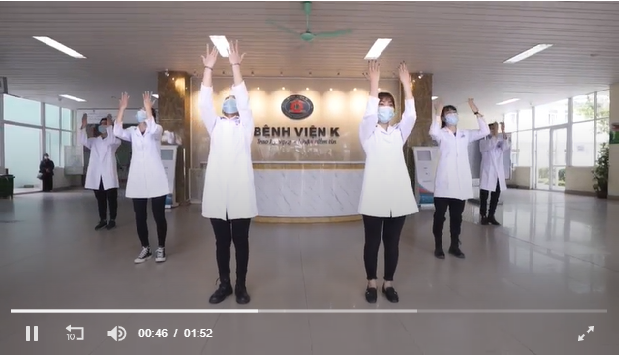 hot dance from doctors for coronavirus preventation.
Vietnamese health officials and lyricist Khac Hung produced an animated music video called Jealous Coronavirus, based on the V-pop hit Ghen by singers Min and Erik. (Ghen means jealous in Vietnamese; the PSA song is entitled "Ghen Co Vy", likening the coronavirus to a jealous rival), and a dancer in Vietnam named Quang Dang put together moves that match the lyrics and started a new TikTok challenges and craze.
Vietnamtimes.org.vn