Viet Bites: BAKED and Friends in Hanoi
As the Vietnamese palate prefers sweet fruits over baked goods, expats are craving the cookies and cakes from the Western world. Fortunately, one Singaporean woman is enchanting Tay Ho with her decadant desserts.
Could this cafe-bakery have the best cookie in Vietnam?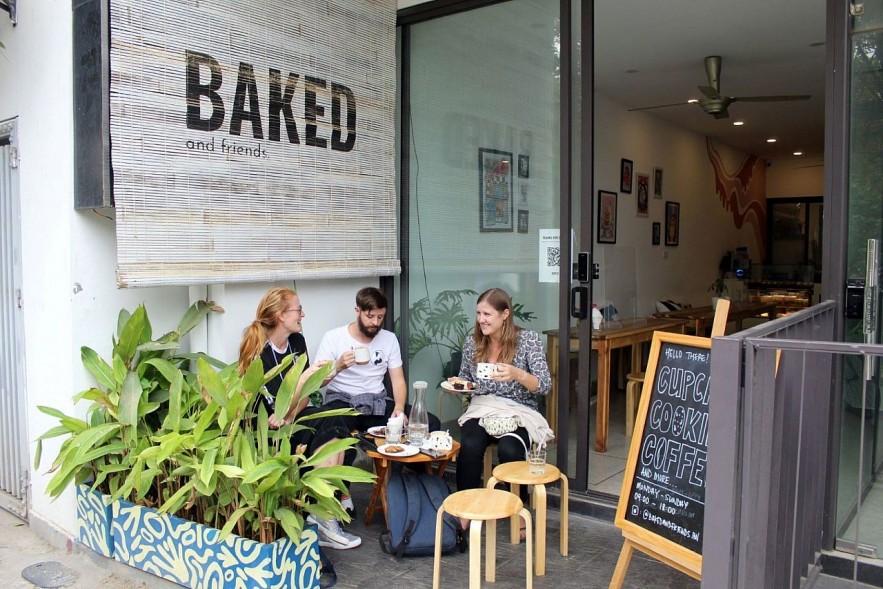 Welcome to BAKED and friends Photo by Jason Law
As a foreigner living in Hanoi, it can be difficult to find restaurants or cafes that faithfully recreate the tastes of foods that you miss eating in your home country. This is particularly true when it comes to confectionary items and desserts. BAKED and Friends however, brings to Hanoi a selection of sweet treats that would not seem out of place in the United States.
BAKED has been increasingly gaining popularity through word of mouth amongst the expat community since its inception four and a half years ago. What started off as a home-based business running out of a simple kitchen, has gradually grown into a café and bakery that caters to both individual customers and some of Tay Ho's most popular restaurants.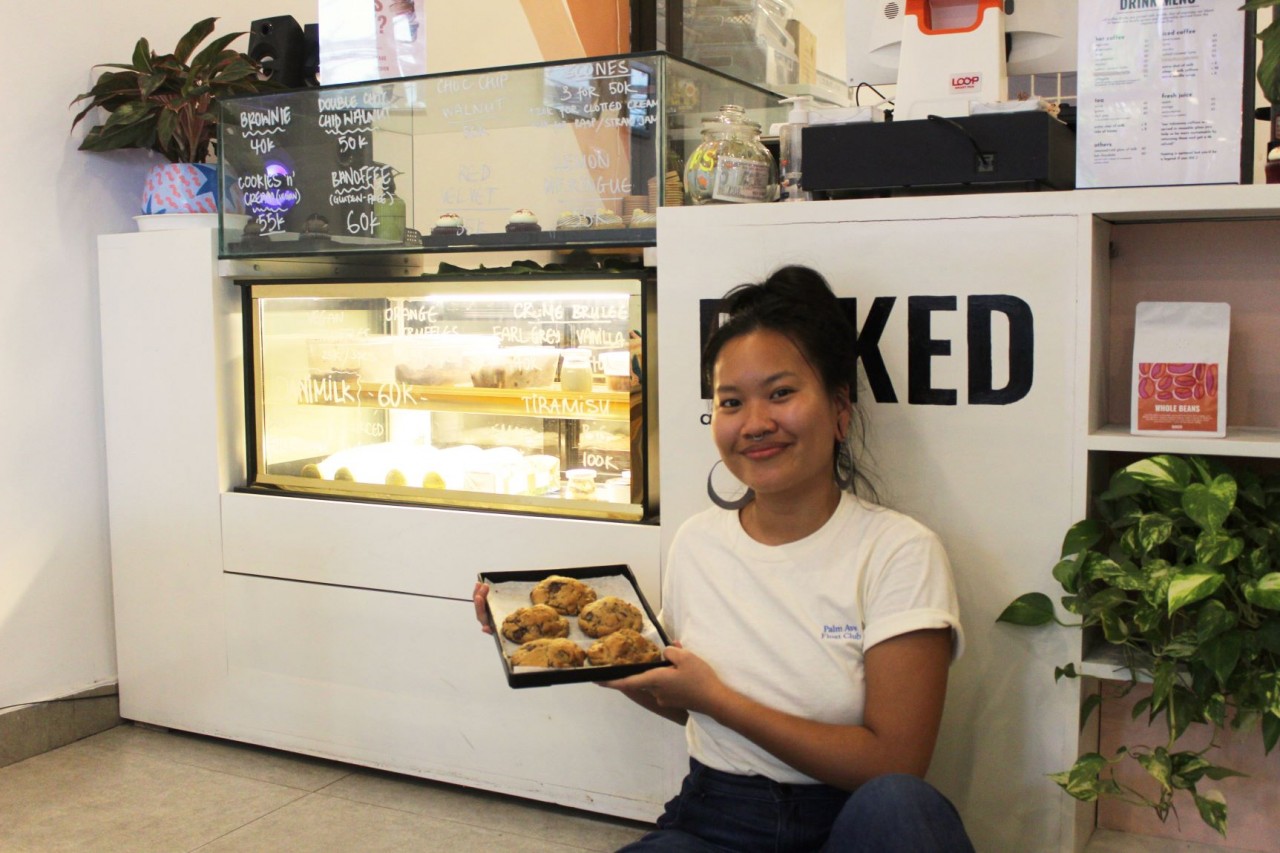 Owner Sheereen and her creations. Photo by Jason Law.
Sheereen Amran, the owner of BAKED, is a businesswoman with some 'sweet' references. She used to teach baking at schools in her home country of Singapore, before earning a TEFL and moving to Hanoi in 2016 to teach English - a story many foreigners are familiar with here. She struggled to find work as an English teacher so reluctantly fell back into culinary work; first working as an executive pastry chef for The Kafe, before moving into the position of head chef at Hanoi Taco Bar.
After a busy day of working in hot kitchens, she would return to her own kitchen and begin working on her own projects, designing realistic-looking sweet treats as a hobby, while also running a part time home-based bakery. Sheereen's love for baked goods, her idea of creating something different, and her desire to set out on her own, all led to the birth of BAKED and friends.
When speaking with the Vietnam Times, the ambitious baker explains what makes her desserts so unique.
"In Hanoi you get a lot of French influence in baking," said Sheereen. "Even the bakery that I look up to in Vietnam, Maison Marou is kind of French-based and I wanted to do something that was more American/English/Australian styled, a bit more obnoxious."
To stand out, Sheereen focuses on baking with a more Western style - food that is indulgent, calorific and rich in taste, and BAKED definitely fills that criteria.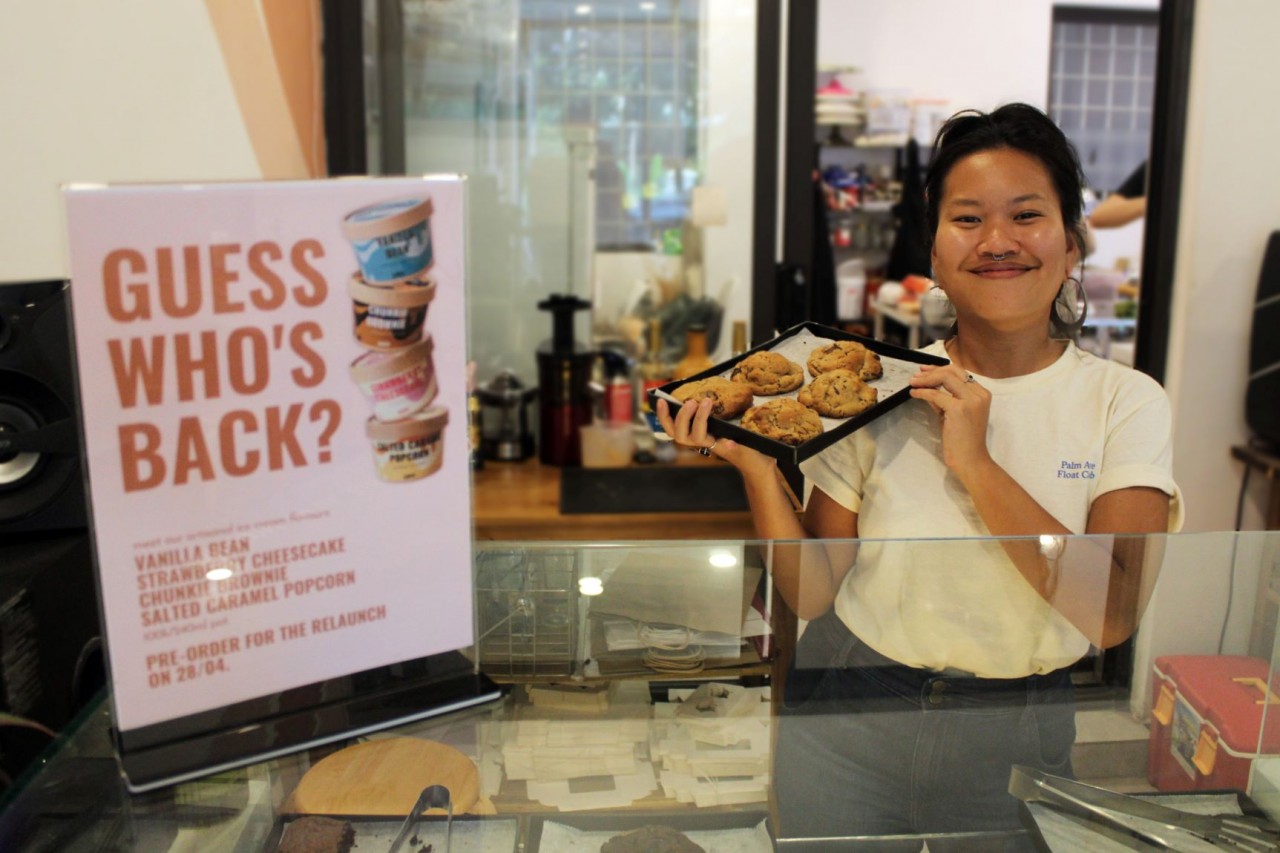 Welcome to BAKED! Photo by Jason Law.
The BAKED concept grew from a hopeful dream, to a passion-fueled side project, into a full-time home-based business, before finally relocating to an established Tay Ho location in July 2021.
The café itself is low-key and cozy with a modern, minimalist style, tucked away on Xóm Chùa street opposite a public green space – all of which make for a relaxing and welcoming atmosphere. Despite its modest appearance, BAKED supplies numerous confectionery items to well-known local restaurants including Kali, The Grumpy Dumpling and Hanoi Cider House.
As Sheereen explains the ins and outs of the business, a customer/friend walks past and says "Damn girl, those cookies!" – these now famous cookies are one of the reasons people justifiably flock to BAKED. Restaurants and cafes the world over will claim to have "the best [food] in town/city/the world". However, according to Tay Ho's expat community, BAKED may actually be a contender for Vietnam's best cookie. Humbled, Sheereen becomes teary-eyed upon hearing the high praise.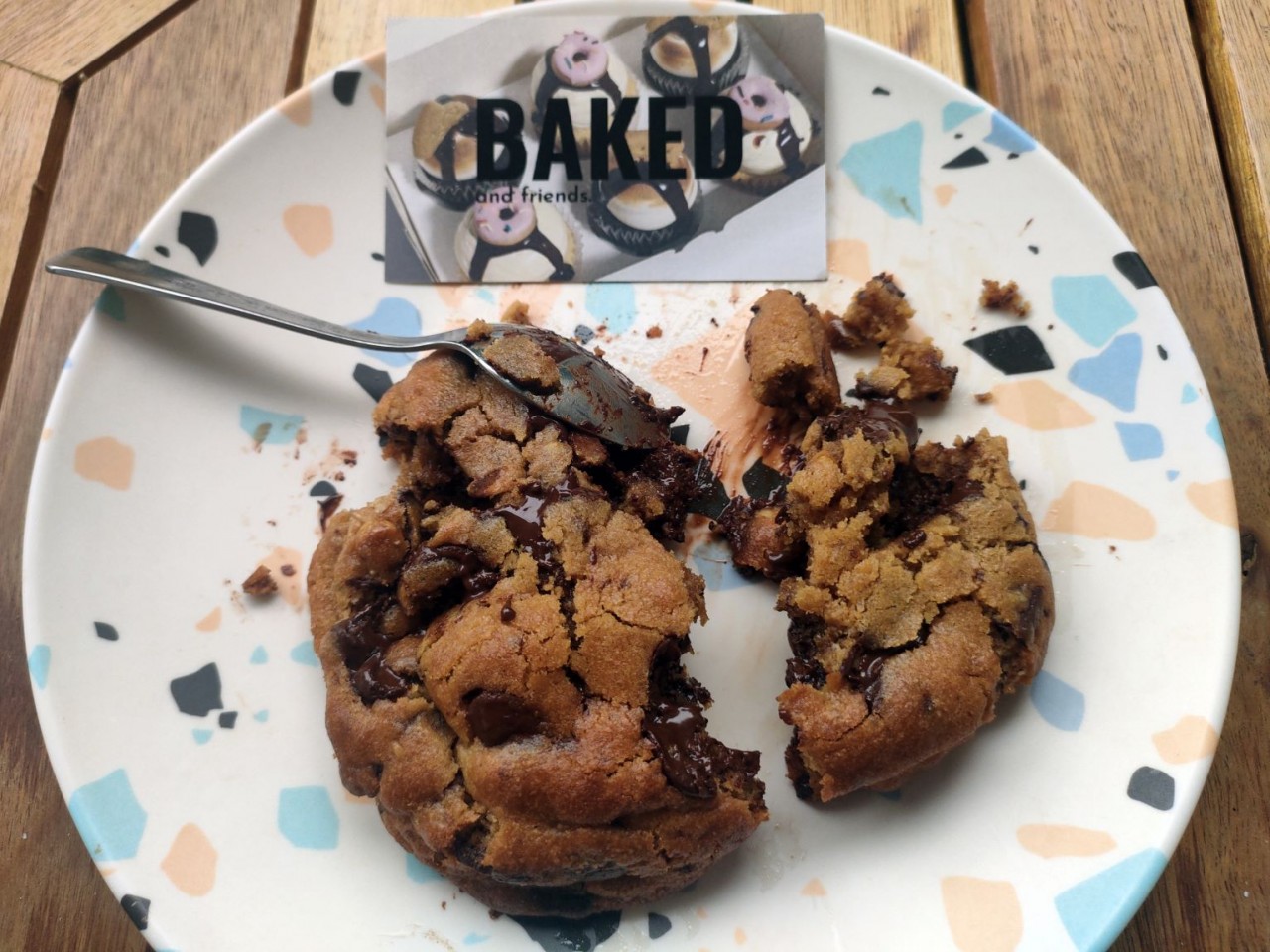 Treat yourself to Vietnam's best cookies. Photo by Jason Law.
Shannon England, an English teacher from the USA, described BAKED's own recipe as "the best chocolate chip cookie I have ever had."
"I have yet to find a better one in Vietnam, despite it being my goal in life," said Izzie London; a British expat.
Word of these amazing cookies has even spread beyond Hanoi. Daniel White and Nadine Sullivan, two HCMC-based teachers, were at BAKED following up on a recommendation of the best cookie in town. They were doubtful at first, stating that they've already had the 'best cookie' in HCMC, but after a couple of bites both agreed the Hanoian cookie was superior.
It really is something special - it has the perfect balance between soft and crunchy, and crumbles slightly in your hand with just the right amount of gooey chocolate oozing from its warm centre.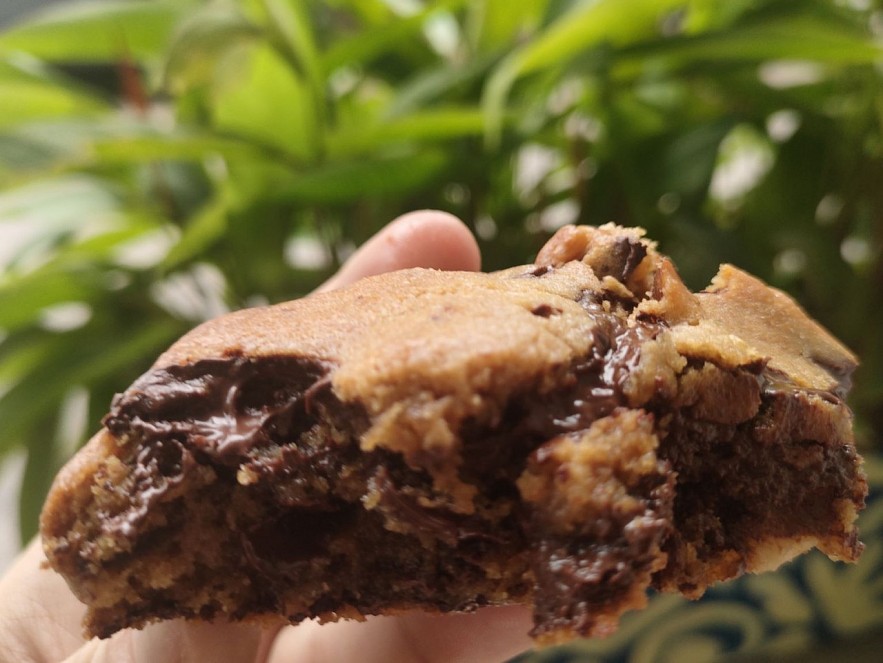 The perfect consistency. Photo by Jason Law.
Despite her recent string of sweet successes, the recipe for her cookies was born out of a difficult time. During one of the toughest, most regulated periods of the COVID lockdowns, her ability to get ingredients from suppliers, and to sell cakes, was heavily restricted.
It was during these lengthy home confinements, stuck with bulk loads of baking supplies, that she started to experiment with cookie recipes, until she found the perfect one. While sifting through cookie images online, she stumbled across one from a "very famous New York City shop" and instantly wanted to try it. With plenty of time and ingredients on her hands, Sheereen spent countless hours perfecting the American-style recipe.
Out of difficult times in Sheereen's life, she created something nice and sweet. As Vietnam rebounds from the pandemic, Sheereen's baking dreams have become a delicious reality.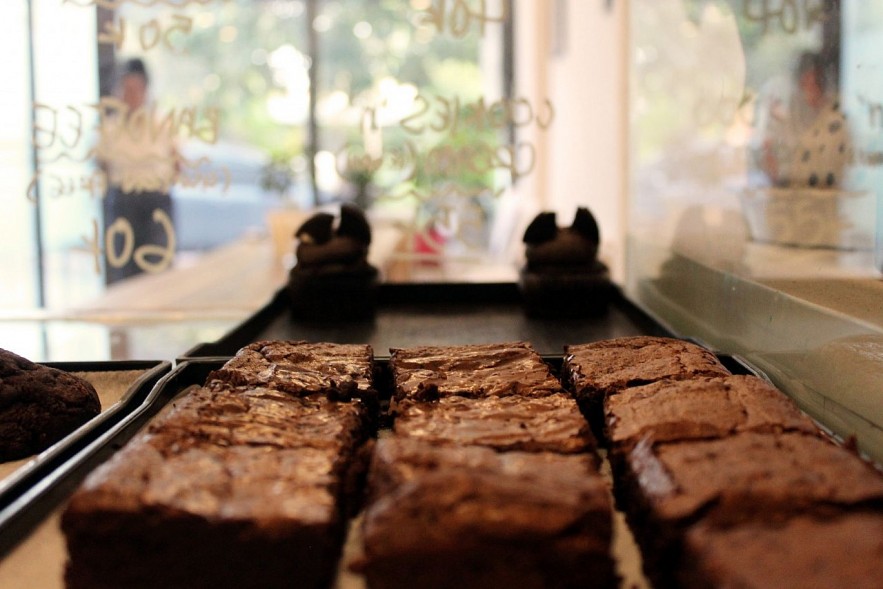 Brownies and Oreo cupcakes Photo by Jason Law
Her creations are not limited to just cookies – BAKED also sells cupcakes, brownies, ice cream and truffles; everything one might need to satiate their inner sugar-holic.
The selection of confectionery items on offer when visiting BAKED may seem small at first glance, but a lot of passion goes into whichever creations are on the menu that week. This is what keeps customers returning – each week there are new, delicious baked goods to spark your sugar rush, such as four changing flavors of cupcake to enjoy (follow their Instagram @bakedandfriends.hn to see all the delightful delicacies available).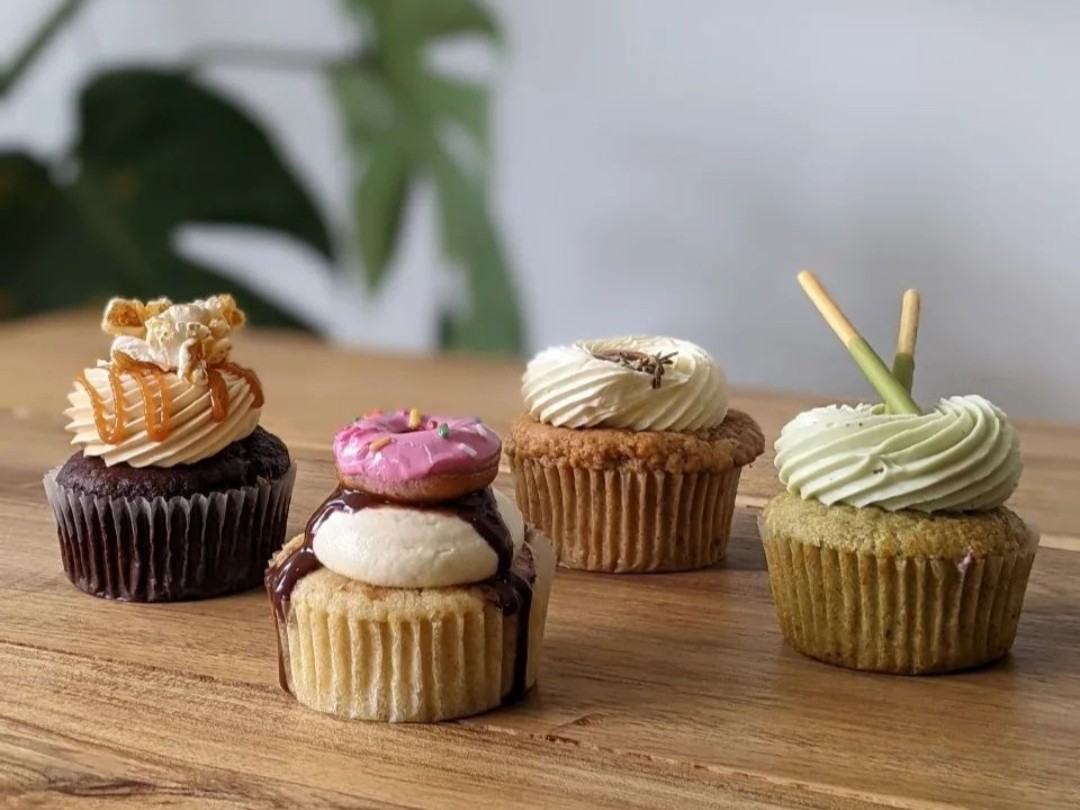 BAKED and friends have a lot of fun with what they create. Photo by Sheereen Amra
BAKED always makes sure to have at least one vegan and one gluten-free option available. Gluten-intolerant British expat Juliet Coome, while following up on a BAKED recommendation, discovered their gluten-free chocolate cupcake and exclaimed, "This is the best day of my life!".
Sheereen (although not a vegan herself) and her team put a lot of care into making vegan alternatives for existing confectionery recipes. She explained that they spend a lot of time on the vegan recipes, as they need to get it right.
"We have four cupcake flavors a week, and if we're going to have one vegan flavor every week then it can't be bad - the non-vegans also have to like it," said Sheereen, who is always up for a baking challenge.
After a ton of experimentation, the staff of BAKED have figured out how to get a consistency that is indistinguishable from a non-vegan cake.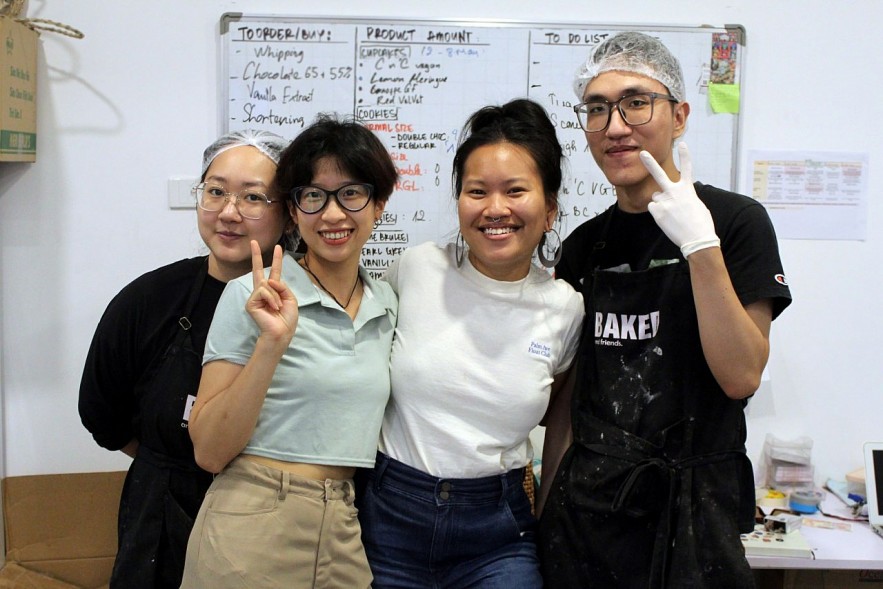 Behind the scenes with the BAKED team Photo by Jason Law
BAKED and Friends also make customized cakes, and are great at doing so; thanks to the enthusiastic kitchen team and the owner's outstanding ability in her former hobby of making novelty-cake sculptures. They taste-test their new weekly recipes thoroughly before selling them, making sure to perfect them before gracing customers with their exquisite taste. While Sheereen's own favorite item is the lemon meringue cupcake, customers at the café struggle to pick just one.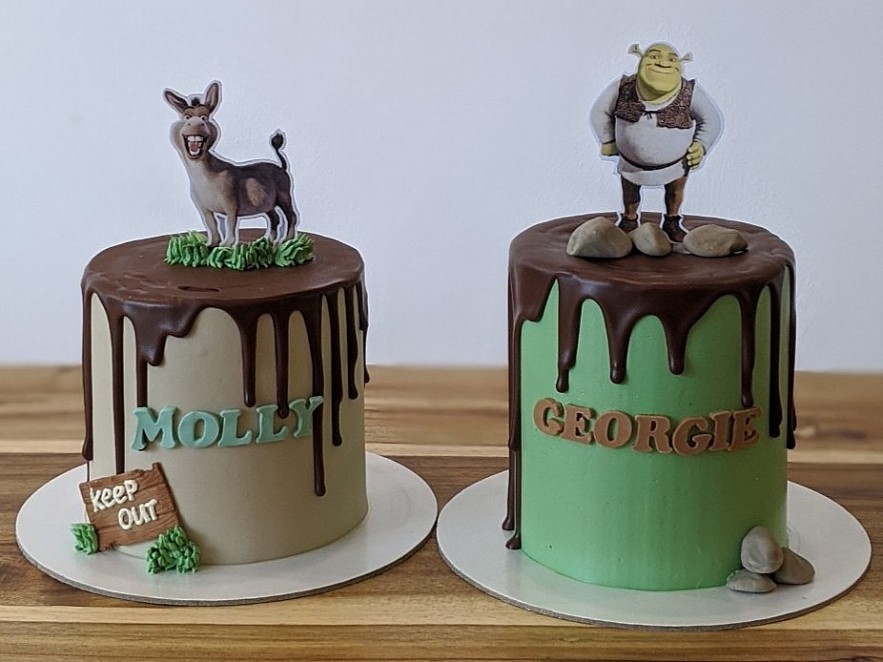 Custom tailored cakes on request Photo by Sheereen Amran
Sheereen isn't sure what's next for BAKED. The growing influx of new business is already keeping her busy so she is just going with the flow for now and enjoying the experience, though there was talk of a possible ice cream sandwich (yum!) in the works, and even potentially opening a second branch.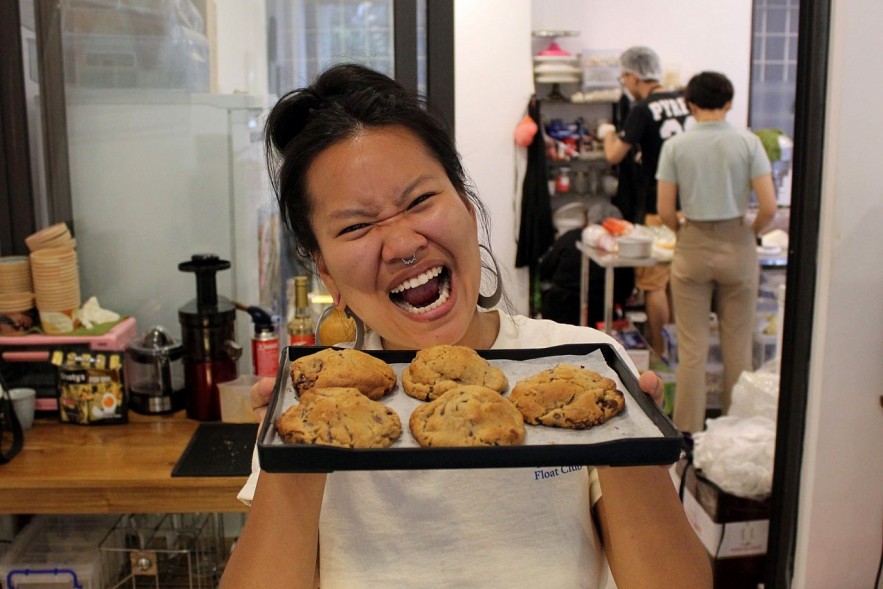 Hard to resist cookies! Photo by Jason Law
Regardless of what's in the cards for BAKED's future – what's available now is enough to warrant a visit. Whether sugary treats are your thing or not, it's more than worthwhile to try out the cookies at least once. After your curiosity is piqued, you'll likely want to experiment with their other confectionary goods, but be warned – make sure you have enough room in your life for a new addiction because you'll probably find one here!
Made with love and expat ambition, BAKED and Friends is a charming addition to Tay Ho's worldly food scene.