Serene Hideouts in the Middle of a Hectic Saigon
Follow in the footsteps of VietnamTimes writer Zoey Nguyen and her quest to find green spaces admist in the sprawling streets of Saigon.
When staying in District 1, Ho Chi Minh City (HCMC), I discovered what the area has to offer by the best way I know how: on foot.
Walking is more than a way of getting from point A to point B for me, it is also the opposite of a lonesome commute. In my Saigon trip, my walks were often accompanied by the sudden rain. This is the typical weather you can expect so an umbrella is a necessity.
In between fanning myself and running from raindrops, I was overjoyed to find so much green in the middle of the city. The big trees along the streets and many spacious parks created a cooling effect that helped ease the summer heat. Riding in the passenger seat of a Grab bike, you might find the roads too small, the traffic too crowded and impossible to navigate. But by walking, you can take your time, see life at its true scale, feel yourself moving along with the beat of your own.
Any curious traveler would go great distances to experience adventure. Lucky for me, every street corner brought me to many interesting destinations.
These precious hidden gems in the middle of District 1, some I came across by chance, some was recommended, but all of them brought pleasant surprises to my 4 days in Saigon. Are you ready to discover Saigon by foot?
1. FH Homestay
When traveling, remember that obstacles can lead to opportunity. For example, after my hotel booking was cancelled, I was recommended FH homestay at Nguyen Thi Minh Khai street, District 1. Without much knowledge of the area, I managed to find the 4-story-house at the end of the alley thanks to its sky-blue paint. Upon entering the happy homestay, I realized how fortunate I was to reside at such a charming location.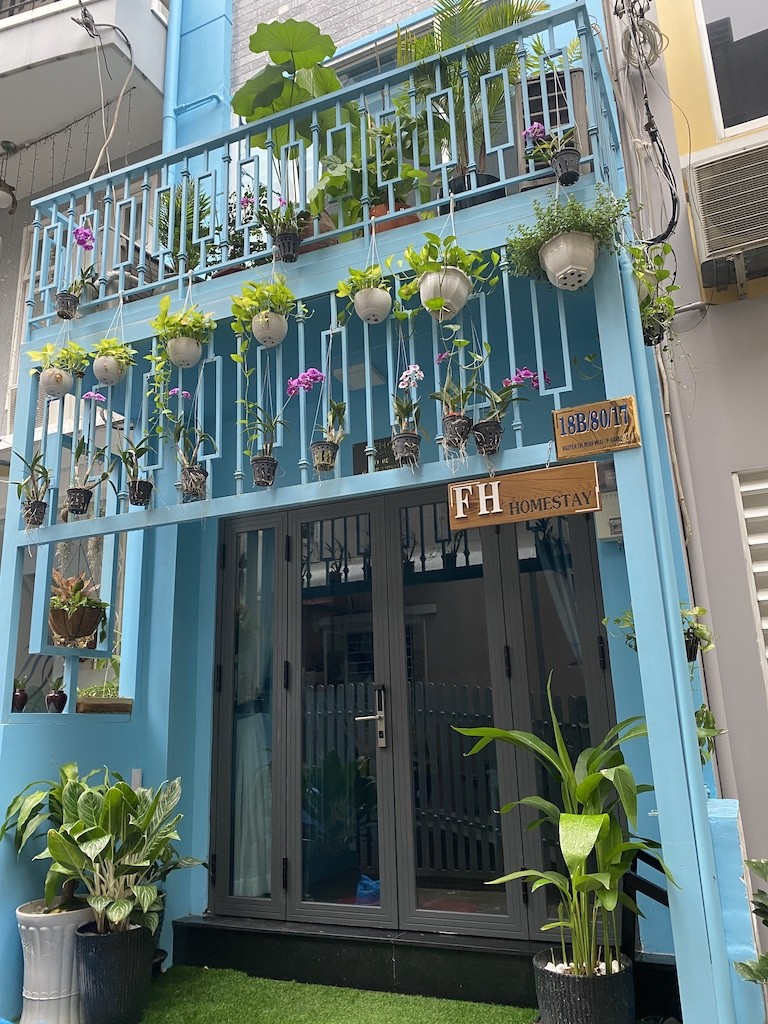 The chilled blue doorway of FH Homestay. Photo: Zoey Nguyen
My host was a Southern lady with great sense of hospitality, making me forget the drama involved in my previous booking. She was helpful in many ways, such as giving me directions, recommending good restaurants and so on. On my first night at FH Homestay, I even get acquainted with another tenant, who is also from Hanoi, and together we had a good chat with our host over supper.
In our conversation, we all agreed this kind of connection was what we missed the most during the travel restriction across the country.
This accommodation was also affordable, especially for a long-term tenant. Thanks to the generous discount by the host, I spent VND 1,9 million (US $82) for 3 nights. There were also free coffee, tea and snacks in the common space, which made the perfect mid-day snack if it was too hot to go out for lunch or if you craved a midnight snack.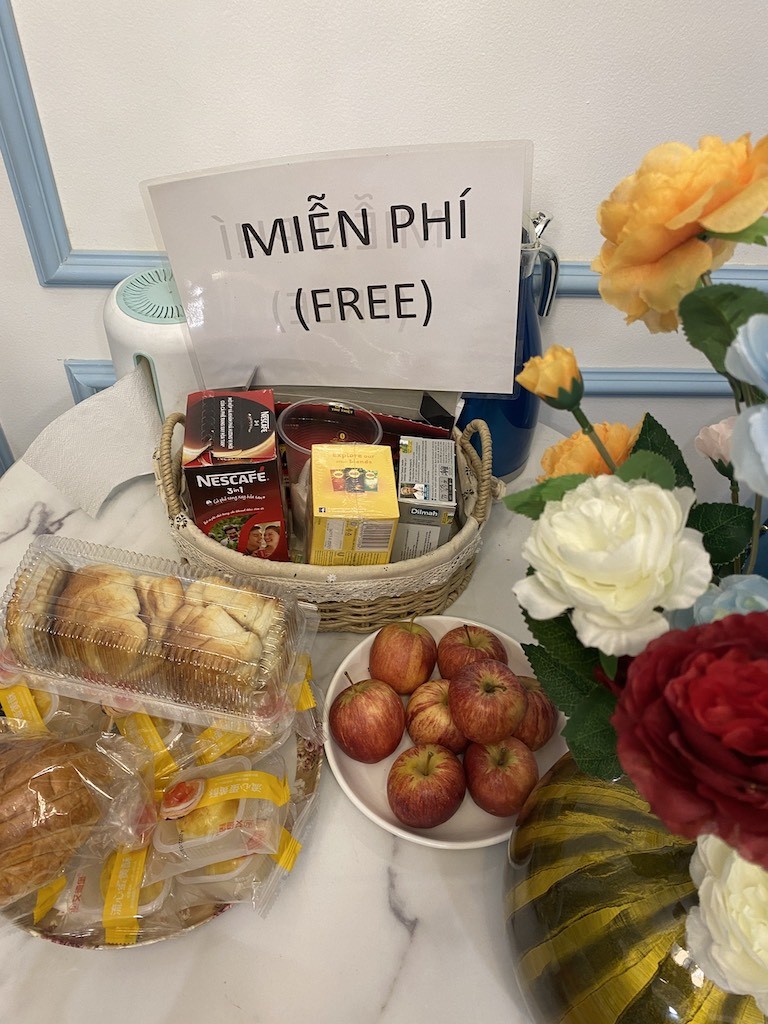 Free gifts at FH Homestay. Photo by Zoey Nguyen
The blue theme, from the outside colors to the furnitures and decoration on the inside gave a peaceful vibe.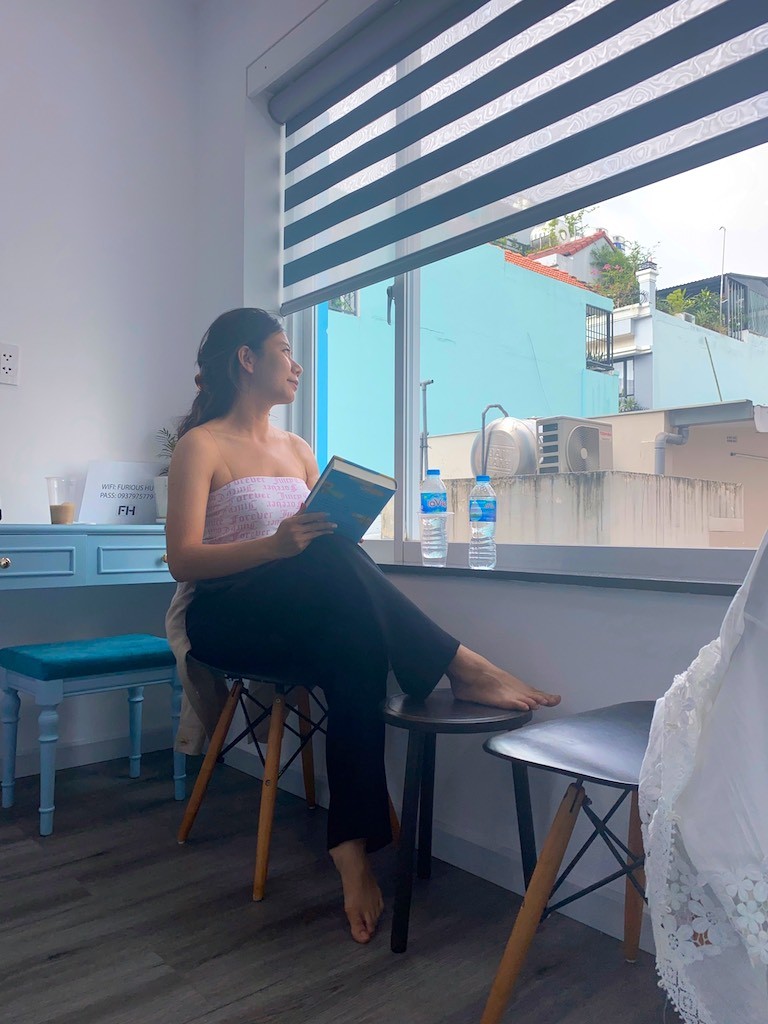 Zoey, relaxing in a quiet space in the middle of crowded Saigon. Photo by Zoey Nguyen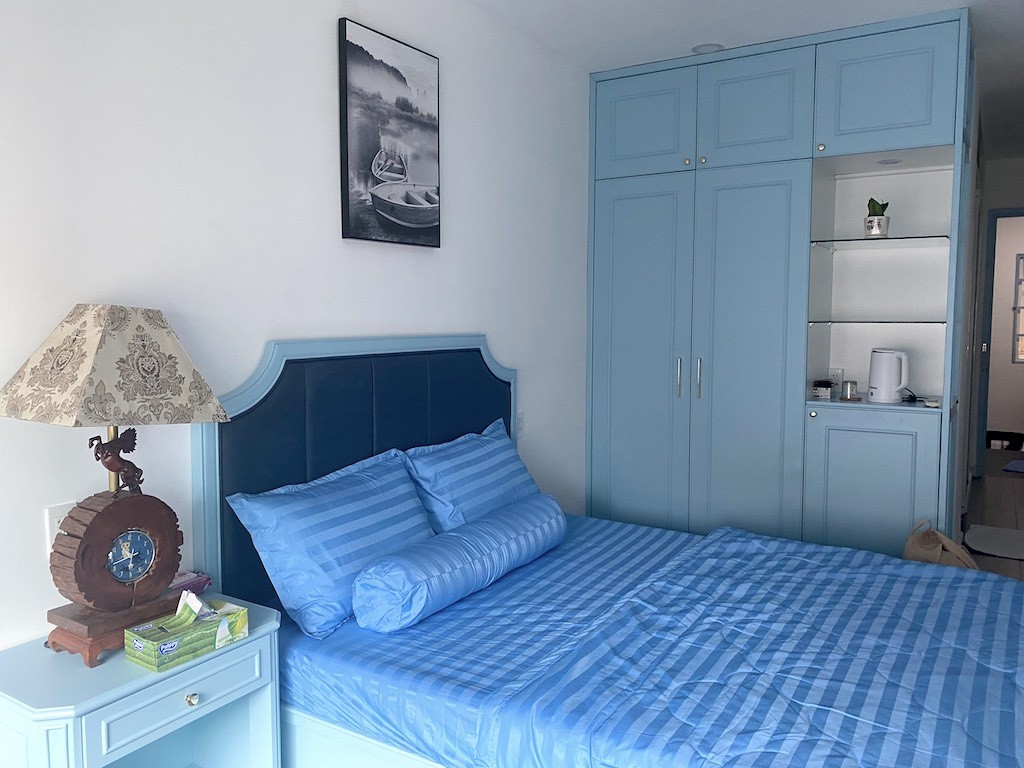 Comforts of home, while away from home. Photo: Zoey Nguyen
Location: 18B/80/17 Nguyen Thi Minh Khai, Da Kao, District 1
Advantages: long-term tenant friendly, expat friendly, full services, helpful host, good location.
Disadvantages: no elevator, only one room with a balcony, location not available on Grab/Gojek map.
2. Reading Cabin
Located in the same alley way as my homestay, this coffee kiosk/working nook/stationary shop was both intimate and spacious locale. The way the space was utilized to its fullest capacity makes the Reading Cabin seems much bigger than it actually is.
Many local brands, selling stationary, pottery and artworks, have their collections displayed at the first floor and the loft of the Reading Cabin. You can shop for artistic souvenirs or simply window shopping, snapping photos with your camera phone.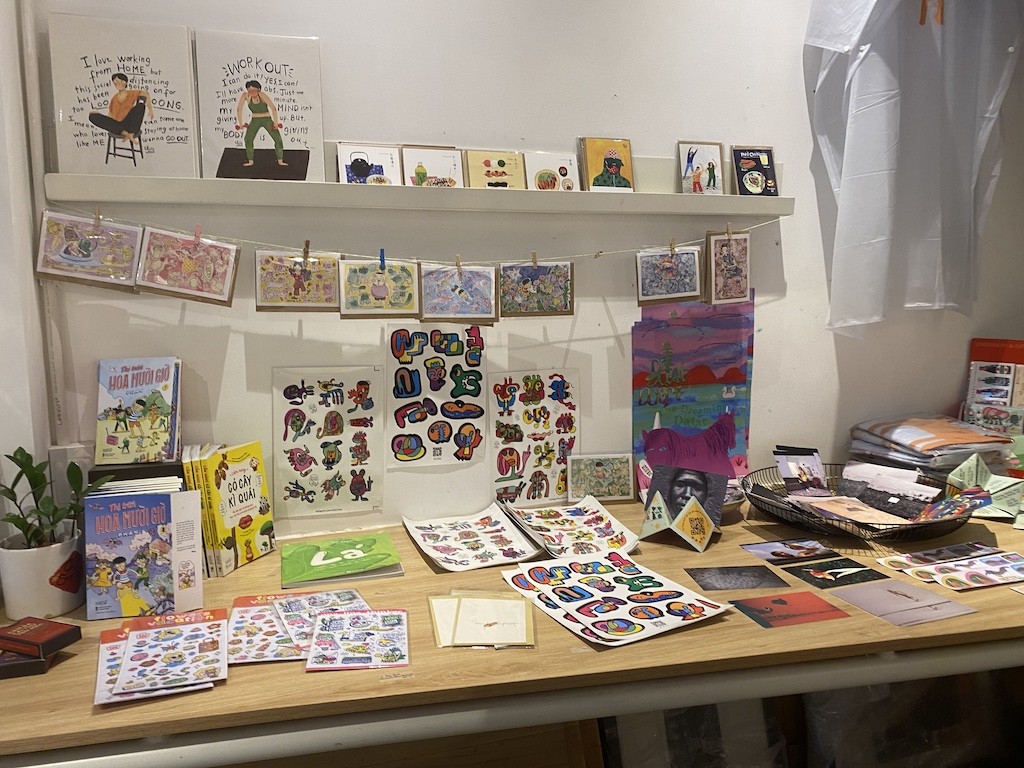 The creative works of the Reading Cabin. Photo: Zoey Nguyen
I had a pleasant visit the first time coming here. With my iced Americano, I sat at the stool in the front patio for a quick morning read. I came back 2 times after that, one on my own and one with a friend, the both times this place was in the peak hour yet the tranquil atmosphere remained.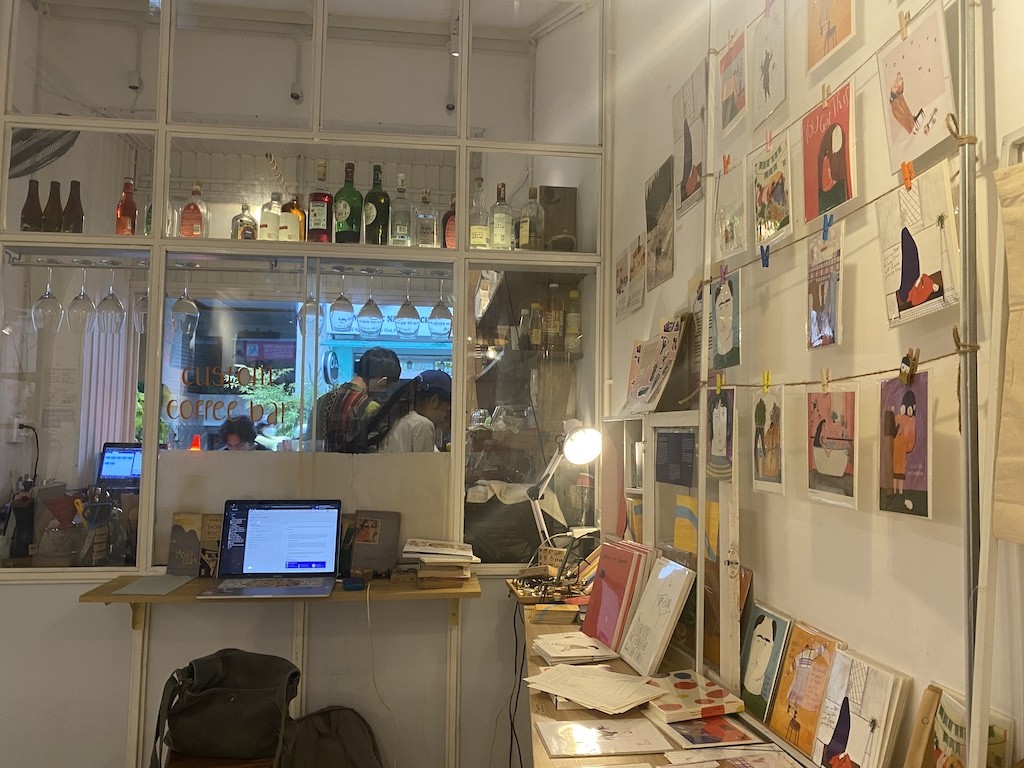 The Reading Cabin's impressive workspace. Photo: Zoey Nguyen
The reason was because most guests were freelancers who chose to work in the booths in the second loft, which did not disturb the first floor's guests.
Besides the fully occupied loft, there are plenty of space to choose from, both indoor and outdoor.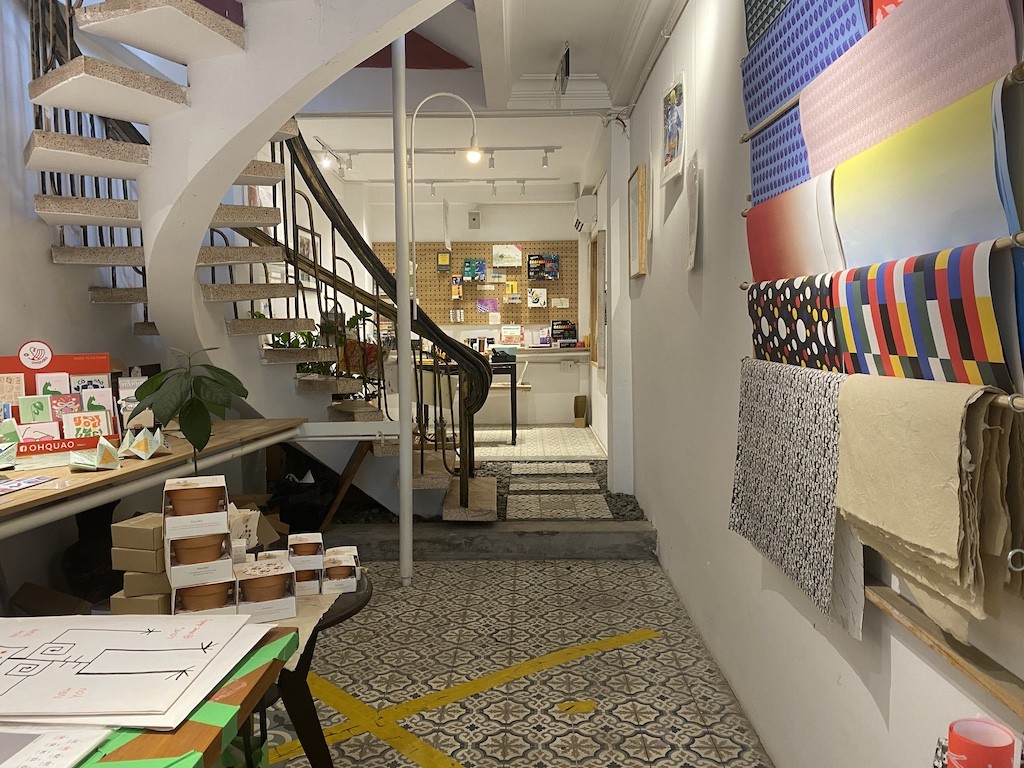 Imagine the possibilities at this District 1 hotspot. Photo: Zoey Nguyen
The best location at the Reading Cabin would be the roof, especially before sunset or after a rainstorm. It is a perfect hideout to catch some summer breeze, enjoy a cold drink and catch up with friends.
True to its name, The Reading Cabin has plenty of books for your pleasure. Photo: The Reading Cabin
Location: 18A/33 Nguyen Thi Minh Khai, Da Kao, District 1
Advantages: friendly staff, expat friendly, good location, good menu, reasonable prices
Disadvantages: few staffs, not suitable for group of more than 5 people.
3. The Khongtrung Bar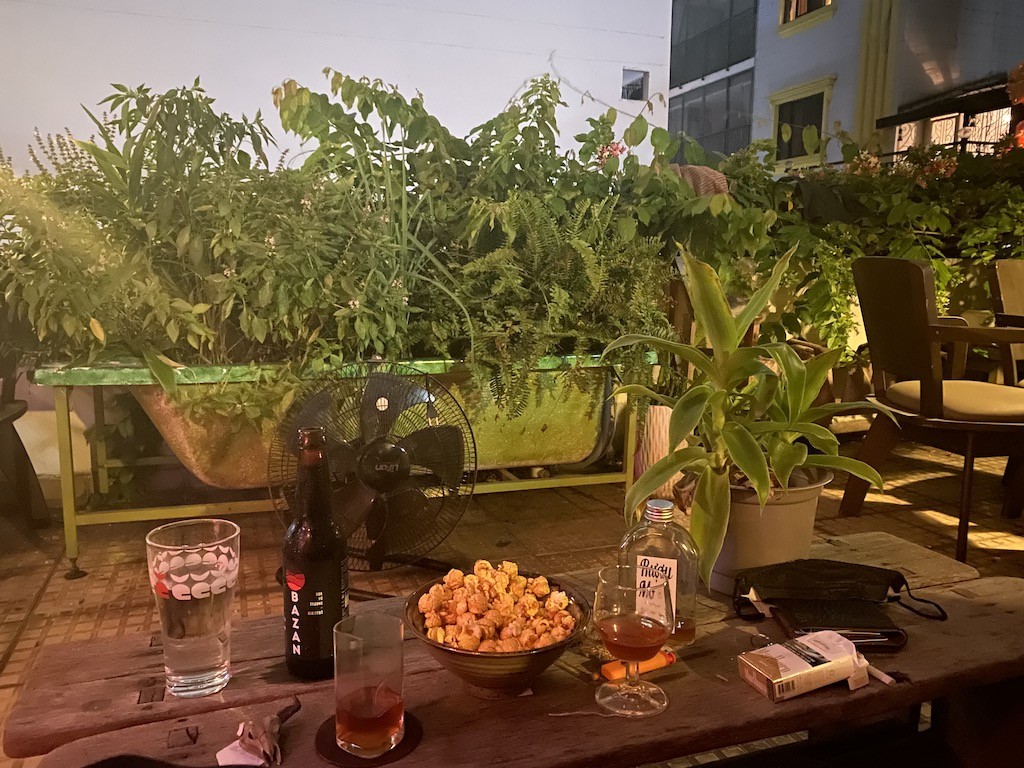 Popcorn, beer, and quiet, rooftop vibes. Photo: Zoey Nguyen
As an introvert, going out and enjoying the nightlife may seem quite intimidating. If you are like me, you would rather enjoy a light beer with a good movie than a nightclub. If that's the case, the Khongtrung Bar (also known as the Khongtrung Drink and Screen) is perfect for solo travelers, who enjoy small crowds and chill vibes.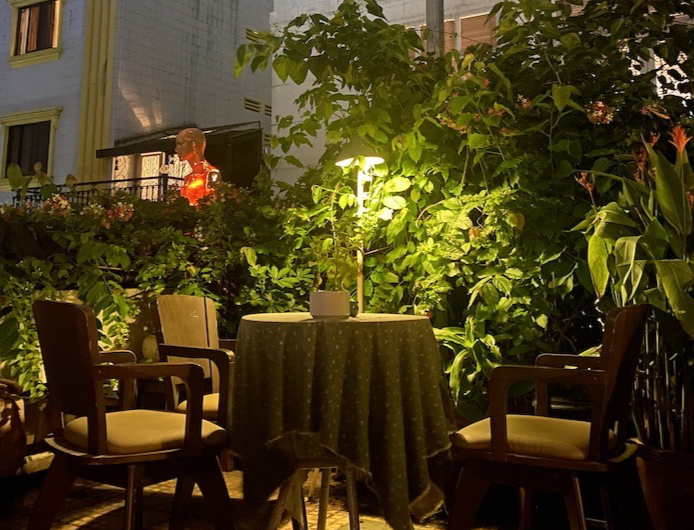 A tranquil corner at the Khongtrung Bar. Photo: Zoey Nguyen
Grab your movie buddy and come on any night of the week. Depending on your luck, there will be a movie showing and even if there isn't, you can make request.
I visited the establishment on the Wednesday night and there was no screening. Yet after asking the staff, I was able to have a private viewing of my favorite Netflix show. Needless to say, it was one of my favorite nights during the trip. I had popcorn and some plum cider, paired with a good conversation with a dear friend, as my favorite show was illuminated on the wall of a neighboring building.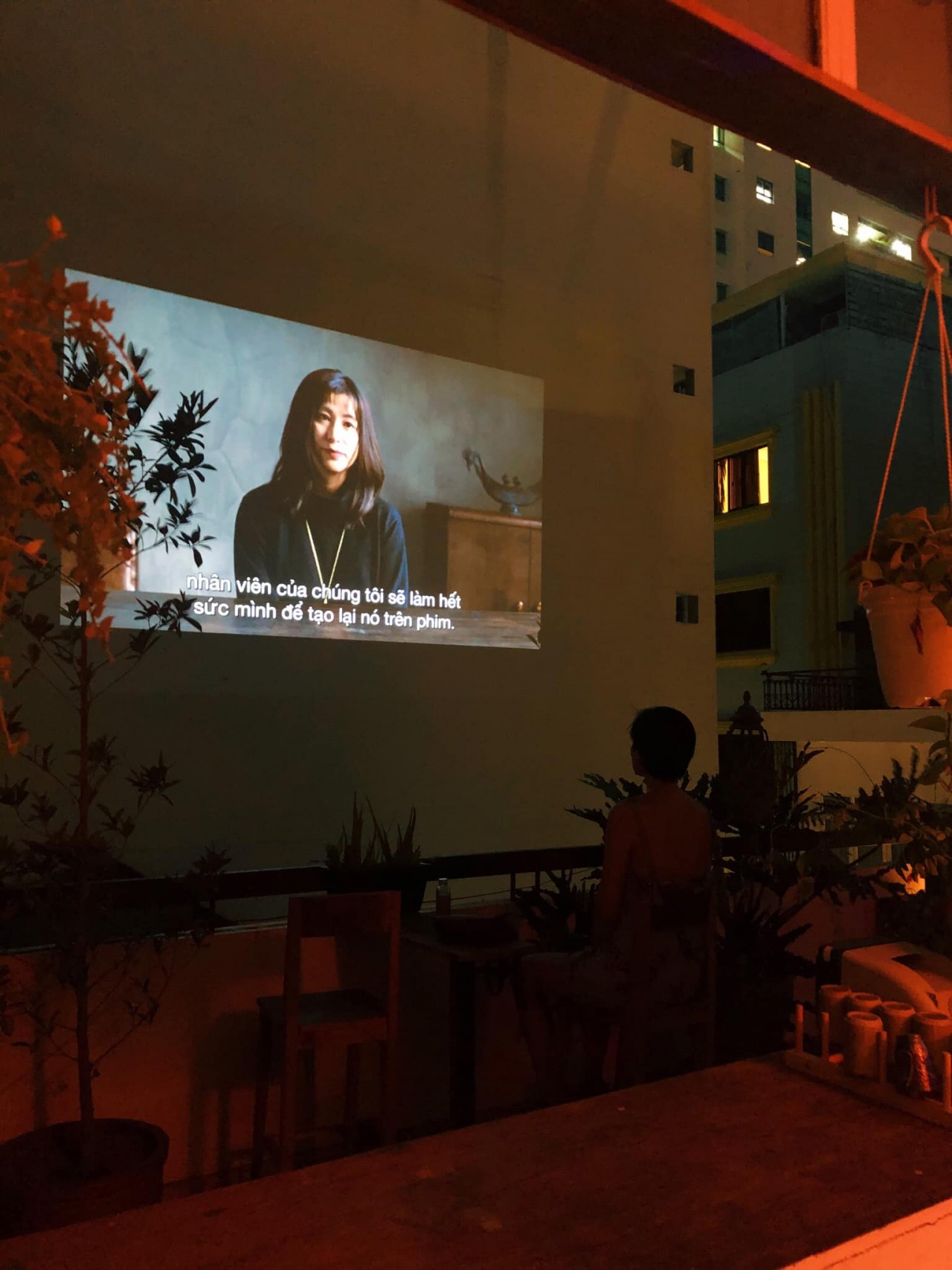 Unleash your inner cinephile at Khongtrung Bar. Photo: The Khongtrung bar
With dimmed lights, jazz music and lounging setting, the bar gave a perfect definition of a serene hideout at the heart of Saigon city.
Location: 26/16 Nguyen Binh Khiem, Da Kao, District 1 (Rooftop)
Advantages: privacy, good menu, movie showings, friendly staff, reasonable prices.
Disadvantages: no fixed opening time.
Editor's Pick: EARTH BODY BLOOD WATER

In the latest installment of Editor's Pick, VNT Staff Writer Zoey Nguyen braves portals to the underworld to interview the international artists featured at the ...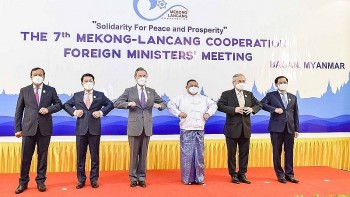 National
Foreign Minister Bui Thanh Son led a Vietnamese delegation to the seventh Mekong-Lancang Cooperation (MLC) Foreign Ministers' Meeting that was held in Bagan, Myanmar on July 4.