Viet Community in California Hold Special Thanksgiving for Vietnamese Elders
Young people came together to donate delicious gifts to elderly Vietnamese expats.
Five days before Thanksgiving, on Nov.20 , the Vietnamese Community at California held special gift giving program for senior compatriots on Brookhurst Street, Garden Grove (California, US).
Traditional culture and custom preservation is very important for Vietnamese overseas community. Caregiving to the senior community is one of the most essential traditions in Vietnam.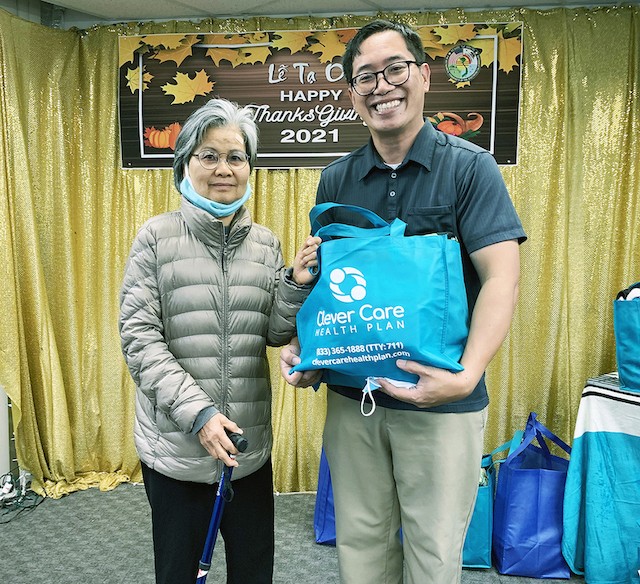 Mrs. Le Kim Lien (left) received gifts from Mr. Mark Anothy Paredes, a member of the organizing committee. Photo: Lam Hoai Thach
Professor Vo Khoi, president of the California Vietnamese Community, confided: "On the occasion of the Thanksgiving season, in the spirit of giving and sharing love to thank our ancestors, the Vietnamese Community of California has prepared special gifts to give to the Vietnamese seniors Orange County area. We not only want to keep them a little bit of 'giving' joy this Thanksgiving season but also wish preserving this good tradition every year."
According to the organizers, since the COVID-19 epidemic broke out in Orange County, the California Vietnamese Community has gone to many places and houses to distribute food and necessities to elders who cannot drive. This program has been going on for more than a year.
Phan Thuan, Vice President of Foreign Affairs , said, "When we went from house to house to distribute gifts, we learned that there are many elderly compatriots who do not have transportation, especially in the two cities of Westminster and Garden Grove." Therefore, the organization plan to focus on mobile distribution so that it can reach many more senior Vietnamese in the county.
"In the spirit of solidarity and support for fellow Vietnamese, this community has given gifts to seniors on the occasion of the Lunar New Year last year. Also, we had similar gift giving program during holidays such as Mother's Day, Father's Day. On Mid-Autumn Festival, we have gifts for children" added Thuan.
In particular, on Nov. 19, the organization gave many seniors in the community across Orange county, the number is up to about 150 gifts on Nov. 19, and 30 gifts on Nov. 20.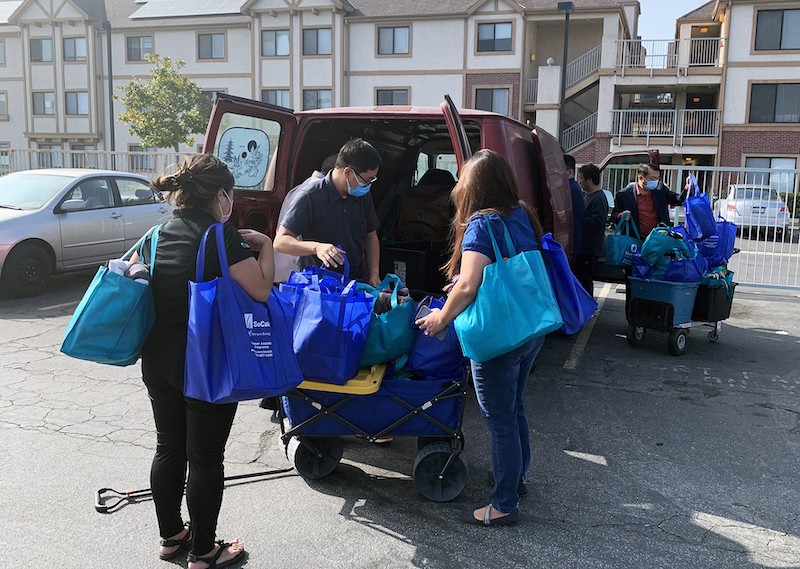 Gifts are delivered to the home for seniors who do not have means of transport.Photo: Lam Hoai Thach
Among the elderly compatriots who came to receive gifts, Mrs. Le Kim Lien, a resident of Westminster, said: "I know that Thanksgiving gifts are distributed here from listening to the radio news. Over the years, I have known this community often help newcomers to the US or elders like us with many necessary services in life. They do a great job for society."
Mr. Duc Le, a resident of Anaheim, who also came to receive the gift said: "I have been living in the US for five years, and have known the California Vietnamese Community for more than two years. This community has many young people who are ready to support their compatriots such as citizenship test preparation, English teaching, document interpretation. Currently, I come here twice a week to study for the citizenship exam. This program is such a noble gesture to the elderly Vietnamese living in Orange County."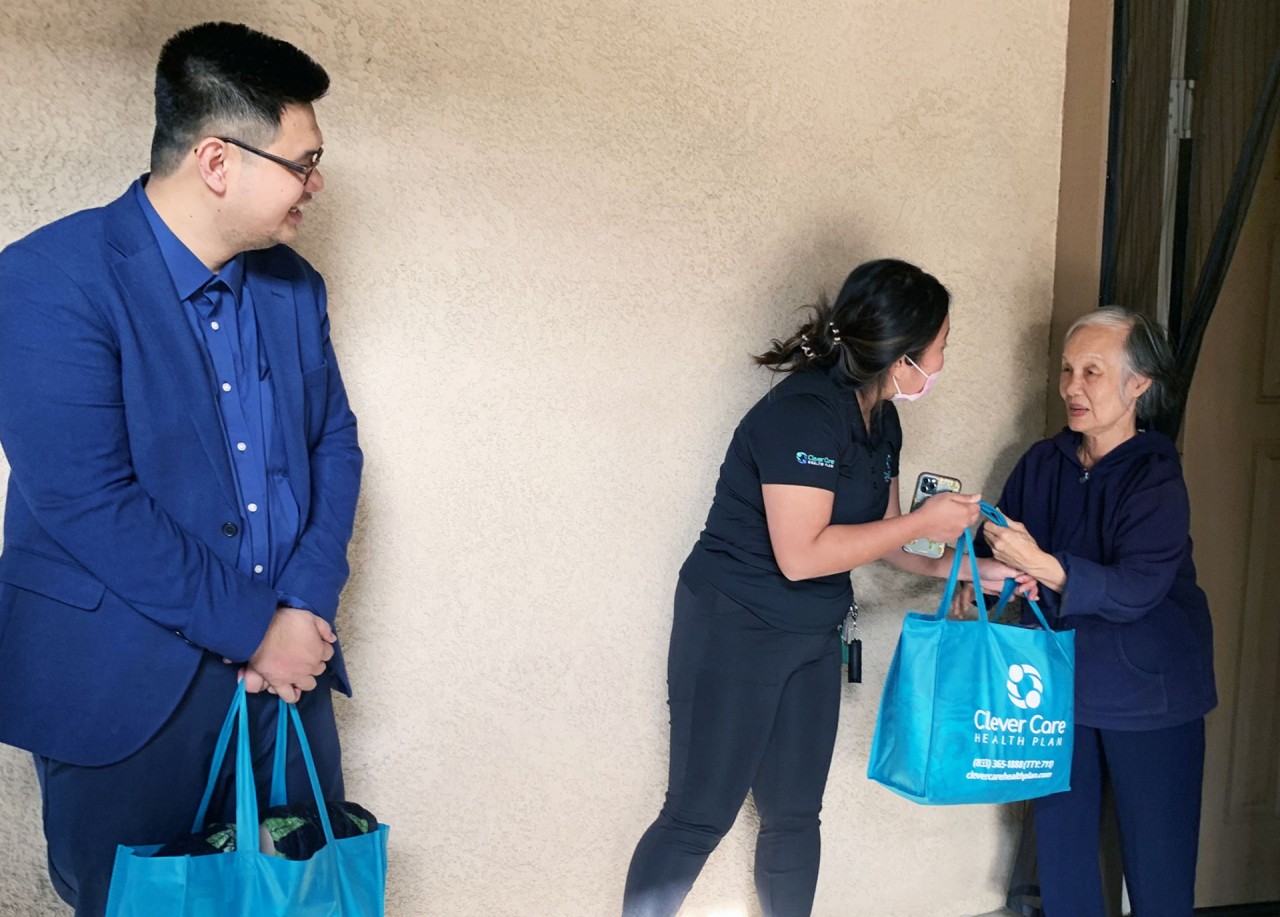 Dang Ha (right) receives gifts at Rose Garden Apartments. Photo; Lam Hoai Thach
More than 70 compatriots came to this community's office to receive gifts from the organizers.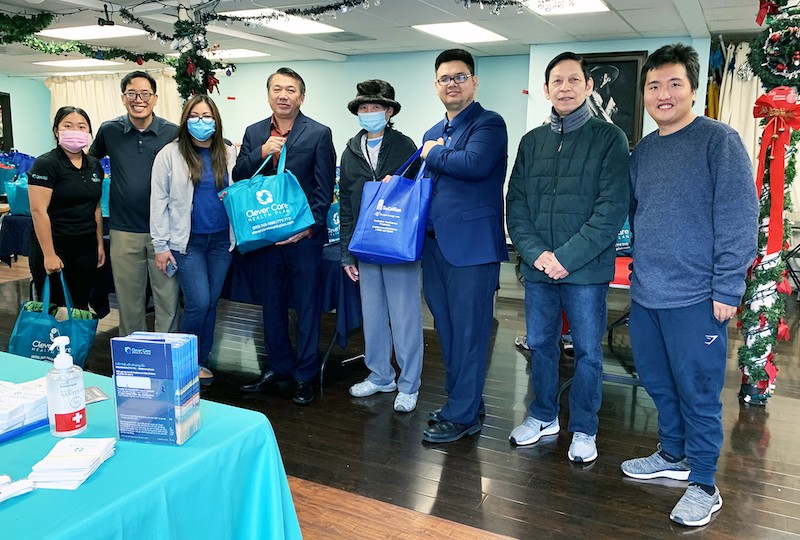 The community office at Brookhurst Street, Garden Grove welcome seniors who came to receive gifts. Photo: Lam Hoai Thach
Among the seniors receiving gifts at Rose Garden Apartments, Hau Nguyen with 37 years living in the US is one of the senior received gifts at her apartment. He was very touched when received this gift and thank the young people of the community to organize this program.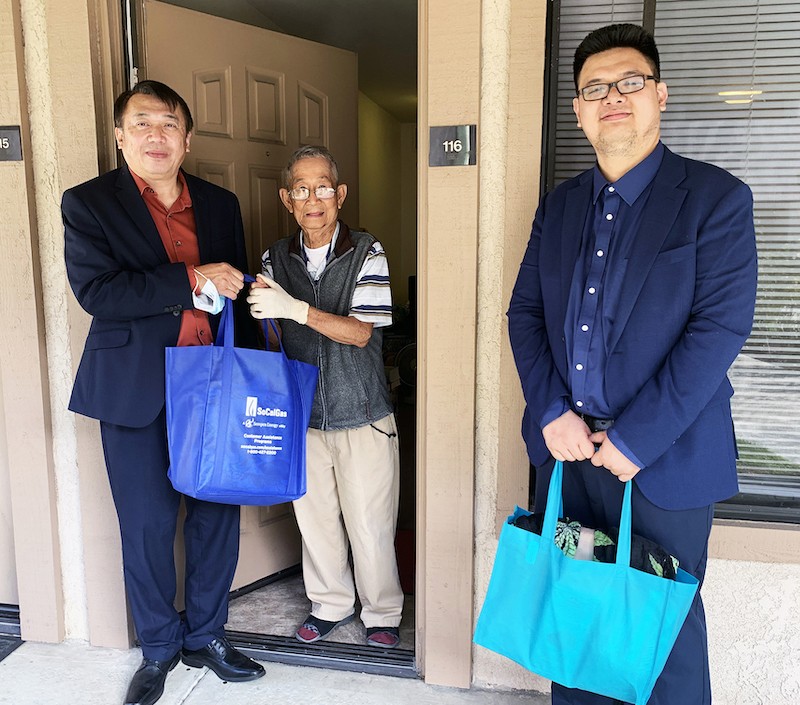 Hau Nguyen (centre) at Rose Garden Apartments receives gifts from Mr. Phan Thuan (left) and Professor Vo Khoi. Photo; Lam Hoai Thach
Many donors have supported this program in Orange County and other counties across America such as SoCalGas, Clever Care Health Plan, Van Thap Hien Minh organization, Radio Bolsa, Little Saigon TV.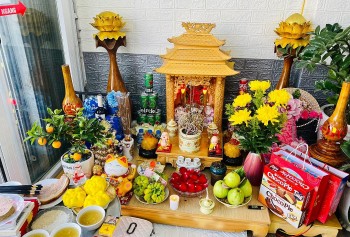 Handbook
Learn more about an ancient Vietnamese tradition that may bring you good fortune!