Vietnam aims to have more than half of population to shop online by 2025
Viet Nam has set a target that the e-commerce industry would grow by 25 per cent per year to reach US$35 billion with more than half of the population shopping online by the end of 2025.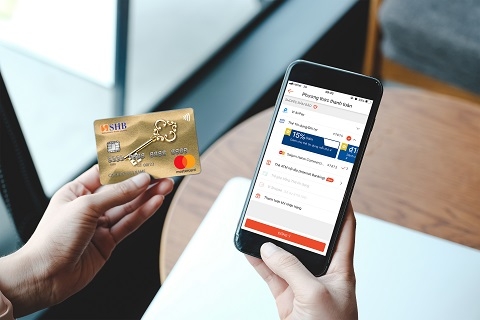 The size of Viet Nam's ecommerce market was expected to reach US$35 billion in 2025, from $13 billion this year. (Photo: Financial Times)
E-commerce is viewed among the pioneering sectors of the digital economy which contributes to modernising the distribution system, raising businesses' competitiveness and fostering the domestic market and exports.
Vietnam is aiming to have 55 percent of its population shopping online by 2025, with average consumer spending rising to $600 per year, according to a master plan on e-commerce development for 2021-25 recently approved by Deputy PM Trinh Dinh Dung.
The plan would focus on accelerating the development of e-commerce towards a healthy, competitive and sustainable market as well as narrowing the gaps in e-commerce development between localities.
In addition, it also targeted to expand the export markets for Vietnamese goods through the development of e-commerce, especially cross-border e-commerce transactions.
Revenue in the business-to-consumer (B2C) sector is projected to surge 25 percent per year to hit 35 billion USD, accounting for 10 percent of the total retail sales and service revenues nationwide.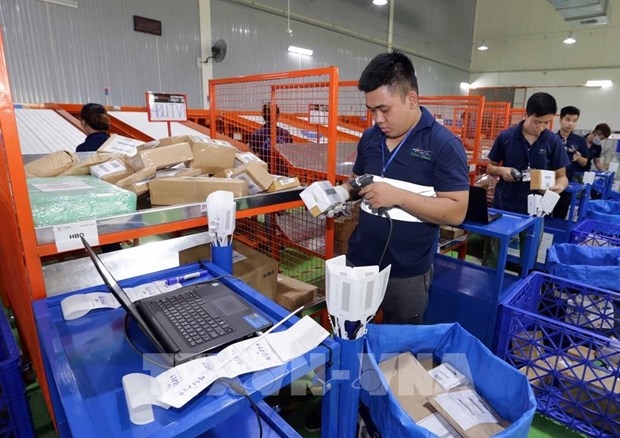 Staff at Lazada e-commerce platform (Photo: Vietnamnet)
Under the plan, cashless payments will reach 50 percent, of which those made via third-party payment service providers will make up 80 percent of the total.
Economic zones and localities aside from Hanoi and Ho Chi Minh City are forecast to account for 50 percent of the value of the total B2C transactions across the country. In addition, half of the communes throughout the country would see the presence of online sellers.
Businesses in 50 percent of the communes and equivalent administrative units nationwide will be encouraged to provide online shopping services.
Meanwhile, Vietnam also wants 80 percent of the e-commerce websites to have online booking functions and 50 percent of the small- and medium-sized enterprises operating on e-commerce platforms, including those on social media sites, reported by Vietnamnet.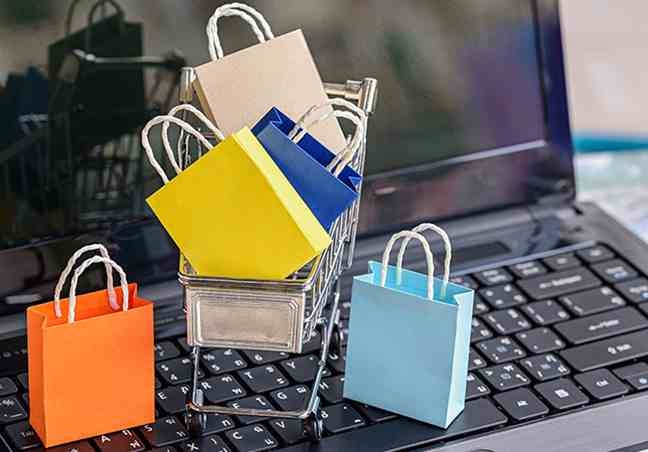 Viet Nam is now the second fastest growing e-commerce market in Southeast Asia (Photo: Chinabrands)
Other goals included that 70 per cent of electric, water and telecommunications service providers would provide electronic contracts to consumers and 50 per cent of higher education and vocational education institutions would provide training on e-commerce.
To achieve the targets, the plan would focus on completing the legal framework for e-commerce in the context of Industry 4.0.
Solutions would also be raised to enhance consumer trust in e-commerce and improve the infrastructure system and support services.
According to the e-Commerce White Book 2019 by the Viet Nam e-Commerce and Digital Economy Agency under the Ministry of Industry and Trade, e-commerce revenue jumped 30 per cent from $6.2 billion in 2017 to $8.06 billion in 2018.
The size of the local e-commerce market was expected to reach $13 billion this year.
About 39.9 million people shopped online in 2018, up by 6.3 million people against the previous year. Average spending for online shopping was $202 per person in 2018, $16 higher than in 2017.
The e-Conomy SEA 2019 report by Google and Temasek predicted that e-commerce in Viet Nam would expand 43 per cent per year in the 2015-25 period, making Viet Nam the fastest growing e-commerce market in the region.
Viet Nam is now the second fastest growing e-commerce market in Southeast Asia, after Indonesia, reported by VNS.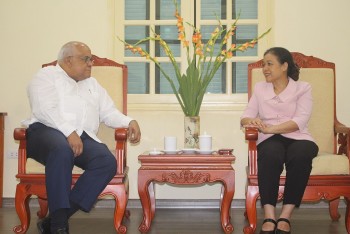 Friendship
Ambassador Nguyen Phuong Nga - President of the Vietnam Union of Friendship Organizations had a meeting and worked with Cuban Ambassador Extraordinary and Plenipotentiary to Vietnam Orlando Nicolas Hernandez Guillen. The two Ambassadors agreed to work closely in organizing solidarity and friendship activities.