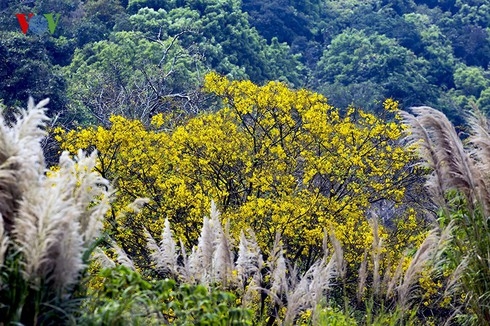 Vietnam is recognised as one of 16 countries globally that has the richest biodiversity (Photo: VOV)
For this year's World Environment Day, the theme chosen by the UNEP is the "Action for Nature", or Time for Nature.
According to the UNEP, this year marks an important time due to the commitments made by various countries to preserve nature and biopersity by moving to intensify a wide range of measures and activities aimed at rejuvenating degraded ecosystems. This fits in with a wider goal of responding to climate change, boosting food security, and protecting water resources, with this year marking an occasion for countries to unite for the goal of taking practical actions for the purpose of protecting nature and the earth.
In line with this, Vietnam has been recognised as one of 16 countries globally that has the richest biodiversity with a system of established reserves. Currently, there are 173 reserves located nationwide, pning a total area of over 2,500 hectares, including 33 national parks, 66 nature reserves, 18 species and habitat conservation areas, along with 56 landscape protection areas, up by seven reserves from 2015 with a total increased area of nearly 73,260 ha.
Furthermore, the country is also home to nine Ramsar areas covering over 120,000 ha, 10 marine protected areas with a total area pning nearly 188,000 ha, and nine areas recognised as World Biosphere Reserves with a total area of over 4.2 million ha. Indeed, 2019 saw the Ministry of Natural Resources and Environment compile a nomination file to see four additional ASEAN Heritage Parks recognised by the ASEAN Secretariat, bringing the total number of ASEAN Heritage Parks nationwide to 10.
The Ministry of Natural Resources and Environment has been co-operating with international organisations as a way of successfully establishing two wetland conservation areas, most notably Thai Thuy in Thai Binh province and Tam Giang - Cau Hai Lagoon situated in Thua Thien Hue province.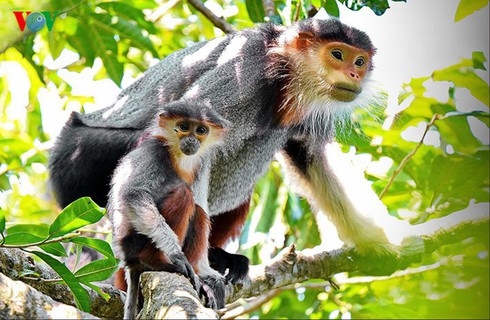 Brown-shanked Douc Langurs live in Son Tra Peninsular in Danang (Photo: VOV)
In response to World Environment Day, the country has come up with an array of slogans such as "Harmony with nature - conservation of biopersity", "The Earth needs us! Stay united against climate change", "Use utensils from recycled materials", and "Fishing the wrong way is destroying the biological balance". Other phrases include "Using green materials contributes to environmental protection", "Rational use of biopersity resources", "Biopersity - Journey to maintain life", "Biopersity - True awareness", and "Action for nature - Our responsibility".
Vietnam must affirm its biopersity commitments to the world
Deputy Minister of Natural Resources and Environment Vo Tuan Nhan stated that recent years has seen the biopersity conservation draw the participation of many ministries, sectors, and localities, along with both domestic and international conservation organisations, ultimately serving to achieve remarkable results.
"Conservation of natural ecosystems and endangered and precious wild species, along with the strengthening of law enforcement on the protection of wild species has strengthened in recent years as a means of preventing the trading and consumption of endangered species, contributing to the protection of biopersity of Vietnam and the world, "said Deputy Minister Nhan.
According to the Deputy Minister, through the genetic fund programme, precious gene sources nationwide can be successfully conserved, especially with regard to genetic resources of plants, animals, aquatic products, and medicinal materials. To date, more than 30 provinces nationwide have included various types of genetic funds when striving to implement their annual tasks.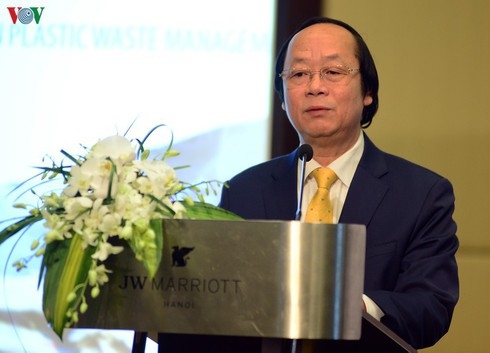 Deputy Minister of Natural Resources and Environment Vo Tuan Nhan (Photo: VOV)
Indeed, throughout 2019 and since the start of the year, 40 decisions were issued which permit the transfer of genetic resources abroad as a means of serving non-commercial studies and research of eligible organisations and inpiduals. The nation has been thorough in carrying out a strategic environmental assessment and environmental impact assessment in an effort to control the impacts of socio-economic development activities on biopersity.
In addition, plans and projects which could affect ecosystems, species, and nature reserves are all focused on assessing the overall impact on biopersity in order to devise preventive measures aimed at reducing the negative impact on the environment and biopersity as a whole.
Before entering the "ecosystem restoration decade", Deputy Minister Nhan put forward the notion that the nation must be proactive in affirming its contributions in order to achieve common global goals. This can be achieved by adopting new policies, implementing strategies, plans, and schemes to add to the conservation and sustainable use of biopersity, restoration of degraded forest, sea and wetland ecosystems, and effective conservation of species and genetic resources.
"It is necessary to carry out synchronised tasks, solutions and to prioritise the implementation of key tasks, particularly in the process of amending the Law on Environmental Protection, paying attention to regulations on the protection of natural landscapes and biopersity, reducing the impact from socio-economic development activities to biopersity as a solution to ensure sustainable development, " the Deputy Minister noted.
He also underscored the necessity of developing the National Strategy and Planning on biopersity conservation ahead for the next 10 years, while simultaneously ensuring consistency and synchronisation in order to achieve conservation objectives leading up to 2030. This can be done alongside building a database on biopersity as a basis for the management and conservation of ecosystem persity.
It is therefore essential to continue increasing international co-operation, inter-sectoral collaboration, and the participation of both the private sector and the community. These efforts can be taken alongside strengthening the capacity of State management over biopersity conservation from central to local levels in order to improve the effectiveness of biopersity management, Nhan added.
english.vov.vn