Vietnam arranges another flight to repatriate citizens from Japan
The Vietnamese authorities, the Vietnamese Embassy in Japan, competent authorities of Vietnam and Japan, and national flag carrier Vietnam Airlines cooperated to fly home over 340 Vietnamese nationals on June 5.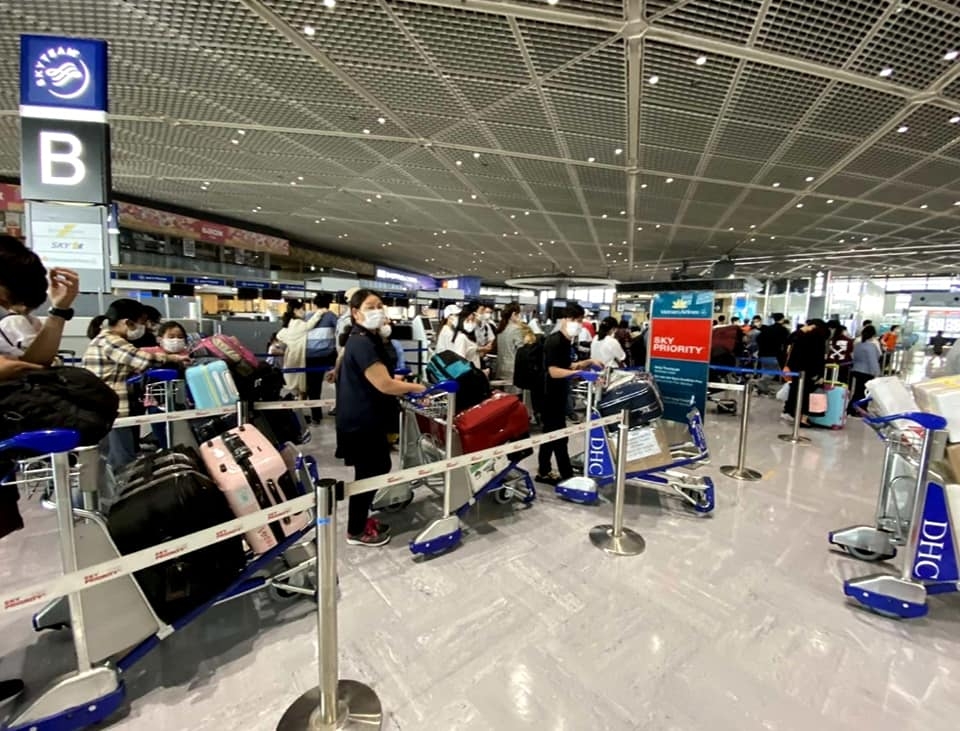 Vietnamese citizens carry out procedures to return home.
This is Vietnam's third repatriation flight from Japan. On April 22, Vietnam had brought home nearly 300 citizens as well after delivering some medical supplies and another 340 Vietnamese citizens flew home on May 25.
This return flight, landed at Da Nang International Airport, included children under 18, the elderly, the disadvantaged, pregnant women, people with medical conditions and some workers and students whose work and study permits expired or without accommodation due to dormitory closure.
With no new case confirmed, June 5 marks the 50th day that Vietnam has gone without recording any single new COVID-19 infection caused by community transmission. The nation's COVID-19 infection tally now stays at 328, including 188 entering from epidemic-hit countries.
Therefore, upon landing in Vietnam, the passengers received a health examination and went into quarantine as per the regulations to ensure no possibility of community-associated infection.
Service provided to passengers strictly complied with pandemic prevention and control regulations. Pre-boarding temperature checks, health checks, and interviews of passengers were conducted. Passengers were also required to wear face masks during the flight. All members of the flight crew were equipped with complete medical protective gear.
In line with the Prime Minister's instructions, Vietnam's authorities, overseas representative agencies, and domestic airlines have organized repatriation flights for Vietnamese citizens with special circumstances in France, UAE, Canada, Italy, the US, Australia and New Zealand, etc.
More such flights will be conducted in the next time based on people's wishes, the quarantine capabilities of cities and provinces, and the pandemic's development for continuity of lights bringing Vietnamese nationals back home.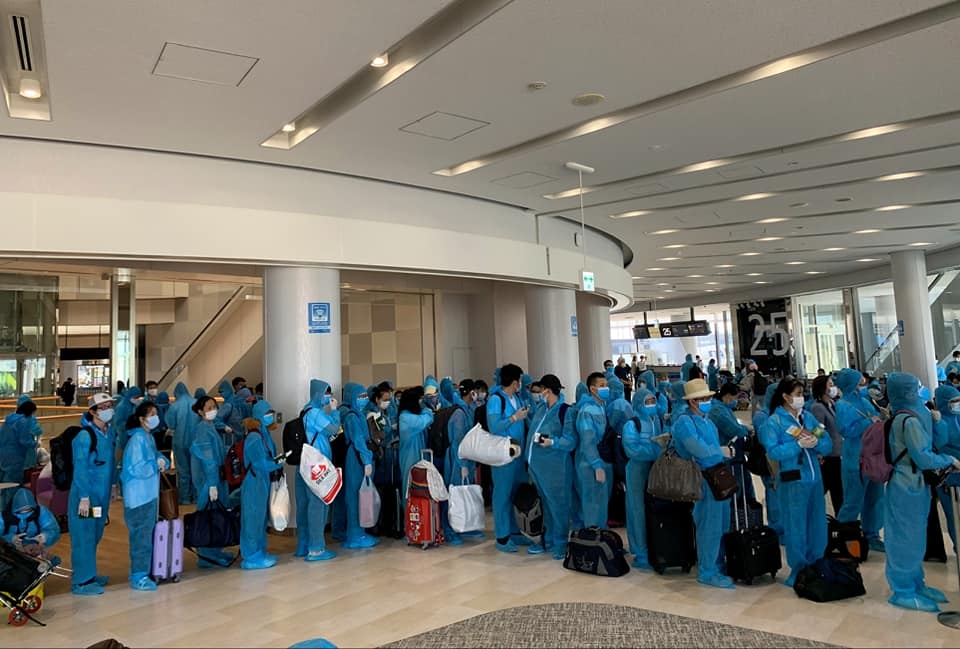 All the arrivals underwent medical examinations and were quarantined on arrival as per Vietnam's Covid-19 control protocol.
Travel in and out of Japan has virtually stopped due to restrictions meant to prevent the spread of COVID-19, Kyodo News reported.
Japan currently denies entry to foreign travelers who have been to any of 111 countries and regions -- including the United States, China and South Korea, as well as most other parts of Asia -- within two weeks of their arrival.
According to government sources, discussions are taking place to remove Thailand, Vietnam, Australia and New Zealand from the list, as the countries have got their coronavirus outbreaks under control and the relatively thin traffic to and from Japan is seen as manageable.
Japan has avoided an explosive surge in coronavirus infections so far, with about 17,600 cases and more than 900 deaths as of June 4.
The government fully lifted a state of emergency on May 25, seven weeks after the initial declaration was issued, as experts judged the spread of infections had come under control.
Nonetheless, the Japanese government is bracing for another wave of infections. Tokyo issued a warning on June 2 amid signs of a possible resurgence of virus infections, as the new cases that day marked the highest level since the lifting of the emergency./.