Vietnam Association of Victims of AO/dioxin expresses support to AO victim's lawsuit
President of the Vietnam Association of Victims of Agent Orange (AO)/dioxin (VAVA) Nguyen Van Rinh has sent a letter expressing support for Vietnamese-French Tran Thi To Nga who had filed a lawsuit against 26 US chemical companies that produced the chemical toxins sprayed by the US army in the war in Vietnam.
Nearly 4.8 million Vietnamese people were exposed to dioxin and around 3 million suffer from health problems today. Photo: Christophe Calais/Corbis
Nga, born in 1942, became a war correspondent of the Liberation News Agency, now Vietnam News Agency, after graduating from a Hanoi university in 1966. She⁵ worked in some of the most heavily AO/Dioxin affected areas in southern Vietnam such as Cu Chi, Ben Cat and along the Ho Chi Minh Trail, ultimately experiencing effects of contamination.
Among her three children, the first child died of heart defects while the second suffered from a blood disease.
In 2009, Nga, who contracted a number of acute diseases, appeared as a witness at the Court of Public Opinion in Paris, France against US chemical companies. In May 2014, she and the Paris-based William Bourdon & Forestier law firm filed a lawsuit against 26 US chemical firms, including Monsato and Dow Chemical, for producing chemical toxins sprayed by the US army in the war in Vietnam, causing serious consequences for the community, her and her children.
The complaint and related documents were handed over to the Crown Court of Evry city in the suburb of Paris.
At the 19th trial on Nga's lawsuit in late June, the judge decided to open trial on the case at the crown court of Evry on October 12. However, it has just been postponed to January 25, 2021, according to the French Vietnam Dioxin Association (Collectif Vietnam Dioxine).
In the letter, Rinh affirmed that the VAVA, with its mission to support and protect the legitimate rights and interests of AO/dioxin victims, will always accompany Nga. So far, the association has collected 416,200 signatures of its members and people with good will in support of the lawsuit.
He expressed his hope that the French court will uphold justice for Nga and her family.
From 1961-1971, US troops sprayed more than 80 million litres of herbicides - 44 million litres of which were AO, containing nearly 370 kilograms of dioxin - over southern Vietnam.
As a result, around 4.8 million Vietnamese were exposed to the toxic chemical and more than 3 million ha of forest land had been destroyed by the toxic. Many of the victims have died, while millions of their descendants are living with deformities and diseases as a direct result of the chemical's effects.
Vietnamese Government has been making utmost efforts to address war consequences, including those related to AO/dioxin.
To protect people's health, Vietnam has completely banned the use of chemical products derived from dioxin or glyphosate since 2019.
It has also boosted coordination with the US to clean up AO/dioxin-contaminated areas like Bien Hoa and Da Nang airports.
The Vietnamese Embassy in France has consistently been assisting the fierce legal fight for justice for AO/dioxin victims, including Nga.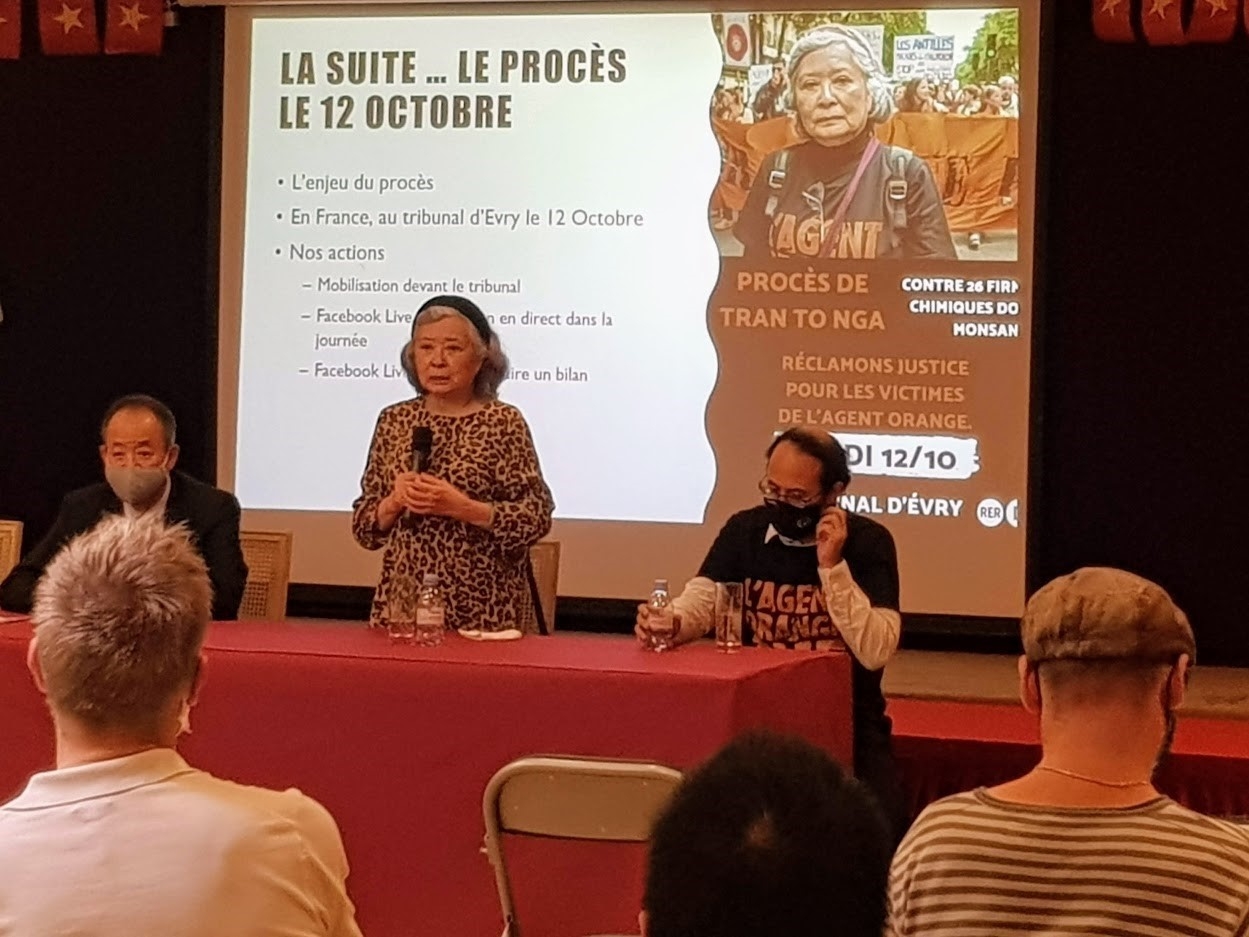 Tran To Nga (standing) at meeting between the Vietnamese Embassy in France and young Vietnamese expatriates on September 19, 2020. Source: Collectif Vietnam Dioxine
Recently, the Vietnamese Embassy on September 19 held a meeting with young Vietnamese expatriates who contributed to the success of an online programme garnering support for Vietnamese AO/dioxin.
The 36-hour-online programme, from 2pm of August 9 to 3am of August 11 (Vietnam time), featured talks, discussions, documentary screening and interviews, focusing on AO/dioxin consequences and calling for support from people worldwide to the struggle for justice for the Vietnamese victims.
They also received 7,300 signatures advocating the lawsuit filed by Nga. Besides, EUR 5,400 (nearly USD 6,400) was raised for the fund for AO/dioxin victims in Vietnam./.