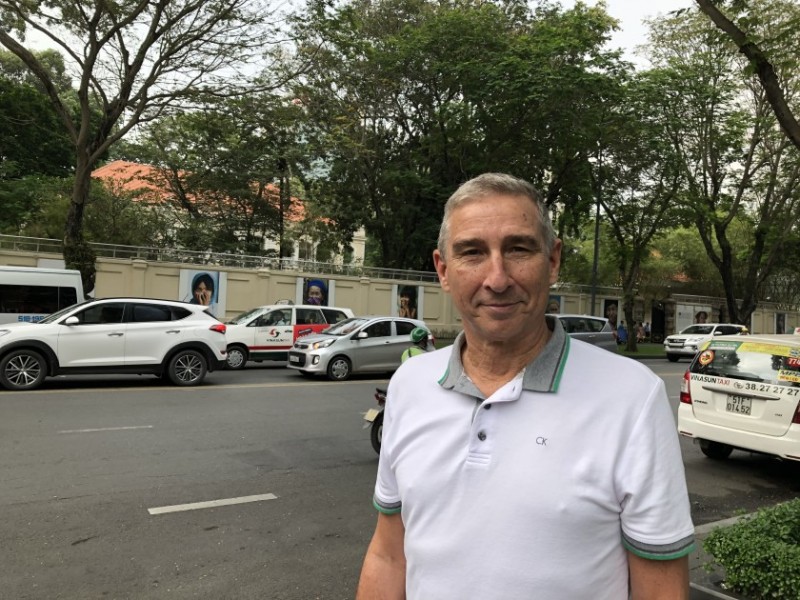 John Rockhold, stands on a street in Ho Chi Minh city. Photo: Ralph Jennings / For The Times
More and more Americans veterans are choosing Vietnam for retirement, thanks to the country's inexpensive housing, cheap healthcare and a rising standard of living.
"Aging American boomers are living a lifestyle reminiscent of Florida, Nevada and Arizona, but in Vietnam. Monthly expenses here rarely exceed $2,000, even to live in a large unit like Rockhold's, including the help of a cook and a cleaner." Robert Bridge wrote on Los Angeles Times.
John Rockhold, was an American veteran who settled in Vietnam in 1995. He married a Vietnamese woman in 2009.
John Rockhold, now 66, sits on several boards and is raising two children, 10 and 9, with his wife, Tu Viet Nga. The children were born via C-section; the procedure, including a four-day hospital stay, cost about $1,200, far less than it would have in the United States. The family lives in a 20th-floor condominium overlooking the Saigon River and the sprawling city beyond. They bought the four-bedroom, 3½-bathroom unit, measuring about 1,840 square feet along with a separate veranda, for about $250,000 in 2011.
John said Vietnam attracted American tourists not only by its friendly people, but also reasonable price of food, housing and healthcare.
For some Americans, these factors are truly irresistible. Meanwhile, if living in the United States, the monthly pension and the social benefits they receive just barely cover what is truly needed.
VNF