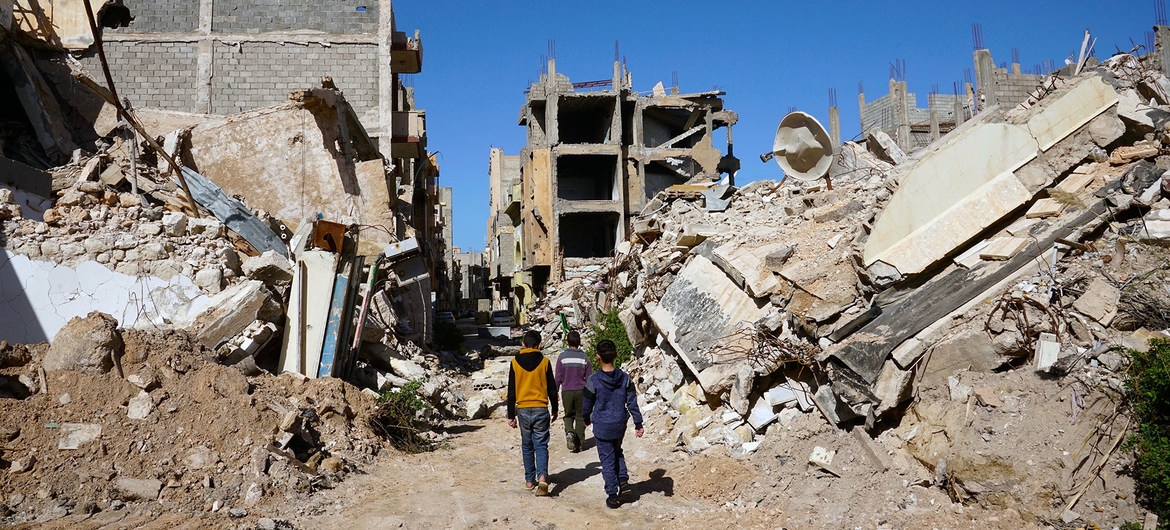 Boys walk through Benghazi Old Town in Libya. OCHA/Giles Clarke
During the UNSC's online meeting on November 10 on the situation in Libya, Chief Prosecutor Fatou Bensouda recalled that, on October 23, the warring Libyan parties signed a ceasefire agreement under the auspices of the UN in Geneva. Calling on them to assiduously implement it, she declared: "Victims of atrocity crimes in Libya must be reassured that, notwithstanding any ceasefire or future agreement, individuals alleged to be responsible for serious crimes […] will be promptly arrested and surrendered."
Outlining those developments, she said that — even amid the challenges posed by the COVID-19 pandemic — the International Criminal Court deployed two crucial investigative missions to Libya to collect additional evidence to further strengthen its cases.
Turning to her office's efforts to actively monitor the current situation in Libya, she said it has learned that the recently concluded offensive on Tripoli — carried out by the eastern-based militia known as the Libyan National Army — is part of a pattern of violence marked by the indiscriminate air strikes and shelling of civilian areas, arbitrary abduction, detention and torture of civilians, extrajudicial killings, enforced disappearances and the pillaging of civilian property. She also cited credible information showing the increased use of mines and improvised explosive devices against civilians.
In particular, she said, mines and explosive devices were reported placed in civilian garages, kitchens and bedrooms, and were detonated when people returned home after fleeing from fighting in the city. Emphasizing that those "deeply disturbing" reports would constitute crimes under the Rome Statute, she encouraged the Council and all UN Member States to convey a clear and firm message to commanders — be they military or civilian — and all parties and armed groups in Libya "that the rules of international humanitarian law must be respected and that those who defy such rules will be held individually responsible".
As delegations delivered virtual remarks, many speakers welcomed the signing of the ceasefire agreement on October 23 and the first meeting of the Libyan Political Dialogue Forum on November 9. Several underlined the critical need to ensure justice for the most atrocious crimes in Libya, welcoming the Libyan Government of National Accord's cooperation with the Court to that end. While many speakers called for all States to execute arrest warrants issued by the Court, others expressed deep reservations, voicing concern about the institution's jurisdiction, impartiality and overall usefulness — both in Libya and elsewhere.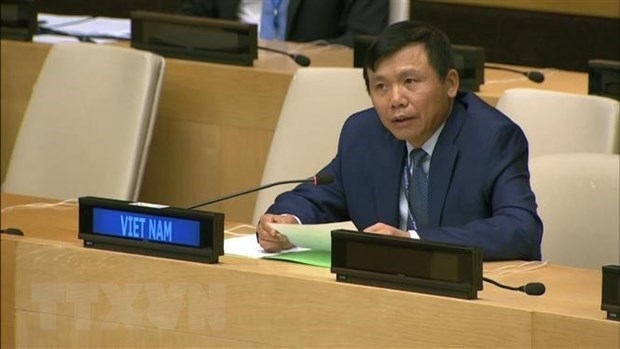 Ambassador Dang Dinh Quy, head of the Vietnam mission to the UN. Photo: VNA
The representative of Vietnam joined others in welcoming the new ceasefire agreement, as well as the launch of the Libyan Political Dialogue Forum, while appreciating efforts of the UN Support Mission in Libya, countries, regional organisations and concerned nations to promote peaceful dialogue.
"The recent positive developments have clearly demonstrated one thing: the Libyan-led and Libyan-owned political process is the only solution for long term peace in Libya," Quy said.
Head of Vietnam's mission to the UN affirmed that each nation has the top responsibility for ensuring adherence to international humanitarian laws, preventing and punishing serious crimes such as war crime, crimes against humanity and crime of aggression.
He also emphasized that accountability for violations of international law and serious criminal acts should be achieved in accordance with international law, including respect for a State's independence and sovereignty./.
Hannah Nguyen