Vietnam, Canada Seek to Boost Co-operation in Global Supply Chain
A seminar detailing co-operation with Canada in the global supply chain was held on October 14 via both offline and online platforms by the Vietnamese Embassy in Canada in collaboration with the Canada-Vietnam Trade Council in Ontario, Canada.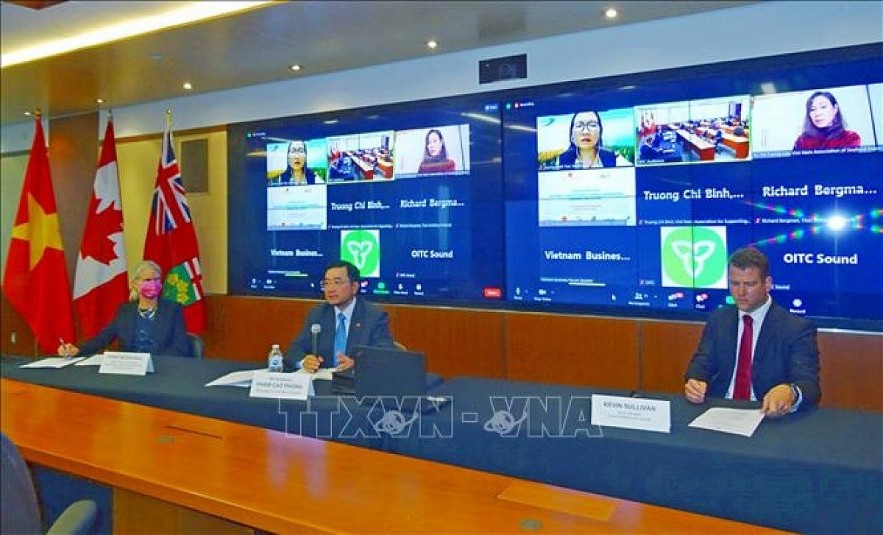 Vietnamese Ambassador to Canada Pham Cao Phong (middle) answers questions about Vietnam-Canada cooperation at the seminar (Photo:VNA)
The event provided updated information regarding the growing Vietnamese role in the global supply chain, the capacity of Vietnamese enterprises within the supply chain, and the potential for greater co-operation between both nations in this field.
It is viewed as an opportunity for both associations and businesses to promptly discuss remedial measures as a means of ensuring the human and economic security of both countries.
The COVID-19 pandemic has dealt a heavy blow to the global value chain, thereby leading to the closure of suppliers, disrupted logistics services, high unemployment, and other issues.
In some places, protectionism is contributing to damaging supply chains and negatively impacting the economic co-operation among nations. All these factors have therefore led to the fact that production lines are facing an array of difficulties, or are even being broken.
In his opening speech at the event, Vietnamese Ambassador to Canada Pham Cao Phong highlighted the growing friendship and co-operation relationship between the two sides as a great foundation moving forward for a sustainable and reliable supply chain.
Originally established in 2017, the comprehensive co-operative partnership between has enjoyed steady growth, with this momentum being maintained during the pandemic through online phone calls and exchanges held between both nations' leaders.
The Comprehensive and Progressive Agreement for Trans-Pacific Partnership (CPTPP), of which the two countries are members, offers tax incentives for trading in both consumer goods and raw materials. This factor serves to create favourable conditions in which to boost the various trade activities between the two sides.
In line with this trade turnover between both nations surged by 12.8% last year and 28.5% over the initial seven months of this year, thereby demonstrating a reliable and complementary trade partnership.
Sharing the viewpoint of Ambassador Phong, Senator Victor Oh emphasised that although the COVID-19 pandemic has severely affected global trade, statistics show a firm trade alliance between the two, with plenty of growth opportunities moving forward.
Since 2015, the nation has been Canada's largest trading partner in ASEAN. Within the framework of the CPTPP , one of the largest free trade agreements in the world and accounting for roughly 13.4% of global GDP, Canada removed 94% of the total tariff lines placed on Vietnamese imports. In return, the country removed approximately 66% of all tariff lines on Canadian imports to provide an opportunity for trade exchanges to grow further.
Jay Allen, Executive Director for the Trade Policy and Negotiations – Asia Division at Global Affairs Canada (GAC) said the CPTPP is a great success for businesses as well as consumers in Vietnam and Canada. Given the two countries' deep ties, trade cooperation has just begun, he added.
Ambassador Phong therefore recommended that in order to adapt to the new normal in the post-COVID-19 period, businesses of both sides need to further discuss a number of issues, including establishing a common governance support center and a B2B model of business-to-business e-commerce transactions. This is in addition to promoting research and development (R&D), reducing risks by enhancing direct business, and improving after-sales service, digitisation, and digital security.
With a GDP growth rate of 1.42% during the first nine months of the year, the nation is seen as an attractive destination for investment and business activities thanks to its political and macroeconomic stability, dynamic, and abundant human resources, among many other conditions.
As a founding member of the Regional Comprehensive Economic Partnership (RCEP), the country acts as a bridge for Canadian businesses to reach 14 other member countries, thereby accessing 30% of the global population of 2.2 billion people and 30% of global GDP.
In the opposite direction, Canada can serve as the door for Vietnamese goods to penetrate the US and Mexican markets, both of which are members of the North American Free Trade Agreement (NAFTA).
VOV