Vietnam, China Work to Facilitate Bilateral Trade
Vietnam and China have reached memoranda of understanding (MoUs) on the establishment of a Working Group on Vietnam-China Trade Facilitation and the bilateral co-operation plan for 2021-2025.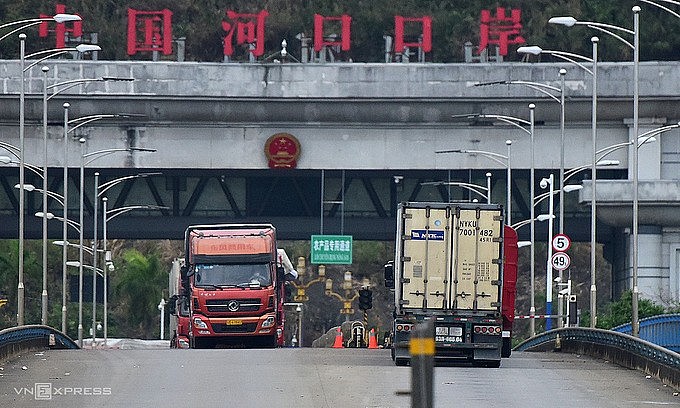 Containers at the Kim Thanh Border Gate No.2 in the northern province of Lao Cai, February 2020. Photo: VnExpress
The documents were signed by the Vietnamese Ministry of Industry and Trade (MoIT) and the Chinese Ministry of Commerce, VOV reported.
They aim to realise outcomes of the phone talks between Vietnamese Minister of Industry and Trade Nguyen Hong Dien and Chinese Minister of Commerce Wang Wentao. The signing came ahead of the 13th meeting of the Vietnam-China Steering Committee on Bilateral Cooperation.
Under the MoUs, the two sides will boost the bilateral trade in a stable, balanced, and sustainable manner. The working group is set to deal with arising issues and barriers faced in bilateral trade.
They consented to create optimal conditions for the customs clearance of goods through the common border, whilst supporting businesses to strengthen their resilience and recover their operations during and after the Covid-19 pandemic.
The two sides will therefore optimise the railway route between the respective nations to promote bilateral trade, especially the transportation of farm produce through the border.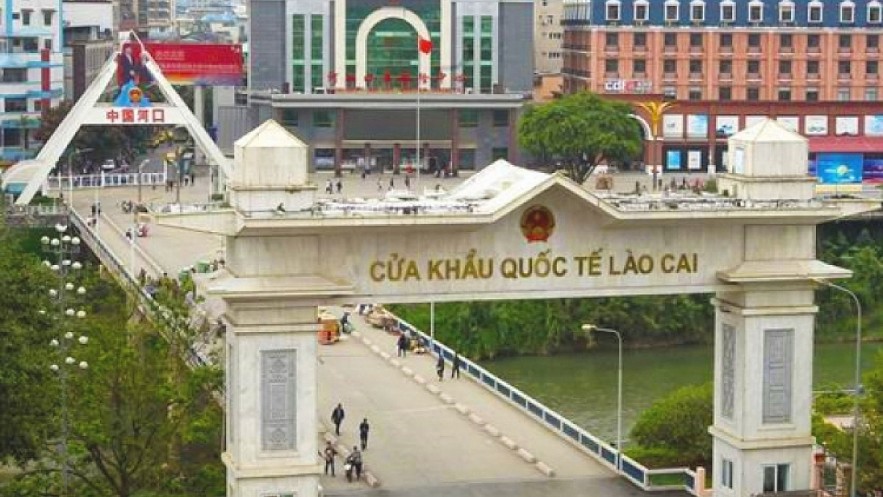 Vietnam, China have consented to create optimal conditions for the customs clearance of goods through the common border. Photo: VOV
The MoUs serve as an important foundation for the effective implementation of bilateral co-operation programmes, helping to remove obstacles to the bilateral trade.
Since Covid-19 broke out in early 2020, the MoIT has worked closely with China's Ministry of Commerce and relevant agencies to deal with difficulties and maintain growth in two-way trade, while creating favourable conditions for customs clearance of goods between the two countries.
Besides, Vietnamese Minister of Industry and Trade Nguyen Hong Dien held phone talks with Chinese Minister of Commerce Wang Wentao in April and June, regularly exchanged official documents as part of efforts to settle arising problems in bilateral trade activities, and maintained dialogues through the working group on bilateral economic and trade cooperation, with the ninth meeting of the group held online.
These efforts have contributed to maintaining trade exchange between the two sides and operations of supply chains serving production and export, and keeping the Vietnam-China trade growth at two digits.
Vietnamese farm produce favoured in China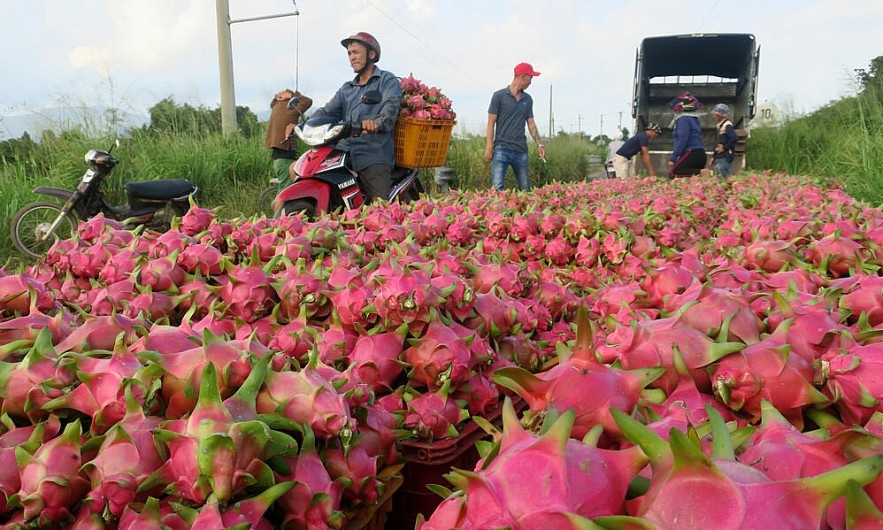 Farmers harvest dragon fruits in central Binh Thuan Province. Photo: VnExpress
Deputy head of the MoIT's Vietnam Trade Promotion Agency (VIETRADE) Le Hoang Tai said at a recent teleconference that Vietnamese food and farm produce have gained popularity in the Chinese market thanks to their quality and improved supplies.
Addressing teleconference on farm produce trade between Vietnam and Chinese's Guangdong held by VIETRADE on September 16, Tai described China as among Vietnam's top important economic partners, VietnamPlus reported.
He said there remains room to boost export of farm produce to China and Guangdong in particular given the huge demand.
The Trade Consul at the Vietnamese Consulate General in Guangzhou Nguyen Duy Phu said Guangdong has a population of about 120 million people, a gross domestic product of nearly US$1.6 trillion and foreign trade turnover of around $1.1 trillion in 2020, showing the locality's huge potential as a market for Vietnamese goods.
Two-way trade between Vietnam and Guangdong reached 41 $billion in 2020, or 20-21% of total trade between the two nations. Of the figure, Vietnam's exports were worth $21 billion.
Phu suggested domestic firms seek commercial trustees as many major partners in Guangdong do not directly import goods but via trust services, particularly those exporting across the land border./.
According to the Ministry of Industry and Trade, in the 2010-2019 period, trade between Vietnam and China expanded 17.6% annually on average, higher than the growth in Vietnamese trade with the rest of the world.
The General Department of Vietnam Customs said the two-way trade reached $133.09 billion last year, up 13.82% from 2019. Of which, Vietnam's export to China rose by 17.95% to $48.9 billion while import from China hit $84.18 billion, up 11.55%.
China remained the largest trade partner, largest export market and the second largest importer of Vietnam.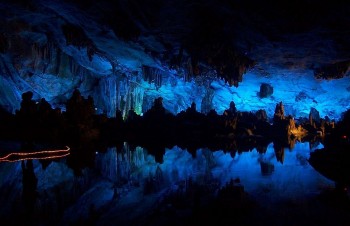 Travel
Caves are the creation of nature, charming any tourists with their mysterious and an air of danger, waiting for humans to explore the deepest secrets inside them. Take a look at these magnificent and beautiful caves around the world that you must visit once in your lifetime.
Viet's Home
According to the AFC official statement, Vietnam striker Nguyen Tien Linh won the AFC International Player of the Week after receiving the most votes out of the remaining nine players.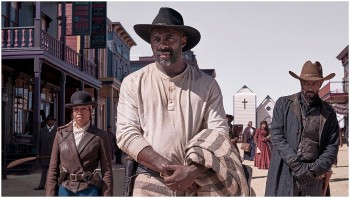 Handbook
November is coming close, and the cold outside makes us want to curl up inside our warm blanket and bing watch our favorite movies or shows. Here is the list of what is coming on Netflix in November, and some of the most expected Netflix originals for you to enjoy.