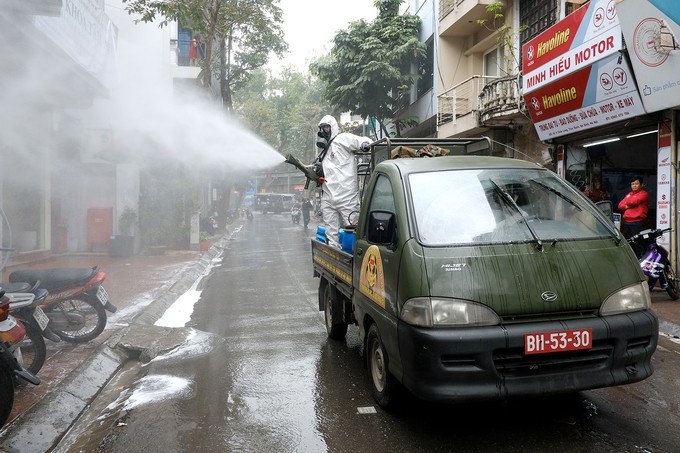 A medical worker sprays disinfectant to sterilise case 17's residential area in Hanoi. (Photo: Giang Huy/VNE)
The new cases confirmed on Sunday include nine foreign tourists arriving in Hanoi on a Vietnam Airlines flight from London on Monday, the ministry said in a statement.
They comprise four in the northern province of Quang Ninh, two in the northern border province of Lao Cai, two in the central city of Da Nang and one in the central province of Thua Thien-Hue.
All the new cases boarded the same flight with case 17 - N.H.N and have been isolated for further treatment.
The 26-year-old patient, N.H.N, earlier visited her sister in the UK, then travelled to Italy and returned to Hanoi on March 1 on flight VN0054.
Minister of Planning and Investment Nguyen Chi Dung has tested negative for coronavirus even though he was in the same C-class cabin with N.H.N, according to the ministry.
Specifically, Minister Dung occupied seat 1A while the patient was in seat 5K.
Despite being confirmed as negative for the virus, Dung is self-isolating at home for 14 days, at the request of the MoH.
The headquarters of the Ministry of Planning and Investment in Hanoi has been also disinfected.
Earlier the day, Vietnam reported that a 61-year-old man from Truc Bach ward, Hanoi's Ba Dinh district, had been seated close to the row of N.H.N during the flight.
The first 16 cases in Vietnam have been cured and released from hospitals, and there have been no deaths./.
VNF