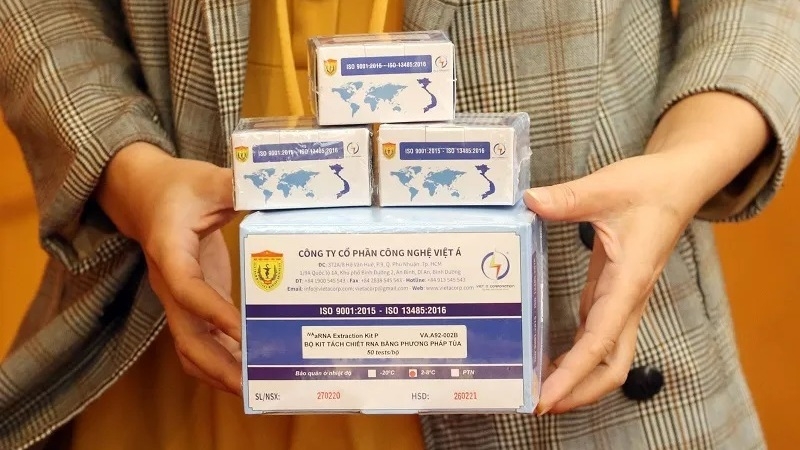 The new coronavirus test kit developed by the Vietnam Military Medical University and Viet A Corporation. Source: NDO
The Vietnamese Ministry of Health on March 5 has approved the use of a test kit for the new coronavirus, jointly developed by the Vietnam Military Medical University (VMMU) and Viet A Corporation, announced the Ministry of Science and Technology (MOST).
At present, the successful development has made Vietnam one of the few countries able to manufacture such test kits, alongside the WHO, Japan, Germany, China and the United States.
The testing kit has been validated independently by the National Institute of Hygiene and Epidemiology (NIHE) and produces reliable results, said VMMU Director Do Quyet.
He added that the accuracy of the test kit, which was developed in just one month, is similar to those produced by the WHO and the CDC.
The NIHE has recommended using the VMMU-developed kit to test for the new coronavirus, officially known as SARS-CoV-2.
According to Viet A Corporation, 10,000 kits can be manufactured per day and that capacity can be tripled if needed.
Such a production capacity can meet domestic demand and be used for export.
General Director of Viet A Corporation Phan Quoc Viet said the test kit can produce a result after two hours, similar to those developed by the WHO and CDC, but its price is just one third of theirs, at VND400,000-600,000 (USD17-26).
The successful development of the new coronavirus test kit is particularly important as the COVID-19 outbreak is now a global concern and it undoubtedly reaffirms the capability of Vietnamese scientists.
According to the national steering committee for preventing and combating the acute respiratory disease cause by COVID-19, the epidemic has spread to 82 countries and territories worldwide. The positive results that Vietnam has gained is just the first step and there remain a big risk of outbreak in the country.
Vietnam has quarantined 92 suspected infection cases. Nearly 16,200 people who had close contact with infected patients or entered Vietnam from epidemic-hit areas have been quarantined and monitored, of them 416 have been quarantined in hospitals./.
NDO/VNA