Vietnam confirms the 18th COVID-19 infection
The Health Ministry declared Saturday afternoon the 27 year-old man positive to coronavirus. The man was under quarantine since Wednesday upon returning to Vietnam from Deagu, South Korea's epicenter.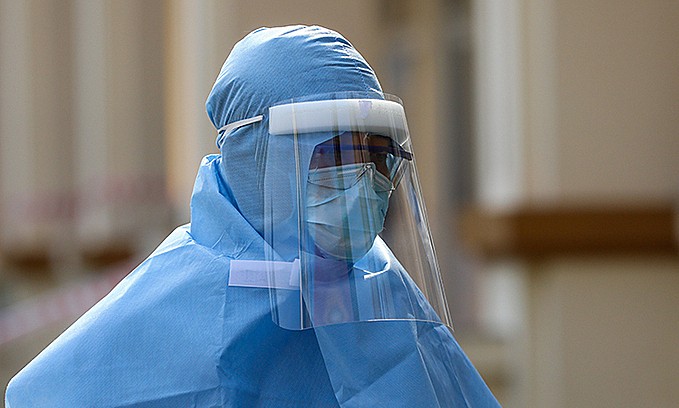 A health worker in protective gear takes part in a Covid-19 prevention drill in HCMC, March 5, 2020. (Photo: VnExpress/Nhu Quynh)
The man hails from Ninh Binh province, around some 60km south of Hanoi. On February 17, he flew to Gimhae International Airport in Busan and traveled to Daegu, in the accompany of his 24-year-old sister.
The two siblings and their two Vietnamese friends went to a supermarket in Daegu two times on February 18-19. Their friends returned to Vietnam on February 26 and were quarantined at Son Tay Military School in Hanoi.
The latest Vietnam's COVID-19 victim started to experience coughing, sore throat, no fever on February 29. The patient did not take any medication, took care of himself without leaving his house until March 4 when he took the Flight VJ981 from Busan to Van Don Airport, northern province of Quang Ninh.
After completing his entry procedure, the patient was taken to the quarantine zone in the Military School of the 1st Corps, Urban Group 19, Tan Binh Ward, Tam Diep City, Ninh Binh Province. He was then put in the quarantine zone's highly infectious section.
Today (March 7th), the patient has been transferred to the isolation ward of Ninh Binh General Hospital for further surveillance and treatment. Blood test shows he's positive for COVID-19, becoming the second COVID-19 patient in Vietnam in two consecutive days.
Vietnam confirmed its 17th infection case on Friday, after spending 22 straight days without any new infection. The patient was a 26-year old woman in Hanoi returning from Europe. She has been quarantined and is undergoing treatment at Campus No.2 of the Hanoi Central Hospital for Tropical Diseases.
This 18th case of COVID-19 has been completely contained and is under close watch. There is no risk of further spread found.
South Korea has so far reported over 7,000 COVID-19 infections, second only to mainland China, where the disease was first detected last December.All 16 persons confirmed with COVID-19 infections in Vietnam earlier have been discharged from the hospital.
The COVID-19 epidemic has spread to 100 countries and territories around the world with global death toll climbing to 3,500.
Starting Saturday, everyone coming to Vietnam have to fill health declarations.