Vietnam cooperates with New Zealand to develop vocational education and training
On July 20, the Directorate of Vocational Education (Ministry of Labor, War Invalids, and Social Affairs) signed an agreement with New Zealand's Government to Government Know-How (G2G) on strengthening cooperation in vocational education & training and skills development.
The agreement is considered as the foundation to share experiences in vocational education policy, national qualification framework as well as the connection between schools and businesses.
Under the agreement, New Zealand's Government to Government Know-How (G2G) will contribute to improving the quality of Vietnam's workforce through promoting cooperation programs between government agencies, vocational and research institutions of New Zealand with the Directorate of Vocational Education and Training as well as other relevant agencies and institutions in Viet Nam.
According to Ambassador Wendy Matthews, since 1992, New Zealand's national qualification framework has been one of the first comprehensive qualification frameworks in the world. New Zealand has made efforts to renovate the training system to ensure that it can best respond to the needs of the evolving industries.
New Zealand has maintained the leading position in English-speaking countries as well as the Asia-Pacific region in terms of Worldwide Education for the Future Index 2019 by Economist Intelligence Unit's (EIU), reported Thanh Nien.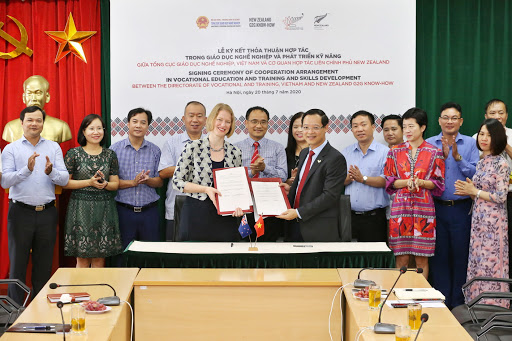 The signing ceremony of cooperation arrangement in vocational education and training and skills development between the Directorate of Vocational and Training, Vietnam and New Zealand G2G Know-How
Photo: Thanh Nien
"With a high-quality education system and expertise in vocational training, New Zealand is willing to implement initiatives aiming to enhance the quality of Vietnam's vocational education system, from which can boost the competitiveness and productivity of human resources to meet global demands", said Ambassador Wendy Matthews.
The General Director of the General Department of Vocational Education Truong Anh Dung also said that in recent years public and businesses' perception of the importance of vocational training has been improved and the number of people participating in vocational education has increased.
"However, in the context of the digital economy, the knowledge-led economy, the 4th Industrial Revolution and international labor mobility trend, vocational training needs to continue its renovation to meet the high demand for labors", added Truong Anh Dung.
Cooperating with a high-standard country like New Zealand hopefully will enhance the quality of vocational education in Vietnam.
The year 2020 is an important year for New Zealand and Viet Nam as two countries celebrate 45 years of establishing diplomatic relations. The Prime Ministers of the two countries will attend an online high-level talk on July 22. People-to-people connection, particularly in education, is the key factor to foster bilateral relations between Vietnam and New Zealand, informed Thanh Nien.