Vietnam Cooperates with UNICEF to Strengthen Child Care and Nurturing
""Parenting is a key pillar to advancing the early development of children and has been spotlighted as more critical than ever in the context of the COVID-19 pandemic,", said Deputy Minister of Labor- Invalids and Social Affairs Nguyen Thi Ha.
The Ministry of Labour, Invalids and Social Affairs, in collaboration with UNICEF, The Human Safety Net of the General, the Vietnam Chamber of Commerce and Industry (VCCI) and businesses have just announced a partnership program to expand the Parenthood Project for Integrated Early Childhood Development (IECD) that ensures Vietnamese children are healthy, ready to learn and thrive..
During the expansion period from 2021-2024, the project will use funding of more than EUR1,000,000 from The Human Safety Net. In addition to financial support, The Human Safety Net also plans to provide the project with other forms of periodic support.
The project has been piloted by UNICEF, MOLISA and VCCI since 2019 in 27 communes of the three provinces of Gia Lai, Dien Bien and Kon Tum and a number of factories in and around Ho Chi Minh City. With a vision to 2024, the partners commit to expand the project to 15 provinces/cities and adding 40 companies along with broader mobile accessibility through digital learning platforms.
MOLISA emphasizes the message of taking parents at the center role of society's attention. "Parenting is a key pillar to advancing the early development of children and has been spotlighted as more critical than ever in the context of the COVID-19 pandemic," said Mme. Nguyen Thi Ha, MOLISA Vice Minister
"The pandemic reminds us of the important role parents play in times of crisis. Supporting families and providing quality parenting is essential to achieving the best development for every child. This cooperation makes an important contribution to the more effective implementation of the work of ensuring children's rights in Vietnam as well as the replication of the government's comprehensive childhood development program," said Deputy Minister Ha.
Vietnam cooperates with UNICEF and The Human Safety Net to strengthen the care and nurturing of children.
"We have been working with UNICEF in Vietnam since 2019 on two highly successful pilot projects of the Nurturing Infants Children and Environments (NICE) parenting programme. The NICE model provides nurturing care for children between the ages of 0-6 years old, encompassing good health, nutrition, safety, early learning and responsive caregiving, all with the aim of ensuring children can survive and thrive in life. This perfectly fits within The Human Safety Net For Families programme, which is implemented in 23 countries world-wide and tries to identify proven and replicable models like this to scale," said Emma Ursich, Executive Officer of The Human Safety Net.
"Promoting early childhood development and supporting Vietnamese families is key to Generali Vietnam's community agenda with Sinh Con, Sinh Cha parenting programme being our flagship CSR initiative. As a member of The Human Safety Net, we are pleased to be able to work alongside with partners with great expertise like UNICEF," said Tina Nguyen, CEO of Generali Vietnam.
"This project will enable Generali Vietnam and UNICEF to leverage our own core strengths, networks, resources and experience in IECD to create synergies in extending the reach and impacts of our parenting programs.
"I am proud to see a major Italian company such as Generali standing close to children in Vietnam and contributing to the development of an inclusive and social sensitive corporate culture," said H.E. Italian Ambassador to Viet Nam, Antonio Alessandro. "My congratulations to MOLISA, UNICEF and Generali for these achievements."
Vietnam is one of the countries that strongly implement international commitments to realize children's rights and national efforts in comprehensive development of children in the first years of life with Decision No. 1437/QD-TTg of the Prime Minister. The Prime Minister aims to ensure that children up to the age of 8 have comprehensive physical, intellectual, and spiritual development and equal access to comprehensive development care support services.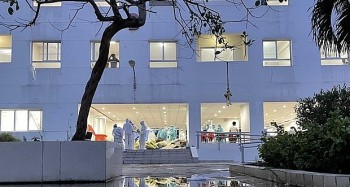 National
Vietnam News Today (Aug. 16): More than 251 million doses of Covid-19 vaccines administered in Vietnam; HCM City ready to reactivate Covid-19 treatment hospitals; Vietnam Airlines opens ticket sales for upcoming Tet Holiday; Demand for logistics real estate increases sharply: Savills Vietnam.