Vietnam COVID-19 Updates (Feb 16): 42 new cases found, Hanoi closes street F&B shops
42 cases of COVID-19 were recorded, raising the national count to 2,271, according to the National Steering Committee for COVID-19 Prevention and Control.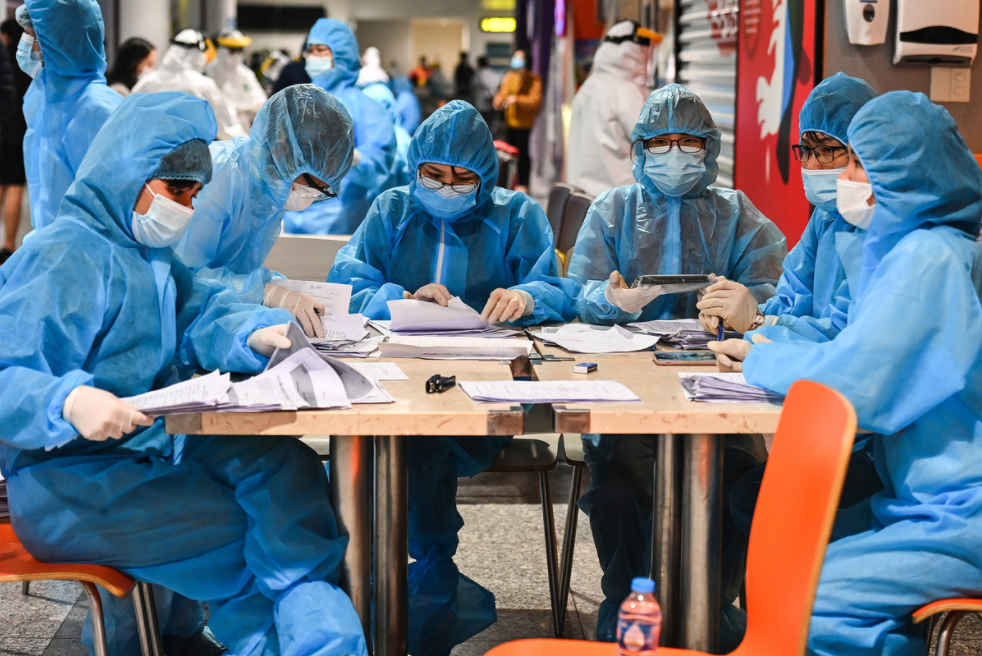 Photo: VN Express
42 new cases found
As of 6 pm on February 15, 40 cases of COVID-19 were recorded, raising the national count to 2,269, according to the National Steering Committee for COVID-19 Prevention and Control. Among the new cases, 38 are in Hai Duong province and two in Hanoi. The two newly-detected patients in Hanoi were F1 cases of patient 2229, a Japanese citizen found dead in a hotel in Hanoi on February 13. All 38 new cases in Hai Duong are linked to the outbreak in Chi Linh district.
The Health Ministry Tuesday morning confirmed two new locally-transmitted coronavirus cases in northern Hai Duong Province, bringing the tally of the new wave at 679. "Patient 2270" and "Patient 2271" are F1 of previously confirmed patients related to local coronavirus outbreaks in Cam Giang and Kinh Mon districts, and had already been quarantined since last month in line with the contact tracing protocol. They are being treated at a local field hospital.
With the latest two added to the list, Vietnam has recorded as many as 679 locally transmitted cases of Covid-19 ever since community transmissions reemerged in the nation on January 28 after 55 clean days in a row, with Hai Duong topping the list at 501 cases. Vietnam's total Covid-19 infection tally is now 2,271 with 1,546 recoveries. Around 128,000 are in quarantine nationwide, either in hospitals, quarantine zones, or at home.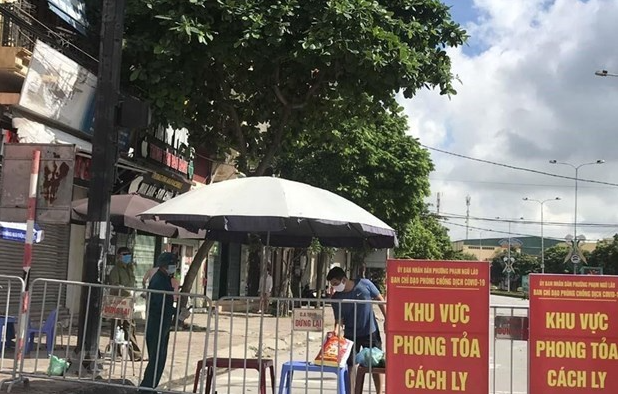 Photo: Vietnam Plus
Hai Duong province imposes social distancing from mid-night
Social distancing will be applied across the northern province of Hai Duong from 0:00 on February 16 or the fifth day of the Lunar New Year. The Standing Board of the provincial Party Committee and the provincial Steering Committee for COVID-19 Prevention and Control issued the decision on February 15 on pandemic prevention and control measures in line with the Prime Minister's Directive No. 16/CT-TTg, given the latest developments of COVID-19 in the locality.
Accordingly, local residents are told to stay at home and should only go out in case of extreme necessity, such as buying food, foodstuff and medicine, and emergencies. When going out, they need to wear face masks and keep physical distancing at schools, hospitals, and other public places. Employees of State agencies will work online and transport services will be suspended in the province, except for the transportation of food and other necessities, as well as workers, experts, and production materials.
Notably, the concentrated quarantine facilities where workers of Vietnam Poyun Electronics (POYUN) Co., Ltd in Chi Linh city are staying will be disinfected before 6 pm on February 16. District People's Committees will coordinate with military forces to inspect COVID-19 prevention and control in the quarantine facilities of more than 100 people.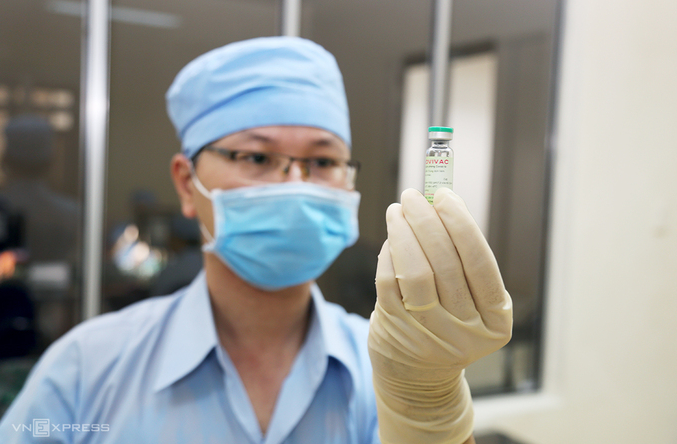 Photo: VN Express
Vietnam to receive 5 mln Covid-19 vaccine doses in February
Vietnam would receive around five million Covid-19 vaccine doses by the end of February, Deputy Health Minister Truong Quoc Cuong said at a meeting Monday.
They include about 4.9 million vaccine doses provided via Covax, a global mechanism for developing, manufacturing, and procuring Covid-19 vaccine candidates, and help member countries access vaccines as they become available. About 117,000 other doses would be imported, Cuong said, adding that they would come by the end of February provided that flights and procedures are completed as scheduled.
With the vaccine doses, five million people will receive the first shots, and three months later the second shots would be administered. Around two to five million people on the frontline of the coronavirus fight would be prioritized to get the vaccine. Deputy Prime Minister Truong Hoa Binh said the vaccine doses imported aren't many, so authorities need to actively negotiate with other sources to buy more vaccines and promote domestic vaccine manufacturing.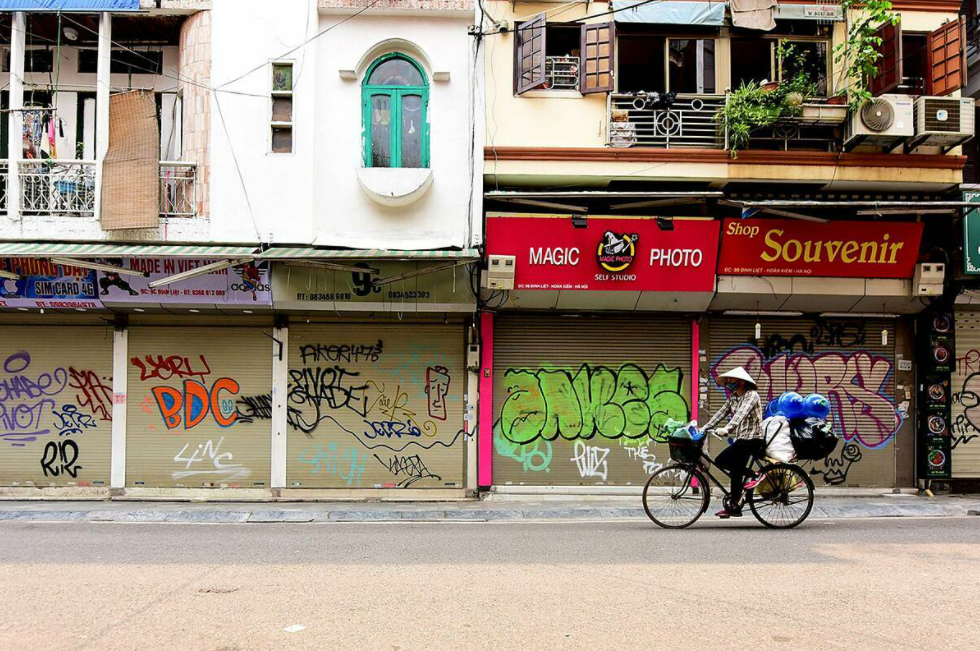 Photo: VN Express
Hanoi closes street F&B services and spiritual establishments
On the afternoon of February 15 (the 4th day of the Lunar New Year), at the meeting of the Steering Committee for Covid-19 prevention in Hanoi, Vice Chairman of the City People's Committee, Head of the Steering Committee for COVID-19 prevention and control Chu Xuan Dung has requested to close all street eateries, sidewalk iced tea, coffee and temporarily stop the opening of the relic, temple and religious establishments from 0 pm, February 16.
Also at the meeting, the Chairman of the People's Committee of Hanoi Chu Ngoc Anh said that due to the case of the Japanese patient who died positive with COVID-19, units were required to screen and control the disease faster.
He requested that from February 16, people in the provinces would return to the city to work, including people coming back from pandemic areas such as Hai Phong, Quang Ninh, Hai Duong, Ho Chi Minh City ... therefore, is an important phase in the prevention of the pandemic. Considering the current situation, Hanoi has decided to test all F1 and F2, as well as all people from Cam Giang to Hanoi, and request its citizens to report fully and promptly.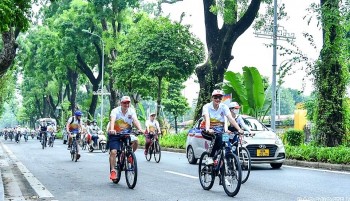 World
Staff of the embassies of ASEAN member states in Hanoi and their families joined a host of activities in Hanoi on August 13 within the framework of ASEAN Family Day 2022