Vietnam COVID-19 Updates (Feb 11): 39 new cases, HCMC residents isolated over Covid-19
At least three localities in northern and central Vietnam will isolate people from HCMC for 14-21 days as a Covid-19 containment attempt.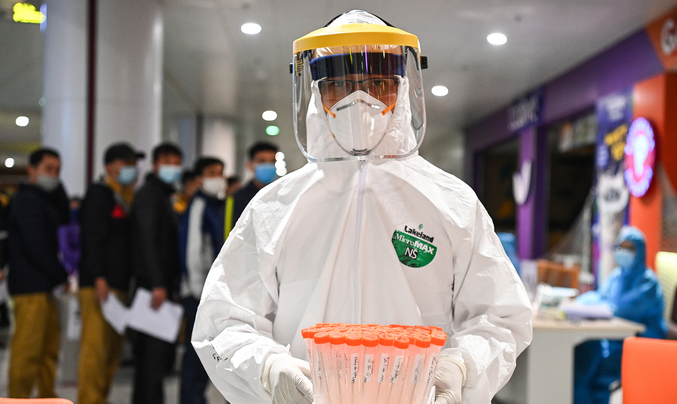 A medical staff holds tubes for collecting samples of Noi Bai Airport employees for Covid-19 testing, Hanoi, February 10, 2021. (Photo: VN Express)
39 new cases to report
Vietnam recorded 21 COVID-19 infections to 6 pm on February 10, including 20 locally-transmitted cases, according to the National Steering Committee for COVID-19 Prevention and Control. Among the community cases, 14 were in the northern province of Hai Duong, four in the Central Highlands province of Gia Lai, and one each in Ho Chi Minh City and the northern province of Quang Ninh. The imported case, a 31-year-old Indonesian expert, was quarantined immediately after arrival in Ho Chi Minh City.
The Ministry of Health confirmed 18 new Covid-19 patients Thursday morning in the northern provinces of Quang Ninh and Hai Duong. Three patients, a 4-year-old boy, a 23-year-old woman, and a 26-year-old man, are from Quang Ninh's Dong Trieu Town. Fifteen other patients are in Hai Duong, who has been quarantined since last week. Their test results came back positive with coronavirus on Wednesday.
The nation's tally is now 2,109, in which 1,480 have recovered and the death toll is 35. The active patients are in stable conditions, as 33 have tested negative at least once. Over 114,000 people are in quarantine, 19,000 in centralized facilities, over 700 in hospitals, and the rest at home or other designated accommodations.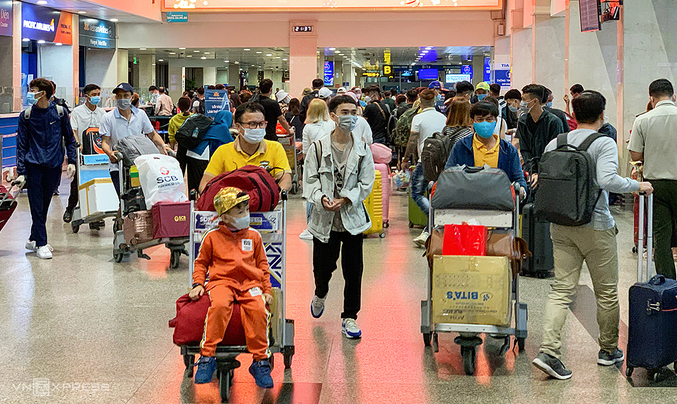 Passengers are seen at Tan Son Nhat International Airport in Ho Chi Minh City on February 6, 2021. (Photo: VN Express)
HCMC residents to be isolated in other localities over Covid-19
The northern province of Bac Giang has ordered that everyone coming from HCMC, which now ranks third in a number of active Covid-19 patients at 33, be quarantined at a facility. The regulation applies to those who entered the province starting February 2. Earlier visitors will need to isolate themselves at home and have their samples taken for testing. Others who come from communes or districts of localities that have recorded Covid-19 cases will also be quarantined for 14 days.
The central province of Thua Thien Hue is applying a mandatory 21-day quarantine policy on everyone coming from communes or wards with Covid-19 cases in HCMC, the Central Highlands province of Gia Lai, and the southern province of Binh Duong.
The regulation took effect on February 9. A similar regulation had been issued earlier for those coming from communes or wards with Covid-19 cases in Hanoi and the northern provinces of Hai Duong and Quang Ninh, the first and second-largest Covid-19 hotspots in the country with 327 and 53 cases, respectively. The Central Highlands province of Dak Nong has ordered that everyone coming from HCMC will be isolated at home for 14 days starting February 9.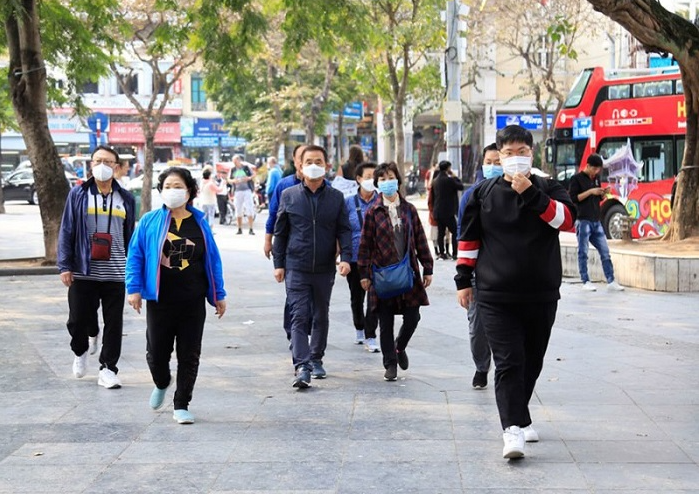 Health official inspects COVID-19 prevention, control in HCM City. (Photo: Nhan Dan)
Health official inspects COVID-19 prevention, control in HCM City
Deputy Minister of Health Nguyen Truong Son on February 10 asked Military Hospital 175 in Ho Chi Minh City to be ready to admit COVID-19 patients in case of overload in other medical facilities. The official led the Health Ministry's special standing team for COVID-19 combat in HCM City to inspect the pandemic prevention and control in the hospital.
They visited treatment, quarantine, check-ups, and medical supply areas in the hospital.
Major General Nguyen Hong Son, Director of Military Hospital 175, said the hospital has imposed social distancing and set up a concentration quarantine facility after two COVID-19 patients came to the hospital for medical check-ups. The hospital also conducted testing for 2,000 people, including its staff members and service providers, he said, adding that test results of those linked to Patients No. 1979 and 2018 turned out negative.
Later the same day, the delegation visited a residential area in Ward 10, Go Vap district, which is put under lockdown following the confirmation of two COVID-19 cases.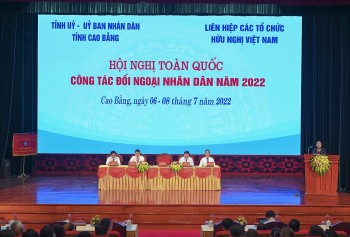 Friendship
During the event, many important issues will be discussed, and constructive suggestions and solutions will be provided to promote more effective people-to-people diplomacy operations.