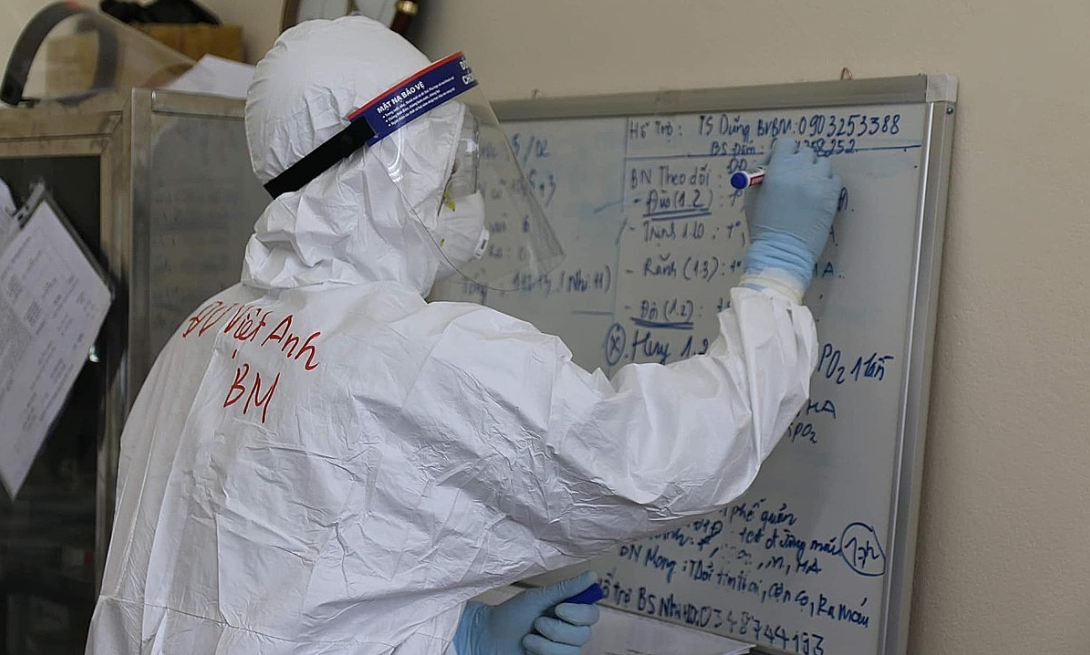 Photo: VN Express
Thirty one more cases of COVID-19
31 new cases of COVID-19 were recorded in four localities, taking the national count to 2,140, according to the National Steering Committee for COVID-19 Prevention and Control. Hai Duong alone found 27 cases, Quang Ninh 2, and Hanoi and Gia Lai each one. The number of local cases recorded in the latest outbreak from January 27 has reached 553.
The same day, 51 COVID-19 patients were given the all-clear, of whom 22 were treated at the COVID-19 hospital number 1 in Hai Duong, thus raising the total number of recoveries to 1,531. The death toll remains at 35.
Among those still under treatment, 18 have tested negative for SARS-CoV-2 once, 10 twice and 8 thrice. There are 115,482 people who had close contact with COVID-19 patients or came from pandemic-hit areas now under quarantine.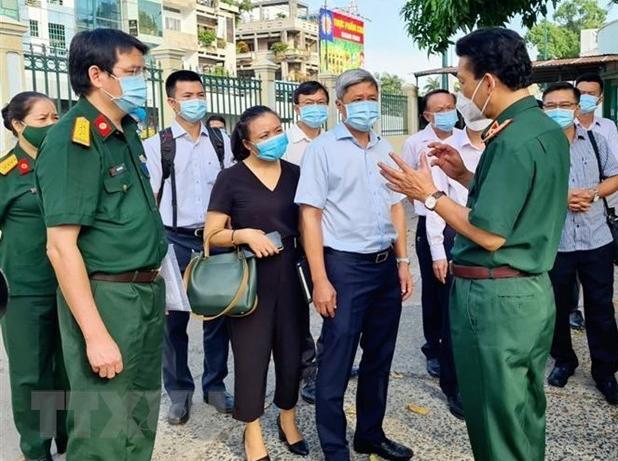 Photo: Vietnam Plus
Deputy Health Minister inspects COVID-19 treatment in HCM City
Deputy Health Minister Nguyen Truong Son led a special task force for COVID-19 prevention and control to inspect the treatment of COVID-19 patients at the Cu Chi hospital in Ho Chi Minh City on February 11. The hospital is treating 43 COVID-19 patients, including 32 cases related to the cluster at the luggage handling company in Tan Son Nhat airport.
Director of the hospital Nguyen Thanh Dung reported that since the pandemic first broke out in Vietnam one year ago, the hospital has treated 177 COVID-19 patients and quarantined more than 800 F1 cases. Staff members are mobilized from other hospitals in HCM City, and work in shifts, with 40 people for each shift lasting five weeks.
Deputy Director of the municipal Health Department Tang Chi Thuong praised the hospital for excellently fulfilling its tasks, helping reduce the workload for other hospitals in coping with COVID-19. Deputy Minister Son hailed the great contribution of medical workers of the hospital, who are working hard to care for patients during the Lunar New Year festival. He wished them a happy new year and asked them to stay prepared for any circumstances even though the number of new COVID-19 cases in the city has begun to drop recently.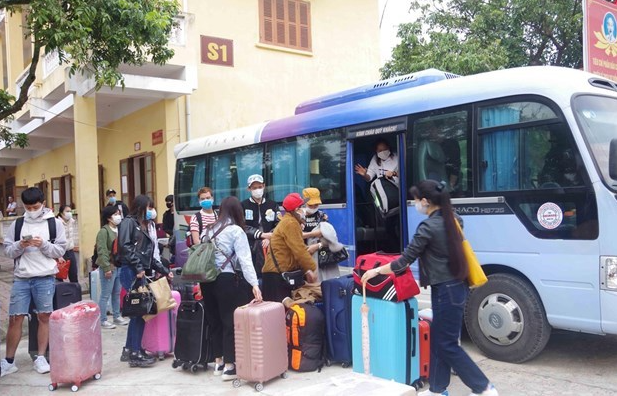 Photo: Vietnam Plus
775 people finish quarantine on time for Tet
A total of 775 people completed their concentrated quarantine period in Dong Nai, Bac Lieu, and Quang Ninh provinces on February 11, or the last day of the lunar year, and were allowed to go home, just on time to celebrate Tet with their families. All of them are required to be quarantined at home for a further 14 days.
Phan Huy Anh Vu, Director of the Health Department of southern Dong Nai province said that the province granted certificates on completing concentrated quarantine for 320 people on the day. They returned from Japan on January 27 on a flight with a COVID-19 patient. The patient has by now tested negative for the coronavirus once and is in stable health condition. The same day, 325 returnees from Australia were also allowed to come back home after being quarantined in the southern province of Bac Lieu from January 27.
Meanwhile, on February 11 morning, 127 people who are F1 cases of COVID-19 patients also finished their quarantine at the COVID-19 hospital No.2 in Ha Long city of northern Quang Ninh province. All of them tested negative for the virus thrice. At 11 pm on the day, 24 F1 cases in Uong Bi city are expected to return home.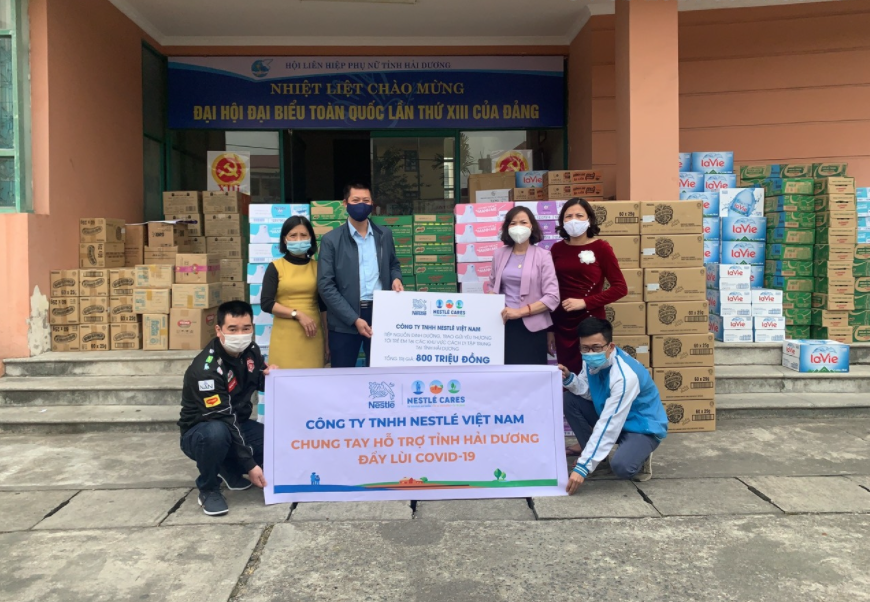 Photo: Nestle
Nestlé Vietnam gifts 100,000 nutritional products to children in COVID-19 danger zones
Nestlé Vietnam has provided nearly 100,000 units of nutritional products including MILO Milk, MILO Breakfast, Nestlé Milk, and Koko Krunch breakfast cereal to nearly 1,000 children in quarantine areas and field hospitals in Hai Duong province to send love and provide nutrition for the children.
In February, the company donated more than 30,000 Nescafé products to the frontline healthcare professionals in Hanoi Center for Disease Control and Prevention. Hopefully, frontline healthcare professionals will be healthy and alert to protect the health of the community. The total value of these products is more than VND1 billion ($43,480). This is the second round of support from Nestlé Vietnam since the COVID-19 cases resurfaced in early 2021.
In the past year, Nestlé Vietnam and La Vie, a member of Nestlé Group, have donated VND40 billion($1.74 million) including products, cash, and 88,000 medical masks to Vietnam's COVID-19 fight.
The company has also offered support for small business partners affected by the pandemic like small restaurants, small eateries, and school canteens to overcome challenges with a total value of gifts up to VND22 billion ($956,520). At the same time, the company maintains sustainable business development by creating a safe and flexible working environment as well as ensuring employment with stable benefits for its employees.
Valerie Mai