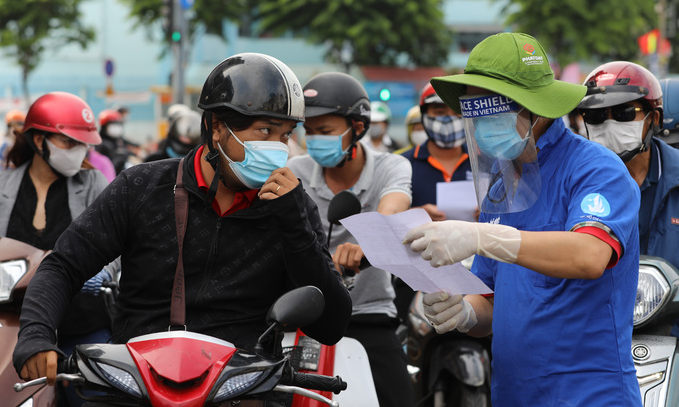 Photo: VN Express
213 new cases
Vietnam recorded 82 new cases of Covid-19 from 6 am to 12 pm on June 11, including one imported case that was quarantined right upon arrival in Tay Ninh province. Of the domestic cases, 45 were found in Bac Giang, 18 in Ho Chi Minh City, nine in Bac Ninh, five in Hanoi, and four in Ha Tinh, the Ministry of Health said.
Other 63 new locally transmitted Covid-19 cases were found from 12 pm to 6 pm on June 11. Among them, 27 were found in Bac Giang, 20 in Ho Chi Minh City, 15 in Bac Ninh, and one in Hanoi. Fifty-six of them were detected in quarantine or blocked sites.
The Ministry of Health announced 68 new Covid-19 cases at 6 am on June 12. Of the new cases, 29 were found in Bac Giang, 20 in Ho Chi Minh City, 10 in Tien Giang, eight in Bac Ninh, and one in Lang Son. Ha Tinh. As many as 64 cases were detected in quarantine or locked-down areas.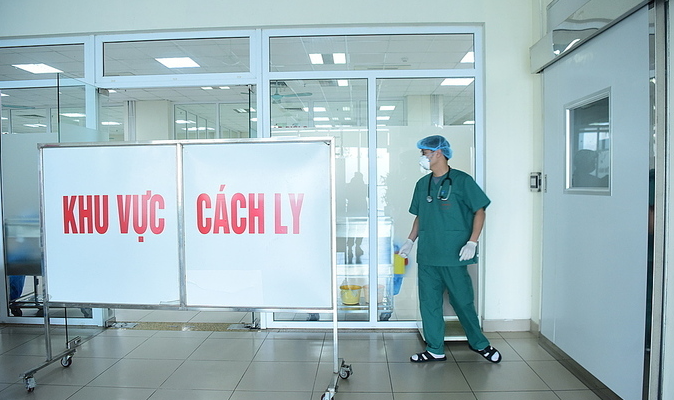 Photo: VN Express
2 new fatal cases
Two women struggling with cancer have become Vietnam's 56th and 57th coronavirus fatalities, the Health Ministry announced Friday.
One of them is 65 years old and from the northern Ninh Binh Province. She had cervical cancer and had gone through chemo and radiation therapies six different times. She died on Thursday of septic shock, pneumonia caused by Covid-19, fungal infection on the background of cervical cancer with metastases in abdominal lymph nodes, the health ministry said.
The other is a 59-year-old woman in northern Ha Nam Province. She was in the last stage of gallbladder cancer and was also treated at the K Hospital. She contracted Covid-19 at the hospital on May 11 and was transferred to the National Hospital for Tropical Diseases for further treatment. She passed away Thursday. Her cause of death was concluded as septic shock and pneumonia caused by Covid-19 on a last-stage gallbladder cancer patient.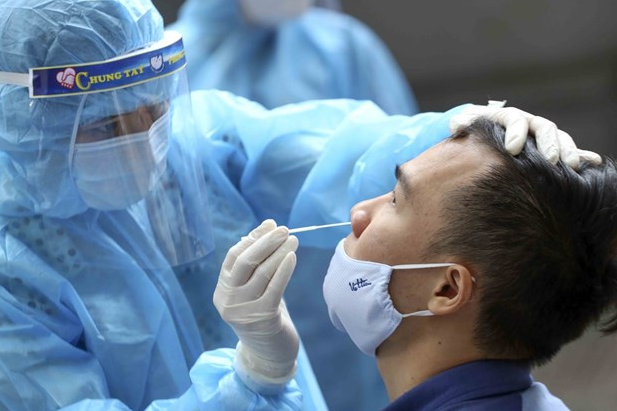 Photo: VNA
Firms violating COVID-19 prevention rules must be suspended
Businesses that have failed to meet COVID-19 prevention and control requirements must be suspended, Deputy Prime Minister Vu Duc Dam said at a meeting in Hanoi on June 11. Once COVID-19 cases are found at industrial parks, testing results must be produced within a day to accelerate contact tracing and quarantine, the official requested.
Vu Duc Dam asked localities to use different testing methods for different groups of people, and implement the quarantine and lockdown work flexibly and creatively. All of the workers who are at a high risk of infection would be vaccinated against the coronavirus in July, while the inoculation for employees at industrial parks nationwide is expected to be completed in August.
At the meeting, leaders of localities with industrial parks like Ho Chi Minh City, Hanoi, Binh Duong, Dong Nai, Long An, Tay Ninh, and Ba Ria-Vung Tau said they have drawn up scenarios for COVID-19 infections in the industrial parks.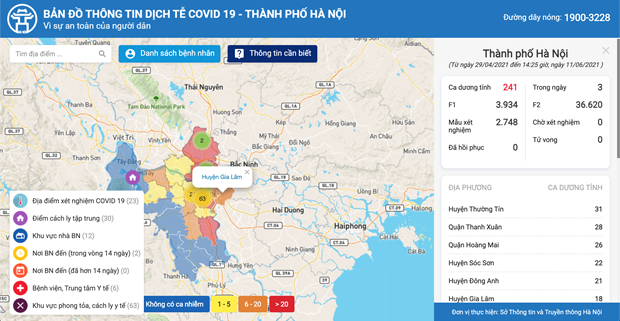 Photo: VNA
Hanoi debuts COVID-19 map
A COVID-19 map for Hanoi was introduced on June 11 to facilitate the capital's prevention and control measures. Launched by the municipal Department of Information and Communications together with the Department of Health, the map can be found at https://covidmaps.hanoi.gov.vn.
People can search for and be updated on COVID-19-related issues in Hanoi on their smartphone or computer connected to the internet. The system also analyses density and provides statistics and information on testing venues, concentrated quarantine facilities, sealed-off areas, and medical establishments, among others.
Director of the Hanoi Information and Communications Department Nguyen Thanh Liem said the data is provided by the city's Centre for Disease Control and updated regularly. The map is hoped to be an effective tool for local people and authorities in the fight against the pandemic, he added.
New functions will be added in the time to come, including reports confirming COVID-19 infections within sites pinpointed on the map, localities collecting samples, and suitable travel routes to avoid high-risk areas.
As of 6 am on June 12, the number of domestic infections was 8,418, with 6,848 recorded since the new wave hit the country on April 27. Twenty-one provinces that were hit by the pandemic have gone through 14 days without new infections.
Since April 29, 4.26 million people have received COVID-19 testing.
Currently, 188,678 people having close contact with confirmed COVID-19 patients are undertaking quarantine at concentrated quarantine sites and their residences. Among the active patients, 368 have tested negative for the coronavirus SARS-CoV-2 once, 105 twice and 61 thrice.
So far, a total of 3,804 patients have been given the all-clear from the coronavirus SARS-CoV-2, while the death toll was 57.
Valerie Mai