Vietnam Covid-19 Updates (June 7): 211 new cases, Bac Giang quarantine additional 2,800 workers
Almost six weeks into the new wave, Vietnam has recorded infections in 39 of its 63 cities and provinces.
Photo: VN Express
211 new cases
Vietnam confirmed another 102 cases of Covid-19 on June 6 morning with 69 cases in Bac Giang – the country's largest pandemic hotspot - and 14 in its neighboring Bac Ninh province. As many as 100 of the cases were detected in the concentrated quarantine facilities.
In the afternoon of the same day, Vietnam detected another 65 cases of Covid-19, 60 of which were domestic. The ministry of health said 31 cases were logged in the country's largest hotspot province of Bac Giang, 18 in its neighboring province Bac Ninh, and 11 in Ho Chi Minh City, while the rest were imported.
The Health Ministry confirmed 44 local Covid-19 patients on Monday morning. The new cases were recorded in three northern provinces of Bac Giang, Bac Ninh, Ha Nam, and Ho Chi Minh City.
Photo: VNA
Flights from Quang Ninh, Gia Lai to HCMC suspended
With new infections rising in the southern metropolis, the Transport Ministry has suspended flights connecting HCMC with Quang Ninh and Gia Lai provinces. The move was based on proposals from the northern province of Quang Ninh and the Central Highlands province of Gia Lai as a measure to reduce the risk of the disease spreading until the situation in HCMC was brought under control.
Quang Ninh is home to the UNESCO heritage site Ha Long Bay while Gia Lai is a lesser-known tourist destination famous for tea estates and rubber plantations. On Thursday, the ministry had suspended flights between Hai Phong City and HCMC for the same reason. Aviation authorities have already limited domestic flights to and from HCMC's Tan Son Nhat Airport for two weeks starting Tuesday.
HCMC has been grappling with a surge in community transmissions over the past week, mainly linked to a cluster at Christian congregation Revival Ekklesia Mission. The city of 13 million began two weeks of social distancing last Monday. It has so far recorded 355 infections in the fourth wave that hit Vietnam starting April 27.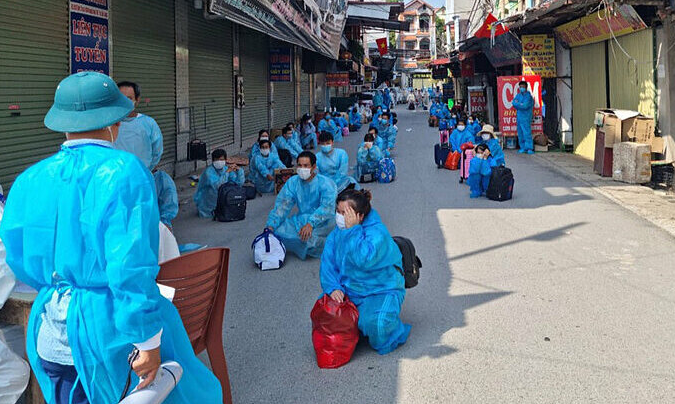 Photo: VN Express
International organizations' representatives praise Covid-19 vaccine fund initiative
Representatives of international organizations in Vietnam have spoken highly of the solidarity and sense of responsibility amongst the people in the Covid-19 fight through the vaccine fund initiative.
The fund was officially inaugurated on June 5, with an aim to mobilize social resources so as to facilitate the purchase and importation of vaccines as well as the research and production of homegrown ones.
Dr. Kidong Park, WHO Representative in Vietnam, said the mobilization to improve access to the Covid-19 vaccine of the Vietnamese Government was carried out in a timely manner and in line with the global vaccine initiative. That the Government manages and equitably used donations from individuals and private firms was hoped to result in new values for the strategy to fight the ravaging pandemic, he added.
As of 8 pm on June 5, the fund, which was approved by the Government on May 26, had received VND 1.036 billion (US$ 45 million). Vietnam is projected to need 150 million doses of vaccine to inoculate about 75 million people at an estimated cost of VND 25.2 trillion (US$ 1 billion)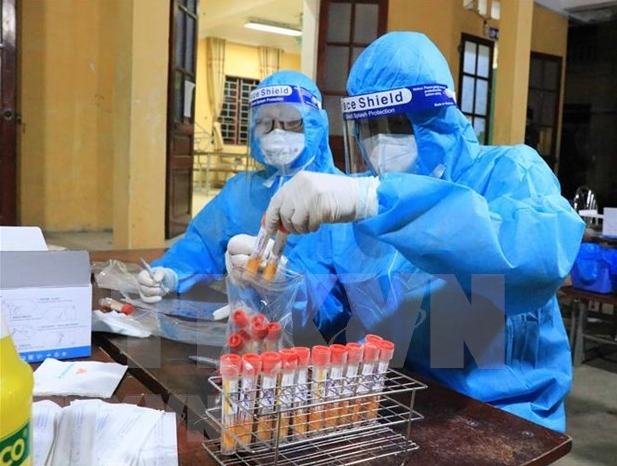 Photo: VNA
Covid-19 epicenter moves another 2,800 workers into centralized quarantine
Covid-19 epicenter Bac Giang has moved another 2,800 factory workers from Nui Hieu Village to centralized quarantine facilities, the latest move to contain its outbreak.
Last weekend, the workers lined up at maintaining a safe distance from each other, wearing protective clothing and carrying some personal belongings. Dozens of buses were dispatched to take them to centralized isolation facilities in Viet Yen District. Before leaving, all the employees of local industrial parks had their samples taken for Covid-19 testing.
There are still 3,000 people, including 2,000 workers, allowed to stay in Nui Hieu. They had their samples taken for coronavirus testing five times and all showed negative results. Local authorities have been disinfecting rows of rented apartments to limit the risk of the virus spreading further.
This is the third time in the last 10 days that local authorities have transferred factory workers from Nui Hieu to centralized quarantine facilities. Bac Giang has recorded 3,058 infections in the new wave that started April 27, mostly industrial park workers.
Almost six weeks into the new wave, Vietnam has recorded infections in 39 of its 63 cities and provinces. The new patients brought the total in Vietnam to 7.235 domestic and 1,551 imported cases.
Of the cases, Bac Giang has the highest number of infections, at 3,113, followed by Bac Ninh with 1,099, Hanoi with 438, including 94 at a hospital under lockdown, and Ho Chi Minh City (388).
More than 1.2 million of Vietnam's 96-million population have been vaccinated against the novel coronavirus.