Vietnam Covid-19 Updates (June 9): 172 new cases, 2 more death
The national tally rose to 9,222. Sixteen provinces have passed through 14 days without any new cases.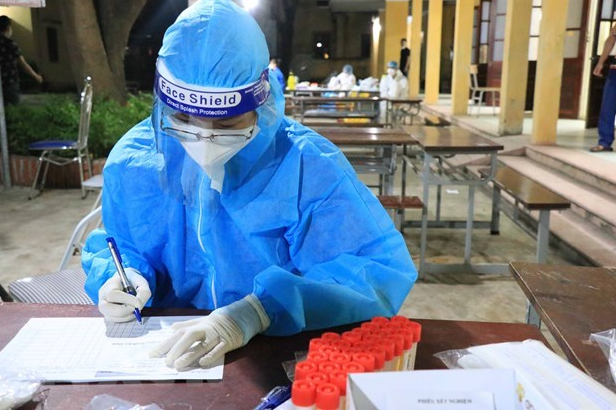 Photo: VNA
172 new cases reported
The Health Ministry confirmed at noon on June 8 that Vietnam had logged additional 76 Covid-19 infections from June 8 morning to early afternoon, including one imported case in Kien Giang province. Among the domestically transmitted cases, 55 were recorded in Bac Giang, 10 in Ho Chi Minh City, four in Bac Ninh, five in Lang Son, and one in the Dong Anh facility of the National Hospital for Tropical Diseases. Of them, 74 are in quarantine sites or sealed-off areas.
An additional 55 Covid-19 cases were detected in the afternoon of June 8. Among the new cases, two were imported and 53 were domestic infections, including 21 in Bac Giang, 15 in Bac Ninh, 14 in Ho Chi Minh City, 2 in Hanoi, and one in Ha Tinh.
41 new cases linked to northern industrial parks were found on June 9 morning. The new patients were recorded in neighboring provinces of Bac Giang and Bac Ninh. Bac Giang registered 24 cases while Bac Ninh 17 and they are all associated with ongoing clusters at the two's industrial parks.
Photo: VN Express
2 new deaths confirmed
On June 8, Vietnam recorded its 54th and 55th. The 54th deceased patient was a 51-year-old man from Hung Yen, who had cirrhosis and toxic hepatitis. He was treated with numerous drugs, ventilators, ECMO, and other measures, but responded poorly to treatment.
On June 7, he started to bleed through his gastric intubation, nose, and mouth, suspected to be due to a breakage in his esophageal varices. He then went into hemorrhagic shock and passed away the same day. His causes of death were hemorrhagic shock, septic shock, pneumonia due to Covid-19, cirrhosis, and hepatic encephalopathy.
The 55th case is an 88-year-old woman in Luc Ngan district of northern Bac Giang province – the country's current largest pandemic hotspot. The patient died on June 7, with the cause of death registered as severe pneumonia due to SARS-CoV-2, acute respiratory distress, septic shock, multiple organs and heart failure along with hypertension and type 2 diabetes.
She also received continuous dialysis, broad-spectrum antibiotics, antifungal drugs and was treated for a blood clotting disorder. The patient fell into a deep coma on June 7 with severe kidney and liver failure.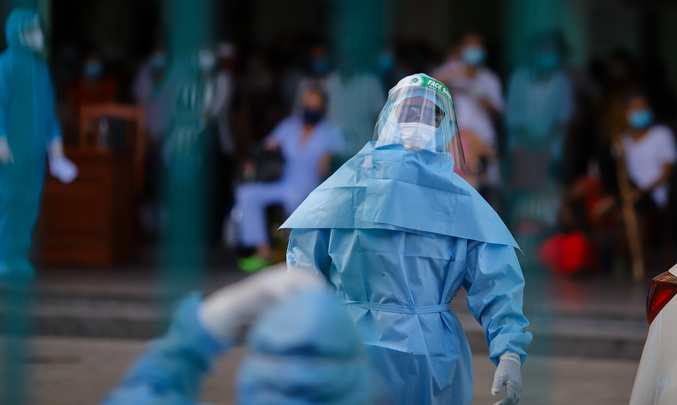 Photo: VN Express
Vietnam masters SARS-CoV-2 virus gene sequencing process
For the first time, Vietnamese scientists have successfully built a technological process for sequencing the SARS-CoV-2 coronavirus genome using the PacBio long-range genome sequencing technique. This is an important basis for quickly and accurately identifying variants in particular and new pathogenic viruses.
More than a year ago, when Covid-19 first broke out, understanding of the virus was limited. The Vietnam Academy of Science and Technology assigned its institutes to preside over a number of urgent tasks, including sequencing the entire genome of SARS-CoV-2. Later, the Academy's Institute of Biotechnology actively coordinated with the Ho Chi Minh City Pasteur Institute to carry out the task. They succeeded in whole-genome sequencing and de novo assembly of SARS-CoV-2 on a new generation PacBio SEQUEL.
With mastery of the existing technological process, the Vietnam Academy of Science and Technology said it is ready to cooperate with health sector units in sequencing the genes of SARS-CoV-2 on a large scale in urgent cases, in order to effectively serve the prevention of Covid-19 in Vietnam.
Photo: VNA
UNICEF provides Vietnam with vaccine refrigerators
As many as 174 refrigerators for storage of vaccines, funded by the Global Alliance for Vaccines and Immunisation (GAVI) and supplied by the United Nations Children's Fund (UNICEF), arrived in Ho Chi Minh City in June 8. The aid was part of GAVI's Cold Chain Equipment Optimisation Platform for medical establishments.
The eco-friendly fridges, which are manufactured by B Medical company in Luxembourg, will be sent to district-level medical stations in 23 Central Highlands and southern provinces to store vaccines, including those for Covid-19, contributing to strengthening the local medical system, especially the Expanded Programme on Immunisation of Vietnam.
UNICEF Representative in Vietnam Rana Flowers said in the near future, UNICEF will provide Vietnam with a number of vaccine storage equipment, including over 2,200 fridges, cold storage trucks, and tens of millions of syringes and safety boxes.
The National Institute of Hygiene and Epidemiology is working on procedures to receive and transport the fridges to beneficiary provinces.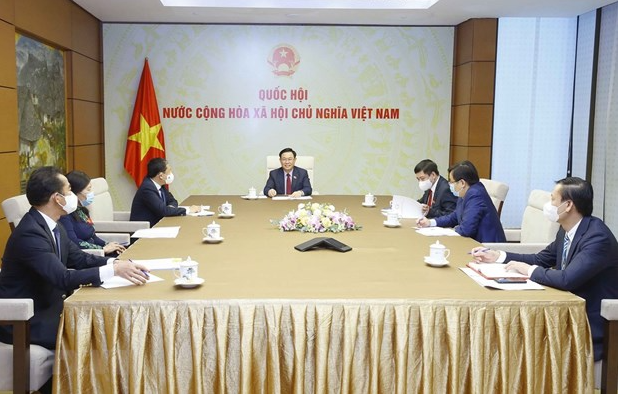 Photo: VNA
Russia considers transferring vaccine production technology to Vietnam
Russia is considering transferring technology for the production of Sputnik V Covid-19 vaccine in Vietnam, President of the Russian Federal Council (upper house) Valentina Ivanovna Matvienko has said.
During her online talks with National Assembly Chairman Vuong Dinh Hue on June 8, Matvienko said Russia will make efforts to maintain the development trend of economic and trade cooperation in the time ahead. The Russian Federal Council will also work hard to promote collaboration between the two countries, she pledged.
NA Chairman Hue said Vietnamese people always treasure and keep in mind the support of Russian people for Vietnam's struggle for national liberation and reunification. He hailed the achievements Russia has recorded under the leadership of President Vladimir Putin, and applauded the country's efforts in the pandemic fight.
The two sides pledged to step up coordination in supervising the implementation of cooperation agreements signed by the two Governments and strategic cooperation projects, and build and complete legal frameworks to facilitate exchanges and cooperation between the Governments, localities, enterprises and people of the two countries. At the same time, they will maintain meetings, consultations, coordination and mutual support at multilateral parliamentary forums, and in regional and international issues of shared concern.
The national tally rose to 9,222. On June 8, 40 patients were given the all-clear, raising the number of recoveries to 3,549. The death toll increased to 55. Among active patients, 218 have tested negative for SARS-CoV-2 once, 92 twice and 78 thrice.
Since the new wave started on April 27, local cases have been recorded in 39 cities and provinces, with Bac Giang and Bac Ninh accounting for the most infections, at 3,333 and 1,164. Sixteen provinces have passed through 14 days without any new cases.