Vietnam Covid-19 Updates (March 19): 163,174 New Covid-19 Infections
As of 6 pm on March 18, Vietnam has detected 7,367,112 Covid-19 cases since the start of the outbreak, ranking 14th out of 225 countries and territories worldwide.
Photo: Bao Dan Sinh
Covid-19: Daily infections fall to 163,000, 176,000 more patients recover
The Ministry of Health (MoH) confirmed 163,174 coronavirus infections in Vietnam during the past 24 hours, a fall of more than 10,000 cases compared to the previous day. Of the total, 163,165 cases were locally acquired, with 109,601 cases documented in the community, the MoH said in its coronavirus update released at 6 pm on March 18.
Most of the cases were recorded in northern Vietnam, with Hanoi capital topping localities as it registered 23,358 new cases, down 1,733 cases from a day ago. The past 24 hours saw 175,971 patients recovering from the disease and 57 patients die of the virus and other underlying illnesses.
The capital was followed by Nghe An, Phu Tho, Bac Ninh, and Lang Son provinces that reported 9,968, 8,042, 6,488 and 5,011 new infections respectively. Official data from the MoH show the daily average number of new infections recorded in Vietnam in the past seven days was 170,600.
Photo: Vietnamnet
Vietnam to produce Pfizer's Covid-19 treatment pills
Vietnamese pharmaceutical company Stellapharm has been licensed by international public health group Medicines Patent Pool (MPP) to produce Pfizer's Covid-19 treatment pills containing the active ingredient nirmatrelvir. Stellapharm represents the only Vietnamese enterprise among 35 companies throughout 12 countries that have been franchised by MPP to produce such pills. The 12 licensed franchisees include firms in Bangladesh, Brazil, China, Dominican Republic, Jordan, India, Israel, Mexico, Pakistan, Serbia, the Republic of Korea, and Vietnam.
Pfizer's drug, which is to be sold under the commercial name Paxlovid, was granted approval by the US Food and Drug Administration (FDA) in December 2021. Canada, the United Kingdom, and the European Medicines Agency (EMA) all allowed the drug to be used to treat patients from the age of 12, as well as old people suffering from underlying diseases such as obesity and diabetes. The drug reduces the risk of hospitalization or death by 88%, whilst it is also effective against the Omicron variant, according to health experts
Charles Gore, CEO of MPP, said nirmatrelvir is a new pharmaceutical product that requires significant manufacturing capacity, adding those franchisees have demonstrated their capability to meet MPP's requirements and produce products meeting international quality standards. The franchise is expected to help bring the drug to countries that make up around 53% of the world's population.
Photo: QDND
Vaccination critical in reducing severe Covid-19 cases: MoH
Vaccination against Covid-19 is a critical and decisive factor in reducing severe cases and hospitalizations in Vietnam, especially as the country reopens borders to international travel, the Ministry of Health (MoH) has said. Minister of Health Nguyen Thanh Long said Vietnam had seen a rapid increase in the number of Covid-19 cases caused by the BA.2 mutation, with a very rapid spread compared to the original Omicron variant.
However, the number of Covid-19 hospitalizations has remained low due to the high vaccination rate. This showed the important role of vaccinations against Covid-19. He said that the health system had strengthened its capacity to control the pandemic and the mortality rate for Covid-19 patients.
Long said the ministry was building a plan on human resources and infrastructure to vaccinate children aged 5-11. Those with underlying diseases and high-risk groups will also be injected with a fourth dose. The ministry has assigned specialized agencies, scientific councils, and experts to carefully research the vaccination plan in each stage and analyze the risks before implementing the vaccination drive.
Photo: Bao Thanh Nien
Vietjet Air offers free PCR tests to passengers on international flights
Budget carrier Vietjet Air is offering Covid-19 RT-PCR tests free of charge to passengers on international flights. A representative from the airline said the program aims to help passengers feel secure after staying home for a long time due to the pandemic.
Vietjet Air has also introduced new products and services such as SkyBoss Business ticket, spa products, new dishes, and special cultural and art programs during flights, the representative said.
Apart from flights connecting Hanoi and Ho Chi Minh City with Seoul (the Republic of Korea), Tokyo (Japan), Bangkok (Thailand), and Taipei (China) which were resumed in early 2022, the carrier plans to restore routes linking Hanoi, HCM City, Da Nang, Hai Phong and Phu Quoc with Phuket (Thailand), Tainan and Kaohsiung (Taiwan, China), Kuala Lumpur (Malaysia), New Delhi (India), Bali (Indonesia), Busan (the RoK) and Osaka (Japan) in late March and April.
There will be one to four two-way flights per week on each route, and the frequency would be increased to meet travel demand as economic and tourism activities have returned to normal globally. The carrier plans to fly to Europe and Australia this year with wide-body aircraft to be put into service.
As of 6 pm on March 18, Vietnam has detected 7,367,112 Covid-19 cases since the start of the outbreak, ranking 14th out of 225 countries and territories worldwide.
Of the infected patients, 3,861,959 have been discharged from the hospital after making a full recovery from the disease, and 41,740 patients have died of the virus.
More than 201 million vaccine doses have been administered nationwide.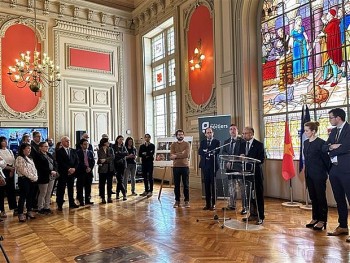 National
Vietnam News Today (Mar. 26): Vietnam and Thailand promote labour cooperation; Vietnamese, French localities look to step up cooperation; Attractive incentives on offer at Hanoi Tourism Festival 2023; E-commerce accounts for 60% of Vietnamese digital economy.